The Trip Planner can help you plan and book your trip, too! Once you have created your perfect plan, you can utilize our optional booking tool to streamline booking your plan. Since we already know your trip plan, it can save valuable time inputting this information into different tools. Further, we help ensure that once arrangements are made, it gets arranged into the trip plan in the correct spots for quick look-up later. We partner with Skyscanner for some of the best rates and services around! Let's find out how to book a trip with Travel-Wise below.
Under the "ARRANGE" tab, you will see a "Book It" button. This will open a pop-up designed to take the relevant information and make booking the trip as quick and easy as possible.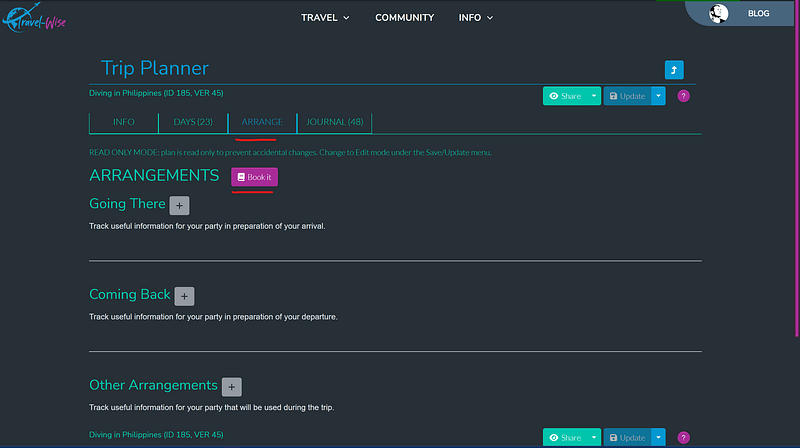 A new fly-out will open and already has all the locations and times extracted from your trip plan. Fill out the remaining details and then click "Search." This will take you to Skyscanner's website to complete the booking. Once booked, copy the pertinent details back to Travel-Wise and use the tool to save it to the Trip Planner.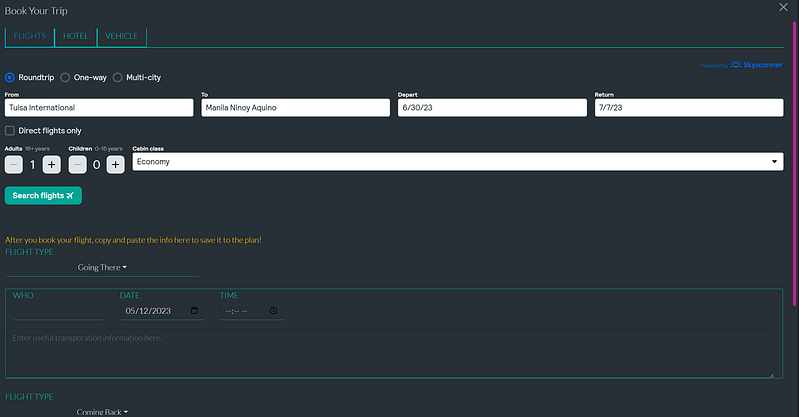 Afterward, Travel-Wise will keep all your relevant information aligned with your plan. Copy any bookings made and paste them into the tooling for more organization.
The booking tool in Travel-Wise is entirely optional. If you book with tools outside Travel-Wise, you can still bring the related information back to your plan using the same methods.
Featured Image Source