Imagine enjoying your relaxing time and planning your trip like a pro. Yes! It is possible now with the help of AI Trip Planner. We've integrated numerous additional features into Travel-Wise to produce contextual material based on your travel queries to bring the newest generative technologies to Travel-Wise. This means our users have the most up-to-date technology to help them create vacation plans faster than ever.
Always be mindful of AI-generated information, as it may contain inaccurate information. As a result, we recommend it for idea generation. The Travel-Wise technology does its best to integrate and incorporate this information with the existing trip-planning tool. So, let's see how AI can help with trip planning!
Check out the three areas below to utilize AI-generated travel information!
Featured Image Source
AI-Powered Itinerary Crafting Made Effortless

Great news! You now have the amazing Itinerary Generator at your fingertips, allowing you to effortlessly create a tailor-made itinerary that perfectly aligns with your travel preferences. Utilize this fantastic tool to gather inspiring ideas and embark on the exciting journey of planning your dream trip.
Enhance your travel experience by incorporating these suggestions into an existing trip plan or go ahead and create a brand-new one. With the added flexibility of our planner, you can easily personalize your trip plan by adjusting the days and selecting specific events. Consider this tool your trusty companion in jumpstarting your adventure, providing you with comprehensive and well-rounded itineraries to set the perfect foundation.
Guess what's cool? After you go on your fantastic trip and can't wait to tell everyone about it, you can create a ready-made itinerary template based on your adventure. That way, other people can quickly discover and follow your fantastic journey just by searching for it! Further, if you want to create the itinerary template first to build your trip plan, the AI itinerary generator helps with that, too!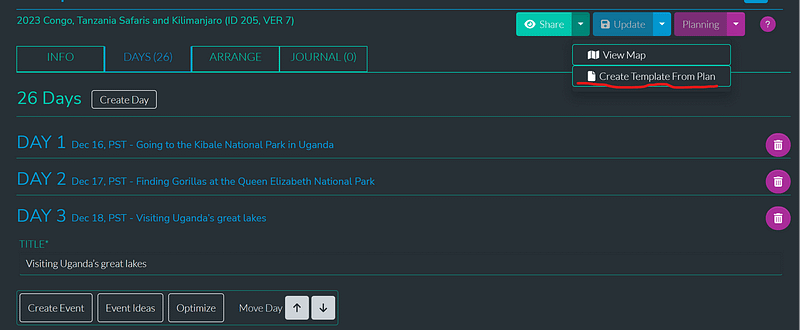 Create Other Daytime Adventure Events with AI Trip Planner!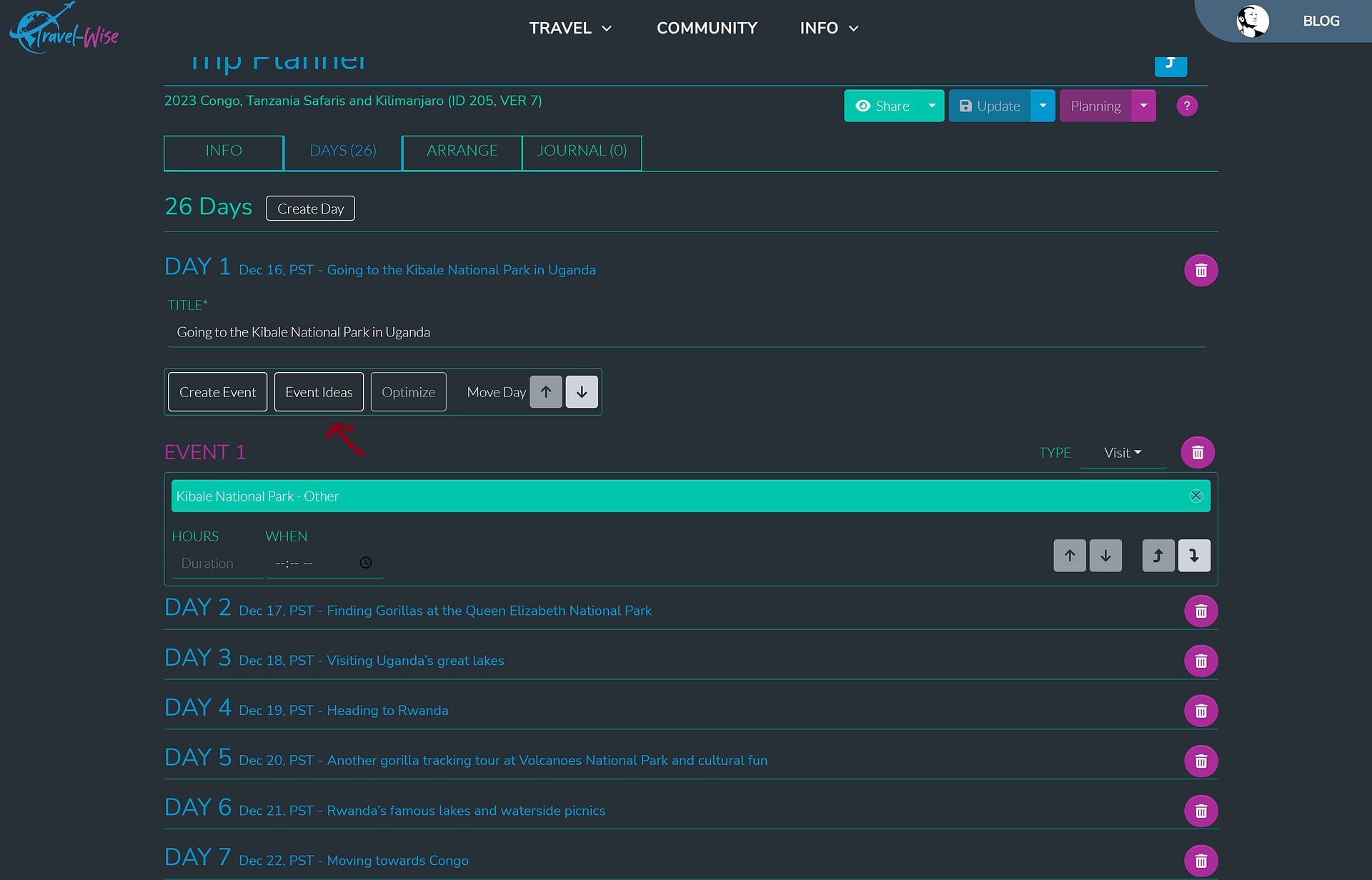 Ever found yourself thinking of things to do in an unfamiliar area, clueless about how to spend your time? No worries because we've got the perfect solution for you! Introducing our cutting-edge generative AI Trip Planner tool that will help you come up with fantastic event ideas for your day. Here's how it works: input at least one event, and our AI will generate a list of 3 new events at the end of any already planned events to explore.
You have the power to accept or remove any ideas that catch your interest. Just remember, providing at least one event as a starting point for the AI to work its magic is essential. Plus, the AI considers any activities you've already planned, ensuring that the generated ideas perfectly complement your day. Get ready for a personalized and unforgettable experience!
Use The Optimize Feature to Re-Arrange Your Day For A Perfect Experience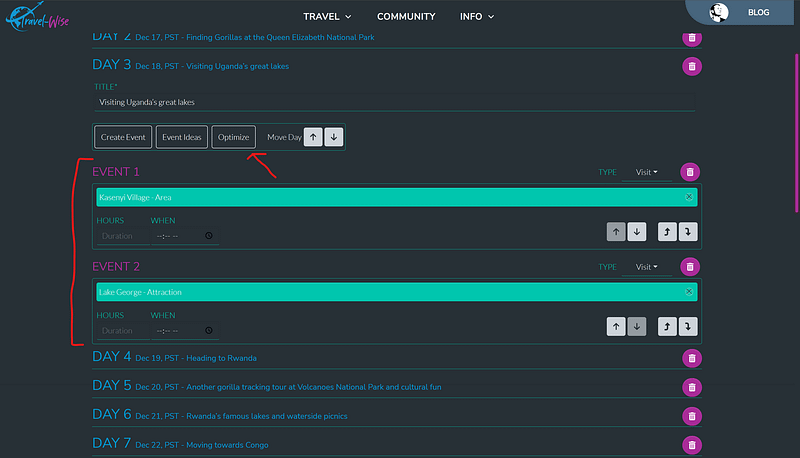 Planning is made quick and easy. Now, you must add all the events you want to do in a day and click the "Optimize" button to enhance the entire day of events using AI. This will re-arrange all the events to optimize for drive times and the best time of day to visit. It will add cost estimates to help with budgeting and suggest when you should arrive.
It requires at least two events to optimize, so add or generate some for this optimization!
Discover Other Epic Itineraries Tailored Just for You!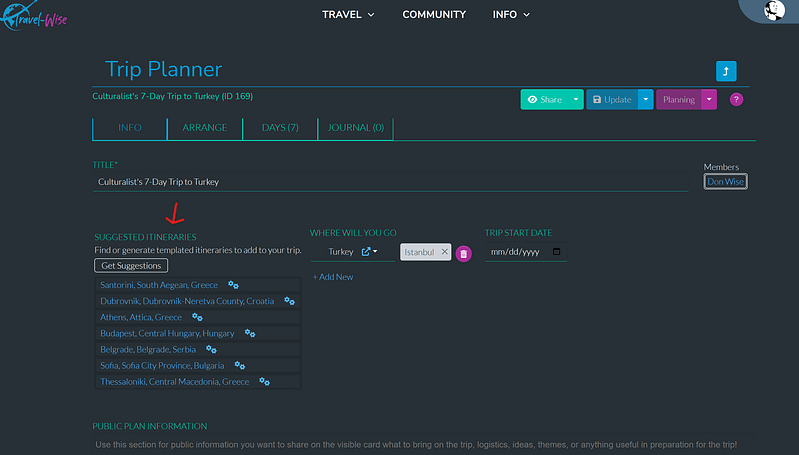 Imagine you're all set for your upcoming adventure but suddenly realize you want to make it even more epic by extending your trip. No worries! We've made it incredibly effortless to create new itineraries for your extended plans. Our system will curate suggestions for nearby destinations and highlight unique places seamlessly fitting into your additional days.
And guess what? Thanks to the power of generative AI, we can even provide personalized trip itineraries. You can explore recommendations from the community through our integrated search engine or generate a brand-new itinerary yourself. The possibilities are endless, and your journey is about to reach a new level of excitement!
Embed The Power of AI Itinerary Generation On Your Website
Now you can enable your users to generate their trip ideas anywhere, which greatly aids in their trip planning and getting started on their travel!
<embed src="https://itravelwisely.com/itinerary/client/itinerary-generator/?theme=dark" title="Travel-Wise Template Itinerary" height="600" width="100%">Travel-Wise Template Itinerary</embed>
The embed will appear on your website similar to the one below. You can adjust the "theme" parameter from "light" or "dark" to adjust the style of your website. Further, adjust the "height" and "width" to accommodate the spacing on your website. You may need to adjust some policies on your website to make it work with various security policies that need adjustment to allow a card from Travel-Wise, like below. Contact us if help is needed.
Other query parameters supported if you want the form to be generated: "persona," "days," "budget," and "place." Possible values for "persona" include what is in the drop-down box: "Adventurist," "Culturalist," "Foodie," "Groupie," and "Relaxer." Possible values for "budget" are "low," "middle," and "high."