Love the water? This article will explore the underwater world through various means, each with unique equipment and depth levels. First, we'll dive into snorkeling, scuba diving, and snuba diving. Snorkeling offers simplicity and minimal gear, allowing you to explore underwater beauty easily.
Scuba diving takes you deeper with tanks and regulators, but it requires safety training and certification. Snuba combines the best of both worlds, while Free Diving challenges you to explore depths without any gear.
Your choice depends on your preferences and skills. Stay tuned to discover the differences between these thrilling aquatic experiences. Snorkeling vs Scuba vs Snuba Diving – which is right for you?
Snorkeling
Snorkeling is primarily where the adventurer stays at the water's surface with a dive mask covering the face, propulsion fins, and a snorkel. A snorkel is a long tube that wraps behind your head and pokes out of the water. It allows you to breathe air comfortably while facing down and looking at anything to see under the waves. At its root, snorkeling is very simple and beginner-friendly. Snorkels usually have mechanisms to disallow water from being breathed in and work reasonably well.
Snorkeling is a great place to develop curiosity, bravery, and confidence in dealing with water. Many folks fear the unknown, and the ocean, especially, has a lot of unknowns in it. Snorkeling is relatively safe (especially in well-known snorkeling areas). Snorkeling is an excellent place for anyone to start and build comfort, as the other forms of activity will take you under the waves. They are called diving and are more technical and get you closer to sea life than snorkeling.
You don't need to be excellent at swimming to snorkel, as kicking with fins does most of the work. However, knowing how to swim will bring comfort and confidence in the water, which will help you grow confident faster. It may also save your life in hazardous situations like losing your fins.
Snorkeling Accessories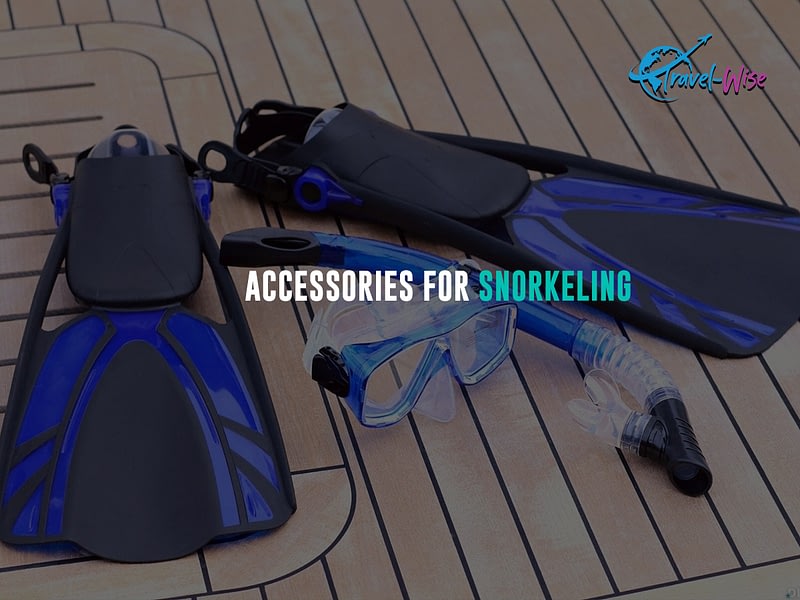 Snorkel Mask: A snorkel mask safeguards eyes and nose from seawater, providing clear underwater vision. Choose cooled goggles for added safety. You have two options for glasses, traditional or modern, but they should fit comfortably and allow for natural breathing.
Dry Snorkel: Dry snorkeling allows effortless underwater breathing without lifting your head. While beginners might need primary breathing techniques, practice makes it easier. New snorkels are equipped with water-prevention features and are comfortable, unlike older ones that cause jaw fatigue. When choosing a snorkel, ensure it matches your mouth's shape for comfort and effectiveness.
Snorkeling Fins: When diving on the Sunshine Coast, prepare for changing ocean conditions like currents. Snorkeling fins offer speed and safety, aiding escapes from hazards. They enhance efficiency, especially in shallow water and rocky areas. Choose fins based on strength and skill, considering open-heel or full-heel options based on your entry style.
Rash Guard or Wetsuit: When in the water, safeguard your skin from UV rays, jellyfish stings, and cold ocean temperatures with a swimsuit. Opt for a well-fitting suit that covers comfortably, like a second skin, without sagging or bunching. A snug fit prevents water seepage and enhances warmth and freedom of movement while swimming.
Tips for Snorkeling
Don't Go Alone: For your first diving experience, joining a guided group is highly recommended. Unexpected challenges, such as muscle cramps, panic attacks, or gear issues, may arise. With an experienced dive guide who can help and manage any situation that may arise, ensure a safe and unforgettable debut.
Keep Your Snorkel Above Water: Another obvious point to remember is not to dive too deep while snorkeling. Sometimes, excitement can lead to going too far down, but remember that breathing underwater isn't possible. To practice, hold your breath, dive, and exhale strongly to clear the snorkel when resurfacing. You can advance this skill, but try it during your first trip. Guides can provide valuable tips if you need clarification.
Ensure Your Goggles Fit: Consider it common sense, but properly fitted equipment is crucial. When wearing a mask, it should fit snugly, stay in place, and prevent water from entering the sides. If water still gets in while fully submerged, adjust the mask's straps at the back. If it feels too tight after adjustments, check with your guide about trying a larger mask. A proper air seal is essential, allowing clear vision and comfort. Avoid an overly tight mask, as it could lead to damage and hinder your enjoyable hours underwater.
Health Impact and Other Restrictions Due to Snorkeling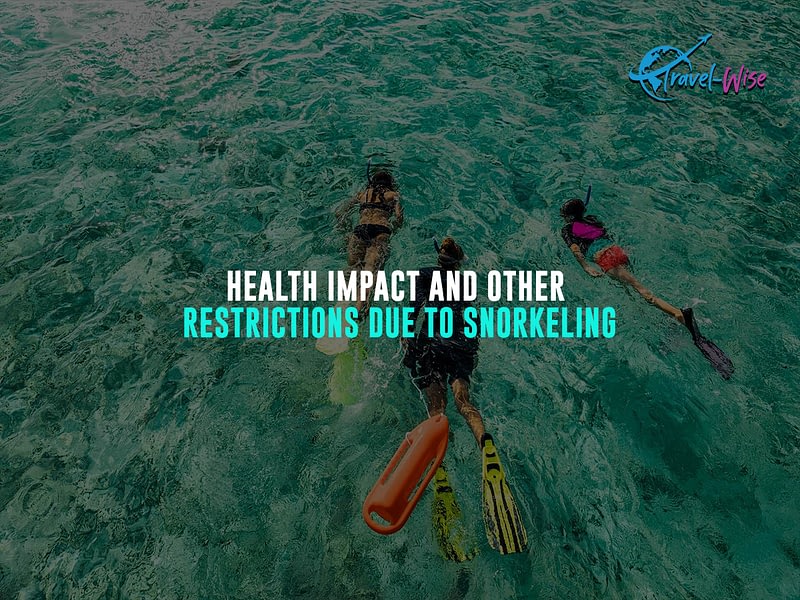 Snorkeling is a safe and accessible water activity, but there are some health considerations and restrictions to keep in mind:
Breathing: Snorkeling increases aerobic fitness by increasing maximal oxygen uptake. Tube resistance during breathing increases effort compared to free breathing. Regulated in and out breaths through the mouth during diving serve as a helpful breathing exercise.
Physical Fitness: Snorkeling is a recreational activity that can motivate you to stay fit. It involves different muscle groups, such as the quads, hamstrings, and shoulders. This exercise increases strength and endurance, reduces stress, and burns about 300 calories per hour.
Mental Health: The Mayo Clinic notes that physical activity such as scuba diving can help reduce stress and anxiety. Snorkelers' controlled mouth breathing mimics meditation techniques and induces relaxation. Regular diving can help you feel relaxed and comfortable through simple relaxation exercises.
Restrictions
Medical conditions: People with heart, respiratory, or ear infections should talk to their doctor before snorkeling.
Heart Problems: Snorkeling can make the heart work harder, which can be risky for people with heart problems like arrhythmias, heart attacks, or heart failure.
Respiratory Issues: Breathing through a snorkel tube can be challenging for people with respiratory issues, such as asthma or COPD. Snorkeling may not give them enough air for their lungs.
Ear Infections: When you snorkel, water can get into your ear canal because of the water pressure. This can damage your eardrum and lead to an infection in your ear.
Allergies: Allergies are your body's reaction to things it doesn't like. Some people are allergic to things that can cause discomfort or even breathing problems. When snorkeling, it's essential to know if you're allergic to things in the water, like sea creatures or sunscreen. Wearing protective gear and talking to your doctor before diving can help prevent any allergic reactions and ensure a safe experience.
Don't Use Any Damaged Equipment: Before using them, ensure your mask straps, fins, belts, retainers, and buckles are in good condition, and replace them if needed. Having a spare parts kit with suitable replacements is a wise idea.
Pros and Cons of Snorkeling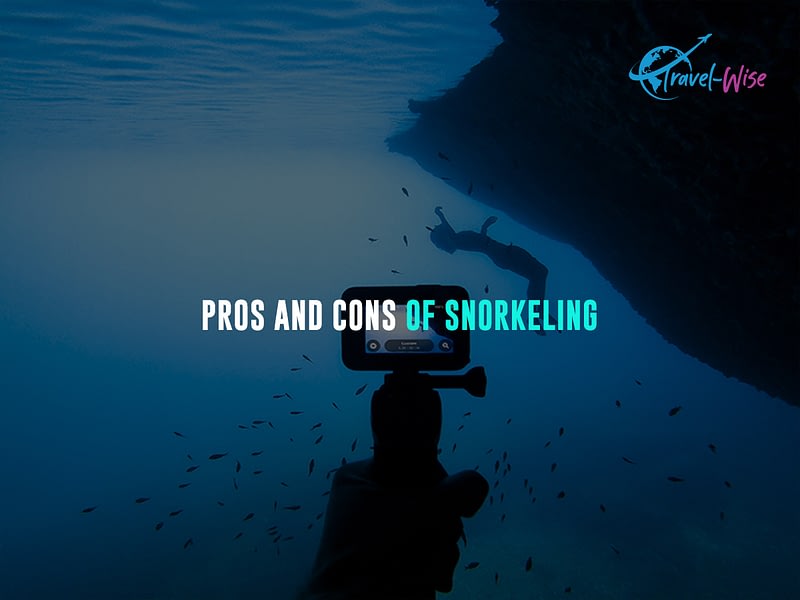 Pros
Observing Marine Life: Snorkeling allows you to witness the vibrant marine life and coral reefs without requiring extensive training or equipment.
Ease of Use: Snorkeling equipment is simple and user-friendly, making it accessible to people of all ages and skill levels.
Cost-Effective: Snorkeling is more affordable than scuba diving since it requires minimal gear and training.
Surface Exploration: Snorkeling enables you to explore the ocean's surface and enjoy the beauty of the underwater world without diving deep.
Physical Fitness: Snorkeling provides gentle exercise as you swim and float on the water's surface, benefiting cardiovascular health.
Cons
Limited Depth: Snorkeling is restricted to shallow depths, preventing you from accessing deeper marine environments and wrecks.
Limited Breath-Hold: While a snorkel extends your time underwater, it still relies on breath-holding, which can be limiting for some.
Surface Conditions: Choppy waters can make snorkeling uncomfortable as waves can splash into the snorkel, causing water to enter.
Limited Interaction: Snorkelers can only observe marine life from the surface, missing out on the immersive experience of being submerged.
Equipment Limitations: Snorkel attachments can get tangled in hair, obstruct vision, or interfere with other gear, making it cumbersome at times.
Scuba Diving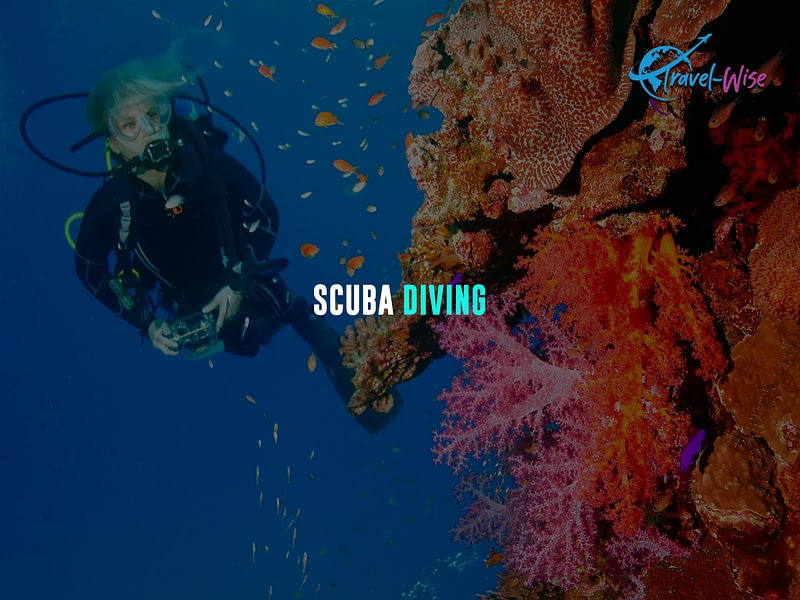 Scuba diving uses technology to dive deeper and longer than human capabilities naturally allow. Because of this, it becomes much more technical. It is no longer natural to the body, and one must take care of the limits of the physical body with the limits of the technologies used. Technology for scuba diving is constantly evolving and opening up to realms of possibilities. Essentially, for scuba, you will use everything you use for snorkeling, adding an air tank to breathe from, technical mechanisms to breathe from it, and an inflatable air bubble (called a buoyancy control device).
Because scuba diving is technical and requires running knowledge of the technologies involved and their effects on you, it requires a certificate to perform (and almost adhered to everywhere in the world). However, the certificate is relatively easy to acquire and well worth it. I recommend PADI's open water certification as a primer to getting started with scuba. It will help you learn the basics; you need a lot of practice to build your comfort and confidence.
Top 6 Scuba Diving Accessories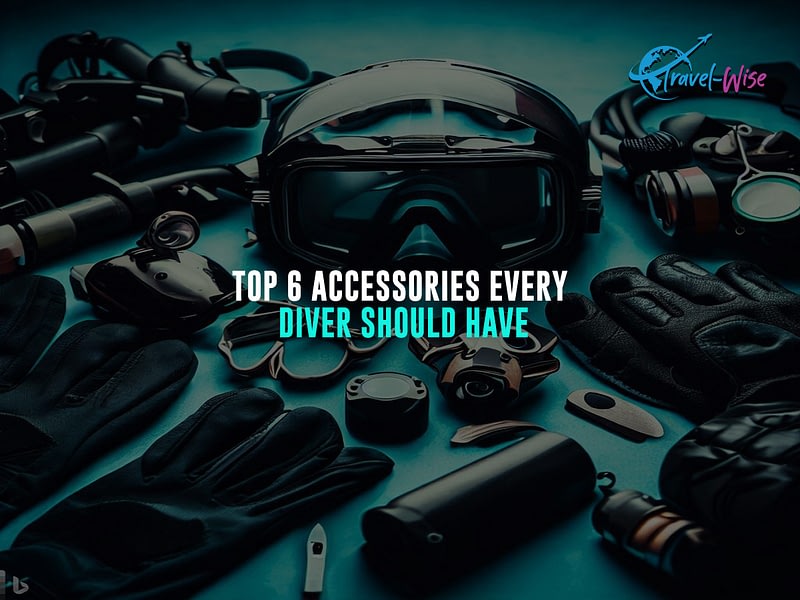 Gear Bag: Good gear is essential for organized, protected, and hassle-free scuba diving. Dive-specific luggage is built to withstand sun and saltwater. Your main bag pack should be large and sturdy, with reinforced stitching and anti-corrosion hardware. Consider secondary bags like a mesh for the mask and fins or a padded one for your regulator.
Dive Knife: A dive knife is a must-have safety tool for every dive. It's vital for freeing yourself from entanglements like fishing lines or kelp. Choose from various options: stainless steel, aluminum, or titanium blades. Blunt or sharp tips and features like serrated edges. Alternatively, consider diving scissors or a compact line cutter if a knife feels excessive.
Dive Mask: Underwater, your diving mask becomes your eyes. Look for a well-fitting, comfortable mask that offers a clear vision. Try placing the mask gently on your face and breathing through your nose to create a slight seal. It might not be the right fit if it's uncomfortable or secure.
Dive Light: A dive light isn't just for night dives. Even during the day, water can dull colors at depth. A compact secondary light enhances colors and helps in crevices. It's handy for day and night dives and great for night diving support.
Dive Compass: A dependable analog compass helps in underwater navigation. Quickly determine boat location and set azimuth without surfacing. It's handy if your dive computer lacks a built-in compass.
Surface Signaling Devices: Surface signaling gear is vital for divers. Buoy, mirror, whistle, and horn aid visibility and communication. Carry both audio and visual devices, easily stowed in pockets or D-rings. For night dives, consider a dedicated signal light.
Tips for Scuba Diving
Ensure you are certified for dive: Certain dive companies need proof of your dive certification or specific skills based on the dive type. Ensure you get certified by a licensed operator before your trip or starting dives. While some offer intro courses, remember they don't mean you can dive freely. If you dive without proper certification or supervision, your travel insurance might not cover you. Also, be sure not to exceed your maximum diving depth for your level of training.
Double-check all your scuba gear: Get your diving gear ready before reaching the dive spot. Take your time and make sure everything is in good working order. If you need clarification, ask your guide or instructor for help.
Keep an Eye on your air gauge: Underwater, your tank's air limits your time. Knowing when your tank is half or a quarter full is essential so you can start heading back up in time. Your guide will check your air, but you're in charge of how much you use.
Health Impact and Other Restrictions Due to Scuba Diving
Can Lower Blood Pressure: During the first dive, excitement and cold water can raise the heart rate and blood pressure. Cold water narrows our vessels to conserve heat, impacting our heart rate. As we warm up underwater, our heart rate drops. Deep breathing helps calm and reduce blood pressure. If you have high blood pressure, talk to a doctor before diving.
Gaining Strength and Flexibility: Your muscles work out due to water resistance and currents while diving. Regular diving and swimming build stronger muscles, enhancing endurance, flexibility, and leg strength. Additionally, it boosts core strength, which is crucial for better posture in daily life.
Interaction with Marine Life: You feel excitement and wonder when scuba diving and exploring the underwater world. The colors of fish, corals, and creatures can impact your feelings. Some colors can make you feel happier. Bright and intense colors, similar to those in rocks, boost feelings of happiness and pride. Also, the color blue is known to have a calming effect on your body. So, the colors around you can influence your mood and emotions while underwater.
Restrictions
Keep Breathing Consistently While Scuba Diving: You won't forget this advice – trainers emphasize it repeatedly. It's crucial because holding your breath while changing depth, even slightly, can lead to lung overexpansion. Symptoms include breathing problems, pain, and even unconsciousness. If this happens, provide oxygen and seek emergency help.
Ascend Slowly from Every Dive and Make Safety Stops: This rule connects to the first. Moving slowly prevents lung overexpansion and lowers the chance of decompression sickness from excess nitrogen. Taking a safety stop at 3-6 meters allows nitrogen to leave your body. Unlike decompression dives, a safety stop forces you to slow down and minimizes dive risks.
Continuously Monitor Depth, Time, and Pressure: This fundamental rule is simple and essential. You might need to pay attention to your console during underwater tasks like photography or cray fishing. Regularly check your data, maintain ample air for your safety stop, and stay within no decompression time. Accidents often occur when you run low on air; training helps, but safety matters most.
Pros and Cons of Scuba Diving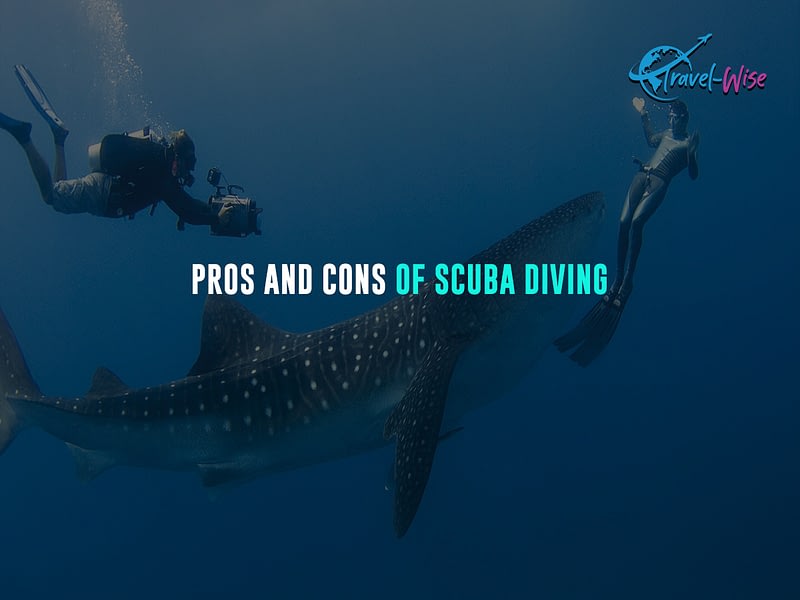 Scuba diving offers a fascinating gateway to an underwater realm filled with marvels, mysteries, and new experiences. Here, we'll delve into the pros and cons of this adventurous activity, allowing you to weigh the benefits against the challenges and decide whether scuba diving is right for you.
Pros
Rich Diversity and Exploration: Scuba diving grants access to a world teeming with diverse marine life, from vibrant coral reefs to unique aquatic creatures. Witnessing the vast array of underwater species encourages contemplation of humanity's place within this intricate ecosystem.
Mindfulness and Immersion: Engaging in scuba diving requires intense focus on adjusting equipment, monitoring pressure, and observing the underwater environment. This immersive experience brings a sense of mindfulness as the world above water recedes, and the wonders of the deep capture your attention.
Adrenaline and Excitement: Scuba diving offers unexpected excitement, whether encountering a unique sea creature or exploring a shipwreck. Adrenaline rushes accompany the thrill of unanticipated underwater surprises.
Global Adventures: With water bodies spanning the globe, scuba diving opens doors to new and exciting travel destinations. From tropical seas to icy waters, diving becomes a reason to embark on unique and enriching vacations.
Inclusive Activity: Scuba diving doesn't discriminate by age, as there's no upper age limit to enjoy the sport. Even retirees can actively participate, making it a potential lifelong endeavor.
Cons
Cost and Time: Scuba diving can be expensive due to equipment and training costs. Additionally, it requires time for preparation, travel, and the actual dive experience, which may align differently with everyone's schedule.
Swimming Skills Required: Basic swimming skills are necessary for scuba diving. While you don't need to be an expert, being comfortable and confident in the water is essential for safety.
Anxiety and Unexpected Situations: Scuba diving involves potential anxiety triggers, such as running low on air, dealing with changes in pressure, navigating, and encountering wildlife. These situations require mental composure and quick thinking.
Fear of the Unknown: For those who are easily overwhelmed or anxious in new situations, scuba diving's unpredictability might be intimidating. Gaining comfort and confidence underwater may take time and effort.
Mitigating the Risks of Scuba Diving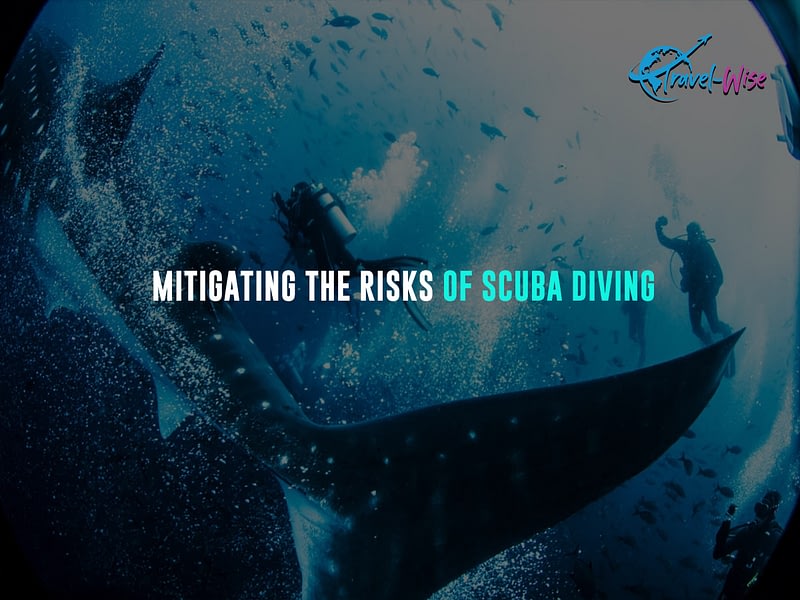 One of the primary issues for folk getting into scuba diving is that scuba diving can result in a bad injury or fatality if things go wrong. However, the training prepares you well for knowledge and contingencies to handle these hazards appropriately. Therefore, practicing vigilance in scuba diving safely is essential. As a result, we've scuba-dived across the world in hazardous circumstances and feel confident and ready to continue our adventures!
It is also worth knowing that scuba diving is broken into several major categories. There is recreational scuba diving, which most people practice and generally does not exceed 50 m under the water. Technical diving uses more equipment and technology to go deeper than 50 m. Then there is cave diving, which uses equipment and safety contingencies to ensure you can safely get in and out of caves. Most folk traveling the world for fun and enjoyment will only be happy enough with recreational diving.
Snuba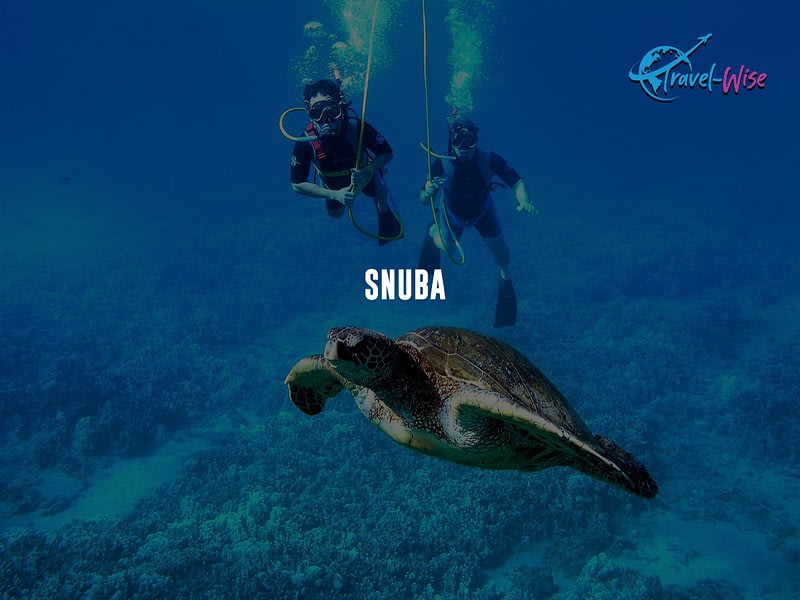 Snuba is a new form to explore I've seen in some areas of the world. It is not scuba as you don't bring the air tank. Instead, you wear a heavy suit and tend to fall to the bottom. Air is pumped to you from the surface of an air pump. It is essential to be careful with Snuba as often it has you walking on the bottom of the ocean, which can cause damage to coral. Therefore, I don't support Snuba anywhere that could have coral.
I have never tried Snuba, but I have seen it here and there and, for completeness, wanted to mention it here! It is not technical and beginner-friendly. Although it is worth noting because you will be essentially stuck under the water, you will not communicate well with those above if something goes wrong.
Free Diving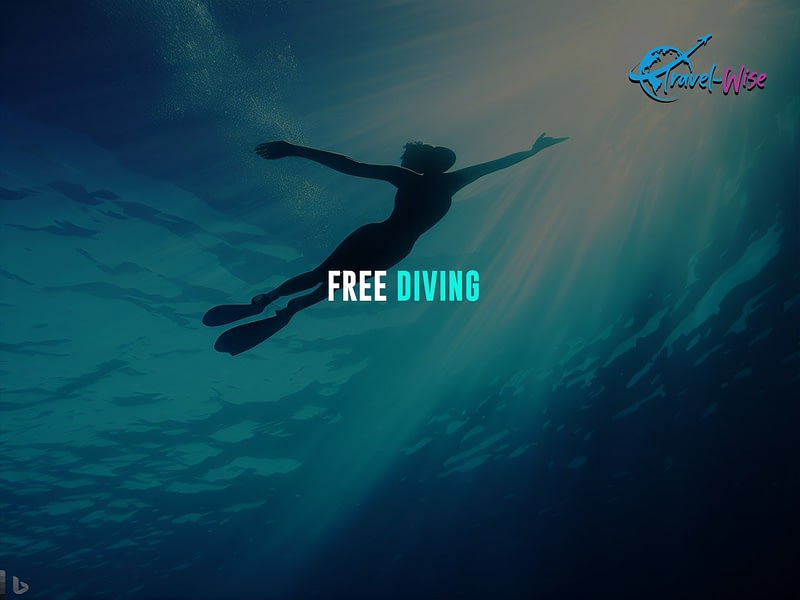 The next level down from snorkeling is free diving. Again, it tends to be beginner-friendly as the entry point starts with being able to snorkel. It gets much more advanced and has a high skill bar to do extreme stuff.
As a snorkeler, you should get closer to things of interest that you see from the top of the water. To do so, you breathe air and simply "free dive" to it. This requires you to be able to propel through the surface and begin swimming downward swiftly. Getting used to running off one breath of air takes a while.
More advanced forms of free diving will likely require training to build a keener sense of. In addition, these advanced forms often require long fins, weight belts, and powerful breathing techniques that can have you holding that single breath of air for up to 2-5 minutes! Many folks prefer free diving as it is the way to get closest to curious wildlife. Often, wildlife is afraid of the technology and gadgets scuba divers bring. Especially the bubbles that emit when you breathe. In free diving, you have a breath of air, everything is silent, and you are at peace, feeling much closer to nature than otherwise.
Snorkeling vs Scuba vs Snuba Diving: Comparison
| | | | |
| --- | --- | --- | --- |
| Aspect | Snorkeling | Scuba Diving | Snuba Diving |
| Depth Range | Shallow waters, typically up to 15 feet | Deeper depths, up to 130 feet or more | Moderate depths, usually up to 20-30 feet |
| Equipment Required | Mask, snorkel, fins | Mask, snorkel, fins, scuba tank, regulator, BCD, wetsuit, weights | Mask, snorkel, fins, snuba unit (tank, regulator, hose) |
| Training or Certification | Minimal or none required | Requires certification (e.g., PADI) and training | Basic training, no formal certification |
| Breathing Method | Surface breathing through snorkel | Breathing through a regulator connected to scuba tank | Surface breathing through a hose connected to a floating tank |
| Freedom of Movement | Limited to surface, free movement | Full range of underwater movement | Moderate underwater mobility |
| Experience Level Required | Suitable for beginners and non-swimmers | Requires training and certification, not recommended for beginners | Beginner-friendly, basic swimming skills helpful |
| Cost | Relatively low, minimal equipment costs | Moderate to high due to equipment and certification costs | Moderate, lower certification cost |
| Accessibility | Easily accessible at many beaches and snorkeling sites | Accessible at dive centers, may require specific dive locations | Available at select dive centers and resorts |
| Adventure Level | Low to moderate adventure, ideal for relaxation | High adventure, exploring deep-sea ecosystems | Moderate adventure, suitable for curious explorers |
Finding What Works for You
The world under the waves is silent. You have no good way to communicate other than hand signs. The deeper you go, the more technical things require more training, skill, and confidence. Failure to abide by what you've learned can lead to severe consequences. Thus, scuba diving is not for everyone. Beginner-level snorkeling and free diving can still take you far, has much less of a technical bar, and is generally safer. Although, snorkeling will always only have a limited view next to the surface. Unless, of course, you are an exceptional free diver.
With all this in mind, we hope we inspired you to get out there and explore the unknown beneath the water's surface! There is an incredible world beneath the surface that can only be explored by the truly adventurous! Start planning your trip now with Travel-Wise's free trip-planning tools to have you on your way to your destination faster than ever!