What is a travel persona? A travel persona reflects your mindset on what you hope and expect from your next trip. These personas may change for any individual or group depending on their needs. It is crucial to categorize your travel persona and those you will travel with to ensure you can mesh on energy levels and similar activities. Of the 5 travel personas we've identified, be it an adventurer, culturalist, foodie, groupie, or relaxer, which will you associate with? Find out your own and others' travel persona here!
Travel-Wise is centered around finding travel that meets your personal needs in seeking a trip. So, let's dive in and explore the five travel personas we identify with and generally see most travelers fitting into. Most travelers will associate with one or more of these and experience disappointment or disinterest in a trip should their travel persona not be met.
What is your travel persona?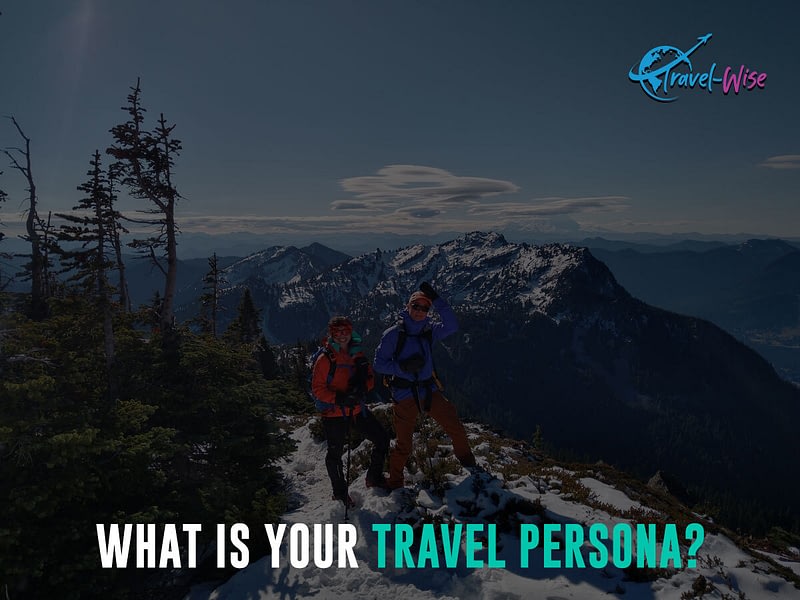 Also, check out our quiz for help identifying your Travel Persona here.
Come back anytime to refer to our handy guide and take our quiz at any time. You should expect your travel persona to change from trip to trip or overtime. Sometimes, depending on who you travel with. It is forever changing, and it may even be hard to pin down a persona! But thinking about it and poking through what you want from your next trip will help you center any itineraries, places to visit, and whom to take with you on your next trip!
Our extensive experience with travel carefully crafted this list and categories of travel persona worth noting. There could be more, but we restricted it down for simplicity. It is worth noting that these travel personas have nothing to do with budget restrictions with travel and more to do with what speaks to your heart regarding wants in travel. Further, extensive stays, digital nomading, short trips, etc., do not necessarily describe your travel persona either. It is purely in the details of the activities you pursue and where you spend your time. Regardless of how little or a lot of time, there is in your trip.
1. The Adventurer Travel Persona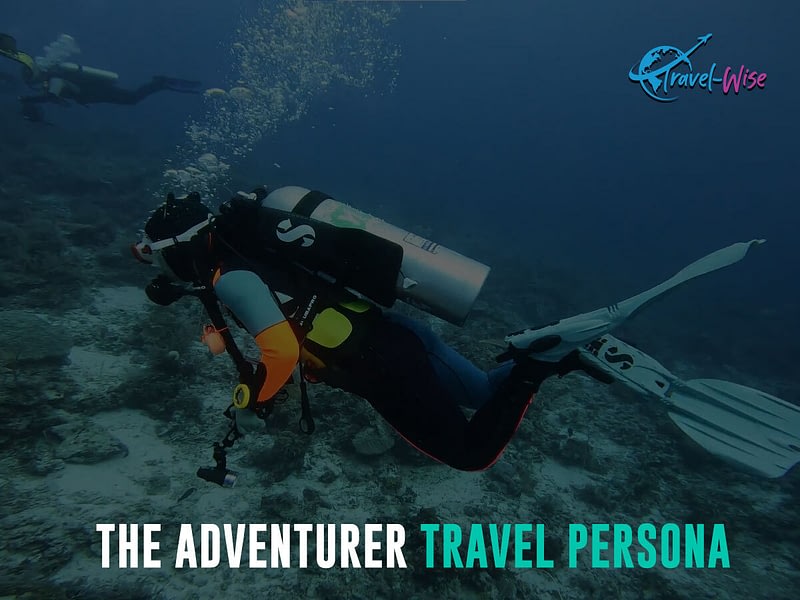 A thrill-seeker and always down for something new, the adventurer turns every trip into an exciting experience. Adventurers yearn for the thrill of experiencing the rare sights that are harder to explore and get their hearts beating. Unfortunately, adrenaline rushes come with the territory as the adventures are often not as structured nor pursue safe activities that other travelers may prefer. The Adventurer travel persona is full of ambition and stories and will surely not let a trip get dull.
Adventurers prefer activities that take them off the beaten track and away from the crowds. They want to feel nature and may even prefer eco-tourism over other options. More than anything, it must be fun and exciting. Activities that interest Adventurers are scuba diving, mountain climbing, hiking, kayaking, backpacking, and exploring rural or hard-to-reach places and expeditions. It also happens to be that Adventurers are the most rare of the 5 travel personas.
Adventurers embrace
hiking along the side of a volcano
swimming with the sharks
riding a motorbike in the crowded streets of Southeast Asia
braving the world's jungles for a chance to see the rare and more challenging sights to see
The motto is: "If you're not living life on the edge, you're taking up too much space."
2. The Relaxer Travel Persona
To a relaxer, an actual vacation is painless and easygoing. With life back at home already so hectic and stressful, relaxers intentionally book holidays that free them from the hassle of making too many decisions. So long as they pamper themselves with adequate sleep, delicious food, spa treatments, etc., the destination is less important than the relaxation they seek.
I also lump in the general casual traveler who wants minimum planning for a trip, arrive, and figure things out on the go to align with the relaxer persona. These folk will show up with no plans of backpacking or hitchhiking anywhere locals tell them they are worth seeing. Also, in today's day and age, the digital nomad travels worldwide, seeking new places to work from. Again, a comfortable environment with strong internet is desired with the possibility of experiencing the local environment on the weekends.
Individuals who often pursue business travel or digital nomads tend to be relaxers, as they are visiting for the long haul. They pursue low-stress and more absorbing activities, such as hanging out at local establishments and bars. Further, they immerse and particularly want to engage in other activities that take away some of the stress of their daily work.
Relaxers prefer
resorts with a lovely sunny waterside view free of distractions
trips with minimal planning and effort but also minimal moving around
focus on spas, rehabilitation, detoxification, and purifying of the mind and body
long-term stays that prioritize comfort and the ability to work remotely
low-stress activities
engaging and absorbing conversations with others over alcoholic beverages
The motto is: "True freedom is to wake up daily without a plan and go with the flow."
3. The Culturalist Travel Persona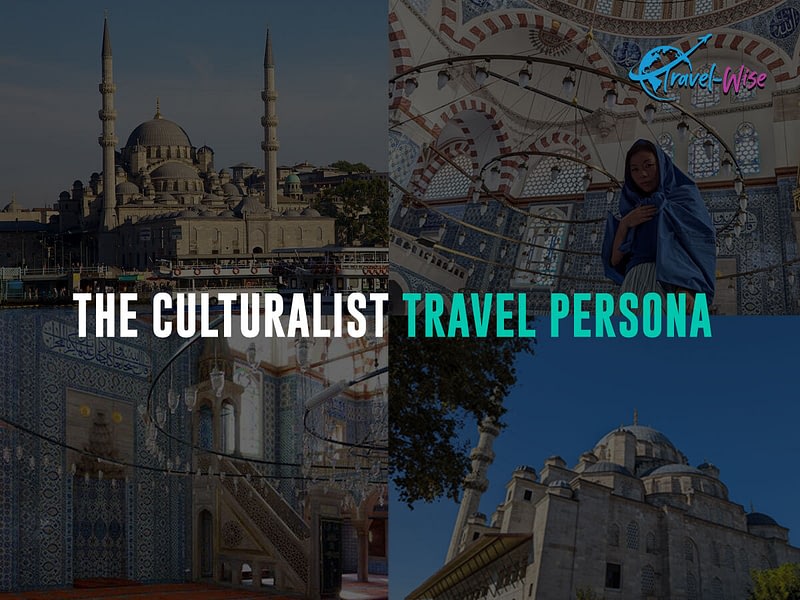 The world is filled with many mysteries, and what greater joy than spending free time exploring the stories of what came before? Culturists want to understand history and modern-day culture, see the intricacies of building architecture, and are fascinated with being fully absorbed. A culturalist will also go the extra mile if needed to be fully explored, including some level of adventure to unravel the mysteries and answer the questions they seek.
Culturalists tend to absorb from books and documentaries to internet research into the details and want to travel to experience things for themselves. They are often very knowledgeable and highly engaged. They want accurate information in their language with as much detail as possible. They will read every board, pamphlet, or article related to the subject matter as they are genuinely interested in the details.
Culturalists love
studying the remnants of a civilization's past
absorbing the local architecture such as cathedrals, tombs, tribal statues, etc
visiting local museums and places of shared historical knowledge
finding the novelty and historical meaning behind current world values
answering deep burning questions by looking at ancient or modern-day cultural experiences
The motto is: "History is always filled with the interesting lessons of the past."
4. The Groupie Travel Persona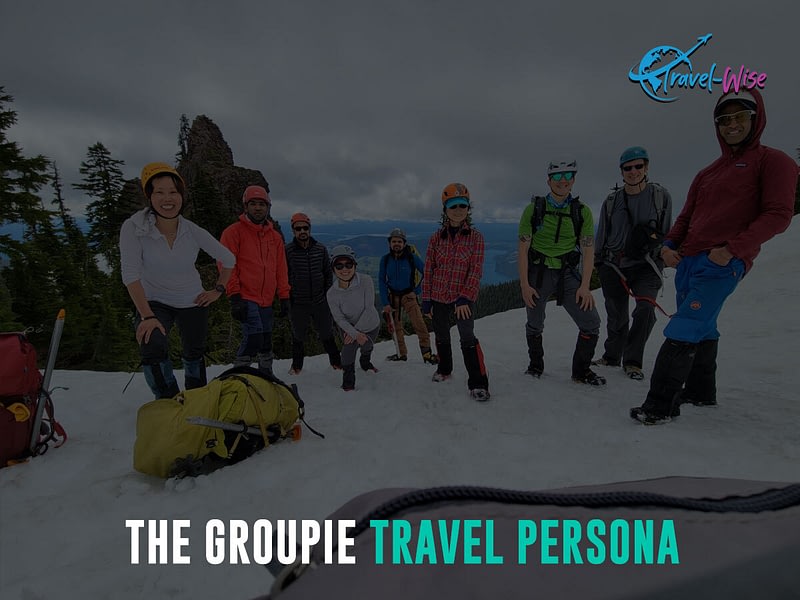 In every household, one person is always the most on top of organizing events. Thanks to the groupie's hard work, group outings/family vacations are made possible through tireless coordination of logistics and finances. Groupies tend to travel for the love of sharing experiences with others.
Whether social media influencers share their expertise with the world or are traveling with the sheer wants to spend time with friends and family on their adventure, these travelers always have someone nearby or at least at the top of their minds. Groupies have sharing and friendship at the top of their list for their travel schedule.
Groupies enjoy
package deals with little self-planning
safaris, cruises, and tours
extensive group tours with transportation
group trip with all-inclusive arrangements such as cruise ships and resorts
organized tours or packages that help make it easy for their group to enjoy
group discount rates that lower the price for large groups
The motto is: "A journey is best measured in friends, rather than miles."
5. The Foodie Travel Persona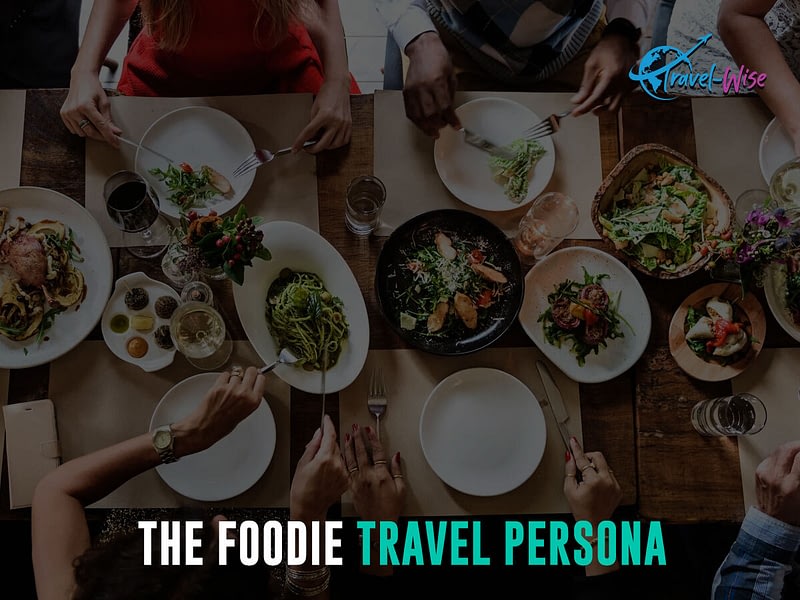 For some, the love of food trumps all. A passionate foodie will plan all their food stops on a trip before moving on to the other logistics. While other activities are in scope for a foodie, food remains the top priority and foremost criterion for determining the trip's success. At the heart of eating food also comes sharing that dining or wining experience.
It is not all about eating, though, Foodies. They also want to absorb into the food culture, meet others, kick back and share drinks with friends, and absorb in the social atmosphere. Many of their activities are engaging and centered around seeing easy-to-reach places and sampling the best of the food around. It is essential for the food to be good and the entire experience around it worthwhile. Foodies want to connect with their food and share those experiences with others.
The top activities a foodie may book would include:
food or wine-tasting tours
cooking classes
reservations at Michelin-star restaurants
locally recommended restaurants are not always visible on TripAdvisor or other review websites
visits to the street markets/food stalls
The motto is: "Food is the anchor in the tempest of life."
In closing
Now that you know your Travel Persona, plan your next adventure by pursuing our template itineraries and find a trip that matches your persona. You can join our Community and find other travelers with your same Travel Persona! Also, on your next trip, record your thoughts and pictures live with our travel journal to keep track of all your exciting moments.