Time always moves forward, and it is easy to miss the moments, especially during travel, and let those precious memories slowly erode over time.
Ever wonder where to start or how to write a travel journal? We travel frequently and have experimented with many different tools over the years. The best way to journal is to get your friends and you in on a shared journal, have fun with it, and journal small notes throughout the trip. Make special mentions of the locations and your initial thoughts around them. These small notes should be refined, and pictures added by the end of the trip. Don't delay, though. Quite often, if you wait too long, it will never happen. Let's explore how to ensure you keep the moments most precious to you journaled.
Most of us fail to hold onto those feelings and thoughts we experience when visiting a place for the first time or trying something out for the first time. We have hollow memories that don't hold a candle to the experience.
Featured Image Credit
What makes a good travel journal?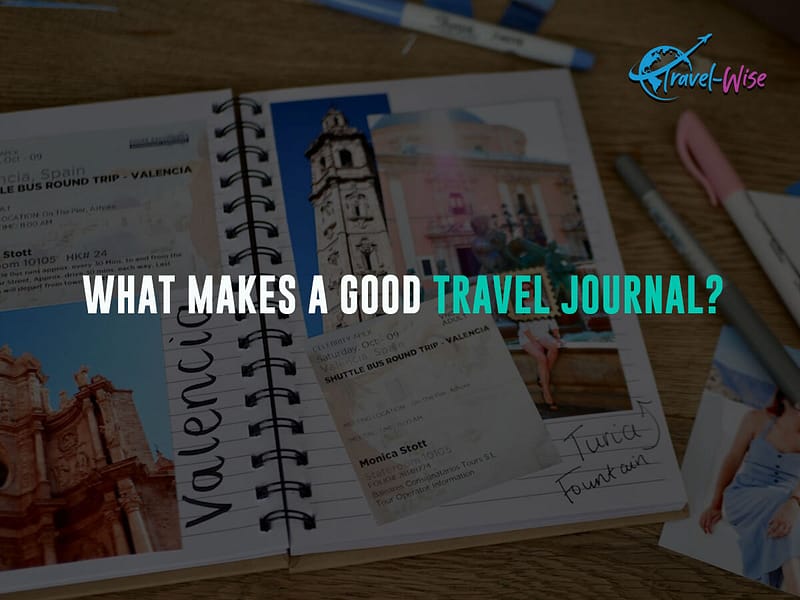 The only surefire way to retain the spirit of our adventures is to write about them on paper, on a digital blog, or using the right digital tools to journal on your phone or laptop. All forms of journaling should not deter you from taking the needed material along or stop you from regularly journaling—experiment and find what works for you. You must stay consistent. That is the key.
You can pick up a diary and start scribbling if you prefer the conventional pen-to-paper recording. But if you're the new-age digital nomad, you can just as quickly jot down your thoughts on any digital blog or app such as Google/Microsoft Word, WordPress, Medium, etc. Not to mention, Travel-Wise has a built-in digital journal built just for you so that travel journaling is more accessible and directly related to your trip plans.
Interested in using Travel-Wise as your next trip planner with a live journal that enables your friends and family to add their entries with pictures, capture GPS coordinates, and assemble it all into shareable cards? Check out how to get started with your trip plan. Also, for everyone not on the trip, you can share the journal to provide others with live updates!
What is a travel journal?
A travel journal is a record of your travels. Your journal can be uniquely you. Essentially, a journal captures experiences, planning, notes, and worries. You start journaling from the beginning, thinking of where to go next, to the end, when you reflect on your experiences with final thoughts, to everything in between. A journal helps capture your memories so that you can revisit them later for inspiration and ideas and to share with others.
Travel journal example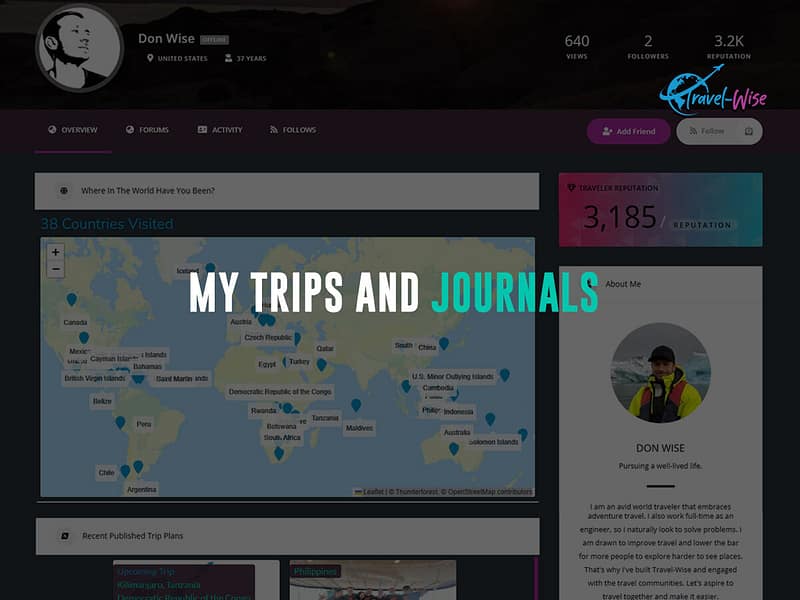 I am something of an up-and-coming journal. I've always been one to take stills on all my trips, but now I have 10s of thousands of photos that are hard to review. One of my inspirations to create Travel-Wise is to create a better organization system for travel, including optimizing travel journaling. I've been using Travel-Wise for my trips and journals here. Check out my profile for all my trip plans with their journals and a full trip map. I will say my journaling has some to be improved, but I continue to practice and be consistent.
For a specific example of one of my journals that spanned a 30-day trip through Turkey, check out my journal here.
What should a travel journal include?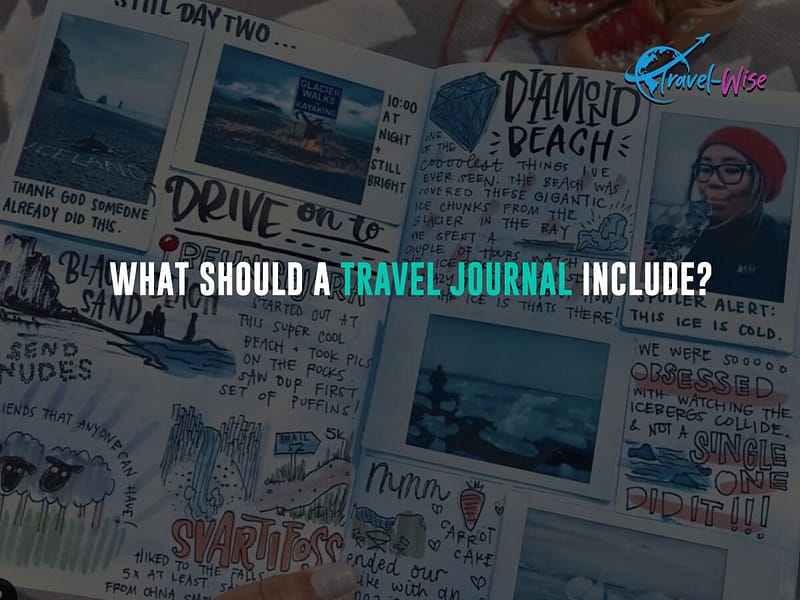 A travel journal can include a lot of things –
Why you want to travel.
Your bucket list for traveling.
Your travel aspirations and goals.
Where are you traveling now?
Your itinerary.
Dates of travel.
Modes of travel.
Your experiences at each place you visit.
Your experiences of every activity you try.
Your fears and doubts.
The challenges you faced during your travels.
The simple pleasures you experienced.
Descriptions of the people you met.
The foods & beverages you have tried.
Any illnesses you had during travel.
Your personal opinions about the places you visited.
Notes/reminders about future travels.
Record of things you bought (and might be taking back home).
…and many more such unique personal travel experiences.
Your travel journal can be for specific trips you take, or you can have a running journal in which you keep updating about every travel you've had and will take in the future. The choice is yours.
Private or public?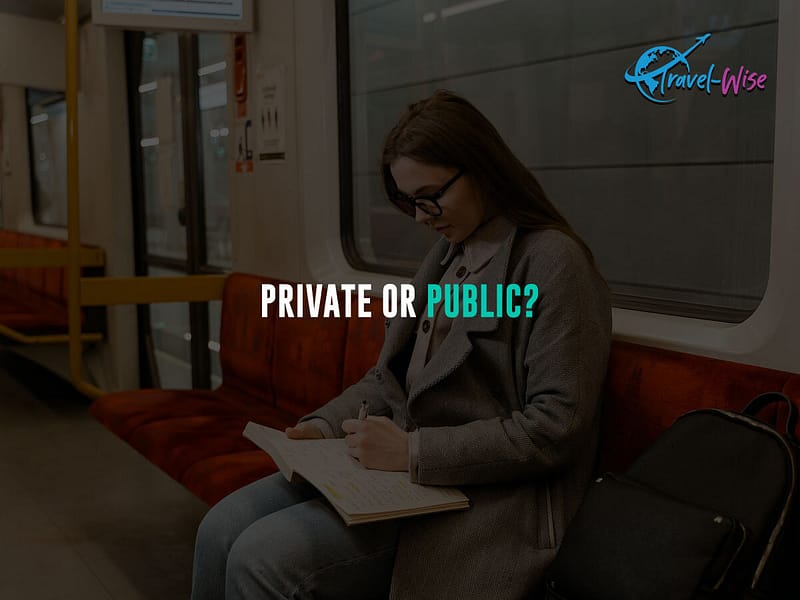 Should you keep your memories to yourself or share them with the world? Again, it's up to you.
A travel journal can be a private record – just like a personal diary. But sharing it can empower you as it's a record of your achievements. Plus, many travel journals become guides for travelers interested in going on the same trip you took. Wouldn't it be amazing to help them, give them tips, and offer certain "heads' ups"?
One important note, the decision to make a public or private journal is also directly connected to how you like to journal. A pen and paper is much easier to keep private today than a digital format. Digital formats are more easily shared and consumed on the internet.
How to write your travel journal: Top tips
1. Write down checklists and to-dos at the beginning of your journal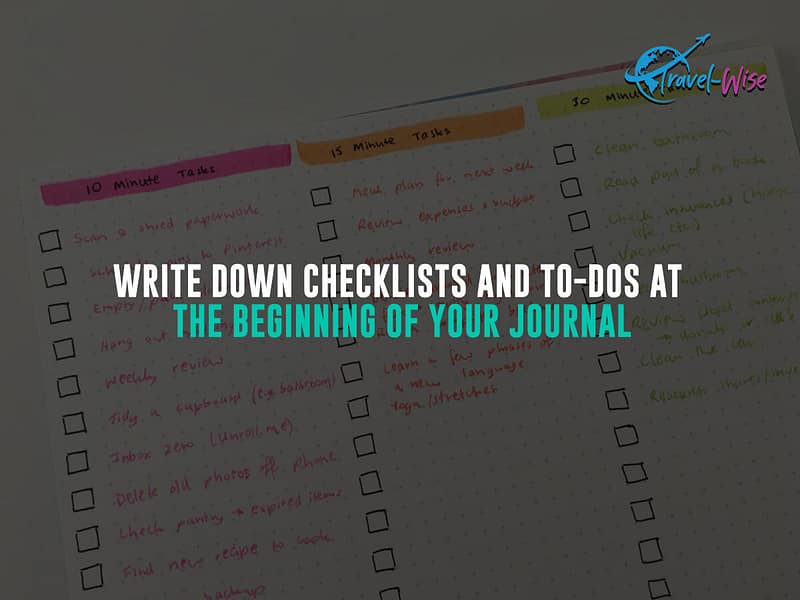 From packing checklists to day-to-day To-Do lists, your journal can be a great place to keep essential must-dos at the top of your mind. As you peruse your journal every day, you will be reminded of the things you are yet to finish doing, and you won't miss completing them.
You can also use your travel journal to note your emergency contacts, medical insurance details, travel insurance details, blood group, organ donation status, points of contact in different places you'll visit, etc.
2. Describe what you're excited about for that day's adventure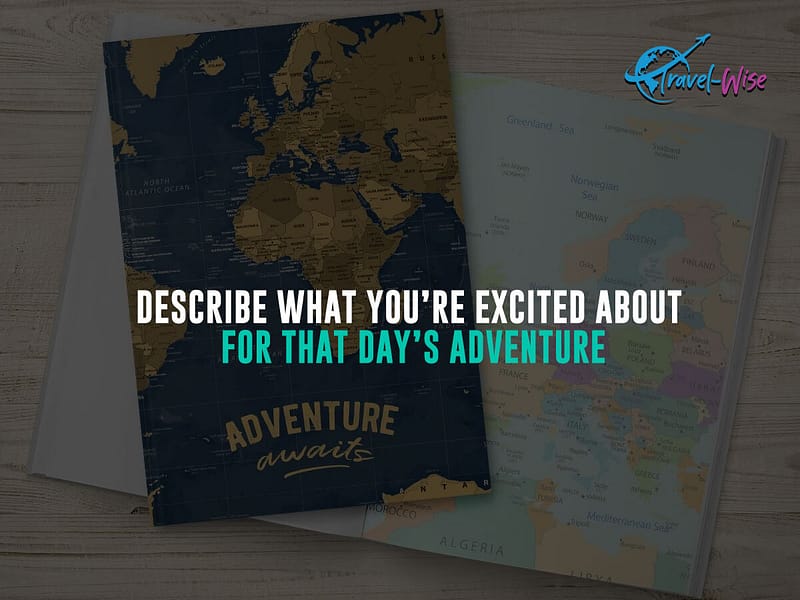 Start the day by describing what you're excited about for that day. What is on the itinerary? Where do you plan to have your meals? Is there any highlight that you do not want to miss?
Record what outfit you have planned to wear. You can also record your plans in case of unexpected problems.
3. Write down what you experienced that day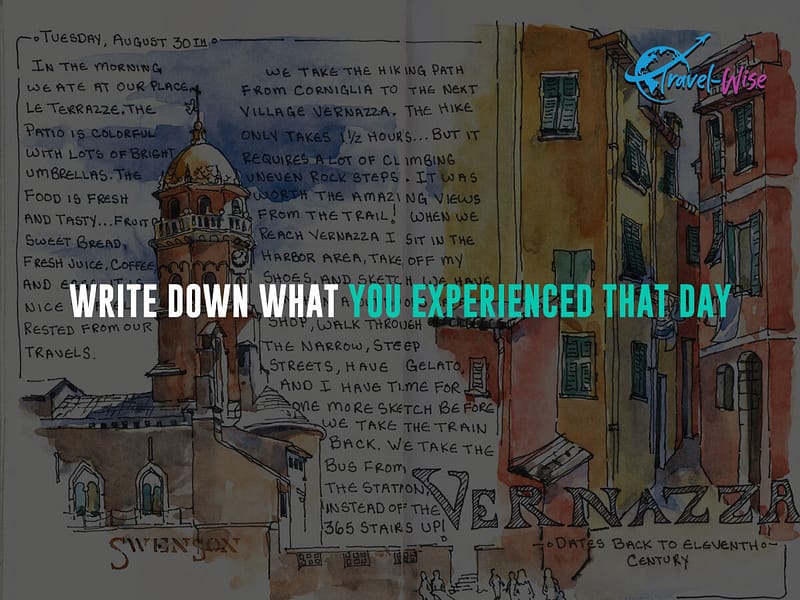 You can write down your lived experiences for that day. Did everything happen as planned? What surprises did you experience? Write about your day and what you saw, did, and ate. Were you able to interact with the locals? How was it?
4. Add pictures or drawings to your entries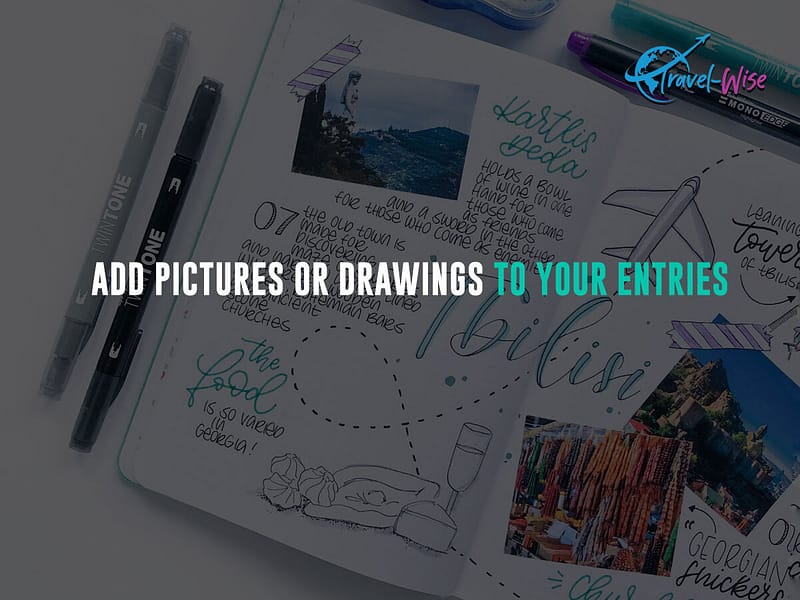 If you're feeling particularly creative, why not draw/paint something you saw en route or at the site? It doesn't have to be award-winning artistry – but a rendition of your experience of your travels.
Get a few pictures printed and stick them to your travel journal. Or, save and name the photos on your phone to upload online later or to get them printed once you get back home.
Some travelers even press flowers and leaves they find when they travel. These act as beautiful reminders of what they experienced during their adventure.
5. Write down any thoughts for the day or new learnings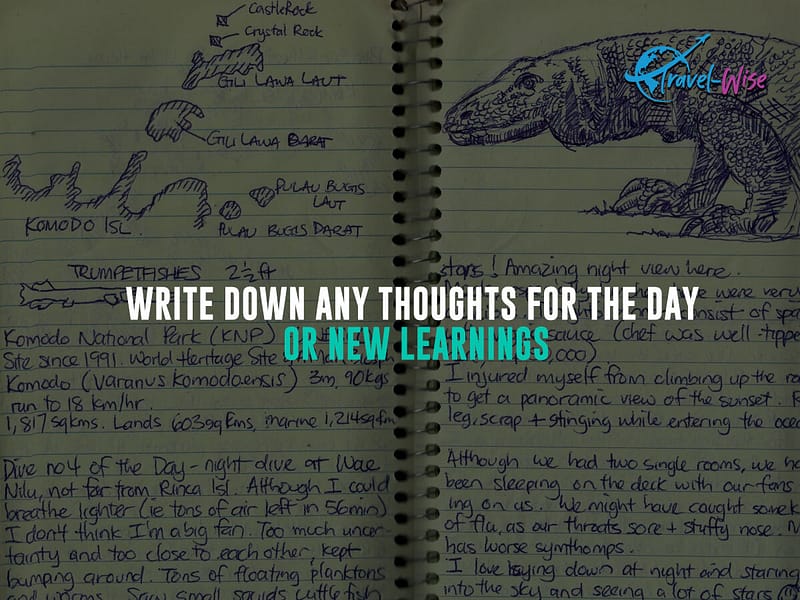 You can note any specific learnings you gained from your day's adventures. Was there a moment that stood out, and did it give you something to think about? How did the day's travels change your perspective? This can be a beautiful way to gain more from your travel experiences.
You can even write about all the fun facts you learned from your travel guide. Maybe even paste a picture of your guide next to your entry.
6. Review and refine your memories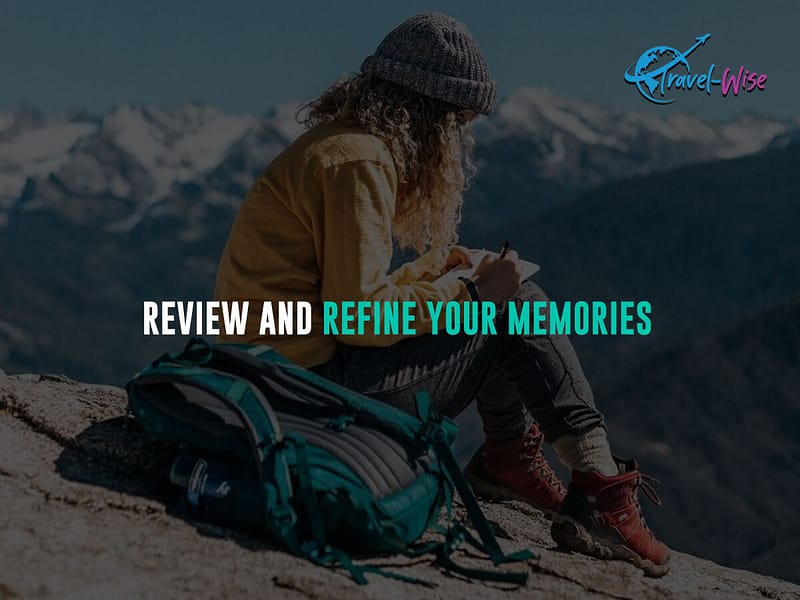 Staying consistent while on the go and with the hustle and bustle is essential. That's why I often do many short notes throughout a trip. After or towards the end of the trip, I review and refine my notes, making minor corrections, adding detail, and improving my notes. This extra process helps empty and ensure the correctness of your notes before they get lost. The most important thing is to keep your journals consistent, which means sometimes it's better to brain dump your thoughts quickly and review them all later.
You don't have to include all of these in your travel journal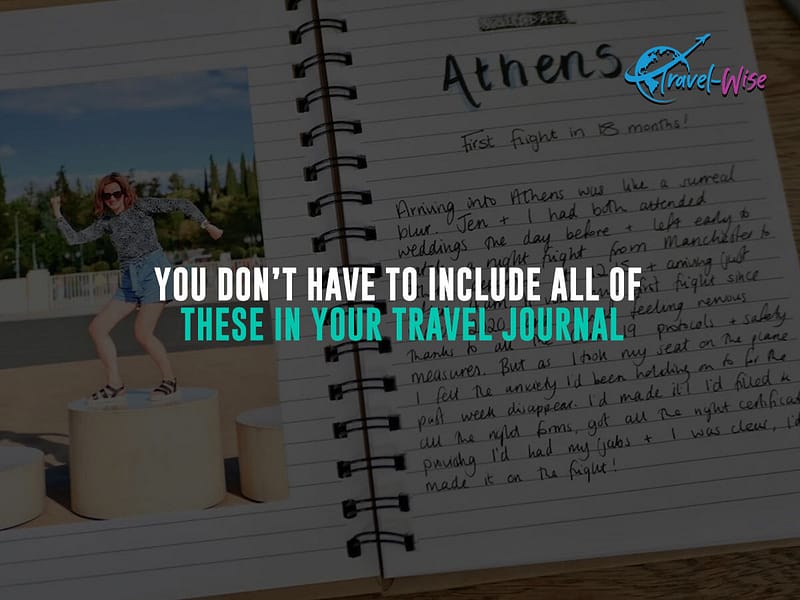 While including all the above details can make for a well-rounded travel log, you don't have to record them in your journal. Instead, include what you want to capture. Also, write your travel journal the way you want to. For example, you may prefer to note down bullet points. That's perfectly fine. Or, if you're a wordsmith, go ahead and get as descriptive as you want. You can also write your travel journal in your native language – it doesn't always have to be in English.
Keep your journal safe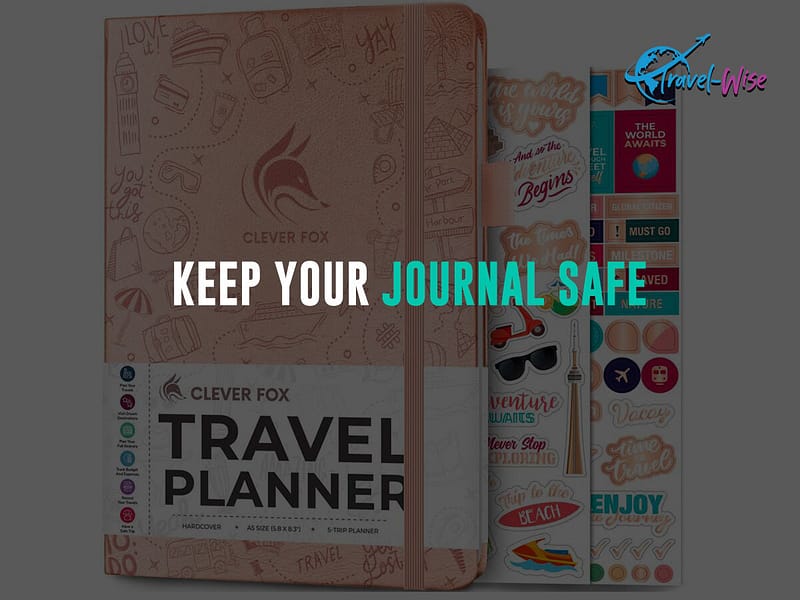 Whether you are storing a physical journal or a digital format, it is crucial to secure your memories. Physical journals are prone to real-world damage over time. A natural disaster, such as a fire, flood, hurricane, etc, may disturb where it rests. To keep it safe, consider organizing it in a weatherproof protector. For digital formats, make sure the copy of your journal is not saved to just your local machine, which can be destroyed or replaced. If it is in the cloud, it can be easily stored over the years and accessed from any machine.
Wrapping up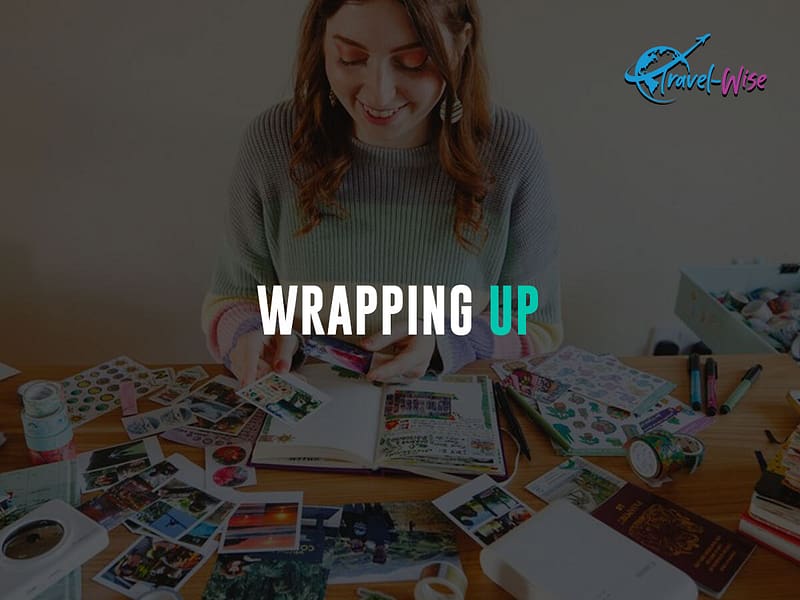 The point of keeping a travel journal is to enjoy logging your travel adventures in a book, website, or video. These journals will become beautiful memories of your old travels, which you can relive in detail multiple times for many years.
Be sure to check out more of our articles on Travel-Wise articles here! Also, we sincerely hope Travel-Wise will make journaling your next travel experience a breeze! Checkout out the Trip Planner and journal tooling! Journaling is easy with your friends and available when and where you need it.