Why visit Parvati Valley? Parvati Valley in the Kullu district of Himachal Pradesh, India, will take your breath away with its natural beauty and cultural diversity. From psychedelic trance festivals to hippie cafes, from high-quality hash (despite being illegal in India) to serene villages, Parvati Valley has something for everyone. You will find it here whether you are looking for thrill or tranquility.
This travel guide will show you the best attractions and activities in Parvati Valley. You will learn about the best time to visit, places to stay, and things to do. You will also discover some hidden gems and insider tips to make your trip memorable.
Parvati Valley is where you can experience the magic of nature and the spirit of adventure. Take advantage of this opportunity to explore one of India's most beautiful and fascinating destinations.
Fun Facts About Parvati Valley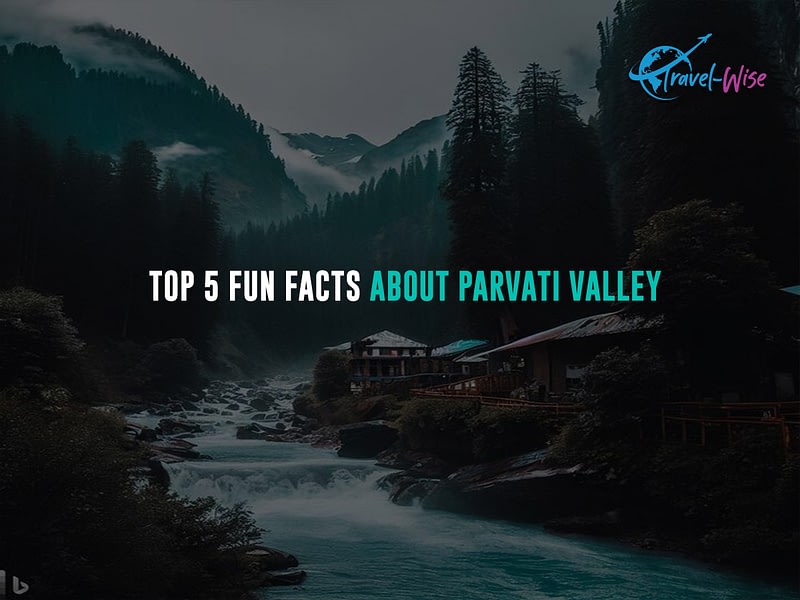 Mini Israel of India: The region of Parvati Valley has a solid Israeli cultural presence, as many Israeli tourists visit and stay there. It has earned the nickname of "Mini Israel of India" for this reason.
Malana's Unique Laws: The village of Malana in Parvati Valley follows its laws and customs that are unique to it. It keeps itself isolated from the outside world and does not allow outsiders to touch its people or things.
Natural Hot Springs: Parvati Valley has many natural hot springs, like Manikaran and Kheer Ganga. The waters of these springs are rich in minerals and are believed to be therapeutic.
Great Himalayan National Park: The Great Himalayan National Park is a UNESCO World Heritage Site in Parvati Valley. The park is home to various plants and animals, making it a paradise for nature lovers and trekkers.
Hippie Culture: The hippie culture of Parvati Valley attracts backpackers and free-spirited travelers. The valley offers a relaxed atmosphere, vibrant markets, and a lively music scene, giving it a unique character.
The Best Time to Visit Parvati Valley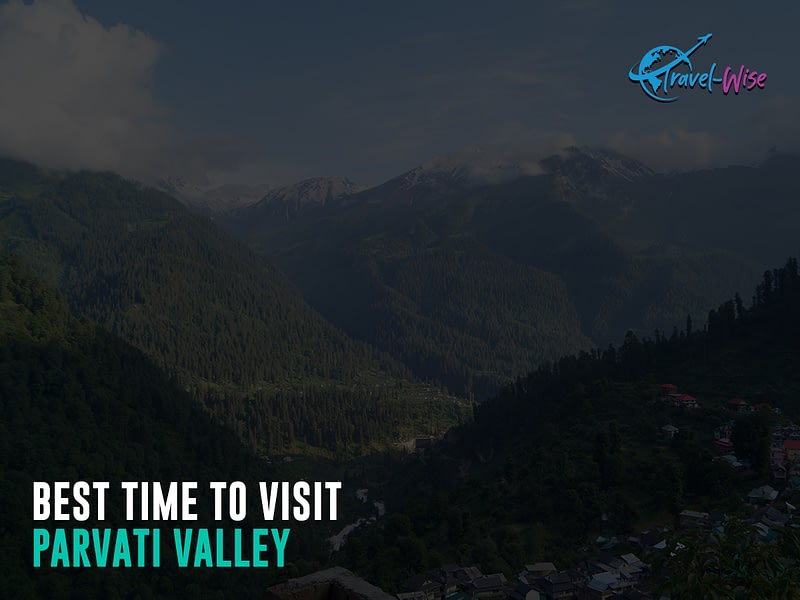 To make the most of your travel experience, schedule your visit between March and June or October and November. The weather is pleasant during these months, with temperatures averaging around 15°C (59°F). However, it is advisable to avoid the monsoon season, usually from July to September. During this period, there is a higher chance of landslides occurring.
If you crave a unique Himalayan experience, embrace the winter charm of Parvati Valley after the monsoons. But be cautious, as heavy rains and impending snowfall can occasionally make the roads treacherous and challenging to access. Winter brings its magical charm to the valley, but safety should always be the priority. Parvati Valley is always stunning, no matter the season. It will leave you in awe with its beauty and unforgettable experiences.
Summer Weather in Parvati Valley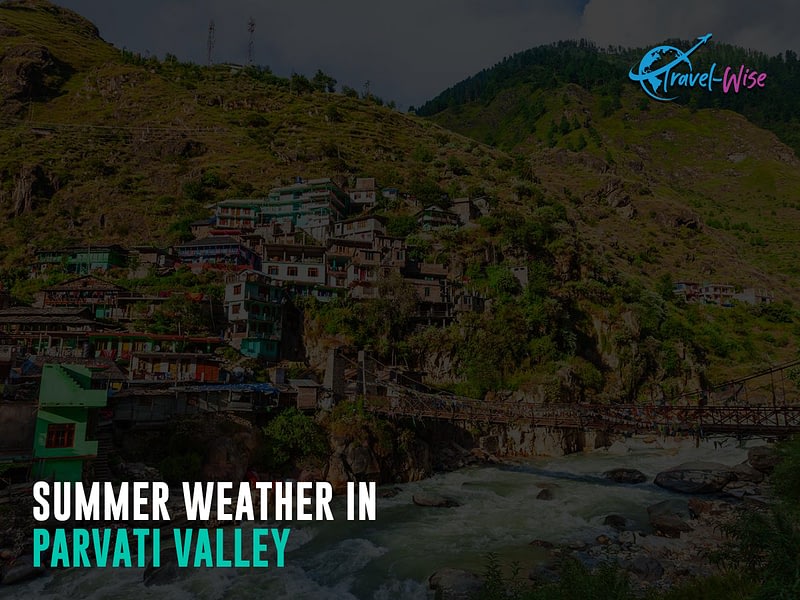 Parvati Valley experiences a gentle and agreeable climate from March to June. Daytime temperatures range from 15°C (59°F) to 25°C (77°F), while night's stay between 5°C (41°F) and 10°C (50°F). This period is perfect for engaging in outdoor pursuits, trekking, and exploring. Opt for lightweight and comfortable attire, and have a light jacket or sweater handy for the evenings.
Winter Weather in Parvati Valley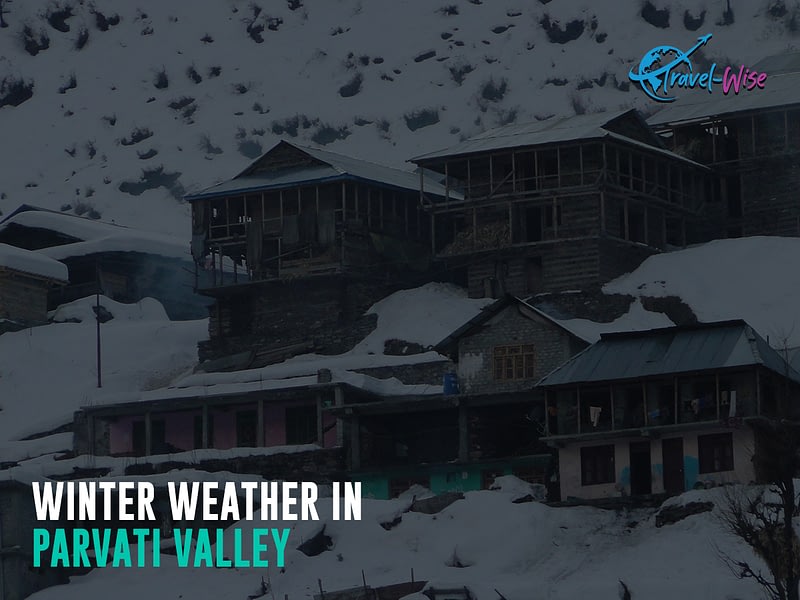 From October to February, Parvati Valley experiences winter. Daytime temperatures range from 3°C (37°F) to 10°C (50°F), while nighttime temperatures can drop below freezing, particularly at higher elevations. Snowfall enhances the landscape's beauty. Wear substantial winter attire such as insulated jackets, thermal clothing, gloves, and durable boots to stay cozy.
Recommended Attire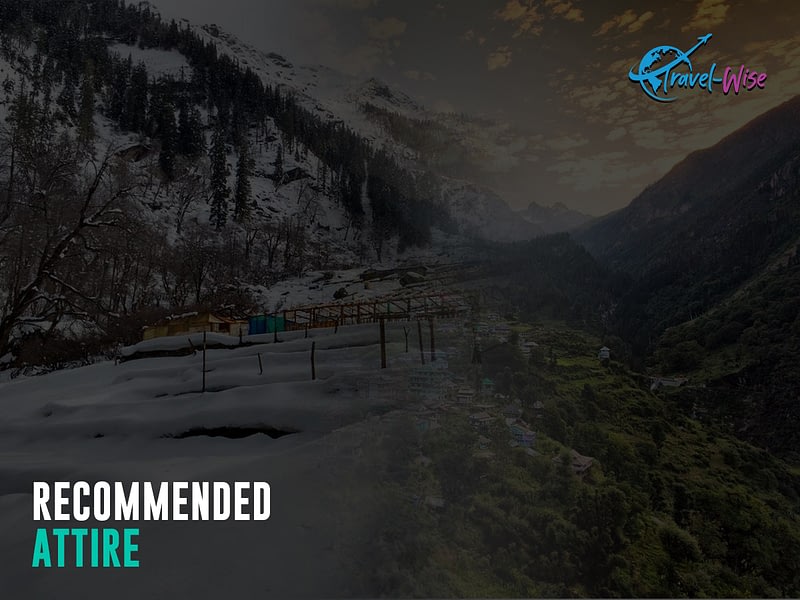 Summer
For daytime activities, wear light and breathable clothes, such as T-shirts, shorts, and comfortable trousers. You may need a light jacket or sweater for the cooler evenings and early mornings. Also, pack sunscreen, a hat, and sunglasses to protect yourself from the sun.
Winter: To stay warm, dress in layers. Begin with thermal innerwear, then add a cozy sweater or fleece, topped with a waterproof and wind-resistant jacket. Choose substantial trousers or jeans for leg warmth. Remember gloves, a hat, and a scarf for your hands, head, and neck. Opt for robust, insulated boots to navigate snowy trails.
Top Destinations in Parvati Valley
Tourist attractions are diverse sites that are designed or natural. They captivate travelers with unique features, history, or beauty. Museums, parks, and landmarks offer entertainment, education, and relaxation and help local economies. These well-kept and engaging attractions make visitors enjoy their experience and learn about different cultures. This also allows the economy in those areas to grow.
Manikaran Sahib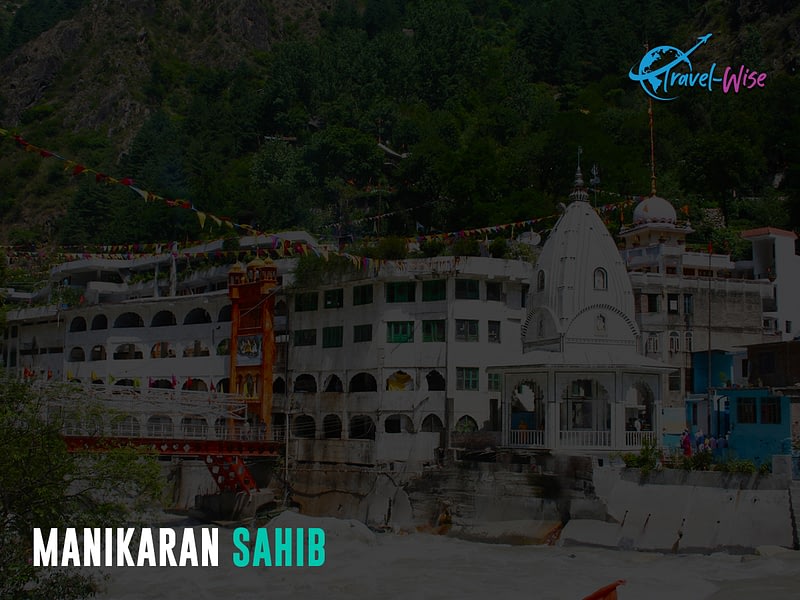 Situated 4 km from Kasol on the banks of the Parvati River in Himachal Pradesh's Kullu District, Manikaran is a renowned pilgrimage spot for Sikhs and Hindus. Temples, the Gurudwara Manikaran Sahib, and natural hot springs draw pilgrims and tourists. The Gurudwara has a hot spring inside, while guesthouses offer private access to two others. The water's high temperature allows for cooking and serves as a langar (communal meal). Exploring the Parvati Valley becomes truly thrilling with a visit to the revered Gurudwara and the invigorating hot springs at Manikaran. The spring's water holds great sanctity, particularly among Sikhs, drawing devotees from nationwide seeking a purifying dip. Abundant in minerals, the spring's water is also renowned for its remarkable medicinal properties.
Kasol
Kasol, a charming village in Himachal, rests by the Parvati River and is often called the 'Amsterdam of India.' Gaining popularity as a haven for trekkers, backpackers, and nature enthusiasts, it's 23 km from Bhuntar and near Manikaran. It offers a serene setting with snow-covered mountains, pine trees, and a tranquil river. Renowned for its trekking routes, Kasol is a base for treks to Kheerganga, Yanker Pass, Sar Pass, and Pin Parbati Pass.
To taste the local culture, explore nearby Malana, a secluded village known as 'Little Greece' for its scenic charm. Imagine gazing at the magnificent Himalayas and snowy peaks while indulging in a feast of Shakshouka, lemon cakes, and unique Israeli dishes. From cozy cafes to bustling street vendors, Kasol offers an excellent opportunity to savor incredible food while engaging in delightful conversations, perhaps even about the weather. Don't miss out on the delectable offerings at 'Turquoise Kasol' and 'The Evergreen' – their cuisine will surely leave you utterly enchanted.
Malana
Malana is a distinctive village in the Malana Nala, a smaller valley alongside Parvati Valley. Its uniqueness lies in its cultural heritage, spiritual significance, and trekking routes. The town hosts temples like Jamadagni Temple and Renuka Devi Shrine, which are central to local worship practices. Journeying to Malana involves a picturesque trek through lush deodar woods and by the shimmering Malana Dam.
Tosh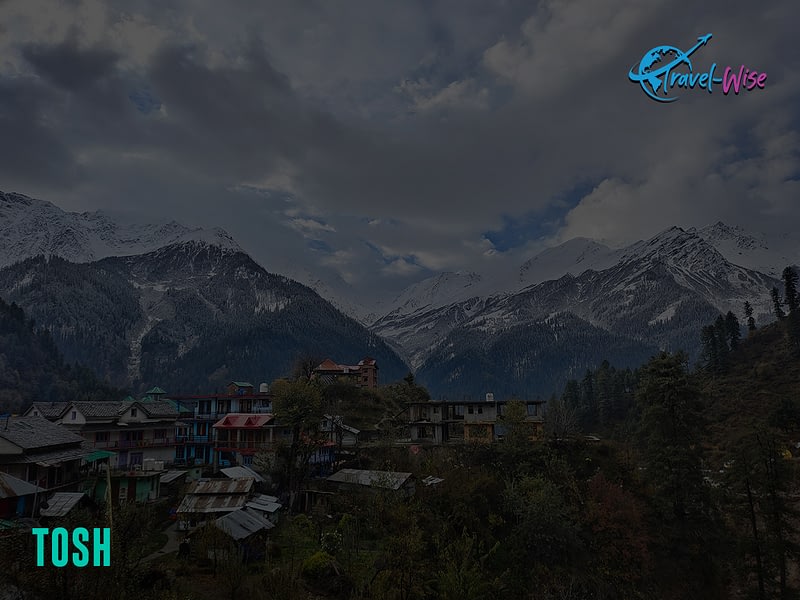 Renowned for its cannabis plantations, the serene Tosh village exemplifies Himachal Pradesh's unmatched natural beauty. Situated at the remote end of Parvati Valley, Tosh remains untouched by modernization, offering a gradual landscape with the Parvati River flowing gently. The Tosh Kasol trek attracts adventure enthusiasts, while the village's hippie culture creates an otherworldly ambiance.
Scattered villages dot Tosh's lush green hills against snowy peaks, blending nature's splendor and unique experiences. Tosh's popularity has grown due to its proximity to the famous hippie hub, Kasol. Backpackers seek refuge here for yoga, meditation, and a fresh, tranquil environment. The village is mainly frequented by backpackers from Europe and Israel, drawn by the renowned Kheerganga trek. Each step into Tosh deepens the affection for this Himalayan gem.
What is the Culture in Parvati Valley?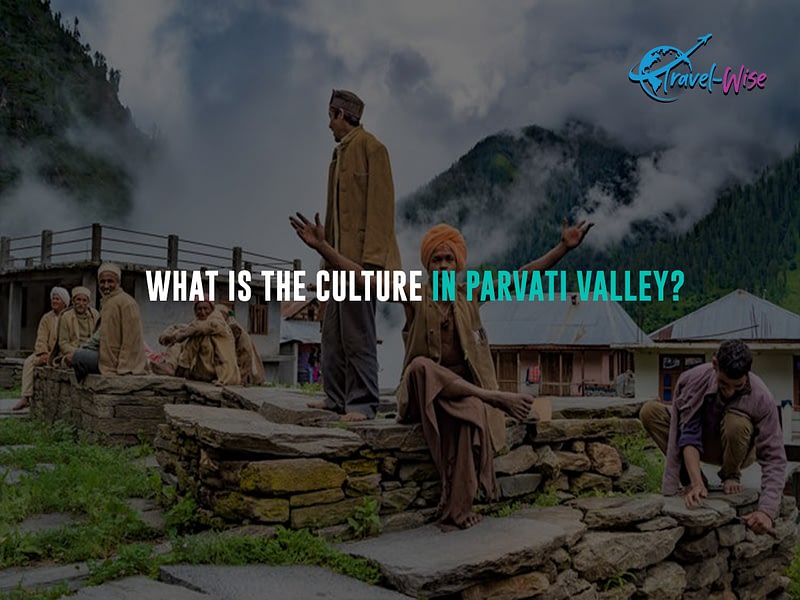 Parvati Valley has a unique culture that combines Hindu, Buddhist, and Western elements. The valley has many old temples and shrines, but it also attracts backpackers and hippies. This creates a traditional and modern culture with a vibrant and eclectic mix of influences.
Some of the main elements that define the culture in Parvati Valley are:
Hinduism: Hinduism is the valley's main religion, and many customs and festivals are based on Hindu beliefs. The Kheerganga Fair is the most important festival in the summer and honors the God Shiva.
Buddhism: The valley also has an essential Buddhist presence, and many Buddhist monasteries and temples can be found there. The most important Buddhist festival in the valley is Losar, which celebrates the Tibetan New Year.
Western influences: The recent influx of backpackers has led to several changes in culture in the valley. These include the popularity of yoga, meditation, and alternative healing practices.
Is It Safe for Solo Travel?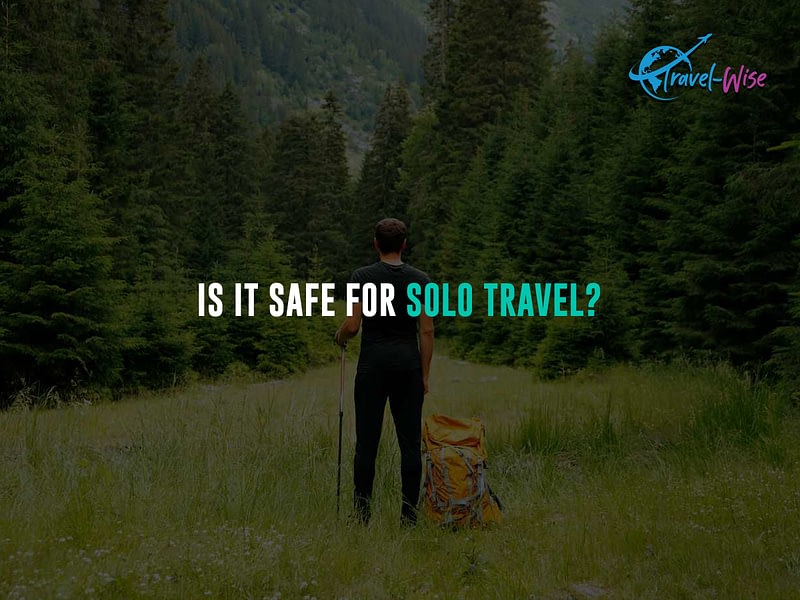 Parvati Valley is a beautiful destination for solo travelers, but it also has some potential dangers you should be aware of.
Pickpocketing: Parvati Valley, like many other tourist destinations, has a problem with pickpockets. You should always keep your valuables with you and never let them out of your sight.
Fraud: Some people in Parvati Valley may scam tourists by pretending to be taxi drivers or tour guides. You should only use reliable and trustworthy services and people and not share your personal information with strangers.
Drugs: Parvati Valley is notorious for its drug scene, posing a risk of unintended exposure. It's crucial to be vigilant about the dangers of drug involvement and avoid accepting substances from unfamiliar individuals. Stay cautious and prioritize your safety.
Wildlife: Some wild animals, such as bears and leopards, live in Parvati Valley. They usually do not attack humans, but you should still be careful and take some measures, such as hiking with others and not hiking alone at night.
Overall, Parvati Valley is a safe place to travel solo, but it is essential to be aware of the risks and to take precautions. By following these tips, you can have a safe and enjoyable trip.
Here Are Some Additional Tips for Solo Travel in Parvati Valley
Stay in a reputable hostel or guesthouse. This is an excellent way to meet other travelers and have someone look out for you.
Let someone know where you are going and when you expect to be back. This could be a friend, family member, or travel agency.
Be aware of your surroundings and trust your gut instinct. If something feels wrong, it probably is.
Take taxis or public transportation instead of walking alone at night. This is especially important if you are intoxicated.
Be respectful of the local culture and customs. This will help you avoid any misunderstandings.
By following these tips, you can have a safe and enjoyable solo trip to Parvati Valley.
Things You Might Need for Parvati Valley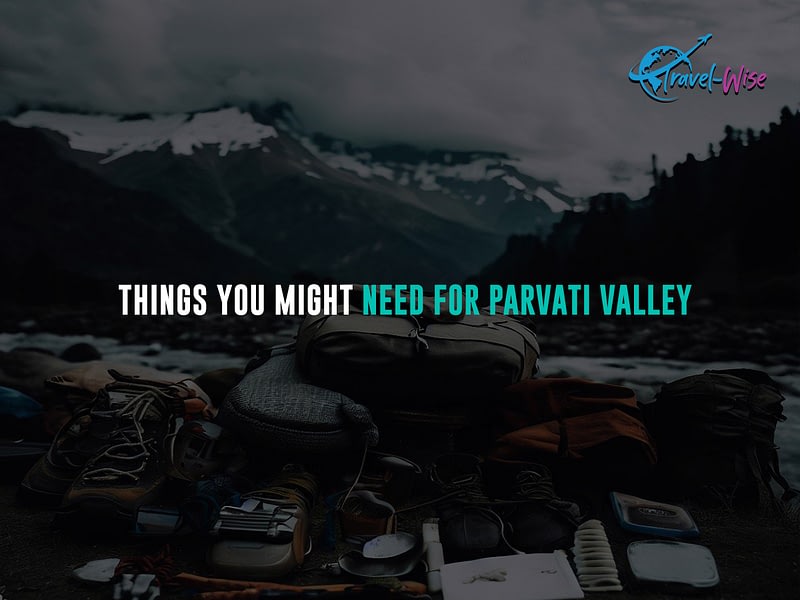 Hiking gear: You need a backpack to carry all of your stuff. It should have enough space for your sleeping bag, tent, clothes, and other things you need. Hiking boots are also crucial for giving you support and grip on the paths. Trekking poles can help you keep your balance and make your knees less tired. A sleeping bag is vital for keeping you warm at night. A tent is essential for protecting you from the weather. A sleeping pad can help you sleep better on the ground.
Clothing: You need to bring clothes that you can wear in layers to adapt to the different temperatures. The days can be hot and sunny in the summer, but the nights can be cold. The days can be warm in the winter, but the nights can be freezing. You also need a jacket and a hat to protect you from the rain.
First-aid kit: You should always bring a first-aid kit when you travel, but it is even more critical in Parvati Valley, where you may need help finding good medical facilities. Your first-aid kit should have bandages, antiseptic wipes, pain relievers, and other essential supplies that can help you treat minor injuries or illnesses.
Sunscreen: The sun can be extreme in Parvati Valley, so pack sunscreen with an SPF of 30 or higher. You will also need to reapply sunscreen throughout the day.
Mosquito repellent: There are mosquitoes in Parvati Valley, so be sure to pack mosquito repellent. You can also wear long sleeves and pants to protect yourself from mosquito bites.
Permits: You will need a license to enter the Parvati Valley National Park. You can get a permit from the Forest Department office in Kullu.
Treks in Parvati Valley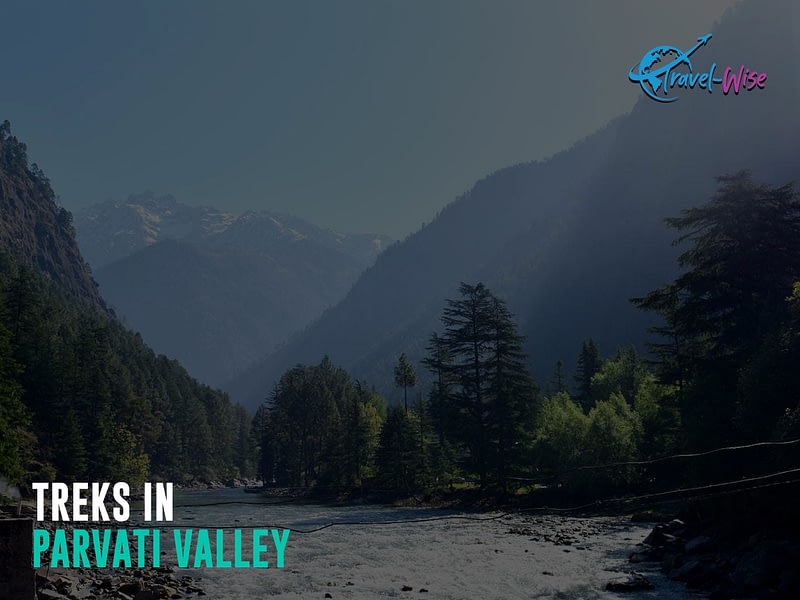 Treks are a way of exploring nature by walking on trails or paths. You can see mountains, forests, and other outdoor places by trekking for a certain distance. Treks can be easy or hard, depending on the terrain and the distance. Treks are an excellent way to experience different places' natural beauty and diversity.
Kutla (Intermediate Trek in Parvati Valley)
Kutla is a beautiful trekking destination in the Parvati Valley of Himachal Pradesh, India. It's a lesser-known and less-crowded trekking route compared to some of the more popular destinations in the region. Here's a brief introduction to Kutla:
Height
Kutla is approximately 8,000 to 8,200 feet (about 2,438 to 2,500 meters) above sea level. This elevation provides trekkers with stunning views of the surrounding valleys and snow-capped peaks.
Trek Difficulty
The trek to Kutla is generally considered to be of moderate difficulty. It is suitable for both beginners and experienced trekkers. The trail involves a gradual ascent through lush forests, beautiful meadows, and scenic landscapes. While there are some steep sections, they are not highly challenging, making them accessible to a wide range of trekkers. However, it's essential to be prepared for varying weather conditions, especially during the monsoon season when the trail can become slippery.
Duration
The trek to Kutla can typically be completed in 1 to 2 days, depending on your starting point and pace. The trekking distance is around 8 to 10 kilometers (5 to 6 miles) one way from Kasol, one of the standard starting points. You can do a day trek or spend a night at Kutla to enjoy the tranquillity and scenic beauty of the place. The trek route is well-marked, and several guesthouses and camping options are available in Kutla.
Rasol (Intermediate Trek in Parvati Valley)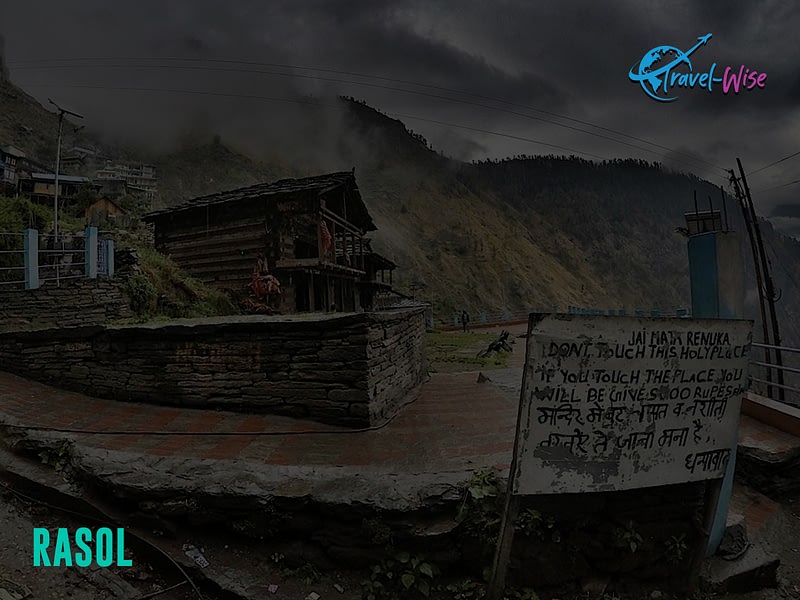 Rasol is a small village in the Parvati Valley of the Indian state of Himachal Pradesh. It is known for its serene and picturesque surroundings, making it a popular destination for trekkers and backpackers seeking a peaceful and offbeat Himalayan experience. Here's a bit of an introduction to Rasol:
Height
Rasol is located at an altitude of approximately 10,000 feet (around 3,048 meters) above sea level. This elevation provides breathtaking views of the surrounding mountains and lush green landscapes.
Trek Difficulty
The trek to Rasol is considered to be of moderate difficulty. While it's relatively easy, it does require a reasonable level of fitness, mainly if you are not accustomed to high-altitude trekking. The trail involves some steep ascents and descents, and you might encounter rocky terrain and narrow paths. It's important to acclimatize properly to the altitude and carry essential trekking gear.
Duration
Typically, it takes 2 to 3 days to complete the trek to Rasol, depending on your starting point and pace. The trekking distance is approximately 12-15 kilometers (7-9 miles), and it can be completed in 2 days if you are an experienced trekker or in 3 days if you prefer a more leisurely pace. The trek usually begins from Kasol, a popular base for trekkers in the Parvati Valley, and then leads to Rasol through lush forests and scenic landscapes.
Hotels near Rasol and Kutla
Whoopers Hostel Tosh: This hotel In this Tosh location, you can relish the coziness of your accommodation while taking in the splendid sights of the river and the majestic mountains.
Café Kush: This resort is perfect if you're searching for an uncomplicated and tranquil lodging option. It provides affordable rooms and features a garden area, all while exuding a relaxed atmosphere.
Parvati Kuteer: This resort in Kasol lets you stay in cozy cottages and huts with modern facilities while enjoying the breathtaking views of the Himalayan mountains.
Brick And Wood Huts: At this place in Kasol, you can enjoy the comfort of your room while gazing at the beautiful views of the river and the mountains.
Waichin Valley (Intermediate Trek in Parvati Valley)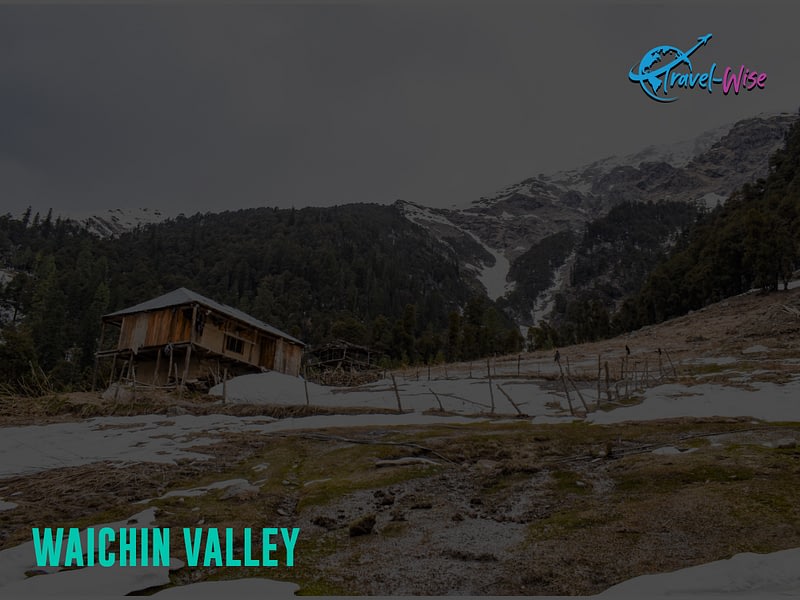 Waichin Valley, also known as Waichin Nag or the Magic Valley, is a pristine and lesser-known trekking destination in the Parvati Valley of Himachal Pradesh, India. This valley is renowned for its serene and untouched natural beauty, making it a hidden gem for nature enthusiasts and trekkers.
Height
The elevation of Waichin Valley can vary depending on your trekking route within the valley. Generally, the trek starts at around 2745 meters (9005 feet) and can go higher as you explore the surrounding hills and meadows.
Trek Difficulty
The trek to Waichin Valley is considered moderate in difficulty. It involves a combination of gentle ascents, river crossings, and some steep sections, but it's generally manageable for trekkers with average fitness levels. However, like any trek in the Himalayan region, it's essential to be prepared for changing weather conditions and altitude-related challenges.
Duration
The trek to Waichin Valley can vary depending on your starting point and the areas you wish to explore. A typical tour to the valley and back may take 4 to 5 days. However, some trekkers spend more time in the valley to immerse themselves in its natural beauty and solitude.
Kheerganga (Intermediate Trek in Parvati Valley)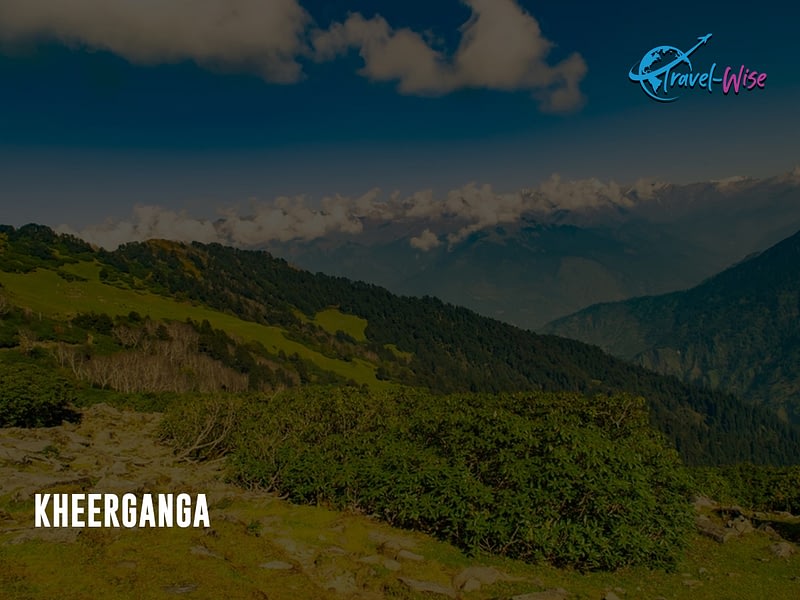 In the captivating Parvati Valley of Himachal Pradesh lies Kheerganga, a trekker's paradise. Embark on a thrilling 24 km round trip from Kasol, where every step unveils breathtaking waterfalls and stunning views of the Parvati River. But that's not all – the highlight of this adventure awaits at the summit, where a natural hot spring with healing properties beckons you to immerse yourself in its rejuvenating waters. The best time to conquer this challenging trek is from March to June and September to November.
Height
Kheerganga is situated at an elevation of approximately 2,960 meters (9,711 feet) above sea level.
Trek Difficulty
The Kheerganga trek is considered a moderately challenging trek. It involves a well-marked trail with a gradual ascent through dense forests and rocky terrain. While it's suitable for beginners, it's essential to have basic fitness and stamina to complete the trek comfortably. The trail is known for its beauty, which makes the trek enjoyable.
Duration
Typically, it takes about 2 to 3 days to complete the Kheerganga trek, depending on your starting point and pace. The walk begins from the village of Barshaini, and the ascent can be done in approximately 4-6 hours. Many trekkers spend a night at Kheerganga to relax and enjoy the hot springs before descending the next day. You can adjust the duration according to your preferences and the time you wish to spend at the top.
Kheerganga is a popular trekking destination known for its natural beauty and moderate difficulty level, making it accessible to many trekkers.
Hotels near Waichin Valley and Kheerganga
AYOYA Malana Resort – Shiva Cafe:  A cozy and homely atmosphere awaits you at Malana, where you can find simple and comfortable accommodations.
Ravers Point: Ravers Point Hotel, offers a vibrant and energetic atmosphere, catering to travelers seeking a lively and dynamic stay experience. With its unique ambiance, it's a top choice for those looking to immerse themselves in the vibrant spirit of the area.
Kheerganga Hike Camps: Kheerganga Hike Camps provide a rustic yet comfortable retreat for trekkers amidst the stunning Himalayan landscape. Nestled in the lap of nature, it's the perfect base camp for adventurers exploring Kheerganga's trails.
City Escape Camps and Café: City Escape Camps and Cafe in Kheerganga offers a serene retreat for nature lovers, complete with comfortable camping options and a cozy cafe serving up mountain charm. Immerse yourself in the tranquility of the Himalayas while enjoying the convenience of this scenic mountain hideaway.
The Pin Parvati Pass Trek (Difficult Trek in Parvati Valley)
The Pin Parvati Pass trek is a challenging and high-altitude trek in the Indian state of Himachal Pradesh. Here are the key details:
Height
The Pin Parvati Pass is located at an elevation of approximately 5,319 meters (17,450 feet) above sea level. It is one of the highest mountain passes in Himachal Pradesh and offers stunning views of the surrounding Himalayan peaks.
Trek Difficulty
The Pin Parvati Pass trek is considered a strenuous and challenging trek. It involves a combination of steep ascents, descents, river crossings, rocky terrain, and potentially adverse weather conditions. Trekkers should have prior high-altitude trekking experience, excellent physical fitness, and be well-prepared for the challenges posed by this trek. Altitude sickness can be a concern due to the high elevation, so acclimatization is crucial.
Duration
The Pin Parvati Pass trek typically ranges from 10 to 14 days, depending on the specific itinerary and the starting point. The trek covers a significant distance, and trekkers may need additional days for acclimatization and rest. Here is a rough breakdown of the trek:
Kaza to Mud: The trek often begins in Kaza, and the initial phase takes you from Kaza to the Mud village, which can take around 3-4 days.
Mud to Pin Valley: From Mud, you'll enter the Pin Valley and continue trekking through remote and beautiful landscapes. This phase can take another 3-4 days.
Pin Valley to Pin Parvati Pass: The ascent to the Pin Parvati Pass and the crossing itself is challenging and typically takes 2-3 days.
Duration can vary due to trekking speeds, weather, and other factors. Prepare with the proper gear, a knowledgeable guide, and understand the route. Check for required permits and safety guidelines from local authorities.
Great Himalayan National Park Trek (Difficult Trek in Parvati Valley)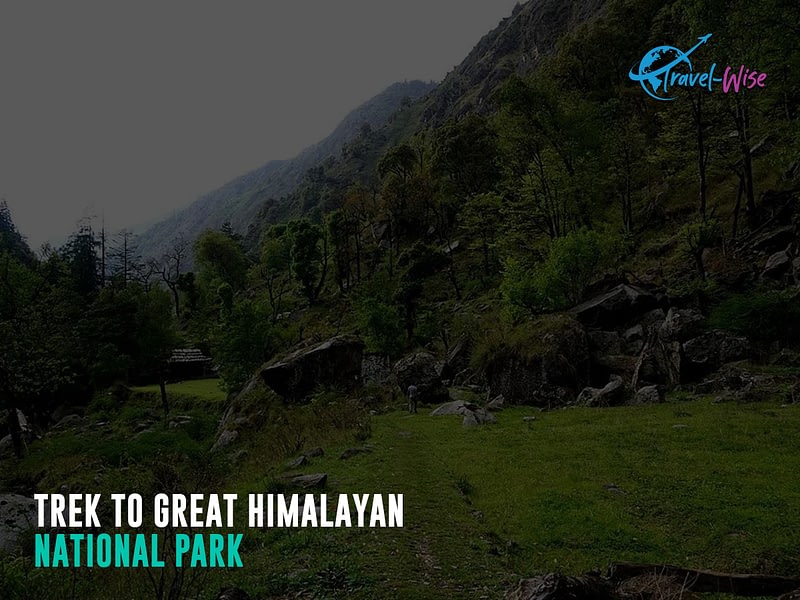 The Great Himalayan National Park (GHNP) is a UNESCO World Heritage Site. The park encompasses a wide range of altitudes, and the difficulty and duration of a trek within the park can vary depending on your specific route. Here's a general overview:
Height
The Great Himalayan National Park covers altitudes ranging from approximately 1,500 meters (4,921 feet) to over 6,000 meters (19,685 feet). The highest peaks within the park can exceed 6,000 meters.
Trek Difficulty
Trekking in the Great Himalayan National Park can vary from easy to challenging, depending on your selected trail. Some easier treks are suitable for beginners and families, while others can be demanding and require good physical fitness and trekking experience. The difficulty level will also depend on factors like weather conditions and the specific route you take.
Duration
A trek in the GHNP can vary widely based on the chosen trail. Shorter treks, such as the one to the park entrance or nearby villages, can be completed in a day or two. However, for more extensive treks into the park, you may need anywhere from 3 to 10 days or even longer, depending on your itinerary and the distance you plan to cover. Popular longer treks, such as the one to the Sainj Valley or the Tirthan Valley, typically last around a week.
Plan well before trekking in the Great Himalayan National Park. Pick a route that suits your fitness, time, and experience. Ask local experts for updates on trails, permits, and safety.
Hotels near Pin Parvati Pas and Great Himalayan National Park
Budget Ranges for Traveling to Parvati Valley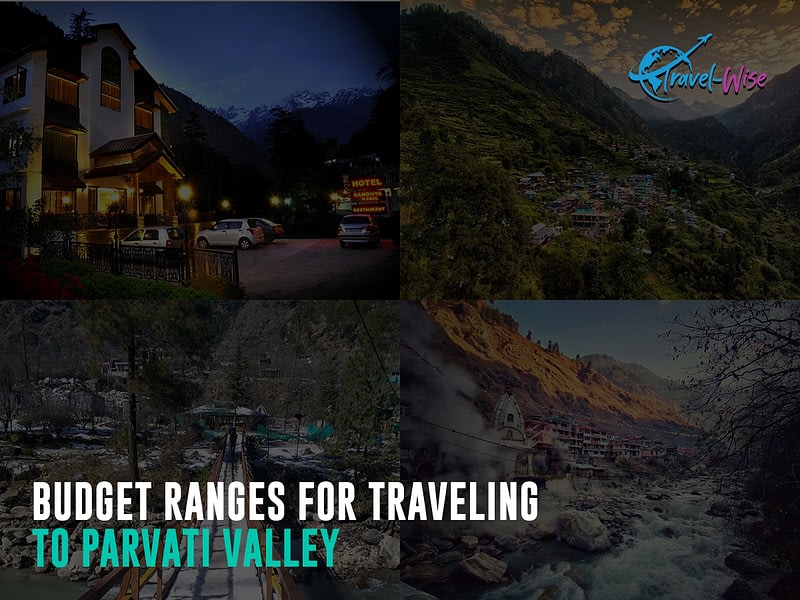 When planning a trip to Parvati Valley, it is essential to consider the budget range that suits your needs and preferences. Whether you are a backpacker on a shoestring budget or seeking a more luxurious experience, Parvati Valley offers options that cater to different budgets.
Low Budget
Accommodation: In the low-budget range, you can find budget guesthouses, hostels, and basic lodges. Prices vary from $5 to $20 (INR 300 to 1500) per night.
Meals: Local eateries and street food stalls offer affordable meals. You can expect to spend around $5 to $10 (INR 300 to 750) daily on food.
Transportation: Public buses and shared taxis are economical options for getting around. Budget around $5 to $15 (INR 300 to 1000) daily for transportation.
Total Low Budget: For a low-budget trip, expect to spend approximately $20 to $45 (INR 1500 to 3500) daily.
Mid Budget
Accommodation: Mid-budget accommodations include comfortable hotels, boutique stays, and better-equipped guesthouses. Prices range from $20 to $70 (INR 1500 to 5000) per night.
Meals: You can enjoy a mix of local and international cuisine at mid-range restaurants. Budget around $10 to $20 (INR 750 to 1500) daily for meals.
Transportation: Private taxis, local transport, and occasional excursions cost $15 to $30 (INR 1000 to 2000) per day.
Total Mid Budget: For a mid-budget trip, expect to spend approximately $45 to $120 (INR 3500 to 9000) daily.
Luxury Budget
Accommodation: Luxury accommodations include upscale hotels, resorts, and boutique stays. Prices can range from $100 to $300 (INR 7500 to 22,000) per night or even higher.
Meals: Indulge in fine dining experiences with a budget of $30 to $50 (INR 2000 to 3500) per day for meals.
Transportation: Private transport, guided tours, and adventure activities cost around $50 to $100 (INR 3500 to 7500) per day.
Total Luxury Budget: For a luxury experience, expect to spend approximately $180 to $450 (INR 13,500 to 33,000) daily.
These are rough estimates; costs vary based on personal preferences, choices, and seasonal fluctuations. It's recommended to plan your budget accordingly and factor in additional expenses for activities, shopping, and unforeseen circumstances.
Conclusion
Parvati Valley is a beautiful destination for those who love adventure and natural beauty. This region quickly became popular with its many tourist attractions and cultural heritage. Whether planning a trip with friends, a romantic getaway, or a solo adventure, Travel-Wise can help you plan your journey and make the most of your time in Parvati Valley.
Our template itineraries, created and rated by the community, allow you to start planning your trip quickly. You can tweak the itinerary to create a custom plan for your travel persona. Our platform connects you with travel experts who have traveled to Parvati Valley and can offer their insights and advice so that you can make informed decisions about your trip.
So, whether you want to go trekking, explore ancient temples, or relax in the serene atmosphere of the valley, Travel-Wise can help you make the most of your time in Parvati Valley. Start planning your journey to this beautiful destination today and create unforgettable memories that will last a lifetime!