Are you an adventurist seeking an adrenaline-pumping, mind-blowing experience? Look no further than shark diving expeditions! When planning your trip to the Indian subcontinent, check out these excellent shark diving sites.
Difference between Sharks, Rays, and Mantas
Sharks, rays, and mantas are fascinating creatures in the cartilaginous fish group, characterized by skeletons made of cartilage instead of bone. All three are formidable predators, feasting on other animals. However, there are significant distinctions between the three groups.
Sharks
With their long, pointed snouts and sharp teeth, sharks are predators of large fish, squid, and marine mammals. Over 500 shark species traverse the world's oceans, showcasing remarkable diversity.
Rays
Rays have flattened bodies and whip-like tails. They prey on small fish, crustaceans, and mollusks. Across all the world's oceans, you can find over 600 captivating species of rays.
Manta Rays
Crowned as the most enormous, manta rays boast broad, triangular bodies and long tails. These gentle giants are filter feeders, nourishing themselves on tiny plankton and other minuscule organisms. They grace the tropical and subtropical waters with their majestic presence.
The rich variety within these marine creatures makes for an awe-inspiring exploration. Underwater is full of wonder, whether you're watching graceful rays and mantas or facing sharks. Discover the mesmerizing world of these extraordinary creatures!
Swaraj Dweep in the Andaman Islands
Sharks to see: Whitetip reef sharks, Eagle rays, Modula rays, and Manta rays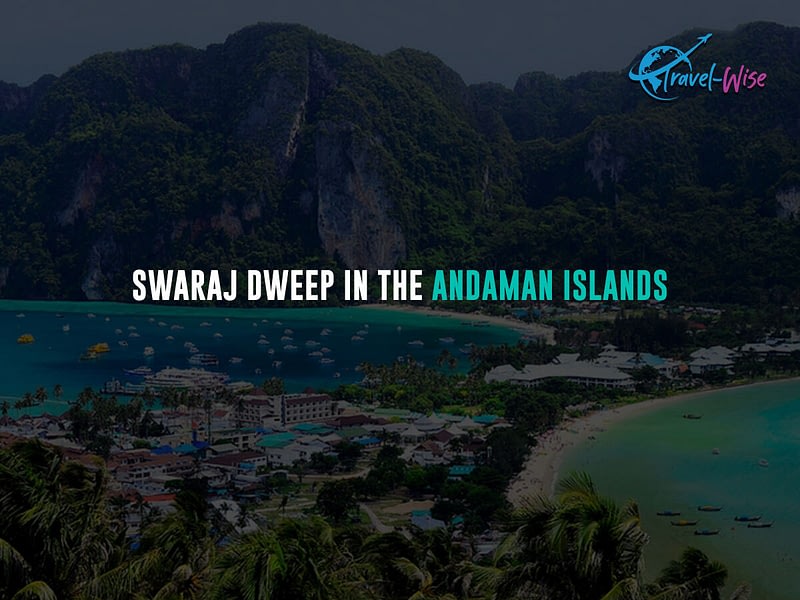 Diving in the Andaman Islands is a haven for marine life, and divers will spot many fabulous ocean lives in its crystal-clear water. But you're particularly interested in seeing sharks. In that case, there's a place that could be better than Swaraj Deep, also called Havelock Island. We have made an itinerary for your ease.
Johnny's Gorge, in particular, is where you'll have frequent shark sightings. While whitetip reef sharks are the most seen, you can spot Manta rays if lucky. Also, this site is rich with multicolor Damselfish, Napolean wrasse, and tigerfish.
Hotels to stay in Swaraj Dweep
There are a variety of accommodations in Swaraj Dweep to suit different budgets and tastes. Here are two examples of mid-range and luxury hotels in Swaraj Dweep.
Luxury
Sea Shell Resort & Spa is a 5-star resort with a beachfront location, a pool, a spa, a gym, and dining options. It is close to Radhanagar Beach, one of Asia's best beaches—a standard room costs around USD 100 per night.
Mid-range
Hotel Anish is a cozy hotel with a terrace, a restaurant, and room service. It is in Govind Nagar, near the lively Vijay Nagar Beach—a standard room costs around USD 20 per night.
Kadmat Islands in the Lakshadweep Islands
Sharks to see: Fantail rays, white tip reef sharks, eagle rays, stingrays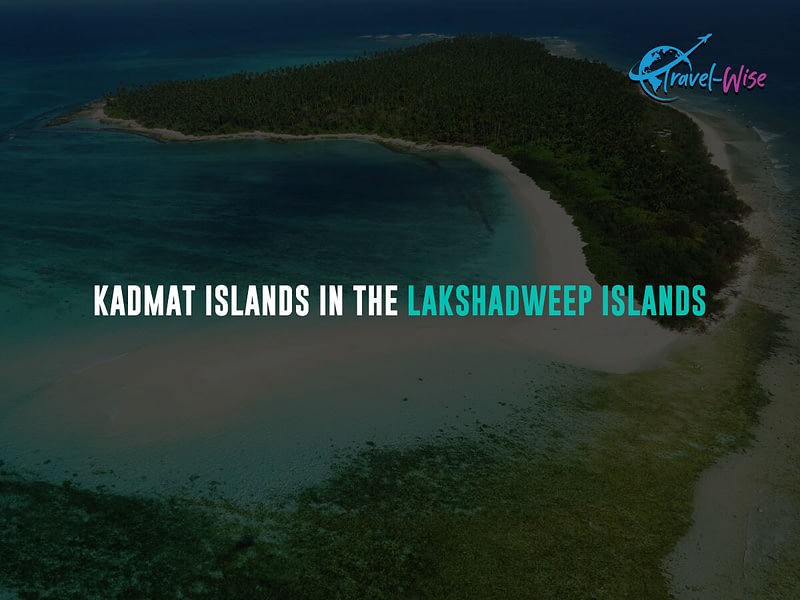 Popularly known as the "Cardamom Islands," Kadmat in Lakshadweep is a gorgeous shark and ray diving spot. The reef sharks are also regular visitors to the vibrant coral reefs here. The waters are calm and home to an iconic diving site called "The Wall." Starting at 6 meters/20 feet underwater. The Wall boasts a drop reaching 30 meters/100 feet. Here, you'll find most sharks lurking around, along with barracuda, Napoleons, and sea turtles. The visibility here is excellent, so you won't have to worry about dark sections. Here is an itinerary for Kadmat Island.
Hotels to stay in Kadmat Islands
Kadmat Beach Resort offers a comfortable beachfront location and is ideal for a mid-range stay. Its average lodging starts at around $100 per night. On the contrary, A 4-star luxury hotel called Agatti Island Beach Resort is on Lakshadweep Island. It offers a more luxurious experience with extensive amenities and activities, while luxury options start at around $200 per night.
Corruption Rock in the Andaman Islands
Sharks to see: Eagle rays, Dolphins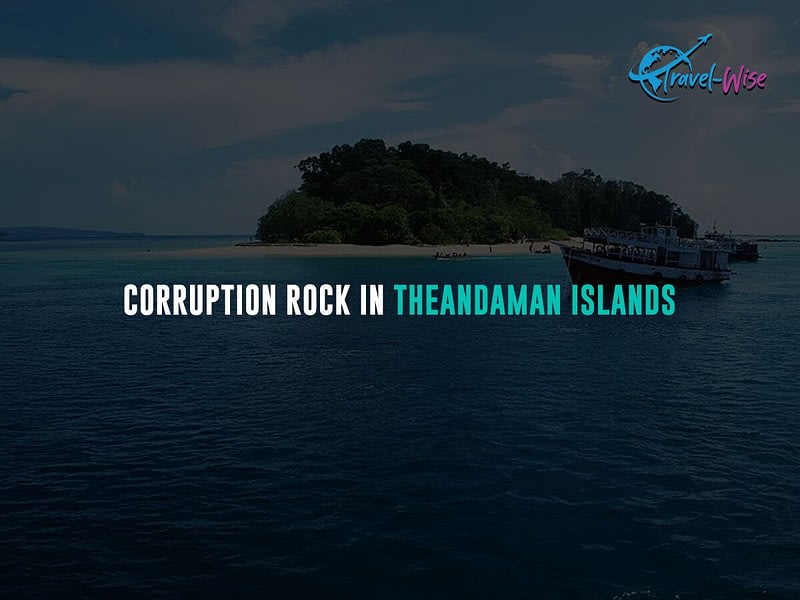 Another shark diving spot in the Andaman Islands is Corruption Rock. This site is a high current area, and it's recommended that only experienced divers visit here for shark diving. The hauntingly beautiful eagle rays come here in great numbers. Plus, you'll be able to swim in plankton-rich waters amidst giant groupers, massive sea turtles, and vibrant bump-head parrotfish. If you are planning to visit Corruption Rock, make sure to check this itinerary for better ease.
Hotels to Stay in Corruption Rock in the Andaman Islands
Corruption Rock is a remote and rugged Island with no hotels on its shores. But you can still find nearby accommodations catering to different tastes and budgets. Here are some options:
Mid-range Blue Lagoon Resort is a cozy and affordable resort on the Andaman Islands. It has many facilities and services to make your stay comfortable and enjoyable. The rates for a king room with a balcony or a deluxe double room with a balcony are between $40 and $50 per night. Blue Lagoon Resort is a great place to relax and have a memorable vacation.
After that, there is Seashell Samssara (Luxury). This is a 5-star resort that boasts a beachfront location, a large pool, a spa, a gym, and several dining options. It is located on Laxmanpur Beach, Neil Island, about 0.4 miles from Corruption Rock. The price per night for a standard room is about USD 200.
Coral Sharks Reef in Pondicherry
Sharks to see: blacktip, whitetip, and grey reef sharks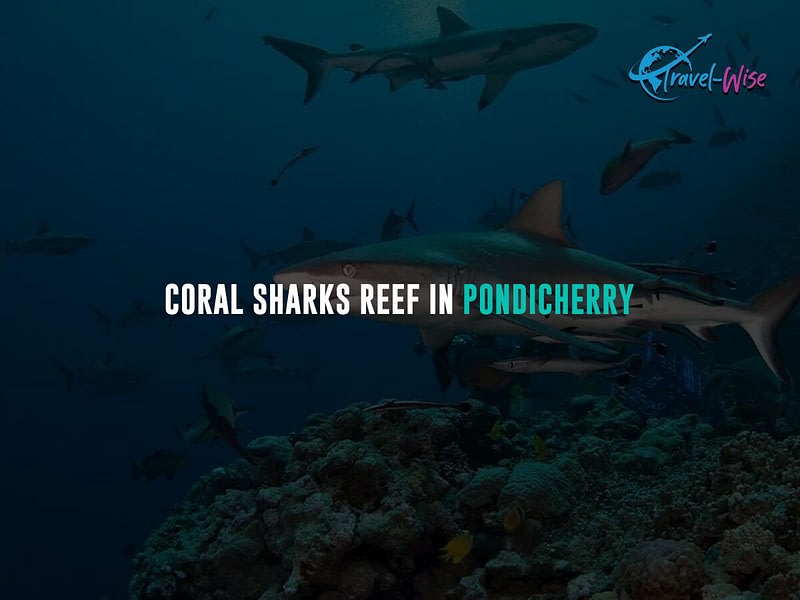 Coral Shark Reef is a popular scuba diving and snorkeling spot off the coast of Pondicherry, India. It is a natural reef home to various marine life, including sharks, rays, fish, and coral. The reef was named Coral Shark Reef because it is home to different reef sharks.
Other reef sharks, such as blacktip, whitetip, and grey reef sharks, inhabit the reef, which is why it is named Coral Shark Reef. Coral Shark Reef is a popular spot for scuba diving and snorkeling because it is a relatively easy dive and offers a variety of marine life to see. The reef is also an excellent place to learn about coral reefs and the marine ecosystem. Pondicherry has several must-visit attractions. Make sure to follow this itinerary so you don't miss anyone.
Hotels to stay in Coral Sharks Reef in Pondicherry
There are no hotels on Coral Sharks Reef itself, but some hotels nearby suit your preferences and budget.
Mid-range: Treebo Trend B Coral. This is a 3-star hotel that offers comfortable rooms, free Wi-Fi, complimentary breakfast, and a restaurant. It is located in Pondicherry, about 5 km from Coral Sharks Reef. The price per night for a standard room is about USD 20.
There's a 5-star resort called Radisson Resort Pondicherry Bay with a beachfront location, pool, spa, gym, and many dining options. It is on the outskirts of Pondicherry, about 10 km from Coral Sharks Reef. The price per night for a standard room is about USD 133.
Netrani Island in Karnataka
Sharks to see: Manta rays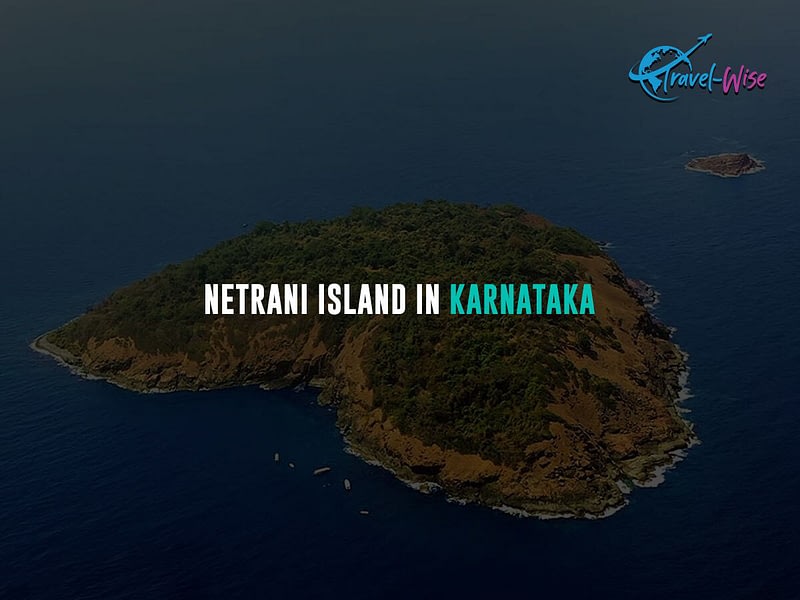 Manta rays can be elusive in most diving sites in and around India. But not on Netrani Island in Karnataka. While they can be hard to spot if you're not a discerning diver, manta rays form the highlight when here. Here, you can see many kinds of marine creatures, such as butterflyfish, eels, and angelfish. The coral reefs are lush here, too, and are worth exploring. This customized itinerary can help you to discover Netrani Island.
Hotels to stay in Karnataka
It has hotels for different budgets and needs. You can choose a mid-range or a luxury hotel that you like. Here are some hotels in Karnataka to consider:
Luxury: The Oberoi Bengaluru is a 5-star hotel with beautiful gardens and raintrees. It has a spa, a gym, a sea-view restaurant, and big rooms with balconies and modern amenities. It is on Mahatma Gandhi Road in Bangalore. A standard room costs around USD 127 per night. Mid-range: Hotel Kaka is a cozy hotel with a terrace, a restaurant, and room service. It is in Bangalore, a city known for IT and business. A standard room costs around USD 40 per night.
Dwaraka in Gujarat
Sharks to see: Whale sharks, Stingrays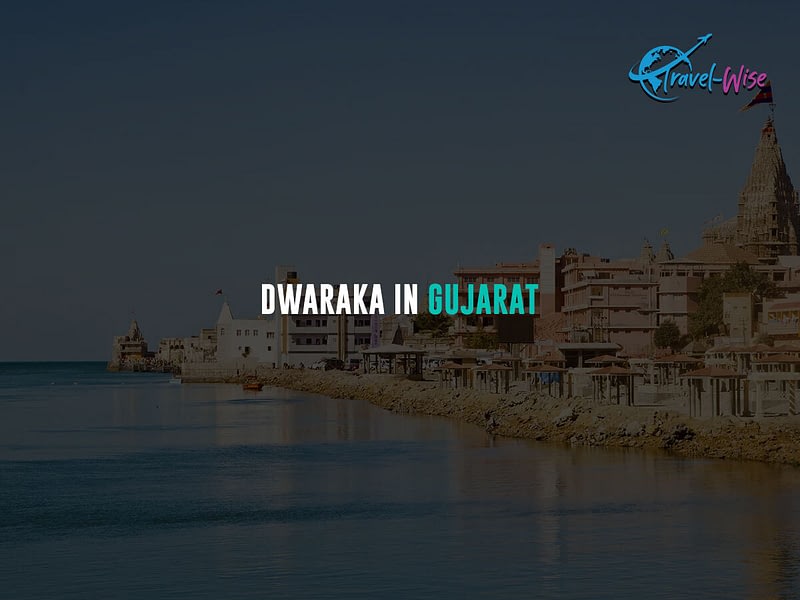 Experience the wonders of the underwater world in the enchanting coastal town of Dwaraka in Gujarat. Dive in the Gulf of Kutch and encounter awe-inspiring whale sharks, the largest fish on earth. Besides these fantastic animals, you can swim with stingrays, watch seahorses and sea urchins, and see playful dolphins. Also, check out this itinerary to explore this stunning destination and immerse yourself in the beauty of nature. Dwaraka offers a unique and unforgettable diving experience for all enthusiasts.
Hotels to stay in Dwaraka in Gujarat
Dwarka has many hotels for different budgets and tastes. Here are a mid-range and a luxury hotel in Dwarka:
Mid-range hotel: Hotel Vraj Inn is a 3-star hotel near the temple and the river. It has big rooms with AC, Wi-Fi, TVs, and bathrooms. It also has a restaurant, a terrace, a desk, and parking. A double room costs $28 per night. Then we have a Luxury hotel: VITS Devbhumi Hotel is a 5-star hotel near the temple and the bridge. It has pleasant rooms with AC, Wi-Fi, minibars, tea/coffee makers, and bathrooms with bathtubs. It also has a pool, a spa, a gym, a restaurant, and a bar. A deluxe double room costs $50 per night.
Grand Island in Goa
Sharks to see: Whitetip reef sharks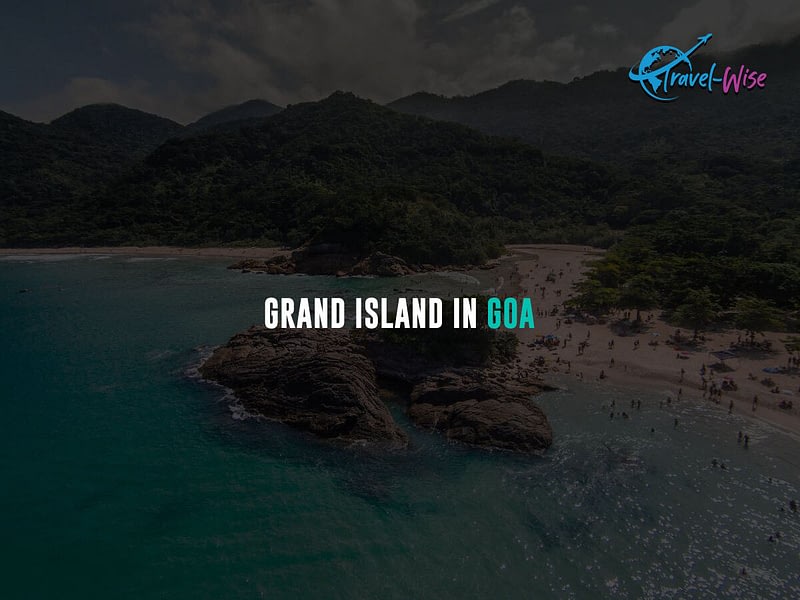 Most beach-loving visitors to India will head to Goa. If you're one of them, pay a visit to Grand Island. While the number of shark sightings here is fewer than in other spots in the country, you can still find whitetip reef sharks here. Also, Suzy's Wreck, a famous underwater shipwreck, is an excellent dive site. You may encounter a shark, needlefish, lobster, or sea turtle resting in the crevices of Suzy's Wreck. If you don't know where to start, check out this itinerary for ease.
Hotels to stay in Grand Island
Grand Island Goa is a popular destination for adventure sports, boat tours, and scuba diving. With many hotels and resorts. Here are two great options for mid-range and luxury travelers.
The International Centre Goa: A mid-range hotel in Dona Paula with rooms, conference facilities, a library, a pool, and a restaurant. About 4.6 miles from Grand Island Goa. USD 40 per night for a standard room. On the other hand, there is a Grand Hyatt Goa: a luxury hotel in Bambolim with a beachfront location, a casino, a spa, a gym, and dining options. It is about 3.2 miles from Grand Island, Goa. USD 200 per night for a standard room.
Species of Sharks You Will Find While Diving in India
Scientists and marine enthusiasts alike are fascinated by the diverse shark species in the Indian Ocean. These sharks are top predators in the ocean, and it suited their behavior and characteristics to their environment and food sources. Below are some species you can find in the Indian Ocean.
Pondicherry Shark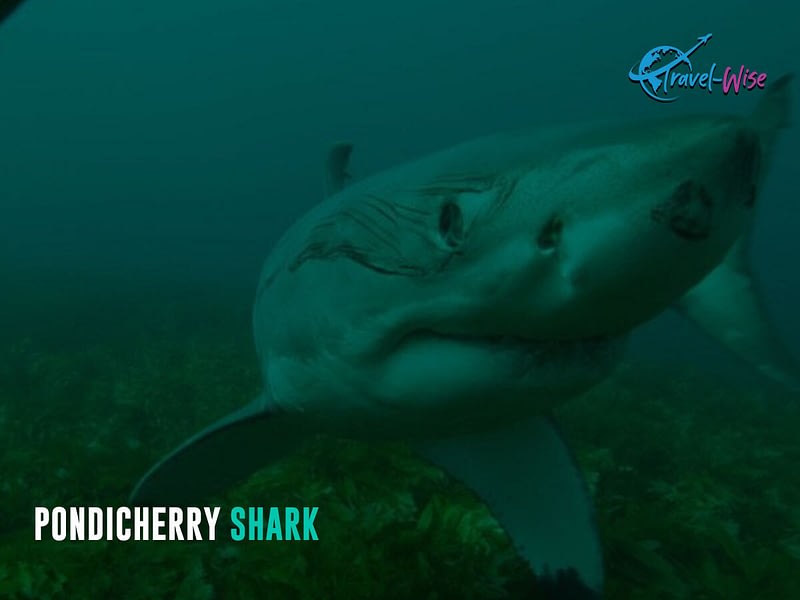 The Pondicherry shark is also known as the long-nosed shark. It has gray fins and pale stripes with black tips. Besides its long and pointed snout, this species has serrated teeth and can reach a height of 3.3 feet (1 meter). The species is native to India and the Indo-Pacific region, where it thrives in coastal waters and enters fresh water.
It is one of the world's most endangered and elusive shark species. According to the IUCN, this species is critically endangered and is sought after by the Search for Lost Species program of Global Wildlife Conservation. Pondicherry sharks are rare and mysterious marvels of nature that deserve our protection.
The Pondicherry shark, an endangered species, is very rare. The last confirmed sighting of a Pondicherry shark in the Indian Ocean occurred in 2016 off the coast of Sri Lanka. This species faces significant threats from overfishing, habitat loss, and pollution.
Grey Reef Shark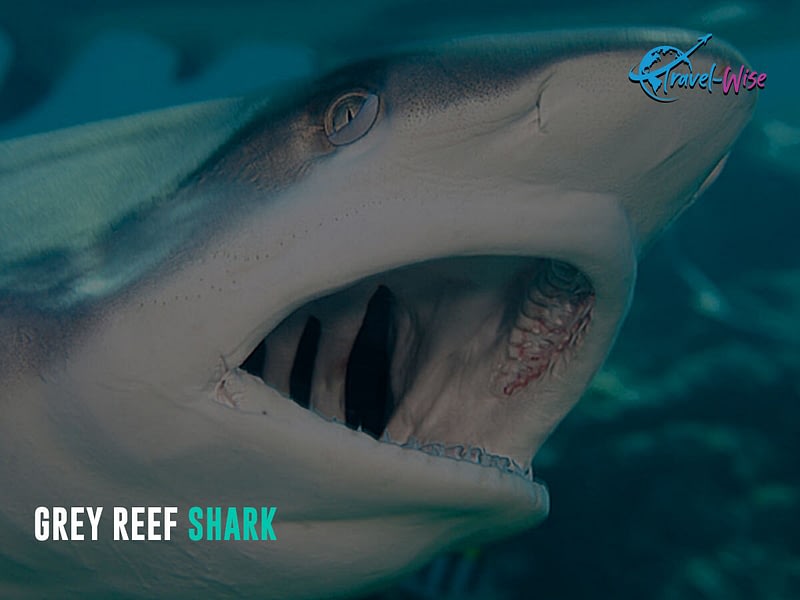 The Carcharhinus amblyrhynchos is a fascinating species in India's Andaman and Nicobar Islands and Lakshadweep Islands. These predators help maintain the delicate balance of reef environments. Grey Reef Sharks make underwater paradises more appealing with their slender bodies, striking presence, and unique grey color.
They are the top predators and keep the coral reefs healthy by controlling the population of prey species. Watching these sharks in their natural habitat shows how complex and beautiful India's marine life is.
Whitetip Reef Sharks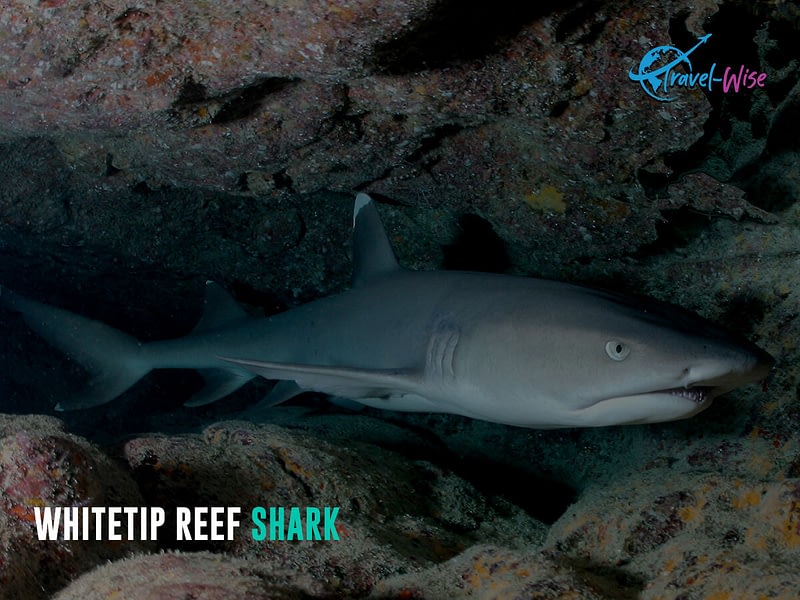 Whitetip reef sharks are distinctive sharks found in coral reef areas. Recognizable by their white-tipped dorsal fins, they are small and agile, often resting on the ocean floor during the day and active at night. They are mainly nocturnal predators and feed on small fish and crustaceans. You can find this beautiful creature in Swaraj Dweep.
Despite their appearance, they are generally harmless to humans. Whitetip reef sharks are essential to the health of coral reefs and are popular with divers and snorkelers. Conservation is critical due to threats such as overfishing and habitat loss, ensuring their continued presence in marine ecosystems.
Manta Rays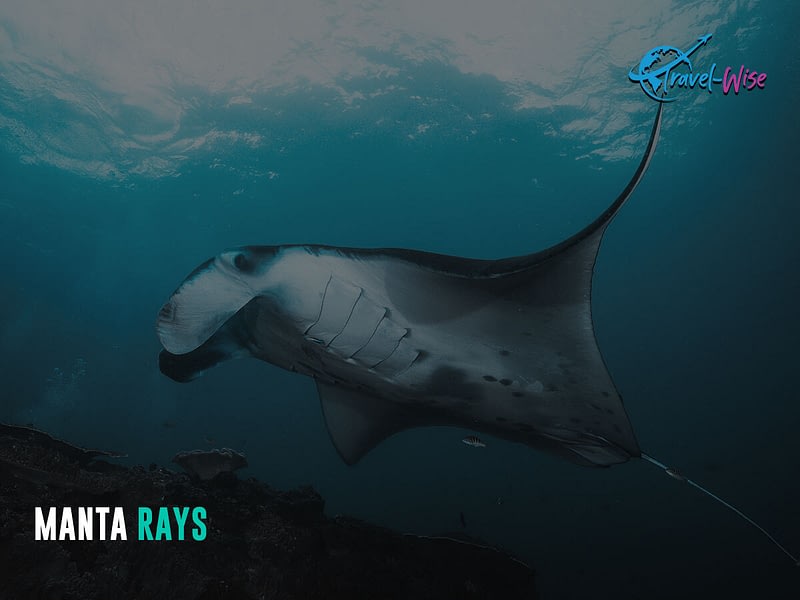 In the Indian Ocean, you can find two primary manta rays: the reef manta ray (Mobula alfredi) and the giant manta ray (Mobula birostris).
Reef Manta Ray (Mobula alfredi): These manta rays are more miniature than giant ones, and distinct spots on their undersides make it possible to identify individuals. They prefer tropical waters with coral reefs. We can spot these manta rays on Andaman Island.
Giant Manta Ray (Mobula birostris): The giant manta ray is the larger species of the two, with a wingspan reaching up to 7 meters. It has distinctive patterns on its belly that are unique to each individual. It inhabits deeper water and open ocean areas.
Eagle Rays
Eagle rays are captivating sea creatures known for their distinctive appearance and graceful movements. With smooth bodies and wing-like pectoral fins that resemble eagle wings, these rays have a unique appeal. These gentle creatures live in warm coastal waters worldwide and glide gracefully over the ocean's surface.
Eagle rays are bottom feeders that use their specialized mouths to consume crustaceans, mollusks, and small fish. The interaction between them and divers makes them exciting subjects for marine enthusiasts. These creatures can be seen in the Andaman Islands. Furthermore, they have a poisonous spine at the base of their tail; they are not usually aggressive toward humans. Due to potential overfishing and habitat destruction, conservation efforts to protect these fascinating creatures are essential for future generations.
Fantail Rays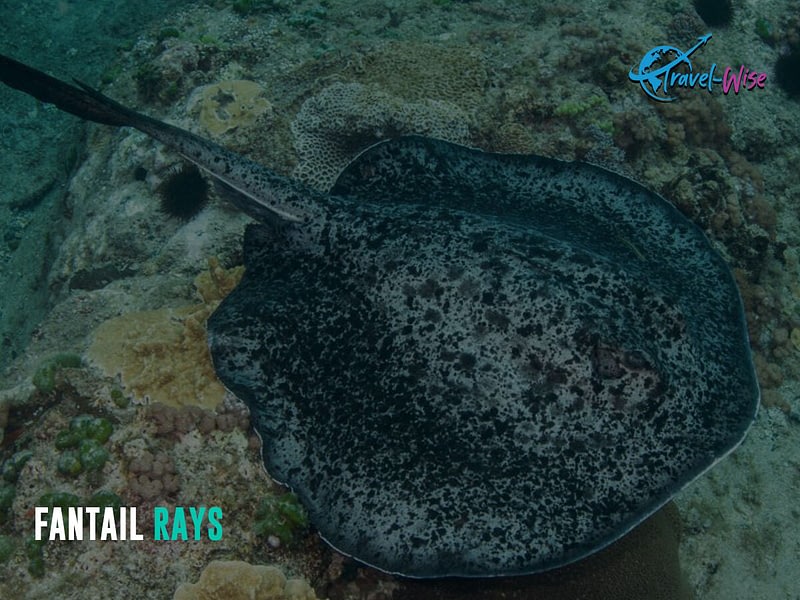 Fantail or stingrays are captivating sea creatures known for their unique appearance and charming behavior. Flattened fan-like or diamond-shaped bodies are equipped with one or more venomous spines at the base of their tails, which act as a defense mechanism. Fantail rays inhabit coastal and shallow waters worldwide. They can be seen in Lakshadweep Islands and Dwaraka, often gliding gracefully along the ocean floor. They are carnivores and feed on crustaceans, Mollusca, and small fish using their specialized mouths and powerful jaws.
These rays have a special place in marine ecosystems. They are sometimes encountered by divers and divers, providing an opportunity to appreciate their beauty and observe their natural behavior. Conservation efforts are critical to protect these remarkable creatures, especially given their vulnerability to habitat destruction and overfishing.
Mobula Rays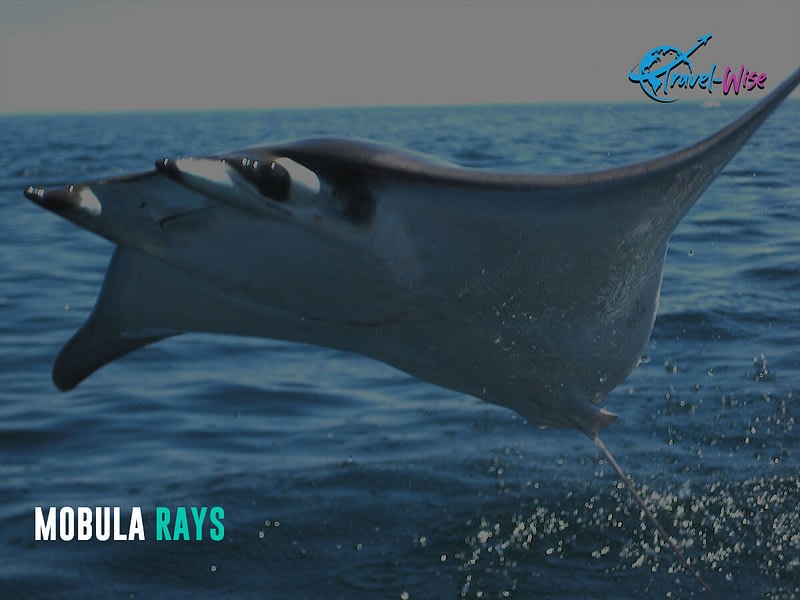 Mobula rays, or devil rays, are captivating and mysterious sea creatures admired for their mesmerizing behavior and distinctive appearance. Due to their smooth bodies and large pectoral fins that resemble wings, these fish are skilled acrobats. These rays live worldwide, including in the Andaman Islands. Their migration and schooling behavior add to their appeal. Mobula rays filter feeders and consumers of plankton and tiny organisms, and their presence plays a vital role in marine ecosystems.
Their interactions with humans, such as scuba divers and divers, make them an exciting sight in ecotourism activities. Conservation efforts are essential to protect these remarkable creatures from threats such as hunting and habitat destruction, ensuring their continued existence and the wonder they inspire for future generations.
Tips For Diving Around Sharks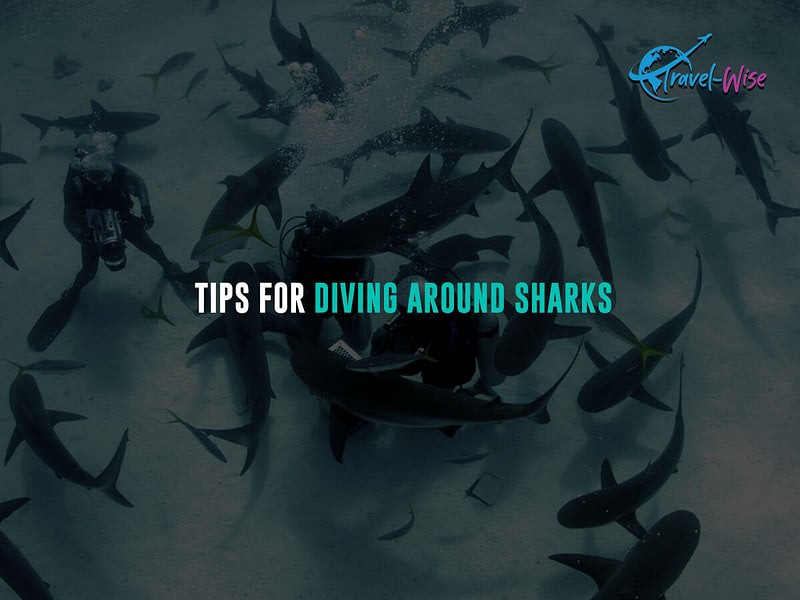 Shark diving is an exhilarating experience that many divers dream of. However, it also requires careful preparation and respect for these majestic predators. Here are some essential tips to make your shark diving adventure safe and enjoyable.
Dive in a group
Sharks are less likely to approach a group of divers, as they prefer to stay hidden when investigating. Also, a group can keep each other's backs and avoid unwanted attention if they watch each other's backs.
Time your dive
Sharks are most active at dawn and dusk when hunting for prey. It is best to avoid diving during these times and in murky water, where visibility is low and identification is difficult.
Avoid marine mammal colonies
Some large shark species, such as great whites, prey on marine mammals like seals and dolphins. It is best to avoid these areas, as you could be mistaken for a meal during a feeding frenzy.
Choose a responsible operator and buddy
Make sure you dive with reputable dive operators who prioritize safety and conservation. If you want to dive with sharks, you need a trusted buddy to interact with them appropriately.
Learn shark behavior
Sharks are fascinating animals with ways of communicating with each other and humans. They use different signals and behaviors to express their mood and intentions, such as arching their back, lowering their pectoral fins, or making exaggerated movements. These cues can help divers understand if a shark is curious, relaxed, or agitated and how to react accordingly.
The important thing is that not all sharks are dangerous, and most of them have never attacked divers. While many species are shy and avoid humans, we must be cautious with certain species. Bull sharks, oceanic whitetips, and tiger sharks require close attention because of their assertive behavior.
Keep your eyes open
Sharks have different ways of hunting and behaving. Some are more aggressive, while others wait for luck. They may attack when they find an easy meal or feel curious or scared.
To avoid being attacked by sharks while diving, knowing how they act and what to do is good. One way is to look at the shark and hold it before you. This shows you are unafraid and helps you watch its movements to stay safe.
Know the environment
You can optimize your encounter by determining where sharks can be seen, the current conditions, and the depth limits through research of the dive site. By doing this, you can plan your dive and optimize your encounter.
Maintain steady breathing
When you see a shark, remain calm and avoid sudden movements that could startle it. Keep a regular breathing rhythm and avoid rapid ascents or descents that could disrupt the encounter.
Sharks have a remarkable ability to understand electrical signals. They can feel the electricity your body generates, like the rhythm of your heartbeat. Your heartbeat sends electrical signals that a shark can detect. Interestingly, a fast heartbeat can make a shark more interested. It is vital to maintain steady breathing to show the shark that you are not afraid. This will help you stay calm and signal to the shark that you are not the source of fear.
Wear appropriate gear
Dark and neutral colors are best when choosing dive gear, as bright objects can attract curiosity and aggression. Be careful when using strobes, and keep your camera close to your body.
Follow safety procedures
Follow your guide's instructions or your buddy pair's safety protocols. Have a plan in case you feel uncomfortable or encounter a problem. Respect the sharks as the inhabitants of their environment, and do not touch or harass them.
Enjoy the experience
If done responsibly, shark diving is a thrilling and safe adventure. Enjoy the moment and the chance to see these fantastic creatures in their natural habitat.
Conclusion
Do you want to experience the ultimate thrill of shark diving in India? Travel-Wise is more than a guide – it's your travel companion. With our trip planner, you can easily plan your India diving adventure. You can also see the community itineraries created by fellow travelers for India and other amazing places.
Explore the India's incredible underwater world with Travel-Wise. Join our community and discover other travelers' best dive sites and destinations. See the beauty and diversity of India's marine life, including sharks. Our team will help you have an unforgettable diving experience regardless of your skill level.