Travel impresses some of the most memorable and best memories for many. However, over time, all memories fade. Capturing the essence of your trip with quick journal entries, even with your friends, makes for a much more engaged and collaborative experience, but also one that you can revisit and share for years to come. Travel-Wise aims to be the best solution available for journaling and trip planning. Let's explore using our travel journal app to make it easier than ever to journal your experiences on the go.
To learn more about travel journaling and its benefits, check out our article here.
Featured Image Source
What makes Travel-Wise the best travel journal app?
Travel-Wise isn't just a journal app, although we wanted to nail the journaling experience at the core of what Travel-Wise is. We have many features centered around making trip planning easier and faster. Best of all, it is all FREE! We cherish our community and seek to add value as your go-to trip-planning software and community.
We have numerous features for journaling that will enable you to painlessly and quickly keep your journal up to date.
Offline journaling
A complete, rich text editing experience, add images, embed videos host on YouTube, add tables, and format the journal how you want.
Each journal entry can optionally save your journal location.
Edit any existing journal to update it for review or added detail.
Journal entries sit with your trip plan's context altogether.
The Journal can be accessed from your PC, Mac, or phone device.
You can share the journal, print it, and see a nice trip map afterward.
Share your trip and journal entries easily with others using embeddable cards or with a hyperlink.
How to get started with journaling on our Trip Planner
Getting started with journaling is as simple as using our Trip Planner and planning your next trip. Not sure where to go? Gather some ideas using our community itinerary search or AI to generate some itineraries.
Journaling starts with research, and once you have created and saved your trip plan for the first time, you will see the Journal tab appear. This will enable you to start journaling from the beginning as you start your planning process and locate where you want to travel.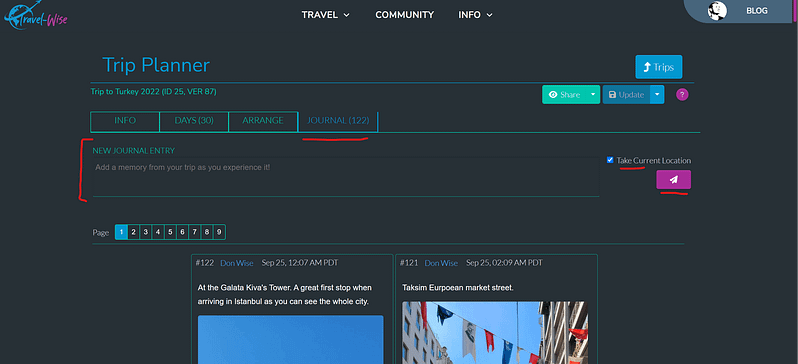 As pieces click together, you can invite your friends, family, or travel buddies to your trip. They will now have access to the trip plan and the journal. Encourage everyone to journal and share their unique memories throughout the trip. You may be amazed by the collage of information you have to reflect on in the end.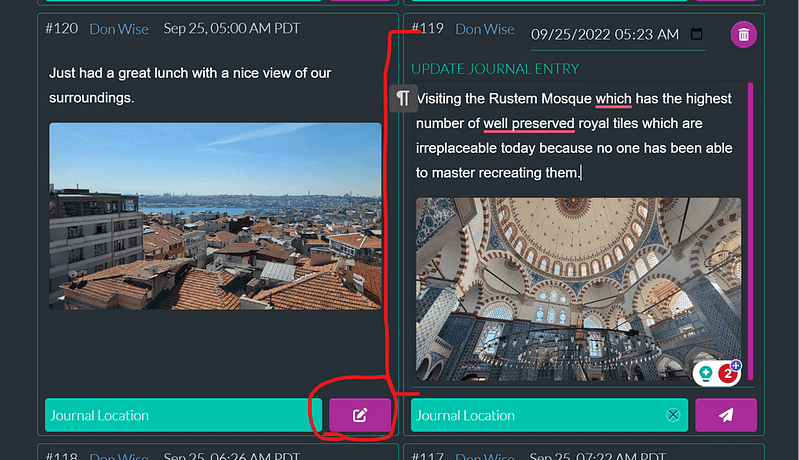 The journal allows you to at any point in time go and update the journal, from content, location, and even the time stamp. Also, be aware that if you are offline, a local "offline" journal entry will be made so you can still take notes. When you are back online, you can submit your offline journal entries to be saved. This is especially useful on our mobile apps of Travel-Wise since, while on the go, you may not always have internet.
Get started!
After all this, you'll be able to see a lovely "card" of your trip at any time and review all of the Journals. Click on any journal entry to highlight where that journal was taken on the map too! You can also share this card with others using a hyperlink or the various cards used on your website.