Why visit Alaska? Alaska's beauty is often described as otherworldly. Towering mountains, scenic hikes, whale spotting, the Midnight Sun, and the Northern Lights are attractions that easily roll off the tongue. Full of natural wonders and culturally rich, the state is on the bucket list of travelers worldwide. If you want to embark on an unforgettable adventure, look no further than Alaska.
Here are our tips on planning your Alaska trip and a quick reminder that our Alaska trip planner will save you time and effort!
Featured Image Source
Fun facts about Alaska
On Alaska's journey to becoming the 49th state in the U.S., the Alaska Department of the American Legion, in 1927, held a flag design contest for children. 13-year-old Benny Benson of Seward created the winning design. The state flag has a blue field representing the sky, seas, lakes, and wildflowers of Alaska and eight gold stars, seven of which are the Big Dipper and the eighth is the North Star.
The only World War II battle in the U.S. was in Alaska.
Alaska is the largest US state by landmass. Texas comes next, and then California. The state is home to over three million lakes and 12,000 rivers.
Brr! Alaska is cold. The coldest temperature recorded in the state, minus 80 degrees Fahrenheit, was recorded in January of 1971 at Prospect Creek Camp, a site of numerous mining expeditions years ago.
Brief history of Alaska
Alaska was home to numerous indigenous people before the Europeans arrived here. The United States purchased Alaska from Russia in 1867. The gold rushes in the 1890s attracted thousands of miners and settlers to the region. On January 3, 1959, Alaska was granted statehood by the U.S.
Top things to do in Alaska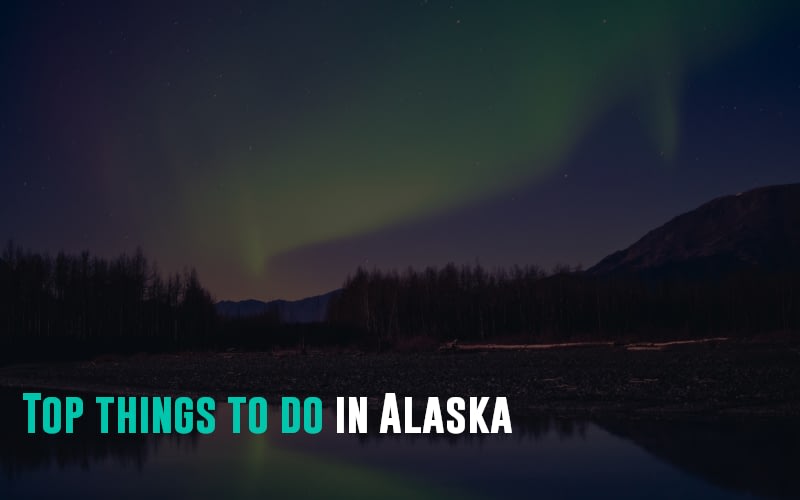 Glaciers: Alaska's glaciers are some of the best in the world. Terrestrial glaciers are accessible with a short walk or drive. Others are reachable via mountaineering treks and air charters. These are just three of several glaciers you can admire.

Matanuska Glacier, a 27-mile-long river of ice, is best viewed from the south of Glacier Park at Mile 101 of Glenn Highway.
Hubbard Glacier, a gigantic tidewater glacier, is a surreal sight on a guided tour. On the tour, the ship is turned in all directions as close to the glacier as possible to enable everyone to see the glacier from every perspective.
Castner Glacier is accessible along the Richardson Highway. This is a unique place in that you can climb massive ice caves.
Wildlife excursions: If traveling with family, include bear watching at Denali National Park and Katmai National Park, Kenai Fjords, and Resurrection Bay Half-Day Wildlife Cruise to spot sea otters, whales, and mountain goats.
City tours: Take in the local culture, wildlife, and history of Alaska's cities on a trolley tour. Another option is a guided walking tour with gastronomy, such as reindeer sausages and wild smoked salmon!
Northern Lights: Watch the sky erupt in a dazzling display of green, purple, and pink. The best place to view the Northern Lights (aurora borealis) is Fairbanks. Still, you can also try Denali National Park (home to the highest mountain peak in North America), Anchorage, Nome, Juneau, Coldfoot, and Barrow. Late fall or winter are the best times to enjoy this incredible experience.
Dog sledding: Mush through the snow amid a panoramic scenery of hanging glaciers and snowy peaks! Dog mushing is suitable for all ages and fitness levels.
Ideas for itineraries in Alaska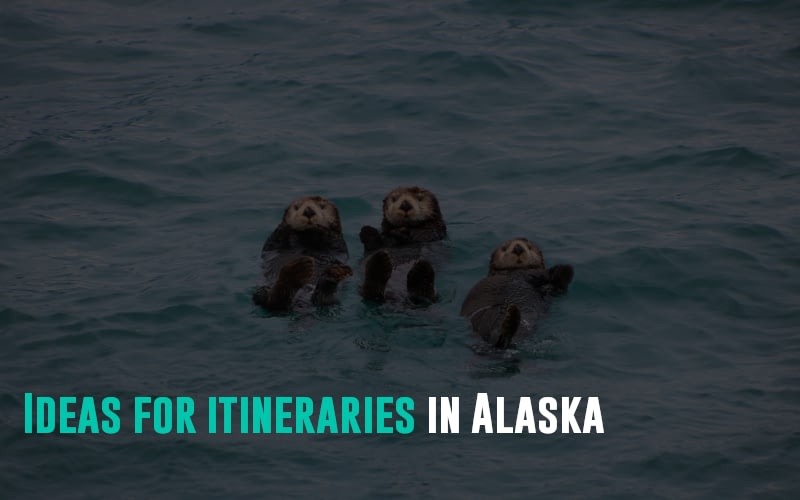 For a 3-day itinerary, you could rent a car or take the Alaska Railroad from Anchorage to Seward, which offers several gateways to the Kenai Fjords National Park. Book half or full-day cruises of fjords and glaciers. Go on a guided sea kayak trip, and afterward, stop by Exit Glacier. Drive or ride back to Anchorage.
A five-day Alaska trip is well spent exploring the Denali National Park or booking a Northern Lights tour. You could rent a wilderness lodge near Homer for bear viewing, kayaking, hiking, bird watching, and a beach campfire. You'd have to charter a boat or plane to get to one of these remote lodges.
If you have a full ten days, a road trip would be perfect. An example itinerary for someone driving from the U.S. through Canada would be to arrive in Tok and stay the night before continuing to Fairbanks and gazing at the Trans-Alaska Pipeline along the way. Next up would be a day or two at Denali National Park and a stroll of the main street of the bustling small town of Talkeetna, the base of Denali expeditions. Pack in more adventures, such as jet board rides, zip lining, and kayaking. Head to Anchorage and explore the city on a trolley tour. Drive to Glacier View and take a guided hike. Prepare for the 4-hour drive back to Tok.
Find fabulous itineraries for various countries on Travel-Wise. Check out this day-by-day, activity-filled Alaska itinerary, along with maps.
What to do before traveling to Alaska?
Know what to expect and, most importantly, what to pack.
If driving there, take an SUV for added safety. Alaska's weather can be unpredictable, so that you can experience rain, snow, and ice.
If driving from the U.S. through Canada, carry a valid ID proof and passport to show your American citizenship when entering and leaving Canada.
There are only a few gas stations in Alaska, so travel on a full tank to avoid hassles.
At higher altitudes, the air has less oxygen. You may feel a bit breathless here, but it's nothing to get scared about.
Wear warm clothes like sweaters, coats, gloves, hats, and boots. Dress in layers. As temperatures can vary drastically between locations, you'll enjoy the flexibility to add on or take off a layer!
Carry a wilderness first-aid kit.
If visiting in summer, carry lots of water as the heat can leave you parched.
Bring a map or navigation equipment.
What is the best time to visit Alaska?
The best time to visit Alaska is in the summer, between mid-May and mid-September. You'll enjoy 16-24 hours of daylight and be able to take in the beautiful landscape and wilderness to the maximum extent possible.
The peak season runs from June to August. It's a good time for a road trip to the Alaskan Panhandle, Kenai Peninsula, and the Denali Park Road, the only road inside the Denali National Park.
May through September is cruise season, when you can see bears with their cubs, moose with their calves, humpback whales, and coastal mountains, glaciers, and waterfalls from snowmelt.
Planning a trip to Alaska to see the northern lights? Winter, running from December through February, is a great time. The crowds are smaller, and hotel rates are cheaper.
What to expect from the culture of Alaska
Etiquette in Alaska
Use switchbacks on trials, as cutting them can risk erosion of those trials.
Give uphill hikers the right of way.
Don't litter.
Keep noise levels down to ensure a peaceful time for everyone enjoying their natural surroundings.
Tipping in Alaska
In Alaska, it is customary, but not obligatory, to leave a tip. Tourists typically leave tips at restaurants, bars, taxis, and hotels for the doorman, maid, and other hotel staff. 10% is a good restaurant baseline, and an added 1-2 dollars for other tips.
Is Alaska safe for solo travel?
Yes, you can set off to Alaska alone without having to watch your back all the time. But you should research destinations and be aware of your surroundings.
If you plan wilderness tours, practice wilderness safety to keep yourself and wildlife safe. On a road trip, there's a chance for moose encounters. Moose are gentle creatures, but they're also massive. You don't want to get close, scare them, or use a camera flash to get pictures. There is a small risk that an annoyed moose will charge you and perhaps even wreck your car.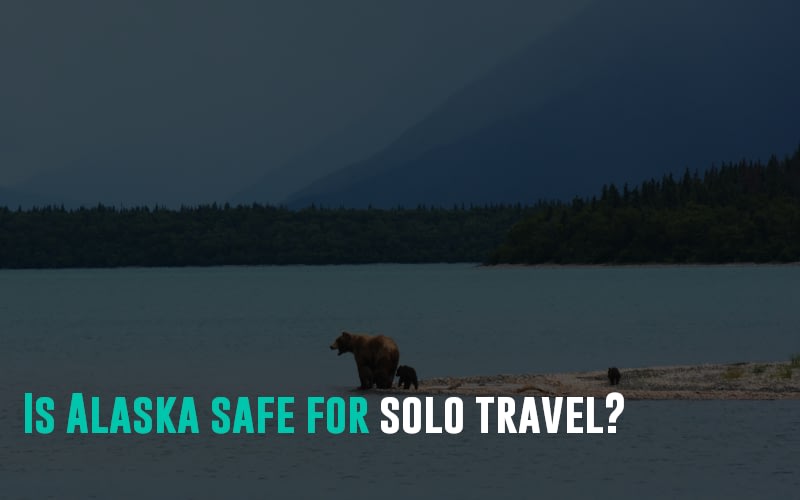 Alaska has more bears than any other state in North America. Many areas of Alaska have a high concentration of bears, especially brown bears. Anywhere there is a greenbelt or large park in the area, bears will likely make their way through the park and into woods and neighborhoods. Grizzly bears and brown bears have been spotted in the neighborhoods of Anchorage. Locals use bear spray or firearms, but as a tourist, you should be aware of your surroundings in urbanized areas like Anchorage and Juneau, where bears may be loitering around in city limits.
The other creatures to beware of are humans. Alaska's murder rate aligns with the national average, although its violent crime rate exceeds the average. Be vigilant in high-crime areas of Anchorage, Juneau, Bethel, and Fairbanks. Avoid wandering in these areas late at night.
Best ways to get around Alaska
By now, you know Alaska is a haven for road trip enthusiasts. Other options to get around include motor coaches, bus tours, or shuttle transfers.
Budget traveling to Alaska per day
On average, you can expect to spend about $250 per day on your Alaska trip. This is the average daily price to budget for. The average cost of meals per day is $57. But here's the caveat – depending on the city, restaurant meals can cost you closer to this amount or higher. If taking local transportation, add another $51 to your budget.
Conclusion
Need help with first-time Alaska trip planning? Use Travel-Wise's trip templates and travel recommendations from our experts, all avid explorers of different parts of the world.
With Travel-Wise, you can collaborate on your trip with your family or other trip companions, keep everything organized in one place, journal your adventures, and share them with other travelers. You should also check out our Country Guides to plan your next travel. Sign up for our Alaska trip planner and generate your AI itinerary now.