Why Visit Catalina Island? Located 26 miles southwest of Los Angeles, Catalina Island beckons holidayers seeking a European-style beach vacation. White sand beaches, rolling mountains, azure waters, and rich marine life are a soothing balm from the bustle of the mainland. Arrive at this beach haven on a ferry – it takes only an hour. Catalina Island is a playground for the rich and elite, who fly here on private planes.
If a Catalina Island trip sounds interesting, let us fill you in with the details.
Featured Image Source
Fun facts about Catalina Island
The Chicago Cubs trained on the island from 1921 to 1951.
The Catalina Casino is a gambling spot in name only. There is no gambling here, and it is used as a gathering spot.
Everyone gets around in golf carts. There's a 20-year waiting list to own a car on the island. Unsurprisingly, there are no stoplights on Catalina Island.
The 1974 neo-noir hit Chinatown (99% rating on Rotten Tomatoes) was filmed at Catalina Island Yacht Club in Avalon.
The island's signature cocktail is Buffalo Milk. The name is misleading because the drink doesn't contain buffalo milk; instead, it is a concoction of Crème de cacao, Kahlua, crème de Banana, and vodka, topped with ice, whipped cream, and a dash of nutmeg.
Brief history of Catalina Island
The first Europeans to land on the island believed it belonged to the Spanish Empire. The island changed hands and transferred first to Mexico and then to the United States. The island, at various points in its history, has served as a spot for pirates, smugglers, missionaries, and the Union army. In 1864, California real estate mogul James Lick acquired the island, subsequently selling it to the sons of Phineas Banning in 1891. The Banning brothers developed the island into a tourist destination, building roads, hotels, and various attractions.
Top things to do in Catalina Island
Catalina Island is made up of the city of Avalon on the east end and the village of Two Harbors on the west end.
Unwind on the soft sand beaches of Avalon. Soak up the warm sun and try the calm surf. Stroll the main street of Crescent Avenue, lined by restaurants, boutiques, and spas. Visit Catalina Casino, the local landmark featuring a rich Art Deco interior of sterling silver and gold leaf accents and housing a movie theater and ballroom.
Two Harbors is a tranquil getaway with several sites for camping and a popular destination for hiking, kayaking, and snorkeling. Avalon to Two Harbors is about 12 miles by boat or 22 miles by road.
Things to do on Catalina Island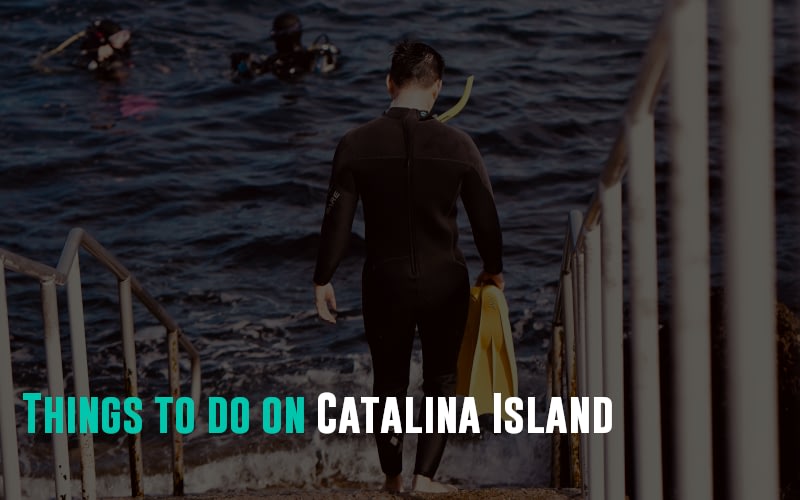 Enjoy hiking? Make the most of the island's back roads and hiking trails amid beautiful ocean views. Go on the Trans-Cataline trail, a rugged hike covering 38.5 miles, with stops next to picturesque beaches.
Book a zip-lining tour that offers an aerial view of the island of heights of up to 600 feet.
Explore the marine cosmos of lobsters, eels, yellow kelp fish, and giant black sea bass at the Casino Point Dive Park.
Book a parasailing adventure that will have you soaring above Avalon Harbor and sailing through the skies as you immerse in 360 scenic views.
Best beach on Catalina Island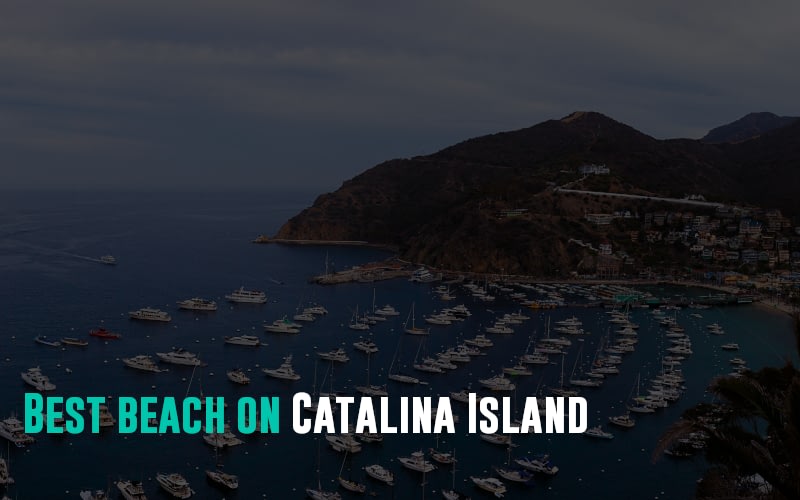 Descanso Beach is among California's most extensive private beaches offering private access. For a daily $2 fee, you can spend your day by the beach, relaxing with a book and cocktail. May through September, the beach comes alive with live music and DJs. If you want to look around, join a guided kayak excursion, which runs daily.
Catalina Island trip with the kids
If visiting with junior family members, add the famous bison expedition to your itinerary. The island is home to about 150 bison. When the population exceeds 200, the extra bison are culled. The bison are descendants of a herd that was left on the island by a movie crew back in the 1920s. The expedition also offers scenic views of Blackjack Mountain, the second-highest point on the island, at 2,010 feet.
Catalina Island trip for history fans
Visit the Catalina Island Museum for a peek into the area's colorful history. The museum houses hundreds of photos and artifacts showing the island's role in World War II, the story of the Wrigley family, and the last manual switchboards in operation in the U.S. Shop for unique gifts at the museum's charming gift shop.
What to do before traveling to Catalina Island
Book your ferry and tours in advance. You can save money by planning your trip closer to your birthday. The Catalina Express offers a free ferry ride to and fro from the island on your birthday!
Note that the cost of goods and services on the island is relatively high – budget accordingly. Catalina Island has a higher cost of living due to the additional time and money it takes to transport goods to the island.
Pets are allowed on the ferry, but dogs must have a muzzle.
What is the best time to visit Catalina Island?
June to September is the best time for a Catalina Island trip. It's pleasantly warm, and the tides are gentle. If you have a small budget, the cheapest time to visit is November through March, the off-season, when you'll quickly get discounts on hotel fares, tours, and activities. It gets quiet in January due to the recent holiday season – something to consider if you're interested in a tranquil solo or a romantic vacation.
What to expect from the culture of Catalina Island?
Like any tropical getaway, the vibe on Catalina Island is relaxed and laid-back. The locals are friendly and hospitable, and the strong sense of community is palpable.
Is Catalina Island safe for solo travel?
Catalina Island has a small population and a low crime rate. But you're still advised to exercise standard precautions, such as avoiding late-night outings in deserted areas. Remember that there is a 10 p.m. curfew for minors on the island.
Best ways to get around Catalina Island
You can hop on the Catalina Express or Catalina Flyer, the island's ferry companies, departing from San Pedro, Long Beach, Newport Beach, or Dana Point port. Alternatively, you can jet set to Catalina Island on a 15-minute helicopter ride, departing from San Pedro, Long Beach, John Wayne Airport, or Burbank Airport.
You have a few options to get around the island. Avalon and Two Harbor are easily walkable. You could rent a golf cart on a daily or hourly basis. A bus service is available from the ferry landing to Casino Way and up-canyon to the Wrigley Memorial and Botanical Garden. A taxi service is also available at the ferry terminal.
Budgeting for your Catalina Island trip
The island can be comfortably covered in 3-4 days. But how much does a trip to Catalina Island cost? A round-trip ticket for two will cost you $75. Budget $25 for daily food and necessities. The type of accommodation you choose will dictate costs. The island has excellent bed and breakfasts and cottages. Depending on the time of the year, you may be able to find double rooms on the island for as cheap as $100. On a camping and hiking holiday, you can rent tent spots for $25 per night.
Conclusion
Search for user-submitted itineraries or create your own with help from our travel-smart AI generator. You can build out your entire Catalina Island trip, move events around, and collaborate with trip companions. A journaling feature lets you document your experiences and share them with others. You can also explore our many Country Guides. Sign up with Travel-Wise and create your custom itinerary now.