Your gear list can get unruly if you are a diverse traveler and go on many adventures. We've honed our packing skills over the years and always pack light. Even when traveling for multiple months. Forgetting technical gear, the ability to pay, and other essential things can drastically affect or derail your plans. Thus, with all of our experience, let's create an uber checklist you can use. We only take the bare essentials as we generally will have one small check-in bag per person and a backpack that doubles as a hiking backpack. Let's explore our checklist-styled travel packing list for the adventurer.
Featured Image Credit
Packing considerations
We recently took a trip to Fiji and Solomon Islands, forgetting our wallet at home! That wasn't going to work! We rushed home with an Uber back to the airport and nearly missed the flight. It was a mad rush that I wouldn't wish on anyone. Thus, the inspiration for this list will also be used for our packing!
Of course, all trips vary. Are you going to a warm or cold climate? Are you doing some extreme sports that require technical gear? OR maybe you are going to relax on the beach? For us, we are hardcore adventurers and do bring technical gear. We move around a lot to keep mobile and optimize packability and weight. We limit our luggage space and strategically bring items that have multi-purpose usage. We've made this packing arrangement work for all our trips, from mountaineering in Patagonia to scuba diving in the tropics. We gear specifically for minimalists and adventuring.
The bags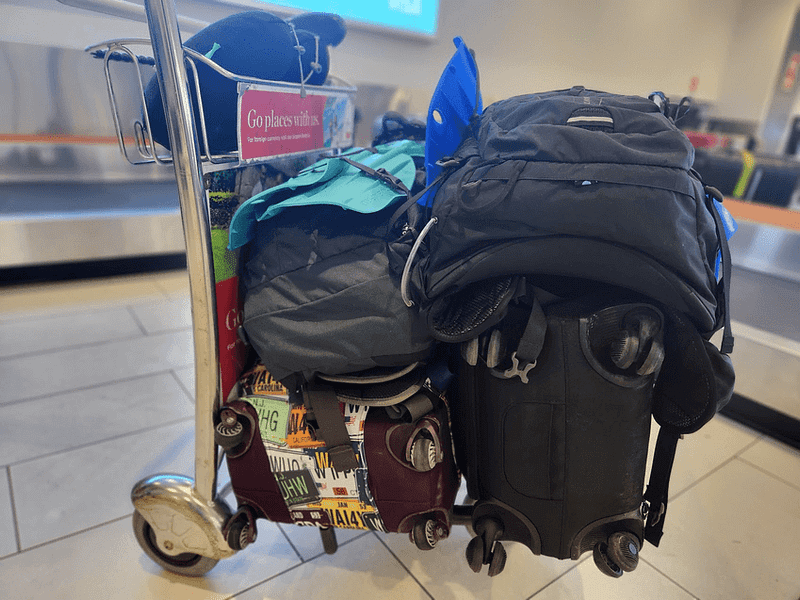 Between my wife and I, we use two small form soft shell luggage bags as pictures here. We sometimes split our stuff so we use one bag each personally, and other times, when we have fragile technical gear like scuba gear, we dedicate one bag for the technical gear and everything else in the other bag. Also, we have two Osprey backpacks that are dual hiking bags. We have many hiking backpacks, but the ones here are our go-to for non-multi-day mountaineering expeditions. These are great for day hikes and making your things available on the go.
We put anything we need on our person in the backpacks. Also electronics, fragile items, and lithium batteries. Laptops, gaming devices, headphones, lightweight jackets, and water bags are the primary things to pack in backpacks while commuting between places. Backpacks can easily be swapped with technical gear or hiking gear as needed.
I also use a chest bag for my wallet, passports, and other small essentials. This helps prevent theft and also makes these items super accessible as your running through the airports. It keeps you organized.
The checklist
Because of the wide variety, we have different lists for different considerations. The baseline necessities ones we will take on every trip. We included numerous things for completion's sake and consideration. If you've considered it and don't need it, check it off the list!
The baseline necessities
◻ one base luggage you will use for the bulk of your gear
◻ one backpack that can serve as a rugged hiking bag should have hiking gear attachments as needed; 30L is usually a good size
◻ travel-friendly gaming systems (optional, but for a gamer, these are great for flights); Steam deck or Nintendo Switch
◻ a primary small mesh bag we use for our electricity transformers and adapters, plenty of USB cords, and all other misc charging cords you need.
◻ we started to bring 2-3 transformers on most international trips to ensure we can charge a lot of things quickly; the best transformers have a lot of USB ports to charge 3+ devices at the same time
◻ small carry-on mesh bag with small USB cords, portable lithium battery, and all smaller lithium batteries that we'll put in our carry-on for easy cord and charging access.
◻ sunglasses and a hat
◻ sunscreen
◻ ibuprofen (pain killer has many uses on travel) + any additional travel medication you prefer
◻ rugged shoes (for hiking, running, and activity)
◻ flip flops (for everything else, we use them in cold weather at the hotels)
◻ keys to the house (make sure you lock up and turn off the power and water)
◻ wallet, credit cards, health insurance cards
◻ passports (you won't get far without them, make sure you aren't within 3 months of expiry)
◻ A pen! (you will be asked to fill out many forms while traveling, and it is often expected you have your own pen)
◻ mobile phone
◻ laptop + charger (optional)
◻ reliable fitness watch with GPS and map support; we use Garmin Fenix, which has excellent battery life, is rugged, and has all the features we need
Hygiene bag
We keep this small travel-sized bag packed and ready to go with the following contents.
◻ toothbrush + toothpaste + floss
◻ small hair comb
◻ (for men) razor or shaving device
◻ deodorant
◻ (for women) tampons
Warm weather
◻ 5-10 shirts and underwear
◻ 2 pairs of shorts
◻ swimming trunks
◻ 3-5 pairs of socks
◻ lightweight jacket you can fit into the backpack
Cold weather
◻ 1-2 pairs of rugged hiking pants
◻ hard shell mountaineering jacket
◻ a light and heavyweight down insulation layer (down jacket)
◻ swap out some socks for heavy-weight wool socks if standing on snow
◻ 3-5 more pairs of socks
◻ 1-2 thin or heavy base layer tops
◻ light gloves
Scuba Diving
If you are exploring scuba diving, be sure to check out our beginner and intermediate scuba diving guides!
◻ additional 1-2 swimming trunks, wetsuit friendly
◻ fins
◻ camera dive housing + camera lights + camera + batteries + charger for camera, lights, and batteries
◻ BCD, regulator, surface bouy
◻ dive computer
◻ dive mask
◻ snorkel (optional)
◻ wetsuit, rash guard, dry suit as needed (or rental), custom to water temperature
◻ dive torch
Camping
If rugged camping is a consideration for any trip we take, here is our checklist.
◻ 3-season tent (4-season if extra rugged is needed) with rainfly
◻ light or heavy sleeping bag custom to the lowest ambient evening temperature
◻ foldable sleeping pad
◻ inflatable sleeping pad (needed for primarily cold weather or extra comfort)
◻ inflatable pillow
◻ light or heavy sleeping bag insert
◻ tent repair kit (many tents have this built-in)
Hiking/Scrambling
If you are new or interested in learning more about hiking, check out our intro to hiking and intermediate hiking guides!
◻ 1-2 pairs of rugged hiking pants
◻ pair of trail runners, hiking or mountaineering boots custom to our trip; we often go with trail runners, but those don't cut it in specific environments
◻ packable food; we calorie count, so its essential to bring 2.5-5k of calories for food per day depending on how much strain you will undergo
◻ the ten essentials (covered here)
◻ hiking poles (optional; NOTE: these must go into luggage as some security will consider them a potential weapon)
◻ neck scarf for dust, sun protection, and sweat absorption
◻ light and optionally medium-sized gloves (depending on how cool it will be)
Mountaineering (glacial climbing)
Traveling with mountaineering gear can be tricky. Often we will rent gear locally where we go. We own much of our gear because we live in a mountainous region. However, we still opt to rent. Often if we do mountaineering, it is regional, and we will do it as part of our trip. We rent it locally not to haul all the gear around (some of which are airplane safety concerns as potential weapons).
Ensure your backpack has an external pocket for crampons and an ice axe loop for glacier gear. You can bring your climbing harness with the climbing rack if so desired.
◻ Everything from the hiking category
◻ glacier glasses
◻ heavyweight gloves
◻ face baklava
◻ avalanche beacons
Skiing
This checklist pretty much works for snowboarders and skiers. I am too lazy always to distinguish "snowboarding and skiing, so I refer to it as skiing).
◻ specialized long ski or snowboard bag (we use this to pack our clothes and stuff, so we don't need our other luggage for ski trips)
◻ ski gloves
◻ goggles
◻ helmet
◻ boots
◻ 2-3 pairs of ski socks
◻ ski pants + jacket (sometimes, multiple sets)
◻ light or thick base layer, depending on how hot or cold the weather will be
◻ leg base layer (optional)
◻ ski poles (for skiers)
◻ avalanche beacons (if you do back country)
◻ radios (optional, helps with groups of people)