This travel wiki page of Australia will help guide travelers with quick and relevant information to consider when planning and visiting the country. It is difficult to find all the relevant information you need on Australian culture, safety, travel restrictions, and things to do, so we summarize it all here. If anything is stale or outdated, please let us know! Let's dive in and explore more high-level information as an Australia trip planner.
Last updated February 27th of 2023.
National Information & Culture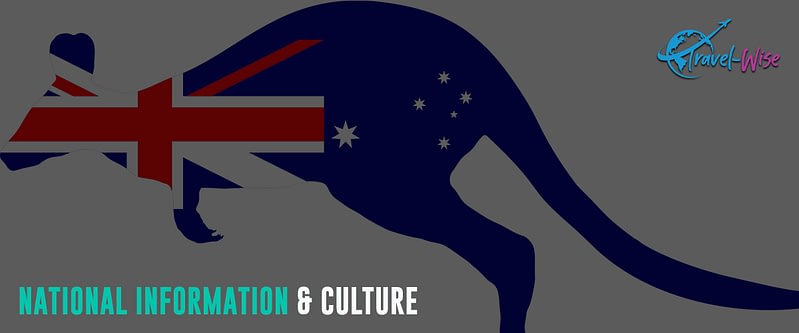 Australia, officially known as the Commonwealth of Australia, is situated in the Southern Hemisphere, between the Indian and Pacific Oceans. It comprises the mainland of the Australian continent, the island of Tasmania, and numerous smaller islands. While Canberra is the nation's capital, Sydney is the financial center and the most populous city. The official currency is the Australian Dollar (AUD), which has the symbol $ or AU $ to distinguish it from other dollar-denominated countries.
Moreover, Australia is the oldest, flattest, and driest continent with the least fertile soils. It is a megadiverse country, and its size provides a wide range of landscapes and climates. For instance, deserts are located in the center, tropical rainforests in the northeast, and mountain ranges in the southeast.
A highly developed country with a high-income economy, Australia is a regional power and a member of the G20. Moreover, it ranks fifth on the Human Development Index of 2021.
But be aware. Visitors to Australia may also sometimes experience a harsh climate, with extreme heat, drought, and bushfires. Therefore, it is essential to be prepared with appropriate clothing and sun protection when exploring the outdoors.
Finally, it is worth noting that Australia has a unique and sometimes challenging relationship with its aboriginal people, who have a rich culture and history spanning thousands of years. Hence, visitors to Australia should be respectful of cultural protocols and customs when interacting with indigenous communities.
Visit the Official Tourism Website of Australia for more tips and information when planning your trip.
Special Travel Considerations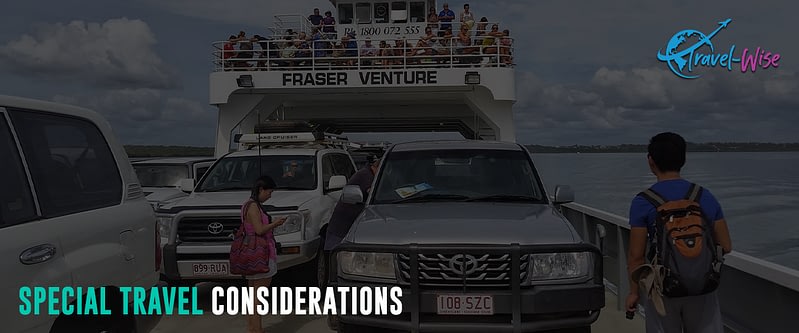 Each country and destination has rules and regulations that every traveler must consider. Hence, check the following considerations for hassle-free travel to Australia.
Covid-19 Policy
As of January 5, 2023, all travelers entering Australia from China, Hong Kong, and Macau must provide a negative covid test taken within 48 hours before the day of their scheduled departure. Meanwhile, travelers from other destinations do not need proof of a negative COVID-19 test or vaccination certificate to meet Australia's travel requirements. Furthermore, wearing face masks on international flights is no longer mandatory.
Visit the Australian Department of Health portal for the latest information on Covid-19 protocol when planning your trip.
Travel Insurance
Travel insurance is mandatory for specific visa applications to Australia, as medical care can be expensive for travelers and visitors. And to avoid inconvenience during your trip, all travelers are strongly encouraged to have travel insurance when visiting Australia. The insurance should cover emergency medical treatment, including COVID-19, repatriation, and evacuation. Moreover, travel insurance can protect you against injury, theft, and flight cancellations. It is a comprehensive protection in case anything goes wrong with your trip.
Visa Information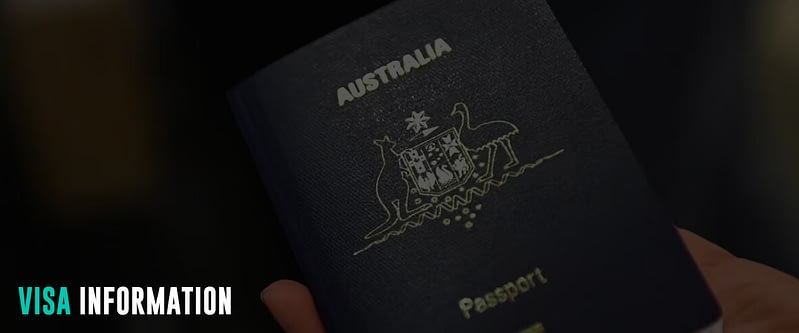 All visitors to Australia will need a valid visa to enter the country. New Zealand citizens can apply for a visa upon arrival, while all passport holders must apply before leaving home. Nationals from 34 countries can apply for an Electronic Travel Authority visa (subclass 601) through the Australian ETA app. In addition, the eVisitor (subclass 651) visa is available for passport holders from 36 countries, while the Visitor visa (subclass 600) is open to all nationalities.
It is also possible for travelers to apply for a range of Australian visa types, including tourist visas and working holiday visas, at the nearest Australian Embassy or Consulate. Moreover, travelers can apply for certain types of visas on the Australian Department of Home Affairs website.
Aside from visas, travelers must have at least six months of valid passports when traveling to Australia.
Popular Attractions
Australia is a vast and diverse country that offers a wide range of tourist attractions year-round. It boasts vibrant cities, cultural activities, and outdoor adventure for all types of travelers. Australia has it all!
The Great Barrier Reef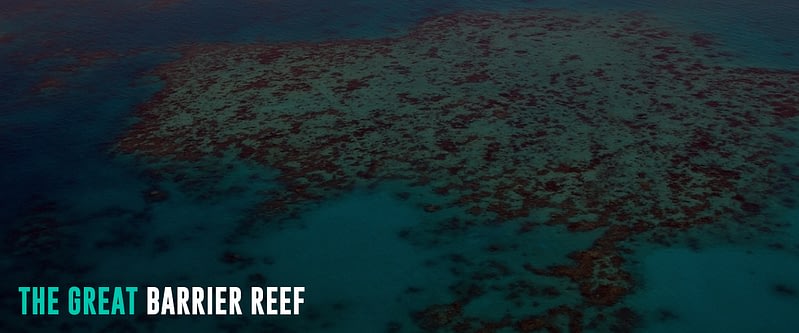 The Great Barrier Reef is the world's most extensive coral reef system and home to the most diverse and rich marine life. It comprises over 2,900 individual reefs and over 900 islands and cays. Also, the reef is a habitat for 400 types of coral, 1,500 species of fish, and 4,000 types of mollusk, with sightings of the endangered dugong or sea cow and the giant green turtle.
A large part of the reef is protected by the Great Barrier Reef Marine Park, limiting the impact of human use, such as fishing and tourism. The Great Barrier Reef is a UNESCO World Heritage Site and one of the seven wonders of the natural world. Also, it is a haven and the ultimate dream destination for divers and snorkelers. Travelers can reach the reef from Cairns, the Whitsundays, and Bundaberg.
Sydney Opera House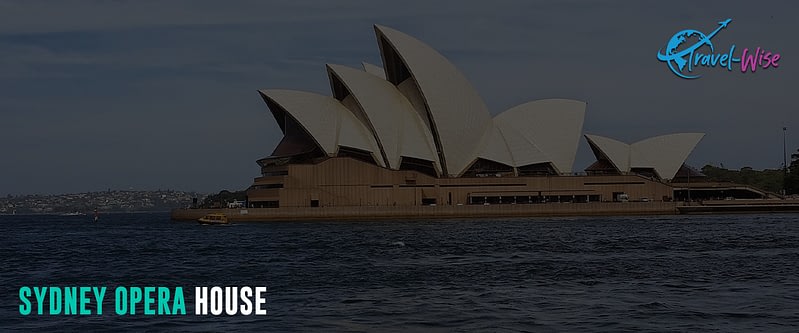 Sydney Opera House, one of Australia's most famous landmarks, is a multi-venue performing arts center. It is set in a remarkable waterscape, surrounded by the beautiful scenery of the Sydney Harbour and the Royal Botanic Gardens, making it a great urban sculpture. Designed and built by Architect Jørn Utzon, this 20th-century architectural masterpiece reflects the image of a huge sailing ship. In 2007, the Sydney Opera House was declared a UNESCO World Heritage Site, adding to its significant value.
Today, visitors can experience the Sydney Opera House by seeing performances, dining at one of the restaurants, or taking a guided tour to see its highlights. Also, it has theaters, studios, a concert hall, exhibition rooms, and a cinema.
Sydney Harbor Bridge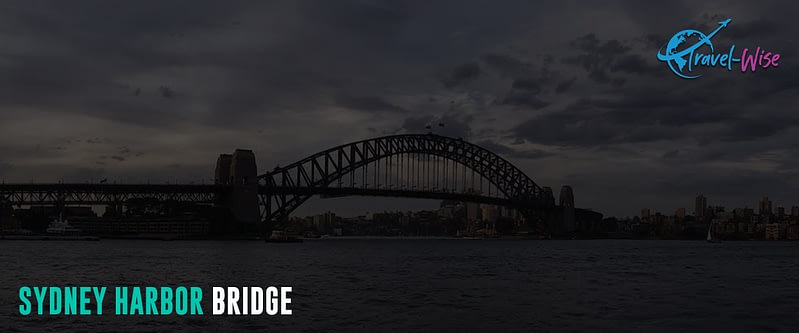 Sydney Harbor Bridge is among Australia's top architectural icons. It is the world's largest steel arch bridge, completed 40 years before the nearby Sydney Opera House. The bridge rises 134 meters above the harbor, spanning 500 meters, connecting Sydney's North Shore to the central business district.
One of the top tourist activities at Sydney Harbor Bridge is a guided climb to the top. From there, travelers can enjoy spectacular views over the harbor and city.
Uluru-Kata Tjuta National Park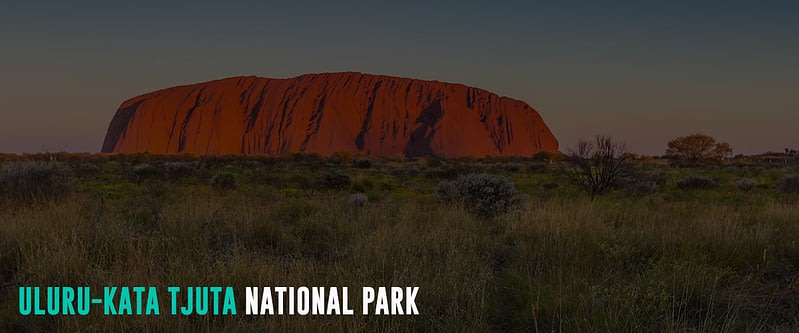 Uluru-Kata Tjuta National Park in Northern Territory is a UNESCO World Heritage Site. It features spectacular geological formations that dominate central Australia's vast red and sandy plain. The park's centerpiece is the famous Uluru (Ayers Rock), an immense monolith. Also located west of Uluru are the rock domes of Kata Tjuta. Both natural icons form part of the traditional belief system of the Anangu Aboriginal people, one of the oldest human societies in the world living in the area.
Ayers Rock, or Uluru, rises to a height of 348 meters, with most of its bulk below the surface. Travelers can join the guided tours offered by the Anangu people and be mesmerized by its changing colors (from terra-cotta to blue, viol t and red) in the shifting light during sunset and sunrise. Today, Uluru and Kata Tjuta are Australia's most photographed and famous landmarks.
Blue Mountains National Park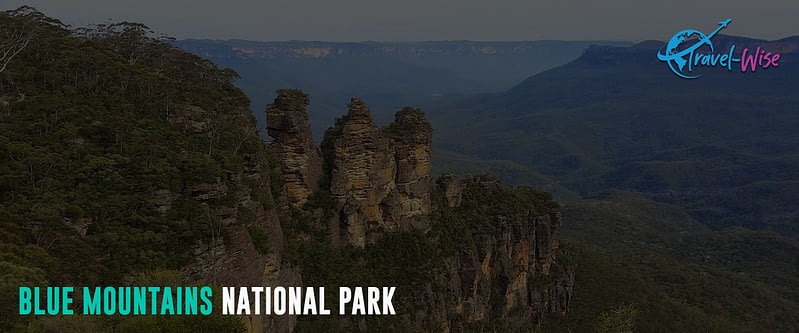 The Blue Mountains National Park is one of the eight protected areas in the Greater Blue Mountains region of New South Wales inscribed to form part of the UNESCO World Heritage Site. Located approximately 80 kilometers west of Sydney, it's an ideal day trip for hikers and mountain bikers seeking adventure. And with over 140 kilometers of hiking trails, gorges, waterfalls, and Aboriginal rock paintings, this national park has plenty to explore.
One of the park's most famous attractions is the towering sandstone rock formations of the Three Sisters. Also, visitors can experience the world's steepest passenger railway at the Katoomba Scenic Railway. Other popular activities in the Blue Mountains National Park include hiking, abseiling, rock climbing, mountain biking, and horseback riding, providing plenty of opportunities for adventure seekers. Overall, the Blue Mountains National Park is a must-see destination for those looking to explore the natural beauty of Australia.
Bondi Beach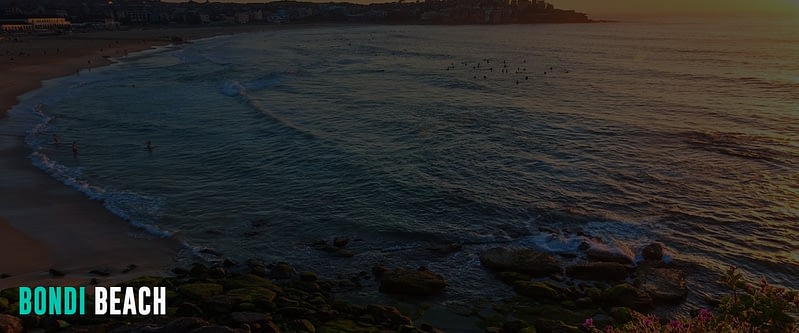 Bondi Beach is one of Australia's most popular and visited tourist attractions. The beach is only 15 minutes by car from Sydney's city center and makes an excellent spot for a taste of Sydney's beach culture. It features golden sands, great waves for surfing, and cool waters ideal for swimming. Locals and tourists flock to Bondi Beach year-round to enjoy one of the world's most famous beaches. Not only that, but Bondi Beach hosts one of the oldest surf life-saving clubs in the world.
Just a little reminder and a word of advice. Strong rip tides often sweep swimmers out to sea. Hence, make sure to only swim between the red and yellow flags.
Bondi Beach also has a wild side. Tourists and locals gather at Bondi Beach during Christmas and New Year to celebrate.
Kakadu National Park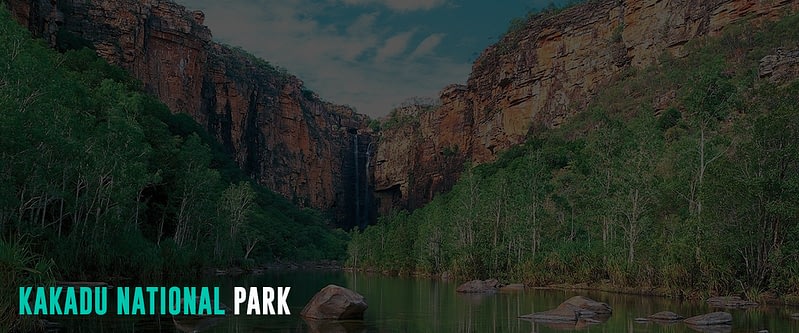 Kakadu National Park in the Northern Territory is a unique archaeological and ethnological reserve with inhabitants for over 40,000 years. The park features cave paintings, rock carvings, and archaeological sites. These show the skills and way of life of the region's inhabitants, from the hunter-gatherers of prehistoric times to the Aboriginal people still living there. Kakadu National Park is a unique example of a complex of ecosystems, including tidal flats, floodplains, lowlands, and plateaux. It is home to a wide range of rare or endemic species of plants and animals, including wallabies, dingoes, and crocodiles. Additionally, the park is a habitat for one-third of Australia's bird species and is a birdwatcher's dream.
In 1981, the park was added to the UNESCO World Heritage Site list. And today, travelers can explore the park's diverse ecosystems by hiking the vast trails or cruising along the waterways. Another option is to take a scenic flight. The best time to explore the park is during the dry season, as most roads are closed during the wet season (November-April) due to flooding.
Great Ocean Road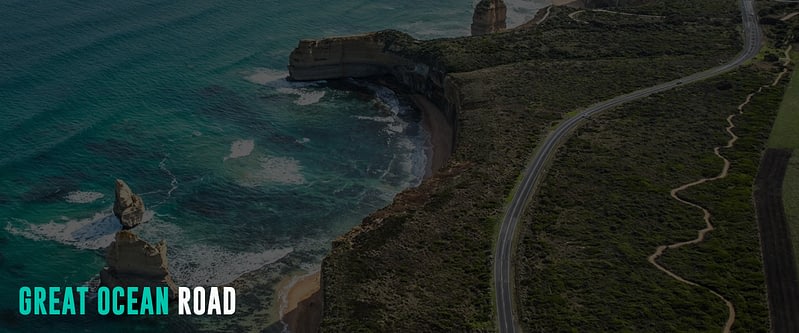 The Great Ocean Road in Victoria is one of the most beautiful drives in Australia. It is a 242 kilometers drive that starts in Torquay (100 kilometers from Melbourne) and ends in Allansford, passing through the beautiful southwest coastline and some of the most stunning scenery in Australia. The highlights include the towering Twelve Apostles limestone stack formations that rise from the ocean near Port Campbell National Park. There are also several places along the Great Ocean Road where travelers can spot some of Australia's famous wildlife, such as kangaroos, fur seals, and emus. Furthermore, travelers can take in iconic surf breaks and enjoy the pristine rainforest and misty waterfalls along the spectacular Great Ocean Road.
Aside from driving along the Great Ocean Road, other popular activities are walking the coastline trails. In 2004, the Great Ocean Walk was opened. It is 104 kilometers walking trail stretching from Apollo Bay to the Twelve Apostles.
The Great Ocean Road is Australia's largest war memorial, built by returned soldiers between 1919 – 1932 and dedicated to service members killed during World War I. In 2011, it was listed as an Australian National Heritage Site.
K'Gari (Fraser Island)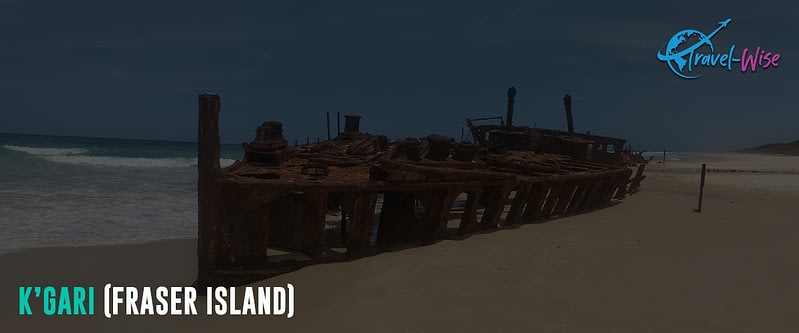 K'Gari, or Fraser Island in Queensland, is the world's largest sand island at 122 kilometers long and 22 kilometers wide. It boasts rainforests, dunes, eucalyptus, woodland, mangrove forests, wallum, peat swamps, and coastal heaths. In addition, Fraser Island has over 100 freshwater lakes and pretty colored sand cliffs.
The island is home to diverse marine and wildlife such as sharks, dolphins, whales, dingoes, bats, sugar gliders, and over 300 bird species. Aside from swimming and snorkeling, travelers here can take a whale-watching tour, sunset cruise, and hike the rainforest trails at Central Station.
Fraser Island is a short ferry trip from Hervey Bay and Rainbow Beach. In 1992, K'Gari (Fraser Island) was listed as a UNESCO World Heritage Site.
The Daintree National Park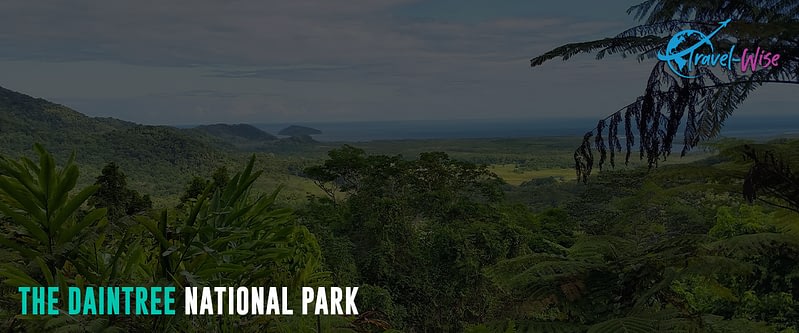 The Daintree National Park in Far North Queensland is a vast and ancient tropical rainforest and is part of the Wet Tropics of Queensland. Its exceptional biodiversity of flora and fauna earned recognition as a UNESCO World Heritage Site in 1988.
Some of the most notable inhabitants of the rainforests are the endangered Southern Cassowary, Daintree River Ringtail Possum, Bennet's Tree Kangaroo, Musky Rat-Kangaroo, and singing birds.
Popular tourist activities include guided walking tours and jungle safari for up-close encounters with the diverse flora and fauna. It is also a great way to learn about the culture and practices of the aboriginal and indigenous communities living in the region. Other activities to enjoy in the rainforests are river cruises and bird watching.
Whitsunday Islands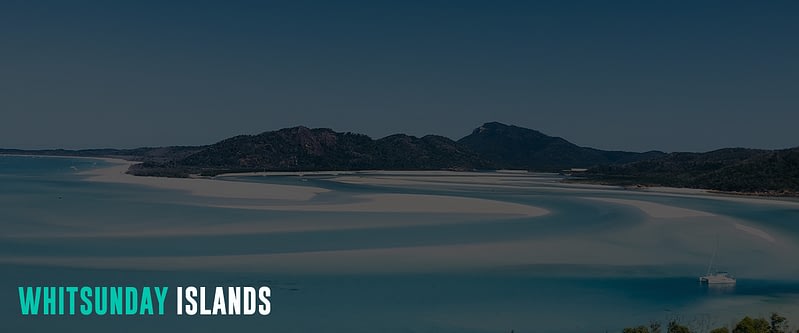 The Whitsunday Islands are a group of 74 islands in Queensland and form part of the Great Barrier Reef Marine Park. The islands are famous for their pristine beaches, crystal-clear waters, and stunning coral reefs and are the jump-off point to exploring the Great Barrier Reef.
Visitors can enjoy various activities, including sailing, kayaking, hiking, snorkeling, and basking on the beach. Moreover, the islands are also home to luxury resorts and spas, making them a popular destination for couples and honeymooners. Whitehaven Beach is one of the most famous attractions in the Whitsunday Islands, popular for its pure white silica sand and turquoise waters.
Cradle Mountain-Lake St. Clair National Park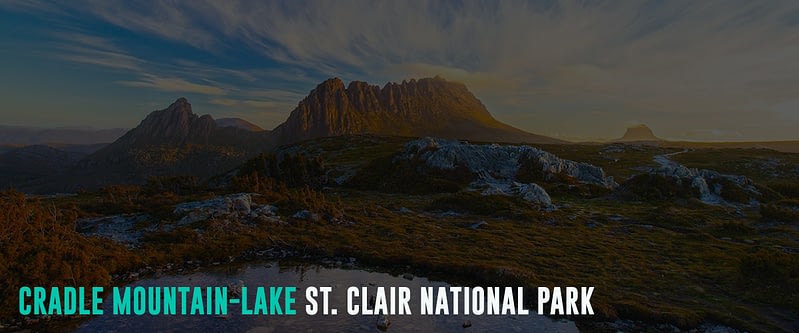 Cradle Mountain-Lake St. Clair National Park is one of Tasmania's top tourist attractions for nature lovers. It features sparkling lakes, serrated dolerite peaks, alpine heathland, dense forests, and glacier-carved wilderness. Also, the park is home to 60-million-year-old myrtle forests, Tasmanian devils, echidnas, wallabies, and platypuses. It forms part of the Tasmanian Wilderness, inscribed as a UNESCO World Heritage Site in 1982.
One of the park's most distinctive features is Mount Ossa, the highest point in Tasmania at 1,616 meters. Visitors can explore so e of the many hiking trails, including the Overland Track. Other popular outdoor activities here include fishing, kayaking, and mountain biking. The Cradle Mountain is also a great place to witness the Southern Lights during winter from May to August, with the lake mirroring them as a backdrop.
Primary Spoken Language(s)
English is the official language in Australia. However, the country is a multicultural nation with a significant migrant population. Hence, hearing various languages in Australia's cities and towns is common.
Safety Concerns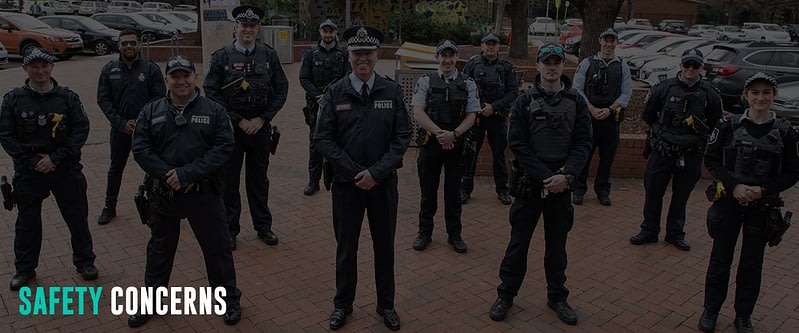 Australia is an incredibly safe place for tourists and backpackers. It ranks 27th out of 163 countries on the 2022 Global Peace Index and has a Level 1 Travel Advisory from the US Department of State. Hence, travelers in Australia can exercise standard precautions when exploring the country.
Generally, the crime rates are low and petty theft is rare in Australia. Most incidents involve tourists being unused to Australia's climate and wilderness. Therefore, always stay hydrated and regularly use sunscreen, especially when going to the beach and exploring the Outback.
When planning to drive long distances, ensure the vehicle is in good condition and has enough gas for long drives. When hiking, stay on the marked trails and always follow advisory signs. Be on the lookout for wild animals and seek immediate care once bitten. Lastly, heed water safety recommendations when swimming. Only swim at patrolled beaches and between the red and yellow flags.
In an emergency, dial 000 to seek assistance from police, fire, and ambulance. Suppose you get lost or need help in a remote location. In that case, the Advanced Mobile Location (AML) available for upgraded Android and iPhone in Australia automatically sends your site when dialing triple zero. Finally, Australia has a national telephone warning system, sending emergency text alerts to mobile phones within a geographic area. Foreign travelers will also be able to receive it once their phones are on roaming in the Australian network.
Budget Considerations
Australia is not the cheapest place to visit. But with clever planning, travelers do not need to spend a fortune to explore Australia's incredible and diverse natural beauty.
Accommodation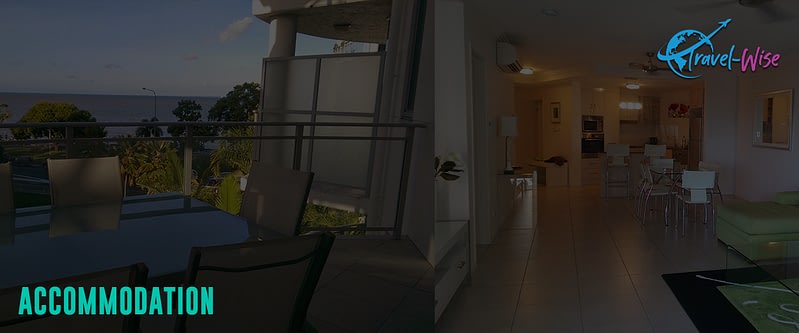 The accommodation cost in Australia depends on the travel season, location, and how soon you travel from your booking date.
But generally, a hostel dorm bed ranges between $15-30, while private rooms start at $60. It includes basic amenities like free Wi-Fi and self-catering facilities; only some hostels have complimentary breakfast.
On the other hand, a three-star hotel costs around $90 per night, including breakfast, while a luxury hotel costs as much as over a thousand US Dollars.
Another option when backpacking in Australia is staying in campsites. Some are free, while others charge around $5 to $17 for a plot. Airbnb is also prevalent in Australia, with rates from $27 for a private room to $100 for an entire house with booking in advance.
Food
Food prices in Australia vary per region and city, with plenty of dining options and varied cuisines. For example, expect to pay around $8 – $14 for a main dish in Asian, Chinese, and Indian restaurants. A fast-food combo meal costs $9, while a pizza ranges between $11 to $13.50. When dining in casual restaurants, expect to pay around $15 per meal. Meanwhile, travelers who want fine dining pay $40 to $50 for a three-course meal.
Travelers who want to self-cater spends an average of $65 weekly for groceries such as pasta, rice, seasonal produce, and meat.
Attractions and Transportation
Visitors to Australia's major cities can avail of free walking tours, requiring only a little donation or tip for the tour guide. They can also visit free museums, art galleries, and beaches. Travelers can also explore Australia's natural parks and walk world-class hiking trails. Additionally, visitors can try water sporting activities at $47 for surfing lessons and $70 for a whale-watching day tour and other guided hikes.
Meanwhile, public transportation in Australia is relatively inexpensive. Expect to pay $5 to $10 daily for public transport or $27 daily for a private car, excluding fuel.
Average Two Week Cost
Backpackers in Australia spend an average of $50 daily or $700 for two weeks. This budget covers the costs of a hostel dorm bed, self-catering, occasional dining in cheap restaurants, public transportation, and free attractions and activities. However, it is essential to note that while this budget is suitable for those looking to travel on a tight budget, it may require sacrificing some comfort and convenience.
On the other hand, mid-range travelers spend $150 daily or $2100 for two weeks. This budget includes three-star hotel accommodations, dining out, taking a taxi, doing more paid activities like surf lessons and diving, and visiting more attractions. Compared to the backpacker budget, this allows for more comfort and flexibility while being relatively affordable.
Lastly, travelers can enjoy luxury in Australia from $300 per day or $4200 for two weeks. This includes staying in a five-star hotel, fine dining, hiring private cars and taking domestic flights, and availing all the paid tours and activities they want in Australia. However, it is essential to note that this is only the base rate for a luxury trip in Australia. It can go higher as there are no limits to the luxury experiences available.
Customs And Import Restrictions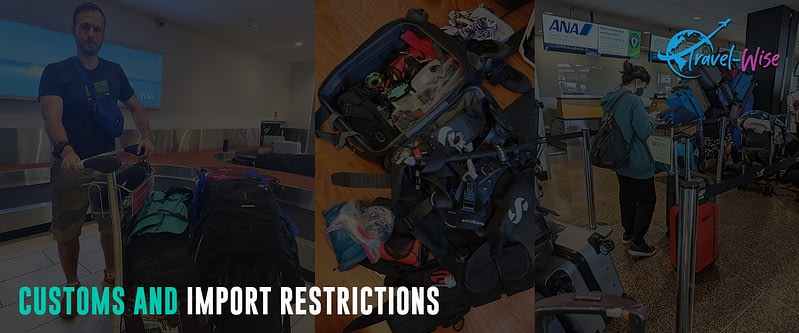 Travelers to Australia can bring personal items like clothing, shoes, and personal hygiene in their luggage, free from duty and tax. Adult travelers, ages 18 years and above, can also buy duty-free items with limits as follows:
Worth AUD 900 for general goods for adults, while only AUD 450 for those under 18 years old
2.25 liters of alcohol
25 grams of tobacco (equal to approximately 25 cigarettes plus an open packet)
On the other hand, Australian Customs restricts or prohibits the entry of some goods, and such items must be declared to customs to avoid penalties and inconvenience.
Prohibited or restricted goods include medicines, steroids, illegal pornography, firearms, weapons, or illicit drugs.
Goods or product samples for business or commercial use.
AUD10,000 or more in Australian or foreign currency equivalent.
Meat, poultry, fish, seafood, eggs, dairy, fruit, and vegetables.
Plants or parts of plants, including grains, seeds, nuts, bulbs, straw, wood, and traditional herbs or medicines.
Animals or animal products, including pet food, specimens, birds, fish, insects, shells, and bee products.
Soil, items with soil attached or used in freshwater areas, e.g., sports/recreational equipment, shoes.
Visit the Australian Border Force portal for the country's complete customs and import restrictions list.
Climate Considerations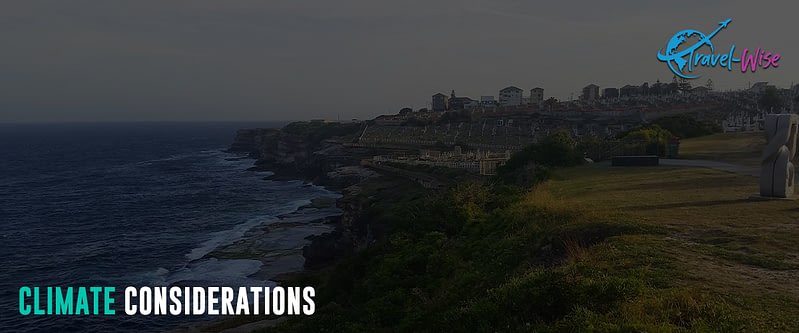 The climate in Australia varies significantly throughout the eight states and territories. While most of the country has four seasons, the tropical north has a wet and dry season, with year-round temperatures between 22 and 33 °C. In Australia, seasons are at opposite times compared to the Northern Hemisphere.
Summer is from December to February, with southern temperatures ranging from 11-22 °C. From March to May, autumn brings 7-20 °C temperature in the south and can drop to -4 – 13 °C from winter from June to August. Lastly, spring from September to November brings mild weather at 6-19 °C in the south.
Primary Transportation Options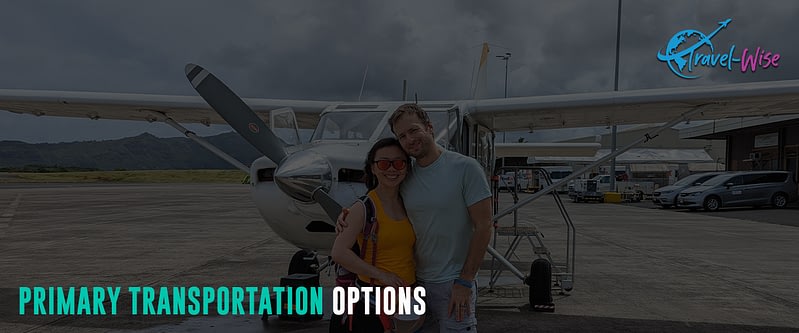 With Australia's vast size and low population density, the country's transport system is highly dependent on the road.
Air
Flying is the best way to visit Australia's distant tourist attractions quickly. Australia has over 330 airports and airfields, with Sydney Kingsford Smith Airport as the most extensive and busiest airport. It is also the central aviation hub in the country.
Australia's flag carrier, Qantas Airways, and other domestic airlines, such as Virgin Australia, Jetstar, and Rex, serve regular flights to all state capital cities and many regional cities. In addition, the competition among these domestic airlines brings excellent value fares, especially if booked in advance. All of these contribute to making travelers an easy and affordable way to visit Australia's iconic destinations.
Ferry
Various ferry services link some islands, territories, and destinations to the mainland of Australia. For example, the Spirit of Tasmania has a nightly passenger and vehicle ferry service between Geelong in Victoria and Devonport in Tasmania, with different schedules during peak seasons. Connecting Cape Jervis in South Australia and Kangaroo Island is SeaLink ferries with several daily timetables. There are also ferry services linking the suburbs in the capital cities of Australia, such as around Sydney Harbour, Swan River in Perth, and the Brisbane River.
Train
Various rail services connect the large area of Australia, with train lines mainly on the East Coast. Among these, The Indian Pacific travels between Sydney and Perth, stopping at Broken Hill, Adelaide, and Kalgoorlie. Conversely, the Ghan serves the north and south routes between Darwin and Adelaide, which passes through Australia's Red Center. In addition, The Overland travels between Melbourne and Adelaide, while the Great Southern serves Brisbane-Melbourne-Adelaide.
State and city rail services also provide travelers a quick and comfortable journey. Prominent is the NSW TrainLink, linking Brisbane, Canberra, Melbourne, Dubbo, Broken Hill, Armidale, Moree, and Griffith to Sydney. Regional trains and coaches, such as V/Line in Victoria; Metro Trains Melbourne; Queensland Rail, Traveltrain, and the City network in Southeast Queensland; and Transwa operating train and bus services in Western Australia, are also available. Further south, the Tasmanian government also operates the West Coast Wilderness Railway as a tourist venture over an isolated track length on Tasmania's West Coast.
Car
Hiring a car brings more flexibility to travelers. And with Australia's vast network of well-maintained roads, long journeys and road trips are ideal for visiting more destinations in the country. Hence, travel by car is the best way to get around tourist attractions in Australia.
Travelers can find international and local car rental companies at major airports and central city locations. The best options are four-wheel drive (FWD), a camper van, or a car for a multi-day rental as low as $27. Note that Australia drives on the left.
Taxi
Taxis are widely available in Australia's major cities. Passengers can easily hail them on the street, call for a pickup, or book a ride through an app.
The local government regulates taxi fares in Australia, and each state and territory has its pricing system. Generally, fares are calculated based on the distance traveled and time spent in the taxi. In addition to the base fare, airport pick-up surcharge or late-night fees may apply.
Public Transport
All cities in Australia have reliable and affordable public transport systems. In addition, Australia's bigger cities, such as Sydney, Melbourne, Brisbane, Adelaide, and Perth, have subways and tram systems.
In Sydney and NSW, there are caps to weekly public transport rates, including bus, metro and train, light rail, and ferry. Therefore, with the NSW government's Opal Card, travelers will never pay more than the maximum weekly fare, regardless of how often they use the transport network. So, for example, travelers in the Opal network routes never pay more than $11.30 a day, $34 a week, or $5.70 on Saturdays, Sundays, and public holidays.
Bus
Travelers in Australia can utilize the inexpensive public bus transport services, especially on the East Coast. There are also hop-on hop-off tourist buses that will take passengers to all the major attractions.
Australia's two leading bus companies are Greyhound and Premier. With Greyhound, travelers can avail of 15 to 120 days of unlimited travel through its Whimit Passes for around $236 to $493.
Trams
Tram systems in bigger cities such as Sydney, Brisbane, Melbourne, Adelaide, and Perth are relatively affordable. Fare ranges between $1.90 to $2.70.
Some services are free, such as the City Circle Tram in Melbourne! The free tram ride runs around the central business district, passing through several attractions.
Start Trip Planning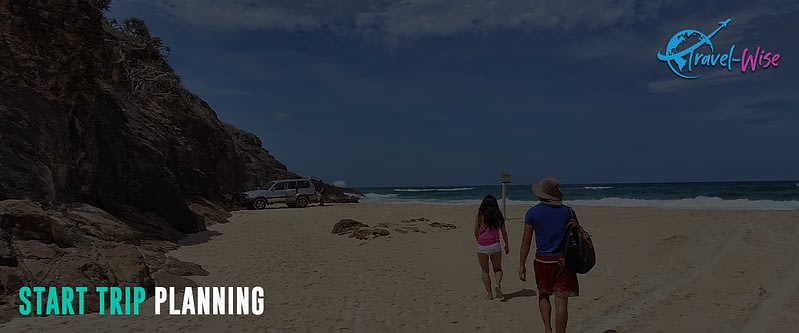 Travel-Wise is made from the ground up to help people travel more, break down the barriers that make it tough to get going, and start your journey as painlessly as possible. Bookmark our other Country Guides to help kick-start your research for future travels. We also offer templated itineraries from our staff and community that help serve as a building block for your trip plans. Alternatively, we also utilize AI to offer a way to generate itinerary ideas. This saves much time just getting you up and running with a template. From there, you can use the trip planner to create your customized itinerary, invite friends and family for collaboration, find others from Travel-Wise to join the trip, book and track important information, journal, and share your experiences at the end or along the way!