This travel wiki page of Botswana will help guide travelers with quick and relevant information to consider when planning and visiting the country. It is difficult to find all the relevant information on Botswana culture, safety, travel restrictions, and things to do, so we summarize it all here. If anything is stale or outdated, please let us know! Let's dive in and explore more high-level information as a Botswana trip planner.
Last updated April 9th of 2023.
National Information & Culture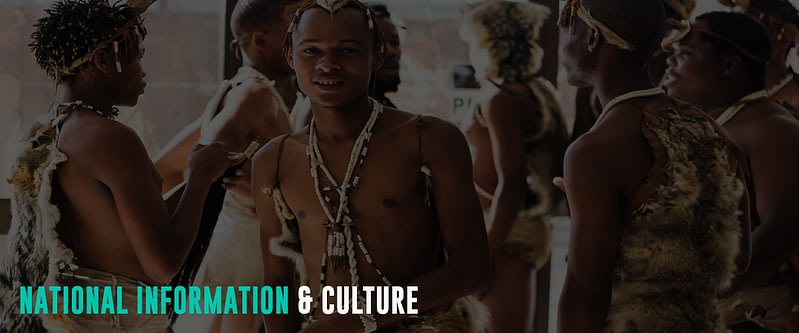 Botswana, officially the Republic of Botswana, is a country in Southern Africa. The country shares land borders with South Africa to the south and southeast, Namibia to the west and north, and Zimbabwe to the northeast. The Kazungula Bridge also connects Botswana to Zambia. Moreover, the country is topographically flat, with approximately 70 percent being the Kalahari Desert. Tswana ethnic group makes up almost 79% of the population. Gaborone is its capital and largest city, and the national currency is Botswana Pula (BWP).
Mining, cattle, and tourism lead the economy. Also, Botswana is the world's biggest diamond producer. Unfortunately, the country has one of the world's highest prevalence rates for HIV/AIDS. However, the government continuously tries to combat HIV/AIDS, providing proper treatment and lowering the rate of mother-to-child transmission.
For them, marriage is a significant event in Botswana's culture. It is customary for the groom to pay a bride price to the bride's family. Polygamy is legal but uncommon, and the divorce rate is relatively low.
Lastly, Botswana is known for its conservation efforts; many cultural practices reflect this value. For example, they prohibit hunting and poaching, and there are traditional practices like "khawa," where communities set aside land for wildlife and limit access to outsiders.
Visit Botswana's Official Tourism Website for more information and tips when planning your trip.
Special Travel Considerations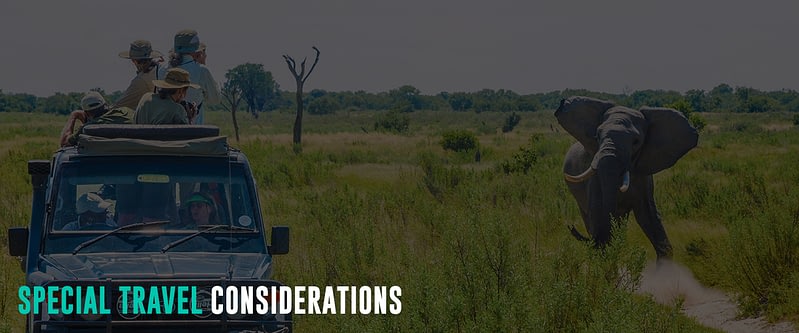 Each country and destination has rules and regulations that every tourist must consider. Hence, check the following considerations for hassle-free travel to Botswana.
Covid 19 Policy
As of August 28, 2022, Botswana does not have entry requirements related to Covid-19. Therefore, wearing masks, proof of vaccination, and testing are unnecessary for Botswana visitors. Moreover, there are no health screening procedures at airports and other ports of entry.
However, the Covid-19 policy of Botswana may vary over time with the evolution of the pandemic. Hence, monitor the latest Covid-19 entry requirements when planning your trip.
Travel Insurance
Travel and health insurance are not mandatory for visitors to enter Botswana. However, it is advisable to have one that covers emergency medical treatment, including Covid-19, repatriation, and evacuation. Travel insurance can protect you against the inconvenience of injury, medical emergencies, theft, and flight cancellations. In addition, it is comprehensive protection in case anything goes wrong with your trip.
Visa Information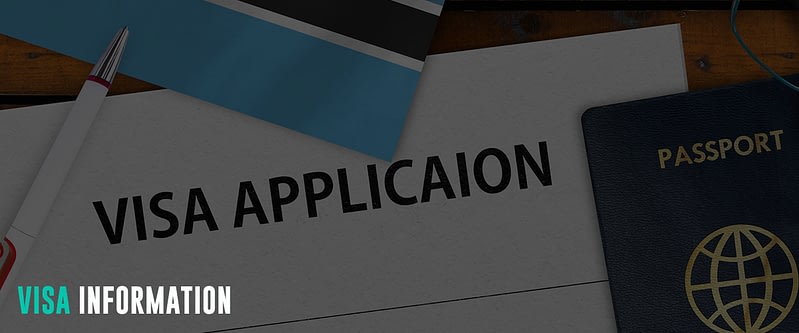 Nationals of 104 countries do not require a visa to enter Botswana and stay up to 90 days, while other passport holders can apply for an eVisa. Visitors can also check their visa eligibility, the application process, and requirements according to their nationalities.
Aside from a visa, all visitors to Botswana must have at least six months of a valid passport, return or onward ticket, hotel confirmation, and sufficient funds to cover their stay. The country also requires an International Health vaccination certificate for yellow fever from travelers from yellow fever-infected countries and areas.
Popular Attractions
Botswana has some of the best wilderness and wildlife areas on the African Continent. In addition to the beautiful scenery and mind-blowing wildlife encounters, the people are warm and friendly.
Okavango Delta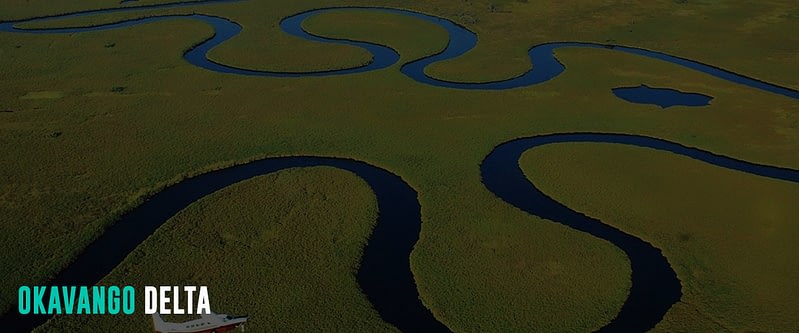 The Okavango Delta is a UNESCO World Heritage Site in northern Botswana and one of Africa's Seven Wonders. The delta is a vast freshwater wetland created by the Okavango River, which cuts through the Kalahari Desert's center, covering around 15,000 sq. km. Unlike most river deltas, the Okavango River empties onto open land, flooding the savanna and creating an ever-changing inland delta.
The delta is affected by seasonal flooding from March to August and swells three times its permanent size. The flooding coincides with Botswana's dry season and the extraordinary wildlife migrations from the dry areas. The river spilling rejuvenates the landscape and creates stunning mosaics of channels, lagoons, pools, flooded grasslands, and thousands of islands.
During the dry season, around 260,000 mammals gather around the delta, making it an excellent site for wildlife and bird sightings and encounters. Okavango is home to some of the world's most endangered large mammal species, such as cheetah, white rhinoceros, black rhinoceros, African wild dog, and lion. Visitors will also find elephant, buffalo, giraffe, zebra, hippo, crocodile, red lechwe, waterbuck, reedbuck, duiker, impala, kudu, steenbok, wildebeest, hartebeest, sable, roan, tsessebe, lion, leopard, genet, serval, and caracal. Moreover, various bird species, some of which are rare and endangered, are present. In addition to wildlife variety, plant species include reeds, fan palms, acacia, sycamore fig, sausage trees, rain trees, African mangosteen, mopane, acacia, and scrub bush.
Highlights of the Okavango Delta include the Mokoro ride, a traditional dug-out canoe; game drives by 4WD or on foot; bird watching; and speed boat cruises. However, game viewing can be seasonal, relative to the time of year, water, and food availability.
Chobe National Park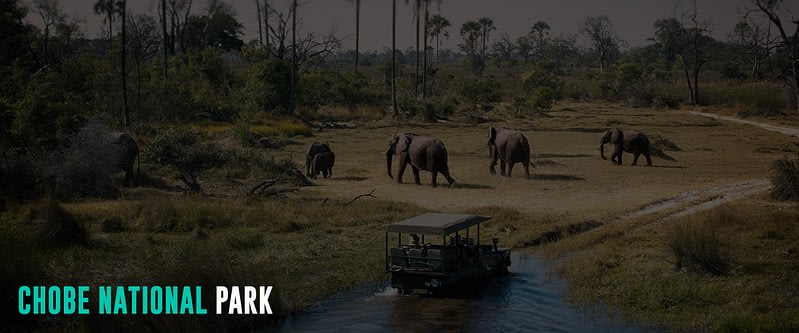 Chobe National Park is Botswana's first national park, biologically diverse, and the best place for budget-friendly safaris. It covers an area of approximately 11,700 sq km and is located in the north, making it the third-largest park in Botswana. The Chobe River forms the park's northern boundary and supports a diverse and concentrated wildlife population unmatched in Botswana.
The park has four distinct geographical regions: Chobe Riverfront, Ngwezumba Pans, Savuté, and Linyanti. The most famous of Botswana's big game country, accessible and frequently visited, is the Chobe Riverfront. It is renowned for its large herds of elephants and Cape Buffalo, where visitors can witness hundreds of elephants simultaneously during an afternoon game drive. Sometimes, the main Serondella Road becomes impassable as family herds cross the main road to go to the river to drink, bathe and play.
Likewise, the park's riverbanks tracks and trails offer an opportunity to see up to 15 species of animals on a single drive. Common species include waterbuck, lechwe, puku, giraffe, kudu, roan and sable, impala, warthog, bushbuck, monkeys, and baboons, while lions, leopards, hyenas, and jackals are never far away. Visitors can take a river cruise and experience the park and wildlife from a different perspective, getting closer to hippos, crocodiles, and a vast array of water birds than on land.
Over 460 bird species have been recorded in the park, making it one of Africa's premier venues for bird safaris. Common species include the Sacred Ibis, Egyptian Geese, cormorants, darters, Spur-winged Geese, Pel's Fishing Owl, carmine Bee-eaters, kingfisher family, all the rollers, Fish Eagle, Martial Eagle, and many members of the stork family.
The best time to visit Chobe National Park is during the dry season, from May to October.
Moremi Game Reserve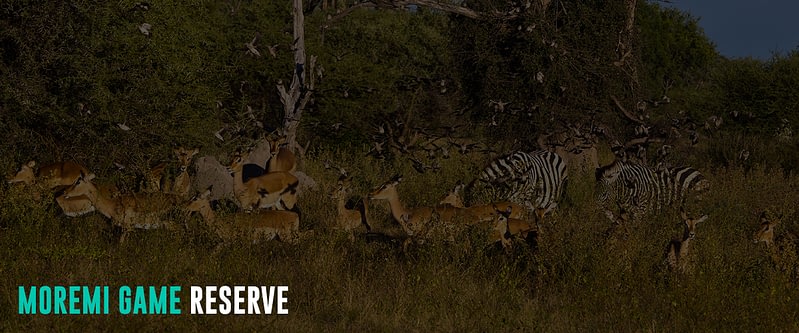 Moremi Game Reserve in the central and eastern part of Okavango was considered Africa's best game reserve in 2008 by the African Travel and Tourism Association. It is Africa's first game reserve established by residents and the only officially protected area in the Okavango Delta.
The reserve comprises the Moremi Tongue and Chief's Island, boasting one of Africa's wealthiest and most diverse ecosystems. Moremi's landscape includes waterways, lagoons, pools, pans, grasslands, and forests, with several tracks and trails for visitors. Moremi might be small in land area, but it boasts a dense and diverse wildlife population, including the 'Big Five.' It is also home to red lechwe, zebra, wildebeest, big cats, baboons, vervet monkeys, crocodiles, hippos, and over 400 fish species, many migratory and some endangered. These make Moremi Game Reserve a spectacular game-viewing and bird-watching destination.
A favorite campsite for glorious Okavango sunsets is the Third Bridge area, situated near the pretty Sekiri River and flanked by thick stands of papyrus. Moremi is a top-rated destination for self-drive campers and a must-visit combined with Chobe National Park in the northeast. Moreover, it is the best place for abundant wildlife with many accommodation options.
Makgadikgadi Pans National Park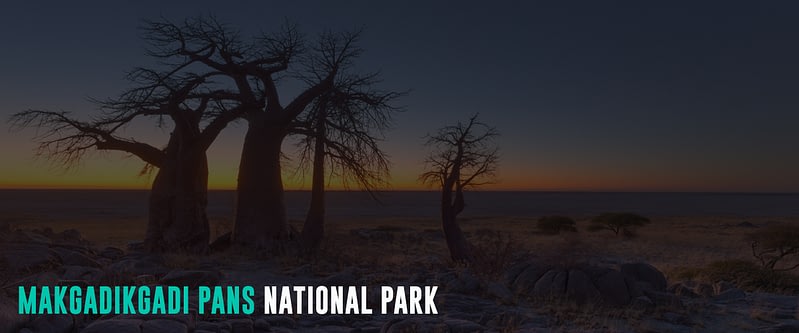 Makgadikgadi Pans are the world's most giant salt pans, northeast of the Central Kalahari Game Reserve and southeast of the Okavango Delta. It is linked to Okavango Delta by the Boteti River. A UNESCO World Heritage Site, Makgadikgadi has historical and cultural importance. Archeological sites in the area are rich with Stone Age tools, and ancient inhabitants remain. In addition, it has Early Iron Age settlements associated with Toutswe tradition in Lekhubu, Tlapana, and Mmakgama sites.
The area is extremely arid and desolate most of the year. However, it comes to life and attracts wildlife during summer when rainwater pours and flooding occurs. The top highlight of visiting the Makgadikgadi Pans during the wet season is seeing thousands of zebra and wildebeest annual migrations from the Boteti River. Other wildlife in the Makgadikgadi Pans and Game Reserve includes gemsbok, eland and red hartebeest, kudu, bushbuck, duiker, giraffe, springbok, steenbok, elephant, and the astonishing number of flamingos at Sowa and Nata Sanctuary.
Popular tourist activities in the park are quad biking, walking with meerkats, game drives, and a sundowner in the pans. Makgadikgadi Pans is also an excellent place for stargazing.
Nxai Pan National Park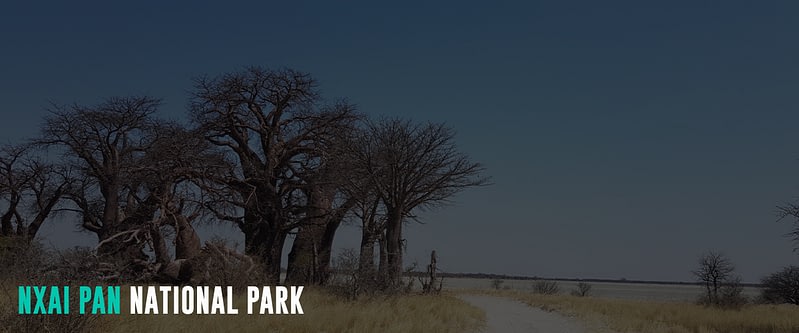 Nxai Pan National Park is technically an extension of the conservation area of the Makgadikgadi Pans. The area boasts remarkable dunes, towering baobab trees, and a sought-after wilderness and safari destination.
Its accessibility to the main road makes it an excellent birding and wildlife-viewing destination during and after rain from December to April. Visitors will find zebras, wildebeest, springbok, impala, gemsbok, hartebeest, giraffe, lion, cheetahs, wild dogs, brown hyenas, bat-eared fox, and sometimes elephants and buffalo. Another wet season highlight is the annual migration of thousands of zebras through Makgadikgadi and Nxai Pan National Parks. Botswana's zebra migration is the world's longest migration and the second-largest wildlife migration in Africa. Note that game viewing is seasonal and rain-dependent. However, several artificial watering holes supplement natural features and attract some wildlife.
Central Kalahari Game Reserve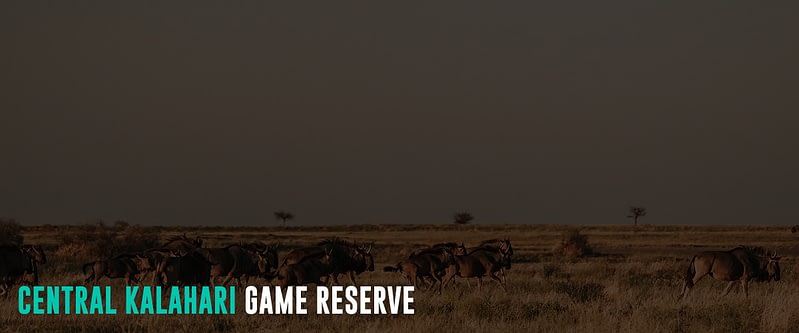 Central Kalahari Game Reserve in the center of Kalahari Desert is the world's second-largest reserve encompassing 52,800 sq. km. The area features waist-high golden grasses, dwarfed trees, and scrub bushes in an unending space. A UNESCO World Heritage Site, the Central Kalahari Game Reserve is home to the traditional hunter-gatherers belonging to the Basarwa (San) and Bakgalakgadi ethnic groups. As a result, it has unique biodiversity, exceptional natural beauty, and unaltered landscapes of vegetation communities of large clay pans and fossil river valleys to rolling, vegetated dunes and woodlands.
The desert-adapted wildlife species include the Kalahari black-maned lion, elephants, large herds of springbok and gemsbok, wildebeest, hartebeest, eland, and giraffe. Visitors in CKGR will unlikely bump into anyone else on a game drive.
Popular and most visited areas in CKGR include the Deception Valley in the north. It is one of the reserve highlights due to dense concentrations of herbivores that feeds on sweet grasses that spring into life after the rainy season. Hence, attracting predators. Deception Valley also has many public campsites near the eastern Matswere Gate. Other worthwhile areas for game drives are Sunday and Leopard Pans, Passarge Valley, and Piper's Pan.
The Central Kalahari Game Reserve is ideal for seasoned travelers seeking a unique and authentic African safari experience.
Kgalagadi Transfrontier Park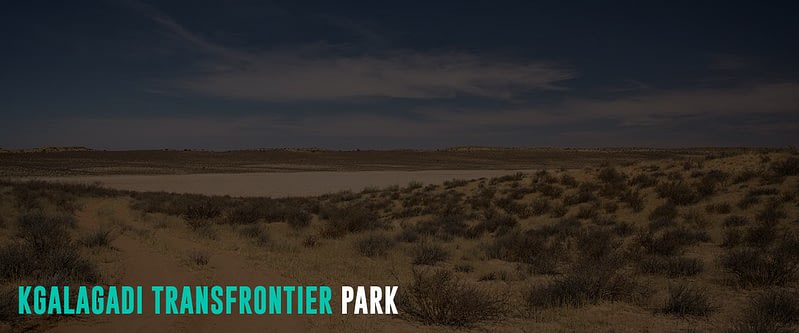 Kgalagadi Transfrontier Park is a vast desert comprising the Gemsbok National Park in Botswana and Kalahari Gemsbok National Park in South Africa. The park features rolling red dunes, fossil river valleys with dwarf trees and bushes, and grasslands. It has excellent sightings of migrating herds of wildebeest and other antelopes, such as gemsbok. Visitors also have a good chance of big cat sightings, including lions, leopards, cheetahs, brown hyenas, big-eared bat-eared foxes, or a wiry Cape fox. And with over 170 species of birds, Kgalagadi Transfrontier Park offers a rich birding experience. Likewise, seeing over 30 bird species near the camps is common.
Note that authorities control the number of vehicles that travel the trails, the number of nights a camping party can stay at a site (usually limited to one night), and the number of people at each camp. It is to maintain the jungle experience. Hence, booking is necessary. Also, note that campers must travel in a convoy of a minimum of two vehicles and must use 4WD vehicles only.
The three main areas to explore include the Nossob River valley on South Africa/Botswana border, the jungle trails on the Botswana side, and the former Mabuasehube Game Reserve. The two countries' main entry and exit points are at the Two Rivers/ Twee Rivieren Gate, which has camping facilities, chalets, shops, and a restaurant.
Popular activities in KTP include Kgalagadi Transfrontier Park & Tsabong Ecotourism Camel Park, game drives, mobile camping, dune climbing, sandboarding, camel riding, and quad biking.
Tsodilo Hills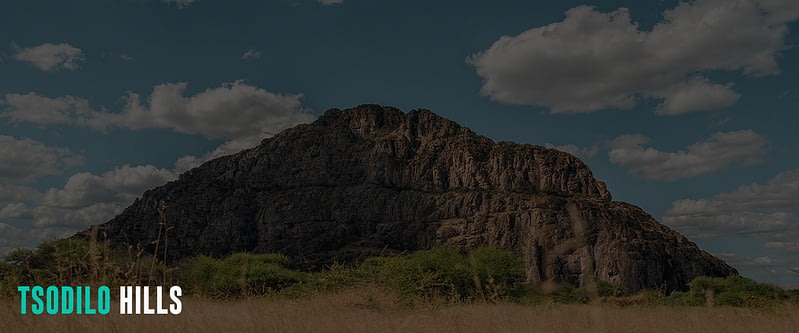 The Tsodilo Hills in Ngamiland District is a UNESCO World Heritage Site with unique religious and spiritual significance to local people and an exceptional record of human settlements over many centuries. The Tsodilo Hills is undoubtedly one of the top tourist attractions in Botswana and is often referred to as a spiritual outdoor art gallery. It is famous for its rock art, rock shelters, depressions, and caves, with over 4,500 cave drawings throughout the area. Around 400 sites contain these ancient San Bushmen rock paintings, showing hunting scenes, ritual dances, and safari animals. Some rock art dates back more than 20,000 years, and archaeologists have found evidence of human settlement in the area dating back 100,000 years. The San Bushmen consider the site to be the location of the first creation of man and a resting place for the spirits of the dead.
The area has several walking trails, including the Rhino Trail, Lion Trail, and Cliff Trail, all ideal for visitors to take in the landscape and view the rock paintings. In addition, visitors can hike the three prominent hills with local guides, and there is a basic campsite and informative museum on site.
Primary Spoken Language(s)
English is the official language in Botswana, while Setswana, a Bantu language, is widely spoken across the country. English is taught at schools, and most people can converse in English, even in rural areas.
Safety Concerns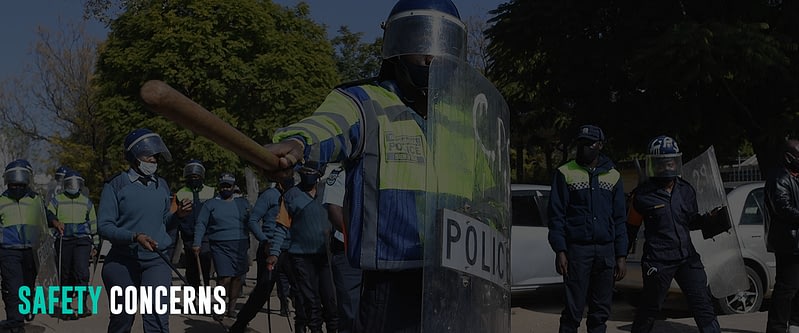 Botswana is possibly the safest country in Africa, ranking 48th out of 163 countries on the 2022 Global Peace Index. Also, Botswana has a Level 1 Travel Advisory from the US Department of State. Hence, travelers in Botswana can exercise standard precautions when exploring the country.
The country's crime rates are low, although carjacking and bag snatching can happen. Be careful when exploring Gaborone Dam and Kgale Hill.
In emergencies, dial toll-free numbers 999 for the police, 998 for fire, 997 for an ambulance, and 911 for medical rescue.
Natural Disaster
There is a risk of cross-border floods with the presence of the Gaborone Dam, the water source in the capital city, overflowing. Botswana is also prone to occasional droughts, with almost 70 percent of the country's land area being the Kalahari Desert. Hence, it is best to monitor weather updates and news when planning your adventure itineraries.
Health
An international health certificate for the yellow fever vaccine is mandatory for travelers from areas infected with yellow fever. In addition, malaria shots, an updated TPD (tetanus, polio, diphtheria), and a Hepatitis A vaccine are also highly recommended. Other insect-borne diseases in Botswana are filariasis. Hence, regularly use insect repellent and make sure your accommodation is insect-proof.
In 2014, Botswana had high HIV/AIDS infection in 20% of the population. However, the country makes continuous efforts to combat the spread of HIV/AIDS and provide proper treatment and lower the rate of mother-to-child transmission. Thus, travelers must reduce their risk of exposure to the virus.
Budget Considerations
Botswana is one of the most expensive destinations to explore in Africa. But because of its untamed wilderness and abundant wildlife, Botswana is on every adventure and nature lover travel bucket list.
Accommodation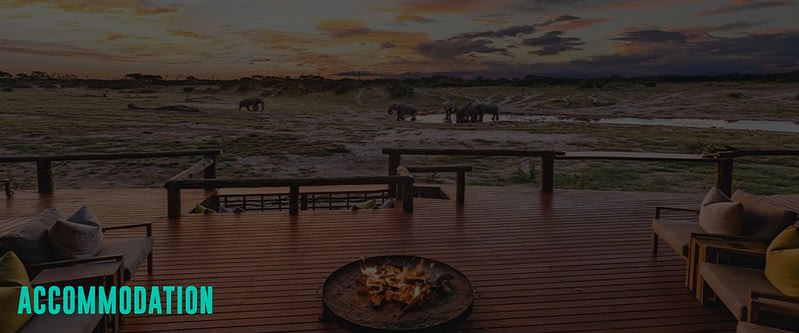 Like every tourist destination, the accommodation cost in Botswana varies according to location and travel season. In particular, hotel and lodging costs are highest during the peak season from June to September. Hence, visiting Botswana during the shoulder season from April to May and October to November is best.
A bed in a hostel dorm in Botswana ranges between $11 and $25 per night, while private rooms range between $35 to $50. Other cheaper accommodations for budget travelers are guesthouses and bed and breakfasts, where private room cost as low as $40. Most have standard wifi and offer complimentary breakfast or shared kitchen facilities. Airbnb is also widely available for as low as $13 for a private room and about $40 for an entire apartment. Moreover, average travelers can stay in three-star hotels for $80, while luxury tourists can get a four or five-star hotel for $240 and a cabin inside the parks at $150.
Campsites inside and outside parks and reserves are widely available nationwide for campers with tents. Expect to pay an average of $40 to $60 per night on camps, depending on the facilities and location.
Food
Botswana food costs are relatively affordable, where travelers can have a meal of traditional cuisine from $2 to $10 in a local diner. Other budget meal options are fast food value meals for around $6 or grocery shopping for a weekly budget of $50. It can include basic staples like rice or pasta, meats, farm produce, and seasonal fruits and vegetables.
Meanwhile, mid-range and luxury travelers can dine in a fancy restaurant with three-course meals for $14 to $30.
Attractions and Transportation
The main attractions in Botswana are its national parks and reserves, where admission fees are around $9. Travelers with higher budgets can join small group mobile safaris for $430 or take all-inclusive tours for over a thousand dollars, depending on the number of days, accommodations, and destinations.
Traveling by bus is a reliable option to get around towns and villages. A single bus ticket costs $0.50, depending on routes and distance. However, hiring a private car, preferably 4WD with a camper, for $76 daily is best for exploring remote destinations and national parks. Moreover, luxury travelers can also avail of small charter flights between parks or remote areas, such as the camps in the Okavango Delta.
Average Two-Week Cost
Budget travelers in South Africa can live with a $75 daily budget or $1050 for two weeks. The budget covers the costs of staying in campsites or hostel rooms with either complimentary breakfast or shared kitchen facilities, cooking out or eating cheap meals, taking buses for transport, doing free activities, and visiting some national parks and museums.
On the other hand, mid-range travelers spend at least $170 daily or $2380 for two weeks. It includes staying in a three-star hotel and taking occasional taxis. They can also dine in local restaurants, do a few paid activities and safaris, and visit several destinations.
Lastly, travelers can enjoy luxury and privacy in Botswana for $400 daily or $5600 for two weeks. It includes staying in five-star hotels and safari lodges, splashing out on meals, taking domestic or charter flights, renting a private car, and availing of all the paid tours and safaris they want. They can also avail of all-inclusive tours from prominent operators in Botswana. So for them, the sky is the limit for travel.
Customs And Import Restrictions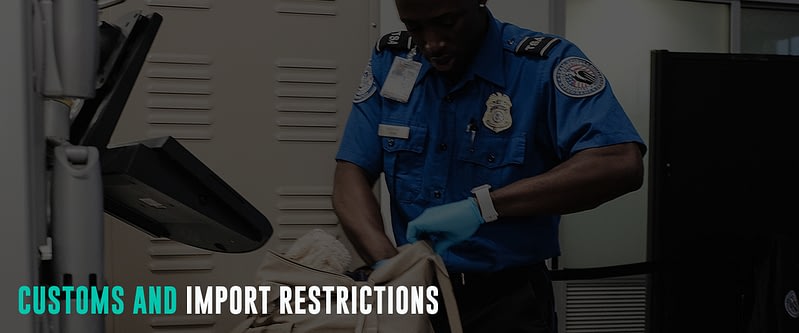 All arriving travelers to Botswana must know the country's customs and import policies for hassle-free entry. Below are the lists of goods and duty-free allowances that a traveler can bring to Botswana:
2 liters of wine; 1 liter of spirits & all other alcoholic beverages
200 cigarettes; 20 cigars; 250 grams of cigarette or pipe tobacco
50 ml perfume
250 ml toilet water
Other new or used goods with a value not exceeding 500 ZAR ($28) from within the SACU zone (South Africa, Lesotho, Namibia, and Eswatini); and not over 3000 ZAR ($166) from outside the zone.
Restrictions are imposed on certain goods and require a permit or license from the relevant authorities. These include:
Narcotic, habit-forming drugs and related substances in any form
Firearms, ammunition, and explosives
Indecent and obscene material such as pornographic books, magazines, films, videos, DVDs, and software
plants and animals
meat and dairy products
When planning your trip, visit Botswana's Official Tourism Portal for the complete list of duty-free allowances, import restrictions, and customs declarations.
Climate Considerations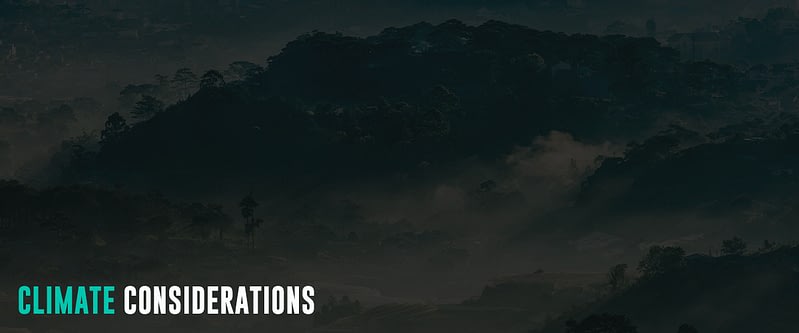 Botswana has a subtropical desert climate which is typical in southern Africa. Differences in day and night temperatures significantly characterize it.
Botswana experiences a dry season for six months a year. The dry season falls during winter between May and August. Winter is characterized by invariably sunny and cool to warm days, with daytime temperatures ranging between 6 °C and 25 °C. However, evening temperatures can rapidly fall below zero in some areas, especially in the southwest.
Summer from November to March usually brings high temperatures, as much as 38 °C and 44 °C on rare occasions. Summer is also the wet season, with rainfall from December until March.
The shoulder season is still dry between April to early May and September to October. However, the days are more relaxed than summer, and the nights are warmer than winter.
Primary Transportation Options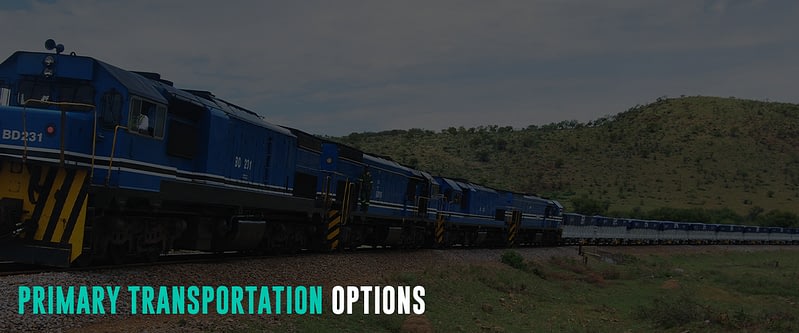 Getting around Botswana and exploring all its attractions and destinations entails thorough planning. Nonetheless, depending on time and resources, visitors can get around Botswana by air, boat, and land transport.
Air
For travelers with limited time, flying is the best option for getting around the main cities in Botswana. The country has 17 airports, with Sir Seretse Khama International Airport as the central aviation hub in Gaborone. It is served by several international airlines and Air Botswana, the country's national and only airline. However, most major international airlines from Europe, the United States, Asia, and Australia fly only to Johannesburg, South Africa, where travelers can get an onward flight to Botswana. Other airlines providing flight services in Botswana are South African Express, South African Airways, and Air Namibia.
Travelers can also avail of small charter flights between parks or remote areas, such as the camps in the Okavango Delta. Mack Air, Kavango Air, and Kalahari Air Services are popular charter flight companies. Visitors can also book through registered tour operators in Botswana.
Boat
Travelers can get a different view of the wildlife in Botswana from the water. Hence, a canoe or boat trip is necessary when visiting the Okavango Delta waterways. Boat safaris are also available and a highlight on the Chobe River. The best time to do it is during sunset.
Bus
Botswana has scheduled bus services across borders in South Africa, Zimbabwe, Namibia, and Zambia. A daily direct bus service from O.R. Tambo International Airport to Gaborone city center also exists. Moreover, Botswana has good internal bus services linking major and minor towns and villages across the country. Seabelo, a long-distance bus company, is a reliable operator with regular services from Kasane, Maun, and Gaborone. They are likelier to stick to the timetable faster, with fewer stopovers than the minibusses that ply the same routes.
Bus fares are cheap and a great way to meet the locals. However, journeys can be long, noisy, and uncomfortable.
Car Rental
Major international companies and local agencies offer can rental services in Botswana. Visitors need a 4WD vehicle in most areas to explore Botswana's national parks, reserves, and remote regions. Rental rates are $76 daily for a camper with folding rooftop tents and fully fitted kitchens. Rental companies such as Drive Botswana can help tailor-make itineraries, handle campsite reservations, and get national park permits for travelers. Do not forget to download an offline map such as Tracks4Africa before commencing your adventures. Also, note that they drive on the left side of the road.
Botswana is accessible by road from neighboring South Africa, Zimbabwe, Zambia, and Namibia. Most major roads are tarred, with generally good driving conditions.
Taxi
Taxis are widely available in major towns, a safe and convenient way to get around Botswana. They are identifiable in stations and taxi stands or can be contacted by telephone. However, taxis in Botswana do not have meters, and visitors should always establish and agree on the fare before getting in.
Public Transport
Public transport within towns and villages of Botswana consists of minibus and shared-taxis services. They operate at a controlled flat rate, depending on the routes and distance.
Start Trip Planning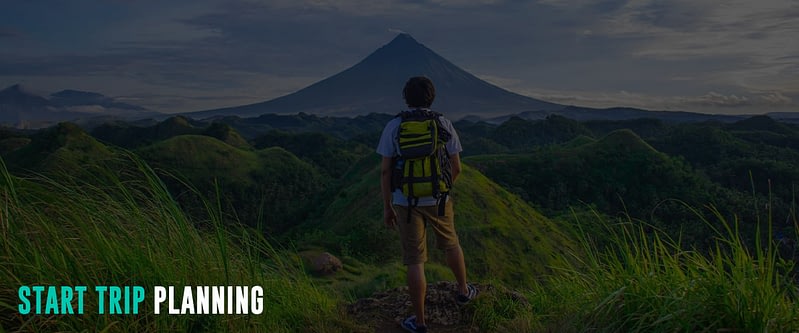 Travel-Wise is made from the ground up to help people travel more, break down the barriers that make it tough to get going, and start your journey as painlessly as possible. Bookmark our other Country Guides to help kick-start your research for future travels. We also offer templated itineraries from our staff and community that help serve as a building block for your trip plans. Alternatively, we also utilize AI to offer a way to generate itinerary ideas. This saves much time just getting you up and running with a template. From there, you can use the trip planner to create your customized itinerary, invite friends and family for collaboration, find others from Travel-Wise to join the trip, book and track important information, journal, and share your experiences at the end or along the way!