This travel wiki page of France will help guide travelers with quick and relevant information to consider when planning and visiting the country. It is difficult to find all the relevant information you need on culture, safety, travel restrictions, and things to do, so we summarize it all here. If anything is stale or outdated, please let us know! Let's dive in and explore more high-level information as a France trip planner.
Last updated November 8th of 2022.
National Information & Culture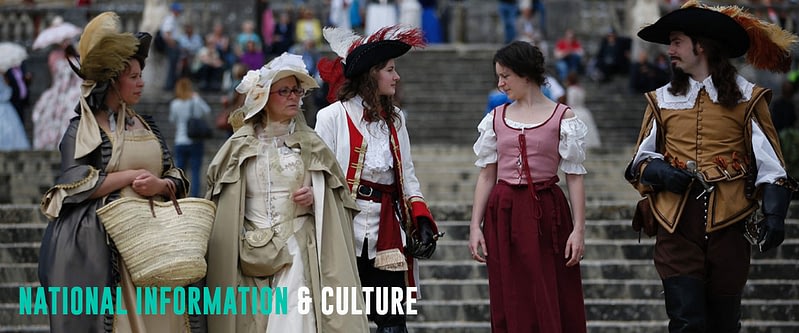 France, officially the French Republic, is a transcontinental country predominantly in Western Europe, spanning territories in the Americas, Atlantic Pacific, and Indian Oceans. France borders Belgium, Luxembourg, Germany, Switzerland, Monaco, Italy, Andorra, and Spain in Europe. The Netherlands, Suriname, and Brazil border France in the Americas via its overseas territories in French Guiana and Saint Martin. Paris is France's capital and largest city. It is also the main cultural and commercial center in the country. Other major urban areas include Marseille, Lyon, Toulouse, Lille, Bordeaux, and Nice. The official currency of France is Euro, except in New Caledonia, French Polynesia, and Wallis & Futuna, which still use the 'Pacific franc,' or CFP.
Global Leader
France is a developed country and performs well in international education, health care, life expectancy, and human development rankings. In addition, France holds great power in global affairs as one of the five permanent United Nations Security Council members and an official nuclear-weapon state. Furthermore, France is a founding and leading member of the European Union and the Eurozone, a vital member of the Group of Seven (G7) countries, the North Atlantic Treaty Organization (NATO), the Organisation for Economic Co-operation and Development (OECD), and La Francophonie.
Famous as a global leader in fashion, French value style, and sophistication. They are the birthplace of renowned luxury brands such as Cartier, Christian Dior, Yves Saint Laurent, and many others. Also, the country takes pride in French literature and artistry.
French cuisine and wine are also famous and acclaimed worldwide. France tops as the best wine-producing country and the second-biggest producer globally.
A global center of art, science, and philosophy, France has the fifth-largest number of UNESCO World Heritage Sites. France has been the world's leading tourist destination for over 30 years. The tourism industry in France constitutes 8% of the total Gross Domestic Product (GDP). Thanks to the millions of annual visitors who visit to discover the rich natural and architectural heritage and enjoy France's world-renowned hospitality and way of life.
Cultural, Family, and Social Conventions
Liberty, Equality, and Fraternity. It is the French national motto, reflecting the society's core values.
In French culture, family is highly valued. Immediate families dine together, and gatherings with extended family are expected during the weekends.
In France, always start your conversation with 'Bonjour' or 'Bonsoir' (good morning/good evening). Another notable culture for greetings in France is La Bise. They plant double (sometimes triple) kisses on each other's cheeks upon greetings to friends or when introduced to new people in a social setting.
Visit the Official Website for Tourism in France to learn more information, hints, and tips when planning your trip.
Special Travel Considerations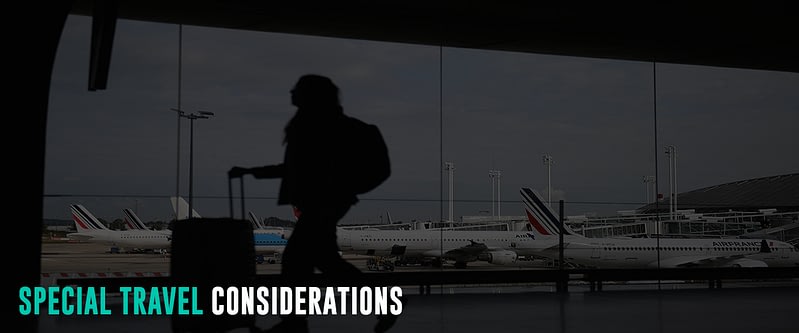 Covid-19 Policy
Travelers coming to the mainland or overseas France no longer have to complete any formalities related to Covid-19, including the Health Pass, regardless of their country or place of origin. Hence, Covid Certificate is not necessary to enter France. In addition, visitors do not need to present a sworn declaration that they are not infected with COVID-19 and pledge to take an antigen test or medical exam upon arrival in France. However, emergency measures may be implemented for visitors from a foreign country where a new dangerous variant of Covid-19 appears and circulates "in the event of a risk of saturation" of their health system.
In France, wearing a face mask is no longer mandatory in establishments open to the public or onboard public transport. But it is still recommended in enclosed and small spaces and the large crowd for vulnerable persons. It is also highly recommended to wear face masks in hospitals and retirement homes.
Check the latest Covid-19 protocols when planning and before coming to France.
Travel Insurance
Travelers must not forget to get comprehensive travel insurance every time they travel. Travel insurance will protect you against illness, injury, theft, and flight cancellations. In addition, complete protection can help you in case anything goes wrong.
2024 Summer Olympics
The 2024 Summer Olympics and Paralympic Games will be held in France, with Paris as its primary host city. The games will take place on July 26 to August 11, 2024. It will be the most significant event organized in France, featuring a famous and multicultural sports festival to share with the rest of the world. Paris will be the center of the world of sports in those weeks, forming part of its history. Visitors are expected to flock to the country, especially Paris and the other host cities. Hence, reservations are necessary when planning for a trip within the period.
Visa Information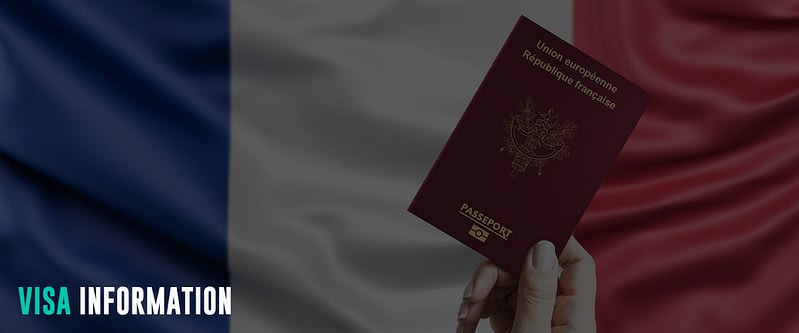 Different types of visas will apply depending on the nationality and the purpose of your travel to France. Hence, whether you plan to visit for tourism, studies, or work and reside in France permanently, you must apply for a corresponding France Schengen Visa.
France is a founding and leading member of the European Union and part of the Schengen Area. Hence, its visa policy applies to France. However, EU nationals are visa-exempt when traveling within Europe and Schengen countries and can legally enter and reside in each other's countries.
Nationals from 62 other countries holding ordinary passports may enter France for 90 days (within 180 days) without a visa. Please note that stays are cumulative and include visits to any Schengen area country. Citizens from other countries without entry exemptions to France and the Schengen area must apply for the necessary visa to the nearest France Embassy or Consulate in their home country. Visit the France Diplomacy – Ministry for Europe and Foreign Affairs web page to learn more about the country's visa and entry policies.
In addition to visas, visitors should have at least three months of a valid passport beyond their planned departure date from the Schengen area. But as a general rule, it is best to have at least six months' valid passport when traveling to any country. Visitors entering France must also show proof of sufficient funds for their intended stay (€120 daily if no confirmed booking, while €65 if otherwise), a confirmed roundtrip/exit ticket, and proof of accommodation.
ETIAS
Starting November 2023, the European Travel Information and Authorisation (ETIAS) will be introduced to boost security across the Schengen zone. They will be a mandatory requirement for visitors from visa-exempt countries. ETIAS is a travel permit or a visa waiver program in which all visitors, regardless of age, traveling to the Schengen counties must apply individually at least 96 hours before departure. It will be a multiple-entry permit valid for three years or until the passport expires (whichever comes first) and can be used to visit all ETIAS member countries.
As of this writing, the European Travel Information and Authorisation System (ETIAS) is currently not operating and does not accept applications for travel authorizations. However, applicants can apply via an official website or app for mobile devices before ETIAS is operated. The date travelers can apply for ETIAS will be published on this website, Europa Home Affairs. You can also find more information on the website of the European Commission.
Popular Attractions
France is famous for wine, cheese, castles, cathedrals, ruins, beautiful beaches, and the Eiffel Tower. No wonder France tops the list of the most visited country worldwide.
Paris
Paris, also famous as the City of Lights and Love, gives tourists a romantic atmosphere. From the rich culture, beautiful artworks, elegant fashion, and good food in world-acclaimed restaurants, France's grandest European capital has many things to offer tourists.
It is where visitors will find the top tourist attractions in France, including the Eiffel Tower and Louvre Museum, to name a few. Paris is also famous for an hour-long romantic river cruise on the Seine.
Eiffel Tower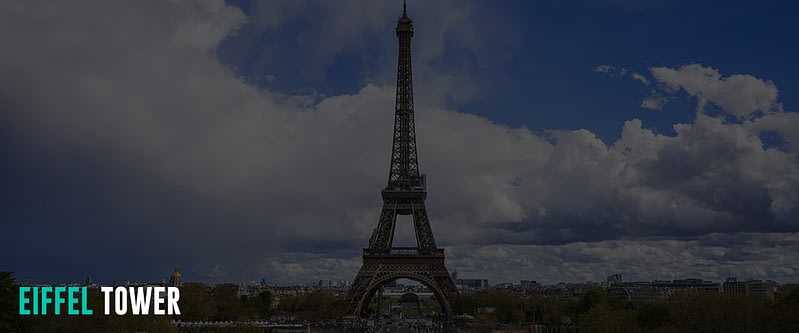 Eiffel Tower is a famous landmark that also serves as an emblem of Paris. It stands 330 meters high and consists of 8,000 metallic parts. Designed by Gustave Eiffel as a temporary exhibit for the World Fair 1889, Eiffel Tower is now an irreplaceable fixture of the Paris Skyline.
Because of its graceful appearance, the Eiffel Tower earned the nickname 'The Iron Lady.' At night, the Eiffel Tower lights illuminate the esplanade and the city of Paris, leaving a breathtaking panorama in sight.
The tower has museum exhibits, a children's play area, souvenir shops, a champagne bar, eateries, and Michelin-star restaurants. Visitors can dine and take the lift to the top level for a 360-degree view of the city as far as 70 km during daylight.
Louvre Museum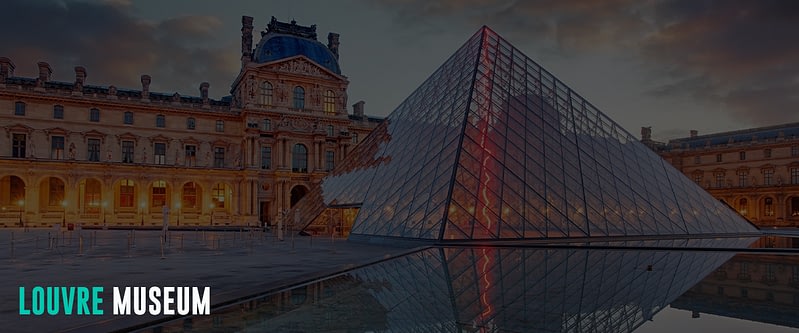 Musée du Louvre, or the Louvre Museum, is the world's largest museum that houses some of history's most impressive art collections. The museum is now home to about 35,000 artworks and masterpieces of famous artists. It includes the Mona Lisa by Leonardo da Vinci, the Wedding Feast at Cana by Veronese, and the 1st-century-BC Venus de Milo sculpture, to name a few. The Louvre Museum is inside the Louvre Palace and was once a residence of the royalties.
Château de Versailles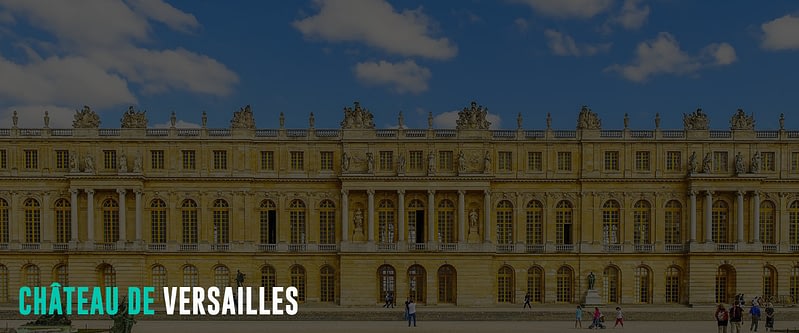 Château de Versailles is a UNESCO-listed structure, a short train ride from Paris. The palace showed the French monarchy's grandeur and power during the height of its glory in the 17th century. Tourists can imagine how grand the past monarchy lived from the magnificent baroque facade of the palace, luxurious and ostentatious king and queen's apartment in the theme of Greek mythology, mirrored-glass halls, and beautiful lawn adorned with fountains.
The most spectacular space in the palace is the Hall of Mirrors. It is a 75-meter-long ballroom with 17 huge mirrors on one side and an equal number of windows looking out over the gardens on the other side. The sunlight that enters through the windows sparkles with the gallery of ornamental mirrors, and the glittering chandelier makes the hall even more marvelous.
Versailles is also famous for its Les Jardins, featuring decorative pools, perfectly trimmed shrubbery, numerous statues, and magnificent fountains.
Cathédrale Notre-Dame de Chartres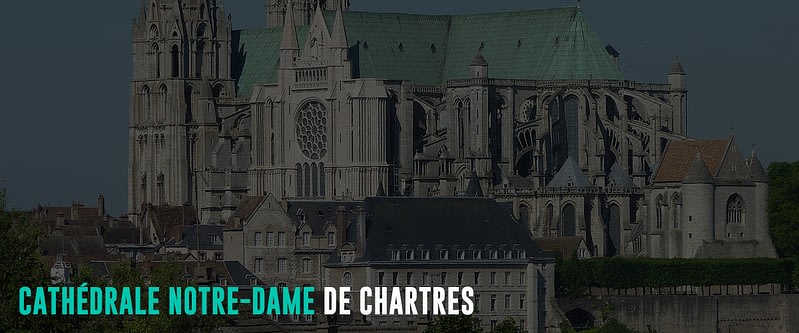 Cathédrale Notre-Dame de Chartres, or simply the Notre Dame Cathedral, is a medieval Catholic cathedral showing a masterpiece of Gothic architecture. The cathedral is famous for its marvelous stained-glass windows dating to the 12th and 13th centuries. The intricately detailed glass windows depict biblical stories. Some of the highlights are the Rose windows which are noteworthy for their incredible size and details, the Passion windows, and the Blue Virgin windows, which date back to the 12th century. The brilliant stained-glass windows allow colorful light to filter into the vast nave, creating an ethereal effect. Notre Dame Cathedral is in the UNESCO list since 1991.
The cathedral has been the tallest structure in Paris, standing at 70 meters high for centuries. However, on April 2019, the cathedral caught on fire while undergoing renovation and restoration works, leaving it close to the public to date. Reopening is set on April 15, 2024, in time for the 2024 Paris Olympics. Today, work is ongoing to restore the church to its previous structure, and the interior is not open to the public after the cathedral caught a large fire in April 2019.
Arc de Triomphe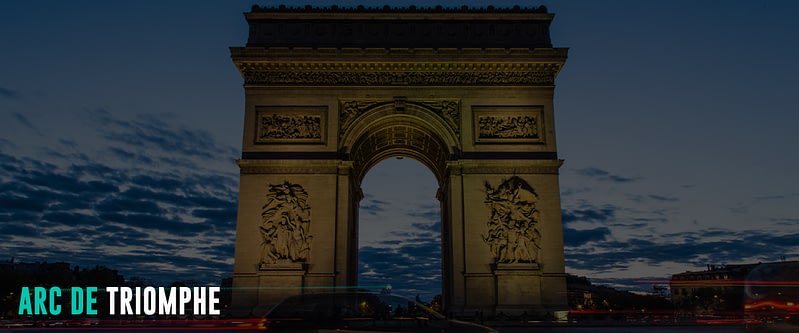 Arc de Triomphe, meaning Triumphal Arc, is an iconic monument representing French victory and pride throughout history. It honors those who fought and died for France during the French Revolution and the Napoleonic Wars, bearing the names of all French victories and generals on its walls. The triumphal arch stands sentinel in the center of Place Charles de Gaulle and at the western end of the Champs-Élysées.
Mont Saint-Michel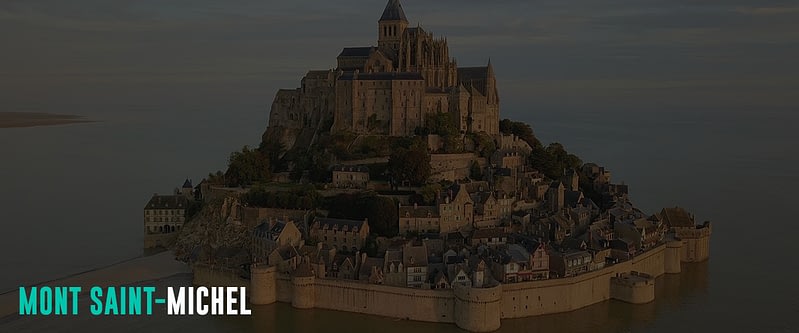 Mont Saint-Michel, also famous as the 'Pyramid of Seas,' is a UNESCO list off the Normandy Coast. This magnificent French landmark is a picture-postcard view towers 80 meters above the bay. The abbey, popularly known as Abbaye du Mont St-Michel, is the main tourist attraction, a marvel of medieval architecture with soaring Gothic spires. It has a harmonious Romanesque nave and an ornate high-vaulted choir. Dating back to the 11th century, the Abbey Church is an important pilgrimage destination called the 'The Heavenly Jerusalem.'
The Côte d'Azur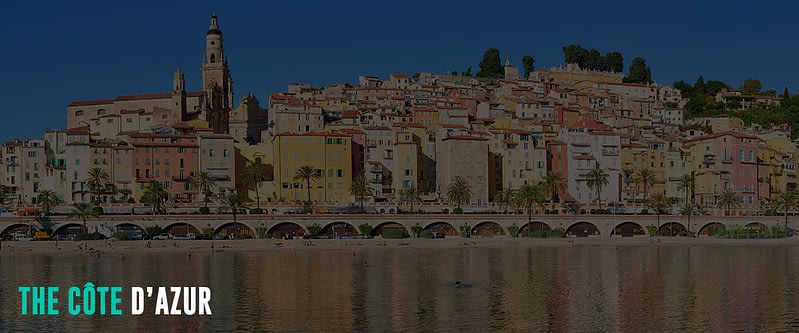 The Côte d'Azur, meaning 'Coast of Blue," is a fashionable stretch of Mediterranean Seaside Resort named after its cerulean blue seawater in Southern France. The long coastline expanse from Saint-Tropez to Menton borders France from Italy. Another name for Côte d'Azur is the French Riviera.
Two beach resorts that are famous for their glamour are Saint-Tropez and Cannes. Saint-Tropez is the playground of jet-setters, billionaires, and celebrities who own luxurious villas and private resorts. On the other hand, Cannes is famous for holding the Cannes Festival of stars—scantily-clad sunbathers and tourists who love motorized water sports packed in the coastline of Côte d'Azur during summer.
The central part of Côte d'Azur is where visitors can visit art museums, walk in the cobblestone street and along the palm-fringed boulevards, and eat in outdoor restaurants.
Provence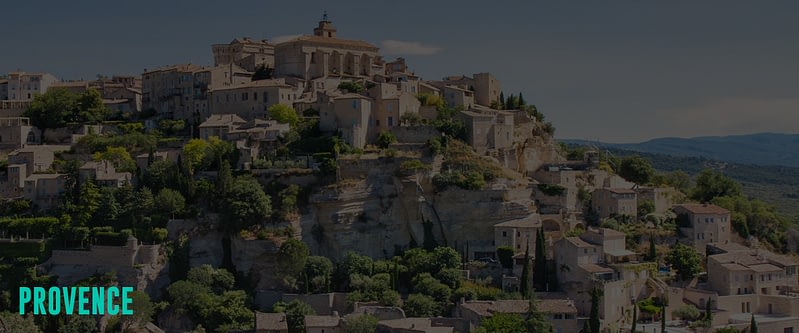 Provence is famous for Mediterranean cuisine based on olives, tomatoes, and herbs. Different herbs like rosemary, sage, thyme, and other wild herbs are also grown in the region, making the cuisine superb in this part of France.
Visitors here can enjoy the rural area feels in the Provence region by bicycle, where it is generally sunny most of the year. Get charmed by the beautiful patchwork of colors of the olives groves, sunflowers, and deep purple lavender fields.
The quintessential town of Aix-en-Provence is famous for its colorful open-air markets and the hundreds of fountains typical of southern France. Fascinating ancient ruins and traditional festivals are what define the town of Arles. The medieval city of Avignon is home to the UNESCO-listed Palais de Papes.
Favorite tourist destinations in the region are Saint-Paul-de-Vence, Gordes, and Saint-Rémy. All are picture-perfect medieval villages with unique historical sites, fantastic museums, and an irresistibly quaint ambiance.
Palais de Papes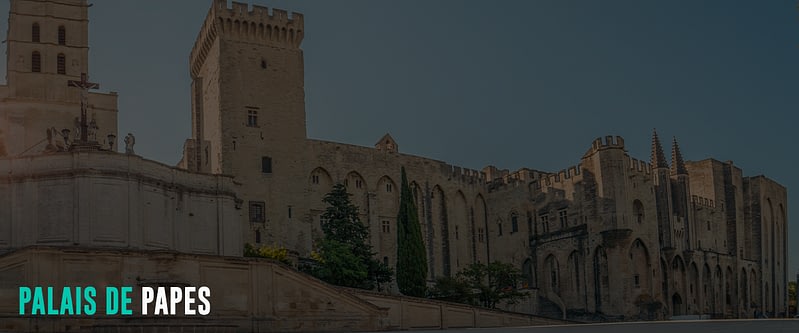 Palais de Papes in Avignon is the largest Gothic palace ever built. The castle showed the medieval might of the Roman Catholic Church and was the seat of papal power for seven decades during the 13th century. This UNESCO World Heritage Site highlights a 14th-century chapel fresco by Matteo Giovannetti and the Chambre du Cerf with medieval hunting scenes.
Loire Valley Châteaux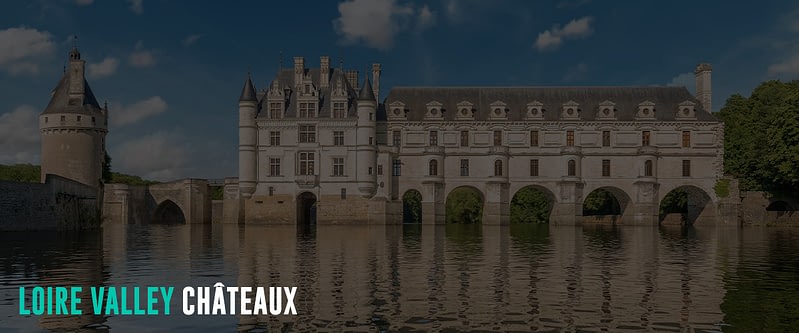 The entire area of the Loire Valley, also known as The Garden of France, is the largest UNESCO-listed site in the country. It has numerous magnificent castles scattered around the densely forested landscape in the expanse of 280 kilometers from Sully-sur-Loire to Chalonnes-sur-Loire in Anjou.
Built by France's kings for a beautiful place of retreat and enjoyment, there are various chateaus to marvel including the Château de Chambord, Château de Chenonceau, Château of Cheverny and the Château d'Azay-le-Rideau. In addition, families with kids will enjoy the Mini-Châteaux Park in Amboise – a park in 2 hectares of woodlands with 40 miniature replicas of Lorie châteaux that the kids can explore.
It is also worth visiting the UNESCO-listed cathedrals in Chartres and Bourges, the city of Orléans, where Joan of Arc helped defeat the English army in 1429, and the Château Royal d'Amboise, the residence of French kings for five centuries.
Château de Chambord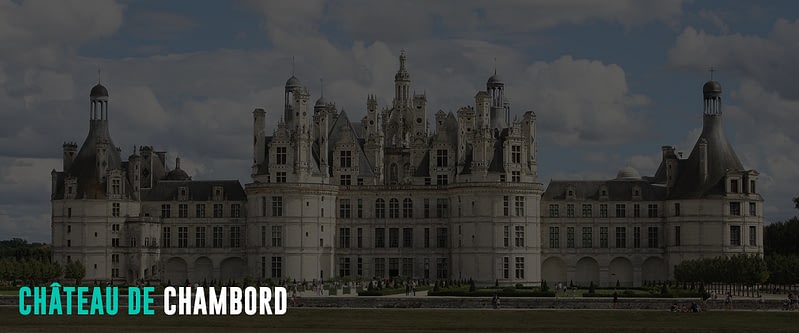 Visitors with less time to explore the Loire Valley and wish to visit one château might as well make it the grandest. Château de Chambord is the most popular and lavish of them all. It is a beautiful piece of Renaissance architecture, from the double-helix staircase to the turret-covered rooftop. The place is mind-boggling, with 426 rooms, 282 fireplaces, and 77 staircases.
Chamonix-Mont-Blanc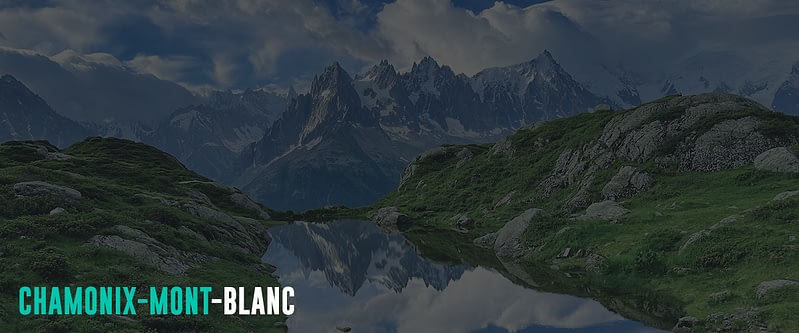 Chamonix Valley is one of the oldest world ski resorts in France. The First Winter Olympics in 1924 was held here. It sits near Mont Blanc in the French Alps. Mont Blanc (White Mountain) is the highest mountain in Europe, standing at 4,810 meters and bordering France, Switzerland, and Italy. Because of its high elevation, it is mainly covered with snow during winter. Therefore, visitors can have an excellent overview of the beautiful landscapes of the lush pine forests, peaceful valleys, crystal-clear lakes, and rushing waterfalls.
Tourists come here for winter sports like skis, ice skating, and snowboarding. It also becomes a destination for alpine mountaineers and mountain bikers during summer. This place is also famous for riding cable cars through the mountains. Chamonix, a traditional alpine village, is an excellent base for outdoor adventures.
Primary Spoken Language(s)
French is the official language of France, according to Article 2 of the Constitution. In addition to French, people also speak several other regional languages, such as Occitan, Breton, Catalan, Flemish (Dutch dialect), Alsatian (German dialect), Basque, and Corsican (Italian dialect). English is also popular in France, particularly in large cities like Paris.
Safety Concerns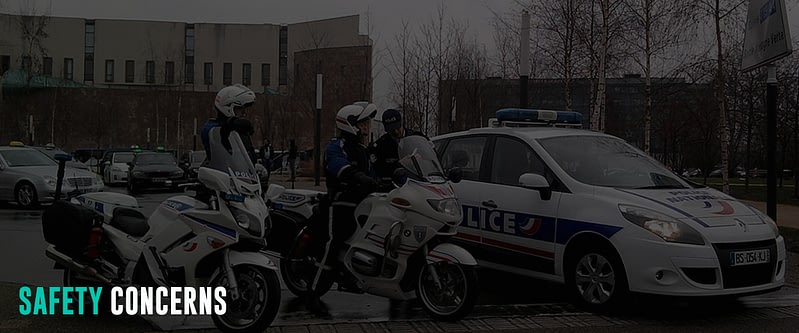 France's national security threat alert is at a medium level, with a level 2 travel advisory from the US Department of State. This is because extremist groups have targeted the country, along with terrorist threats, and attacks can be indiscriminate. Hence, everyone should be cautious of their surroundings and keep updated on the news in the country.
Generally, France is safe for travelers. However, theft, pickpockets, and scam artists are common and target tourists. Call 112 for police, fire, and ambulance assistance during an emergency.
Theft
Theft is one of the highest crime categories to be aware of when in France, especially around the Eiffel Tower, Madeleine, Champs-Élysées and Arc de Triomphe, Sacre Coeur church at the artists' area of Montemarte, L'Opera, Les Halles and the George Pompidou Center, the Porte de Clingnancourt flea market. In France, thieves are highly skilled. They can be everywhere, even in shopping malls, restaurants, trains, and lifts. Hence, visitors should always secure valuables, bags, wallets, credit cards, and belongings, especially when dining in a street café. Never hang your bag on the back of your seat. Avoid putting your purse on the table or even at the cashier counter in a mall, as it may be a quick snatch to thieves. When on the train and lifts, always keep a firm hold of your bag and wallet, day or night.
Scams
One common scam to watch out for in Paris is locals asking tourists to sign a petition against some common cause. If someone approaches you with a petition, decline to avoid getting ripped off for donations.
Laws
Laws in France do not allow entry of counterfeit products and goods. Visitors should not bring any to avoid the inconvenience of penalties. Beware of fake products; do not be a victim of locals or shops selling cheap items.
Other Crimes
And while Paris is a haven for thefts and pickpockets, the Mediterranean side is where drug dealers, prostitution, and gun and gang crime are frequent. Although this rarely affects tourists, visitors should be careful in the Côte d'Azur cities of Marseille and Nice.
Budget Considerations
Traveling to France can be expensive. But with careful planning and money-saving tips, exploring and enjoying France without breaking the bank is still possible.
Accommodation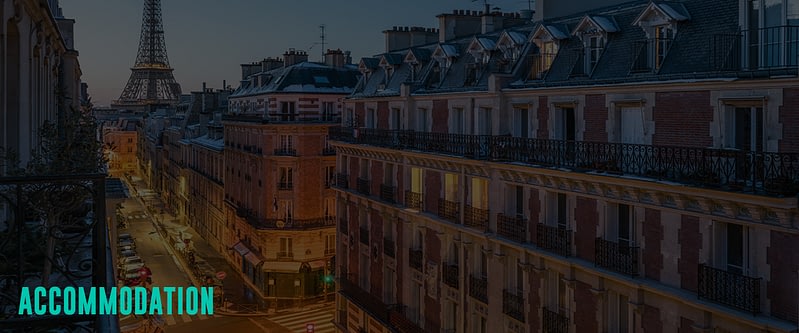 A dorm bed in a hostel costs $20-40 per night, and a room in a budget hotel starts at $60. Airbnb is also available, with a private room starting at $35. Most hostels and Airbnb have shared kitchen facilities for the guests. On the other hand, accommodation in a mid-range hotel is around $90-200 per night, while luxury hotels are beyond $200.
Food
Meals are another thing that will consume most of your budget unless visitors try to live, do, and eat like a local. It means buying and preparing your food and experiencing French cuisine. Designing your meal will only cost around $5. Sandwiches in local shops cost $4-7, a fast food combo meal at $9, while dining in a restaurant is $20-35 per meal, including wine.
Mode of Transfer
Exploring France by train is very convenient and affordable. Traveling by bus is also a great option in terms of cost, but travel time will take longer than trains. Public transportation costs $1, depending on the distance and service provider. On the other hand, renting a car starts at $35 per day.
Visitors can also buy Paris Visite Travel Pass when in Paris. It is available for one day at around $12, two-day at $20, and three-day at $27. A five-day pass is also available at $39. The pass allows unlimited travel using public transportation (bus, metro, trams, and suburban trains called the RER) within the specified zones in Paris. Additional perks of the Paris Visite Pass are discounts and special offers from their partner attractions. Travelers may also consider getting Eurail Pass, especially when going to several long-distance destinations.
Attractions
Most attractions and museum entrance fees cost $10-20, while going up the Eiffel Tower is $11-27. The Louvre Museum is $17, and visiting the Versailles Palace and Gardens costs $27. Half-day wine tours cost around $70-90, while diving is about $100.
Two-weeks Average Cost
For a budget traveler, it is possible to spend around $80 daily. It means sleeping in a dorm bed, cooking meals, riding public transportation, visiting free attractions, and availing of cheap activities and tours. On average, $1120 is enough for backpackers to enjoy and explore France.
Mid-range travelers in France can spend around $180 per day. They stay in average hotels, eat out most meals, enjoy a few drinks, take the high-speed trains between cities, and avail of car rental on some days. Average travelers can also do more paid activities like wine tours and a visit to Versailles. Hence, a total of $2520 is necessary for mid-range travelers to visit the attractions in France comfortably.
The cost does not stop there. Travelers may spend more on some days and lesser on other days. Also, note that the above figures do not include airfare from and to your home country.
Customs And Import Restrictions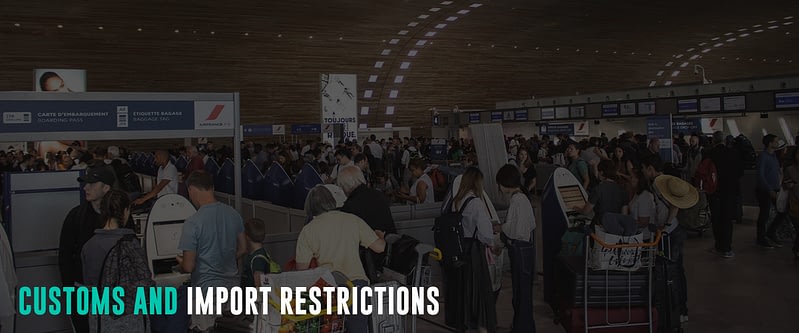 Customs and import restrictions in France vary from the traveler's country of origin. Travelers from a European Union member state can bring in more alcoholic beverages than those from non-EU countries. Visitors outside the EU can only bring a maximum amount of €430 imported goods by plane and sea. It goes down to €300 by car or train, while only €150 for children under 15.
For peace of mind when passing through customs, travelers carrying cash equivalent to €10,000 or more need to declare it. Declarations can be made online or by filling up declaration forms at the borders or airports.
Also, travelers must take note of restricted goods in France. It includes medicinal drugs, foods (fish, milk, etc.), plants, pets, weapons, and cultural goods. Lastly, they must not bring banned goods like narcotics, counterfeit products, or endangered species of flora and fauna.
Please check the portal of The General Directorate of Customs and Indirect Taxes of the Republic of France for the complete import and customs rules list.
Climate Considerations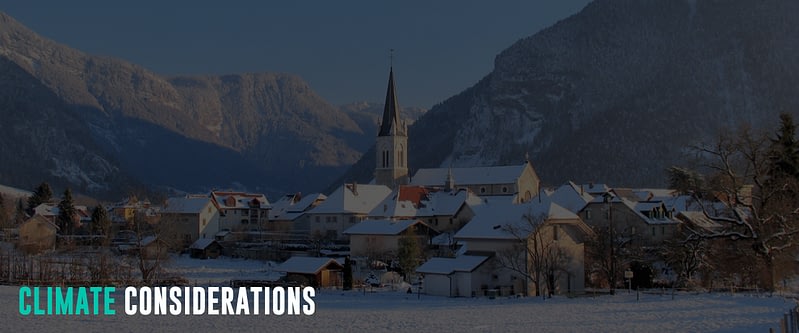 The climate in France is temperate but divided into four distinct climatic areas. The oceanic climate of western France, such as Brittany, Normandy, Atlantic Loire, and Loire Valley, brings average rainfall spread over many days and modest annual temperature variations. Central and eastern France's (Champagne region, Burgundy, and Alsace) continental climate harbors cold winters and hot summers. The Mediterranean climate of south-eastern France (Provence, Côte d'Azur, and Corsica) is responsible for hot, dry summers, with rainfall from October to April, when the weather is damp but mild, and ample sunshine all year round. Above 600-800 m altitudes, France's mountain range climate brings heavy rainfall and snow for three to six months yearly.
The peak season in France is the summer when the country gets an incredible crowd of tourists. Summer is from June to August, with average temperatures between 24-27 °C (75-80 °F). September to November are the fall season, with temperatures ranging from 10-21 °C (50-70 °F). Winter brings snow to some regions from December to February, with average temperatures between 0-8 °C (32-46 °F). Lastly, spring weather averages 44-59 °F (7-15 °C) from March to May.
Primary Transportation Options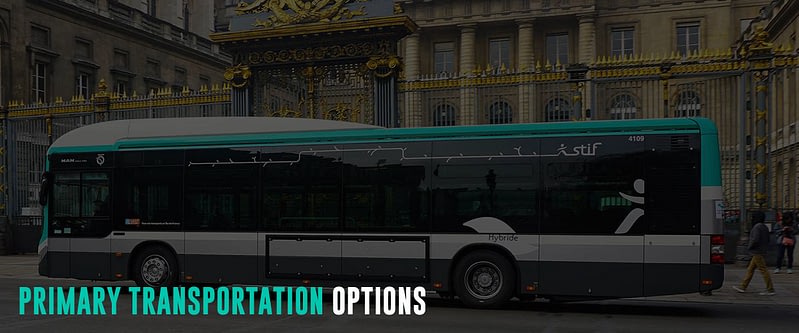 France has a modern and highly developed public transportation system. Options include traveling by air, railways, land, and ferries.
Air
There are 464 airports in France, with Charles de Gaulle Airport in Paris as the country's most prominent and busiest airport. It handles the most popular commercial traffic and connects Paris with almost all major cities worldwide and in France. In addition, numerous airline companies provide domestic and international flight services, with Air France as the country's national flag carrier. The stiff competition among airline companies leads to cheaper airfares, making air travel affordable. Book ahead to get promos and the best deals.
Railways
The railway network in France is the second most extensive in Western Europe. It is characterized by high-speed trains traveling at 320 km/h (199mph). In addition, France has an existing rail connection to all other neighboring countries in Europe except Andorra. Intercity connections are also excellent, with most major cities having subways or tramway services that complement bus timetables. They also have regional services connecting more miniature cities and towns.
The Société Nationale des Chemins de Fer Français (SNCF) is a state-owned railway company operating the country's national rail traffic. Other high-speed trains running in France include the Thalys and Eurostar, connecting to other neighboring countries in Europe like the United Kingdom, Belgium, and The Netherlands. In addition, the train à Grande Vitesse (TGV) is France's intercity high-speed train that connects major cities.
Trains in France are affordable. Hence, traveling by train is the best and quickest option for visitors to get around France.
Land
France has the most extensive roadway network in the European continent. The roadway connects to the neighboring cities in Belgium, Luxembourg, Germany, Switzerland, Italy, Spain, Andorra, and Monaco. Hence, French roads handle substantial international traffic. In addition, various bus and coach companies operate in France, offering cheaper but much slower services between large towns and cities. These include FlixBus and the cross-Europe coach network run by Eurolines.
Bus
Public bus transport fills the areas the rail network cannot reach. But bus schedules in rural areas are infrequent and are rarely reliable as trains.
Car Rental
Hiring a car is the most practical option for visitors when traveling to destinations and places beyond larger towns. Please note that they drive on the right side of the road, with the driver and steering wheel on the left side. Driving in the big cities of France, especially Paris, is not for the faint-hearted. Traffic can be a problem, along with looking for parking areas.
Bicycle
Another option for visitors to explore the country is by bicycle. France is superb for cycling, with many urban and rural bike paths and bike lanes. E-bikes are also popular in France, with lots of rental shops available.
Ferry and Boat
France has regular ferry services to several French ports, including Calais, Cherbourg, Roscoff, Le Havre, and Brest. In addition, boats and ferries from Nice, Toulon, and Marseille connect the French mainland with offshore islands such as the Channel Islands and Corsica.
Visitors can also cruise along France's canals and rivers in a rented houseboat. Canal du Midi and the Loire are famous canals and river cruising options. It is a delightful way to explore the country, allowing guests to stop to pick up supplies, dine at a village restaurant or check out a local château by bicycle. Generally, boat rentals include bedding and cooking facilities for two to twelve passengers.
Start Trip Planning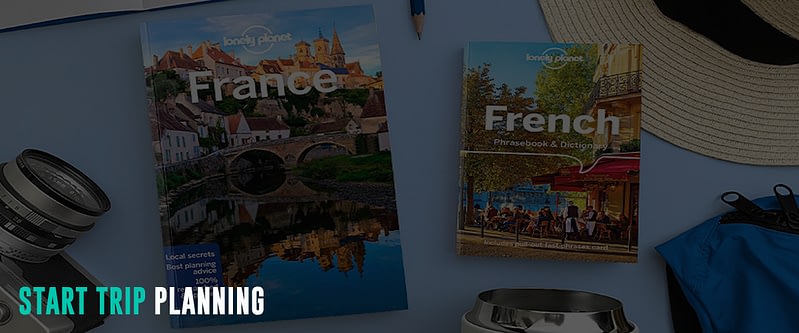 Travel-Wise is made from the ground up to help people travel more, break down the barriers that make it tough to get going, and start your journey as painlessly as possible. Bookmark our other Country Guides to help kick-start your research for future travels. We also offer templated itineraries from our staff and community that help serve as a building block for your trip plans. Alternatively, we also utilize AI to offer a way to generate itinerary ideas. This saves much time just getting you up and running with a template. From there, you can use the trip planner to create your customized itinerary, invite friends and family for collaboration, find others from Travel-Wise to join the trip, book and track important information, journal, and share your experiences at the end or along the way!