This travel wiki page of Germany will help guide travelers with quick and relevant information to consider when planning and visiting the country. It is difficult to find all the relevant information on German culture, safety, travel restrictions, and things to do, so we summarize it all here. If anything is stale or outdated, please let us know! Let's dive in and explore more high-level information as a Germany trip planner.
Last updated September 12th of 2023.
National Information & Culture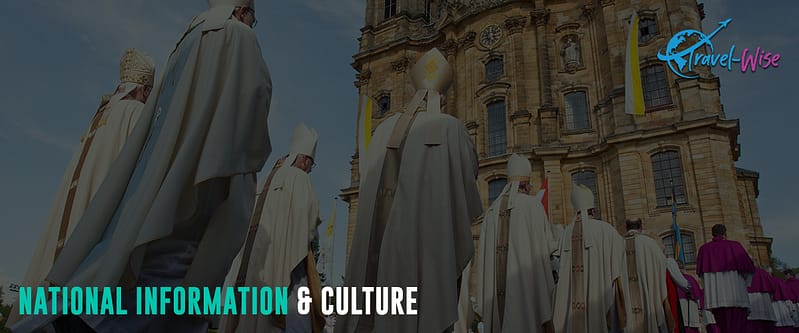 Germany, officially the Federal Republic of Germany, is a country in Central Europe comprising 16 constituent states. It shares land borders with Denmark to the north and Poland and the Czech Republic to the east. Germany also shares borders with Austria and Switzerland to the south and France, Luxembourg, Belgium, and the Netherlands to the west. Although Germany's largest urban area is Ruhr, the nation's capital and most populous city is Berlin, while its main financial center is Frankfurt. Being part of the European Union, the legal tender is Euro (€).
A member of the G7, Germany has been described as a great power with a strong economy. It has the largest economy in Europe, the world's fourth and fifth largest economy by nominal GDP and PPP. Germany is a global power in industrial, scientific, and technological sectors, the world's third-largest exporter and importer. Moreover, Germany is a member of the European Union, G20, and OECD and has the third-greatest number of UNESCO World Heritage Sites.
Typical German Culture
It is always a typical German rule to be punctual. "Five minutes ahead of schedule is a German's punctuality during meetings and appointments." For them, being late is equivalent to a breach of contract.
Making noise between 10 p.m. and 7 a.m. is unacceptable in the German community. The same applies to spontaneous and unannounced visits and phone calls after 8 p.m.
Germany ranks first in the world of recycling and has strict rules on waste management. Hence, travelers must also know and adhere to Germany's waste segregation rules. Their waste has to be put in the proper bin, bag, or container.
Lastly, it is unacceptable for automobiles to park on the cycle path in Germany. Or else, they will reckon with a scratched bodywork.
Visit Germany's official tourism website for more information and details when planning your trip.
Special Travel Considerations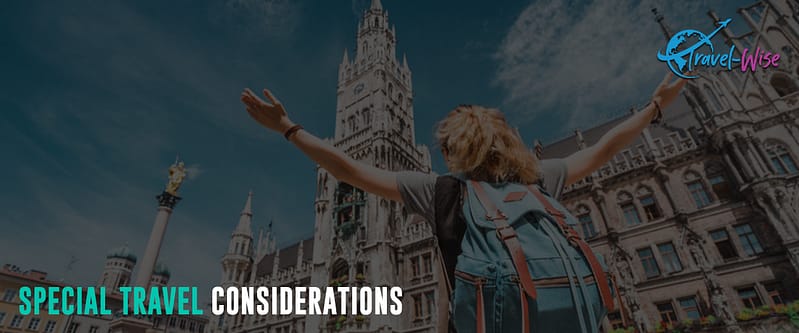 Each country and destination has rules and regulations that every traveler must consider. Hence, check the following considerations for hassle-free travel to Germany.
Covid-19 Policy
All travelers to Germany can enter the country without any coronavirus-related restrictions. Additionally, there are no post-arrival testing or quarantine requirements for travelers to Germany.
However, the Covid-19 protocol of Germany may vary over time with the evolution of the pandemic. Therefore, visit the Federal Ministry of Health website and check the country's latest COVID-19 entry requirements when planning your trip.
Travel Insurance
Travel insurance is mandatory for travelers applying for a Schengen Visa in Germany. Specifically, insurance coverage has to be at least €30,000 and valid for all the Schengen States.
While travel insurance is optional for other nationals, it is strongly recommended for all visitors to Germany. Preferably, it must cover emergency medical treatment, including Covid-19, repatriation, and evacuation. Travel insurance can protect you against the inconvenience of injury, medical emergencies, theft, and flight cancellations. In addition, it is a comprehensive protection in case anything goes wrong with your trip.
Oktoberfest
Munich in Germany annually celebrates Oktoberfest, the world's largest folk festival. The celebration draws around six million people and lasts 15-18 days, ending on the 1st Sunday of October. Unless it falls before October 3rd, the festival is extended to commemorate the German Unity Day.
With millions of people visiting Munich during Oktoberfest, expect an increased demand for accommodation and transport facilities. Hence, expect delays and plan your travel accordingly during these periods.
Visa Information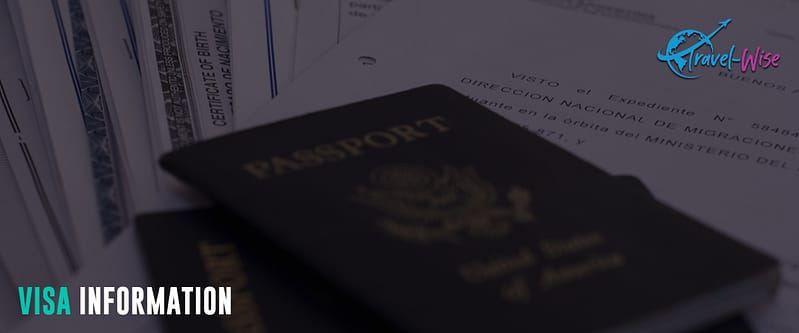 Tourists from European countries in the Schengen area and many other countries are visa-free when entering Germany. All other travelers will need a tourist visa for a 90-day stay, particularly the type C Schengen visa from the nearest German missions and consular offices. It will also provide the details of the application process and requirements, depending on your nationality. Check this list issued by the German Foreign Ministry office to find out if your country of passport needs a visa.
In addition to a visa, visitors from most European states need a valid identity card to enter Germany. Meanwhile, other travelers need a passport with at least six months of validity.
ETIAS
The European Union will implement European Travel Information and Authorisation (ETIAS) starting in 2024. It is to boost security across the Schengen zone. ETIAS will be a mandatory requirement for visitors from visa-exempt countries.
ETIAS is a travel permit or a visa waiver program in which all visitors, regardless of age, traveling to the Schengen counties must apply individually at least 96 hours before departure. It will be a multiple-entry permit valid for three years or until the passport expires (whichever comes first) and can be used to visit all ETIAS member countries.
As of this writing, the European Travel Information and Authorisation System (ETIAS) is currently not operating and does not accept applications for travel authorizations. However, applicants can apply via an official website or app for mobile devices before ETIAS is implemented. The date travelers can apply for ETIAS will be published on this website, Europa Home Affairs. You can also find more information on the official ETIAS website of the European Union.
Popular Attractions
Germany is one of the world's top tourist destinations, offering a mix of tradition and modernity. From the bustling capital of Berlin and the financial center of Frankfurt, Germany is filled with magnificent castles, rusty industrial relics, romantic, historic town centers, and natural beauty worthy of protection. Also, Germany has the world's third-largest UNESCO World Heritage Sites list.
Brandenburg Gate
The Brandenburg Gate in Berlin is one of Germany's most popular tourist attractions, symbolizing reunification and peace. Built-in the late 18th century as a symbol of peace, it stands 26 meters tall and features classical Greek-style sculptures. It also has an auditorium for wartime speeches. Modeled after the Acropolis in Athens, the gate's sandstone structure includes six massive columns on each side and has passages for traffic and royal carriages. It endured damage during WWII and was part of the Berlin Wall's history.
Neuschwanstein Castle in Bavaria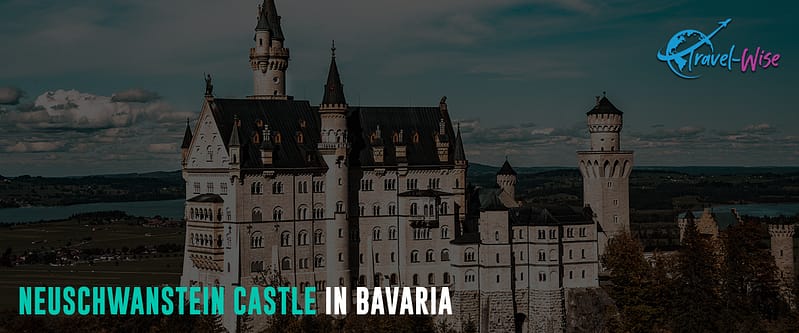 Neuschwanstein Castle, the most iconic of all the German castles, is found along the Romantic Road and is one of the most visited castles in Germany. It is famous for its fairytale appearance and historical significance as the model for Disney's castle. Constructed between 1869 and 1886, the court blends Neo-Romantic architecture and modern amenities, attracting millions of tourists annually. Its intricate artwork, walled courtyard, towers, and gardens contribute to its fairytale charm.
Visitors can admire the stunning exterior for free, while the interior is best explored on a guided tour for a fee. These tours reveal modern amenities like central heating, running water, flush toilets, and telephones that were advanced for their time.
Sanssouci Palace and Gardens in Potsdam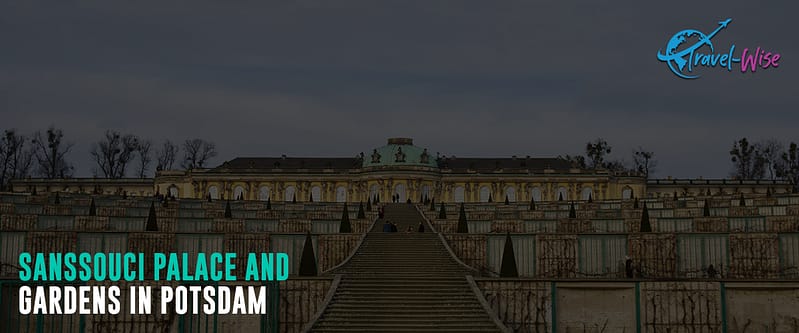 Sanssouci Palace and Gardens, a UNESCO World Heritage Site since 1990, is King Frederick of Prussia's summer palace from 1740 to 1786. It features a Baroque flower garden, over 3,000 fruit trees, greenhouses, majestic fountains, and around 1,000 sculptures. Several park buildings are worth a visit, including the Picture Gallery with its art collection, the elaborate Chinese House, and the Roman Baths complex. The palace, a single-story Rococo gem with an elliptical dome and sumptuous interior decor, is a highlight.
Famous for its music and dance performances during the summer, Sanssouci-Potsdam Park is a popular tourist destination in Germany for free. Today, it is a cherished sanctuary with sweeping views of Potsdam City.
Cologne Cathedral (Kölner Dom)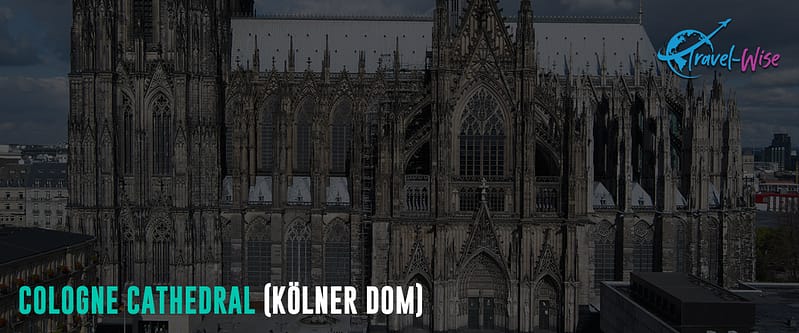 The Cologne Cathedral (Kölner Dom), or the Cathedral of St. Peter and St. Mary, stands as Cologne's most impressive landmark and one of Europe's largest cathedrals. It holds historical significance for Cologne and the religious revolution in the 12th century and is a testament to German Catholicism. Moreover, Cologne is the tallest twin-spired church globally, with UNESCO World Heritage status.
Inside the massive cathedral, visitors can marvel at 56 massive pillars and the Reliquary of the Three Kings, a 12th-century gold artwork designed to house the relics of the Three Kings. The cathedral's stained glass in the Three Kings Chapel dates from the 12th and 13th centuries, and its Treasury houses precious objects that survived World War II.
This High Gothic masterpiece sits on the banks of the Rhine, offering panoramic views from its South Towers, which can be reached by climbing 533 steps.
The Black Forest National Park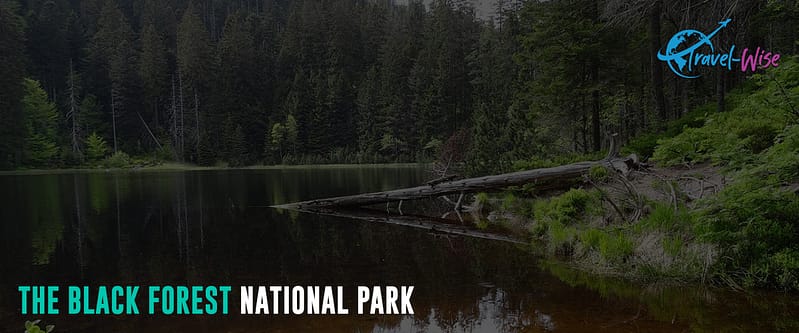 The "Black Forest National Park," also known as National Park Schwarzwald, is in Baden-Wurttemberg, Germany's Black Forest region. It spans 10,000 hectares and is a pristine natural habitat where flora and fauna flourish without human intervention.
The park is home to diverse wildlife, including wild boar, wolves, bats, otters, lynx, brown trout, and more. In addition, the park authorities are working to reintroduce native plant and animal species. Popular tourist activities include trail hiking with views of mountain ranges, mountain biking, and swimming in Alpine lakes. Moreover, the Black Forest is home to towns like Baden-Baden, famous for spa retreats, and Freiburg, a vibrant university town known for its cuisine and nightlife. Other highlights include the Black Forest Railway centered on Triberg with its famous falls and the Black Forest Open Air Museum.
The Rhine Valley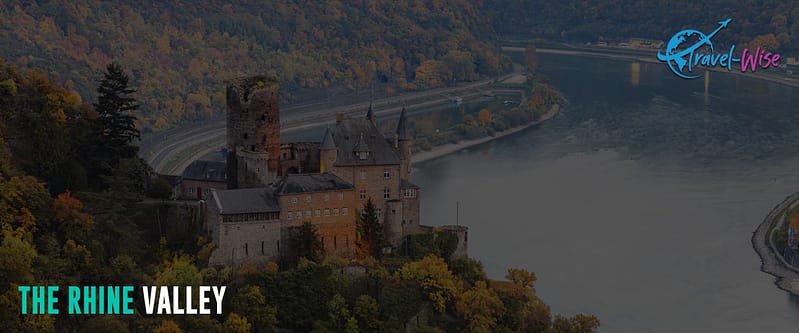 The Rhine River, Europe's most important waterway, extends 1,320 kilometers from Switzerland through Germany to The Netherlands. However, the most popular tourist section is the Upper Middle Rhine Valley, a UNESCO World Heritage Site. Also known as the Romantic Rhine, the 65-kilometer stretch between Bingen and Koblenz features over 40 castles and around 60 medieval towns, perfect for river cruise or car exploration. In addition, the Rhine Valley's diverse birdlife adds to its appeal and is a must-visit for travelers and nature lovers.
Frauenkirche in Dresden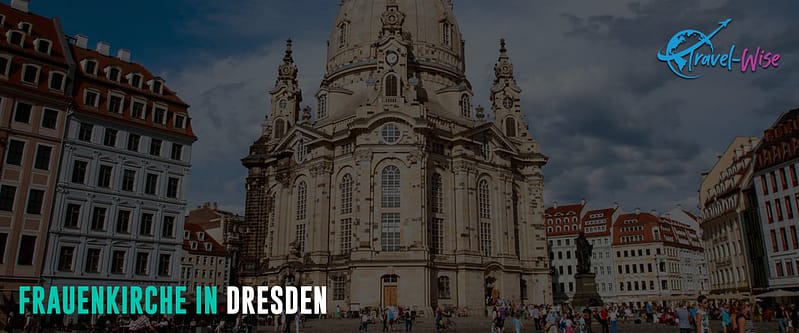 The Frauenkirche in Dresden is a magnificent Lutheran church featuring a prime example of Baroque architecture in 1743. It is a testament to the city's resilience and a remarkable story of post-WWII reconstruction in the old city center. The Frauenkirche was destroyed during the war, but diligent locals cataloged and stored the remnants for eventual reconstruction after German reunification. The meticulously restored interior, including the high altar, mirrors its original grandeur. Today, Frauenkirche's distinctive dome and towers contribute to its iconic status in Dresden. Don't miss the opportunity to ascend the church dome for panoramic city views.
The Old Town (Altstadt) in Nuremberg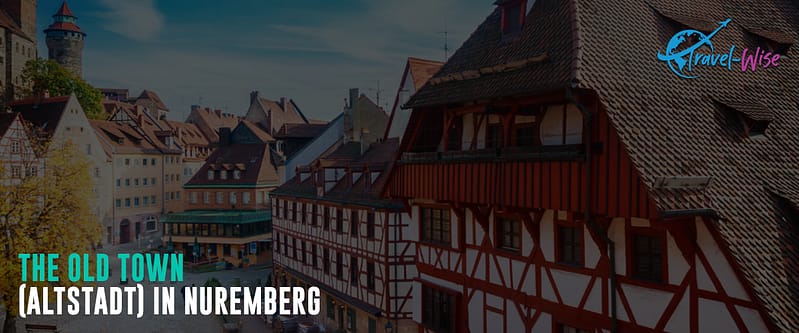 Nuremberg, a historic city in Germany, is renowned for its rich cultural, spiritual, and commercial heritage. The "Altstadt," or Old Town, is the focal point for exploration, boasting meticulously reconstructed medieval structures primarily destroyed during WWII. Encircled by five kilometers of city walls, the Altstadt offers a captivating experience for those who explore it on foot.
Key attractions in the Old Town include Nuremberg Castle, an imposing medieval stronghold with ancient towers and royal quarters, and the Hauptmarkt, a centuries-old market square featuring an exquisite old fountain, the original town hall, and historic merchants' homes. The Nuremberg Castle also houses museums, including the Dungeon Museum, which showcases medieval punishment tools.
Furthermore, Nuremberg is renowned for its Christkindlesmarkt, one of Germany's most famous Christmas markets. This market in the Old Town has been held annually since the 17th century, adorned with wooden stalls, festive lights, and seasonal music. Visitors can shop for handmade crafts, toys, and seasonal treats while indulging in mulled wine and gingerbread. It's a cherished part of the city's holiday festivities and a must-visit during the Christmas season.
Berlin Wall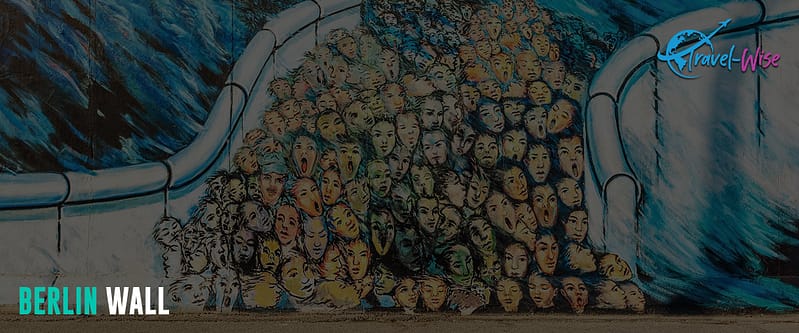 Though not picturesque, the Berlin Wall is a must-see attraction in Berlin. Erected in 1961, it was a stark symbol of the Cold War era until its fall in 1990. This historic landmark was a physical and political division between East and West Germany, gaining prominence as a symbol of political divisions. Stretching 155 kilometers and topped with barbed wire, it now features 105 captivating graffiti murals, drawing visitors worldwide.
Notable preserved sections include one at Checkpoint Charlie and another at Humboldthafen, opposite the Reichstag Building, listing the victims who perished attempting to escape from East Germany. Visitors can also explore the Berlin Wall Exhibition, offering insights into its history and the Berlin Wall Memorial.
Primary Spoken Language(s)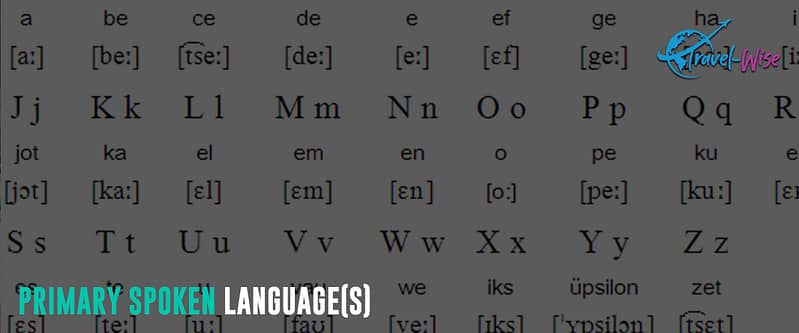 German is the official language in Germany. It is also the most spoken language not only in Germany as well as in the European Union. Aside from German, most of the population also speaks and understands English fluently.
Safety Concerns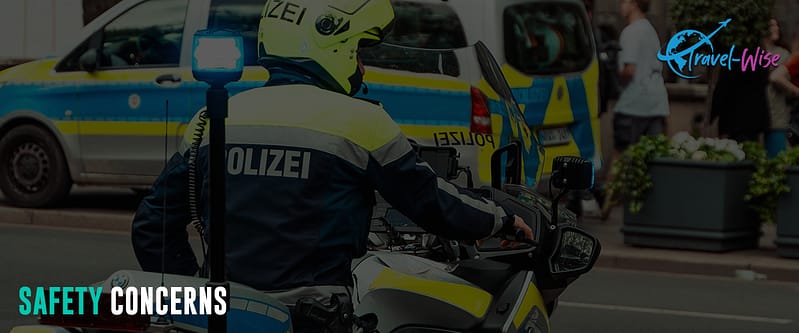 Germany ranks 16th out of 163 countries on the 2022 Global Peace Index. Also, Germany has a Level 2 Travel Advisory from the US Department of State. Hence, travelers in Germany can take precautions as they would do anywhere.
The crime rate in Germany is low, though most international travel advisories focus on the threat of terrorism. Petty crimes like scams, bag snatching, and pickpockets are a more likely danger for tourists. These usually happen in popular tourist destinations and other crowded places. Hence, keep an eye on your valuables when in large crowds and on public transportation. It is also not advisable to leave wallets on the table or hang bags on chairs, even at cafes in Berlin and Hamburg. Hotspots for pickpocketing are the Hasenbergal district in Munich or Frankfurt's red light district.
Travelers must also beware of scams with people selling validated train tickets on the platform. The hotspot for this scam is the Berlin public transportation system.
Lastly, always use ATMs located inside banks or in other safe areas. Check for signs if the machine has a card skimmer, such as glue residue or anything that could hide a hidden camera, to be safe.
For emergencies, dial 110 for the police and 112 for fire and ambulance services.
Local laws
Germany has strict waste management rules. Ensure proper waste segregation and do not violate local waste regulations. Also, be careful not to break road and traffic rules such as jaywalking, parking on cycle paths, and crossing the road when the light is red. Or else passersby will reprimand you. At worst, parked cars on cycle paths will reckon scratched bodywork. Lastly, using or displaying Nazi symbols, salutes, songs, or material such as flags or memorabilia is illegal.
Budget Considerations
Traveling in Germany is quite affordable compared to other European countries. Visitors can spend on a modest budget by European standards or splash on luxury. But no matter their budget or interests, Germany has everything for everyone!
Accommodation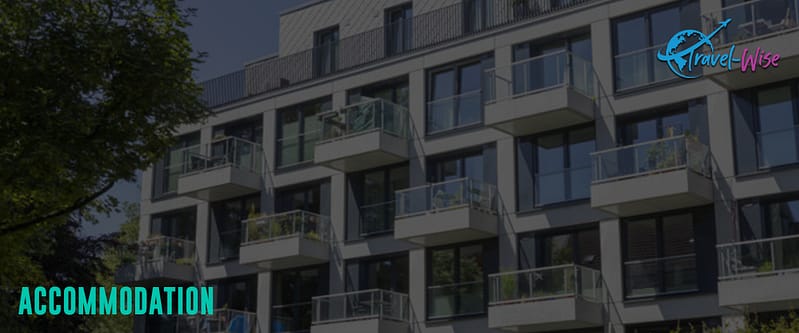 The accommodation cost is quite affordable in Germany compared to other Eurozone countries. Hostels are plentiful and range between $19 and $28 per night for a dorm bed. Expect to pay $45 to $70 for a private room in hostels and budget hotels. Free Wi-Fi is standard, and many hostels also include complimentary breakfast. Travelers can also find a private room on Airbnb for $35 and an entire apartment or home for $55. In addition, visitors can enjoy the comfort of a three-star hotel for $80 or splash out on five-star hotels for $210.
Generally, it is best to book early, or prices will double or triple near the travel date.
Food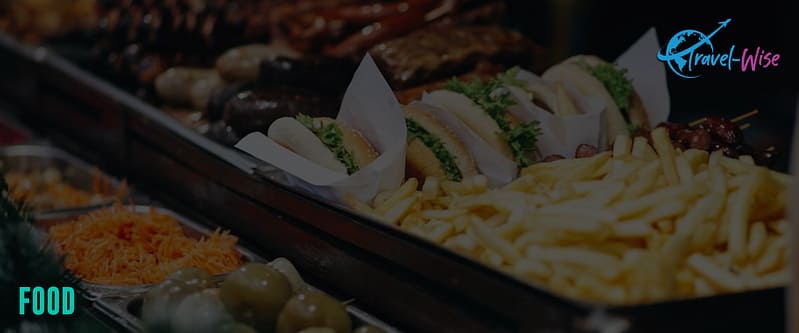 Foods in Germany are affordable and hearty. Staples are potatoes and meat, particularly sausages (wurst). Popular dishes are potato dumplings, sauerbraten, and schnitzel (pretzel). A typical German breakfast includes bread, cold cuts, cheese, and eggs.
Street foods cost between $3.20 to $5.40 for sausages, bratwurst, and pre-made sandwiches. Travelers can also have Turkish, Middle Eastern, and Asian meals for as low as $6. Expect to pay $9 for a fast food combo meal, while dining out at local restaurants and beer halls is between $10 and $16. A traditional German meal costs around $16-$18, while a three-course meal costs $25.
For budget travelers, a week's worth of groceries costs around $55. The budget can include basic staples like bread, pasta, seasonal produce, and some meat.
Attraction and Transportation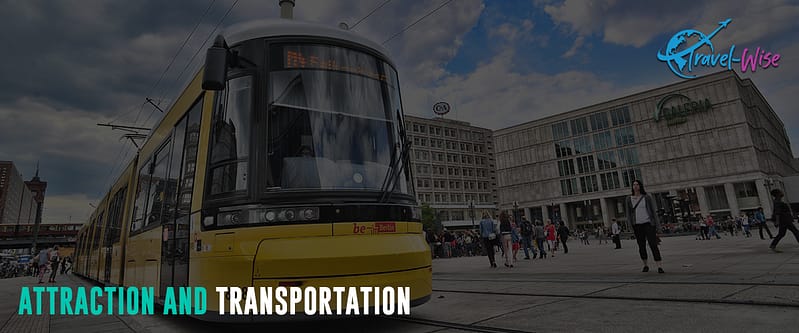 Germany has many famous attractions with free admission fees, such as the Brandenburg Gate and the Berlin Wall. Most museums also offer free admission on certain days or evenings. Most cities have free walking tours, and travelers only need to tip the guide at the end of the tour. Meanwhile, it is worth spending $16.20 (15 Euros) for the Neuschwanstein Castle or exploring Lake Konigssee at around $24 for a round-trip ferry ticket.
While a one-way fare on public transportation ranges between $1.10 and $3.10, travelers can get a one-day unlimited city pass at around $8-10 and a three-day pass for $18-22. Travelers can also avail of German Rail Pass for unlimited travel throughout Germany from $165 for three consecutive days of travel or $175 for nonconsecutive trips.
Average Two-Week Cost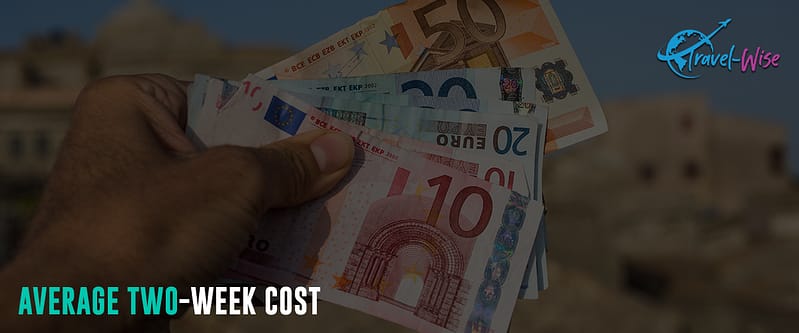 Travelers on a budget in Germany can live with a $60 daily or $840 for two weeks. It includes staying in hostel dorms, cooking food and occasionally dining in casual restaurants, taking public transportation, visiting free attractions, and doing primarily free activities.
On the other hand, mid-range travelers spend at least $150 daily or $2100 for two weeks. The budget covers staying in three-star hotels, taking subways, trains, and occasional taxis, dining in casual restaurants, and visiting/doing a few paid activities.
Lastly, travelers can enjoy luxury in Germany from $300 daily to $4200 for two weeks. It includes staying in a five-star hotel, splashing out on meals, and renting a car for transfers. On this budget, visitors can also avail themselves of all the paid tours and activities they want. So, for them, the sky is the limit for travel.
Customs And Import Restrictions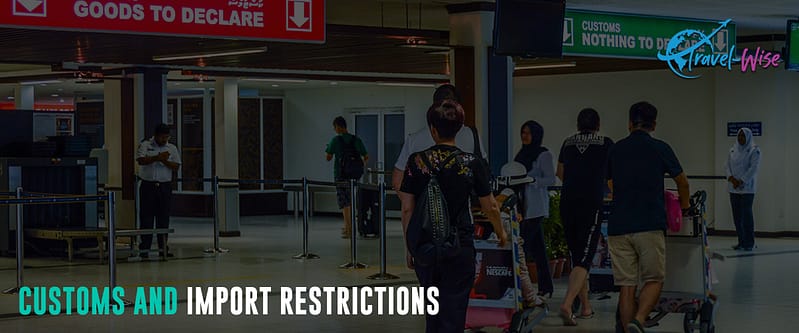 German Customs operates blue, green, and red channels at most ports and airports. Travelers from the European Union and Schengen states without goods to declare can use the blue lane. Meanwhile, visitors outside the EU with nothing to report can pass through the green lane. All guests with something to declare must go through the red point.
Duty-Free Limits
EU citizens carrying goods for personal use purchased within the EU are tax-free. On the other hand, non-EU visitors entering Germany by sea or air are entitled to a tax-free allowance worth €430 (around $468) for those over 15 years old and €175 ($189) for those below 15. It can include clothing, souvenirs, gifts, and perfumes. In addition, travelers at least 17 years old also have duty-free allowances for alcohol and tobacco products not exceeding the following:
200 cigarettes, 100 cigarillos, 50 cigars, 250g smoking tobacco, or a proportionate combination of these goods
One liter of spirits (whiskey, gin, vodka, and so on) with over 22% alcohol content or 2 liters of other alcoholic drinks with less than 22% alcohol (port, sherry, sparkling wine, and some liqueurs); 4 liters of non-sparkling wine; 16 liters of beer; or a proportionate combination of these goods.
Visit the German customs portal for the complete list of individual traveler's duty-free allowances.
Restrictions and Prohibitions
Import and export of some goods are prohibited or restricted in Germany. The following are the main categories of affected goods:
medicinal products and narcotics
fireworks
instruments of torture
dangerous dogs
Publications or media likely to harm minors and unconstitutional publications
Cultural assets
Food and foodstuffs
Counterfeit products
rough diamonds
textiles
weapons and ammunition
Animals and plants, products containing animal or vegetable substances
Travelers carrying €10,000 and over or its equivalent to other currency must declare it to German Customs upon arrival. Otherwise, penalties will be imposed for misdeclarations.
Check the complete list of German Customs prohibitions and restrictions when planning a trip to Germany.
Climate Considerations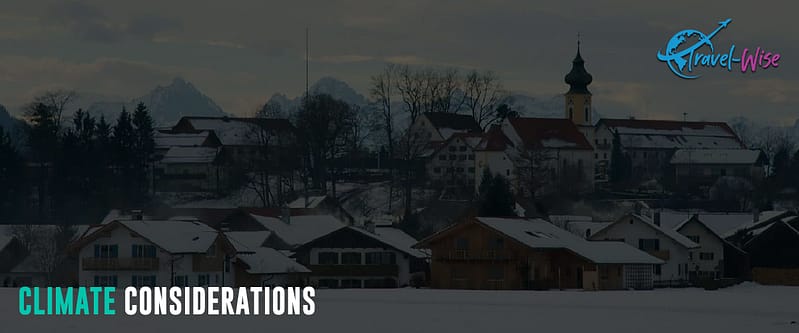 Germany enjoys a moderate climate and has no long periods of hot or cold weather. The coastal part of Germany has maritime influences on climate that brings warm summers and mild winters.
The country has four seasons: spring (March-May), summer (June-August), autumn (September-November), and winter (December- February). The average maximum temperature in July is 24 °C but can soar to 30 °C. In January, the mean maximum is 2 °C, while the minimum is –2.8 °C.
Primary Transportation Options
Germany is a vast country with an excellent and modern transport network. Depending on their time and budget, travelers can travel by air, rail, car, and other public transport to get around Germany. Whatever the means of transportation, travelers will find it easy to navigate in Germany.
Air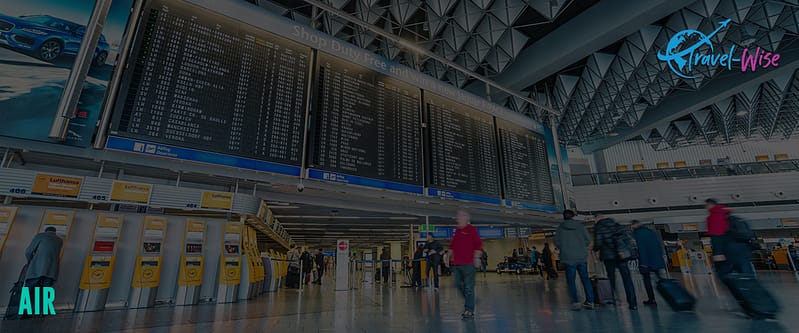 Germany has over a hundred domestic airports, with 22 international airports linking all world regions. All airports are strategically located nationwide and have good links to the respective transport network. Frankfurt International Airport is the country's primary aviation hub, while the other largest airports are Munich and Düsseldorf.
Airports in Germany are served by more than 100 airlines through their global route network. Lufthansa is the country's flag carrier and the largest airline in Europe. Meanwhile, some budget airlines are Euro Wings, Air Berlin, and TUIfly.
Boat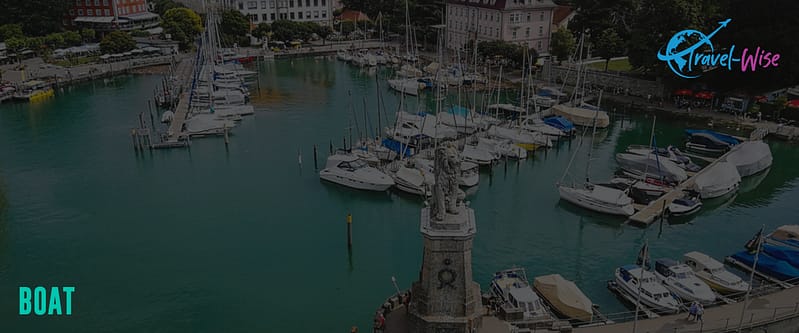 Germany has numerous lakes, and traveling by boat and ferry to some German destinations will be lovely. For example, the Baltic islands off Mecklenburg-Western Pomerania and the east and north Frisian Islands all require ferries for access.
Scheduled boat services also ply the Rhine, Elbe, and the Danube Rivers. Likewise, Chiemsee and Lake Starnberg in Bavaria and Lake Constance in Baden-Württemberg have scheduled boat services.
Travelers can also check the timetables and ticket prices to explore Lake Konigssee.
Rail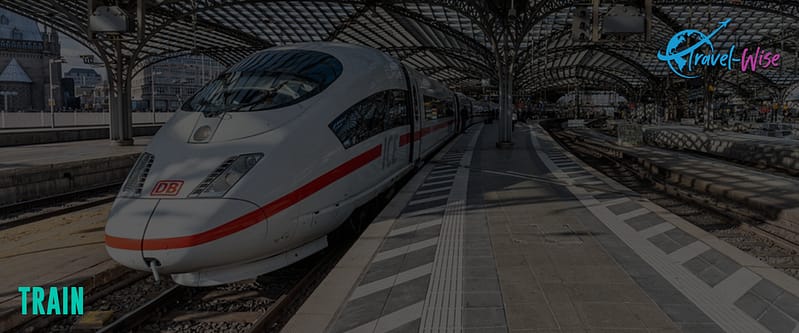 Germany has an extensive, modern, and reliable rail network maintained by Deutsche Bahn, the national train system. Long-distance and local transport systems are well coordinated and offer connections with over 250 direct links to around 120 European cities.
Though it is not cheap, traveling by train is an efficient way to explore the destinations in Germany. However, travelers can save a lot by booking the best deals and discounts in advance. Visitors can also get the super saver fare tickets for affordable rail travel as low as $19.30 or a 25% discount with the BahnCard 25 or BahnCard 50. To take full advantage of the network, travelers can watch out for DB's rail passes.
The German Rail Pass allows unlimited travel throughout Germany. Visitors can choose from 3 to 15 days of consecutive travel for $165 (€153) or $175 (€162) for nonconsecutive trips. In addition, two people traveling together save money with the Twin Pass.
European visitors can avail of the Interrail Pass for unlimited travel across Europe. Whatever the country of their choice, travelers can get a One Country Pass from $58 (€54). They can also avail of a Global Pass to 33 countries in four days within one month for $210 (€194).
For non-European nationals, travelers can get the Eurail Pass for unlimited travel across Europe. The Eurail One Country Pass gives them train travel access to the country of their choice starting at $58 (€54) within three days a month. Meanwhile, the Eurail Global Pass offers unlimited travel to 33 countries in four days within one month for $210 (€194).
Get the DB Navigator app to have access to ticketing, maps, timetables, and schedules when planning a trip to Germany. Alternatively, travelers can download the long-distance route map for easy reference.
Bus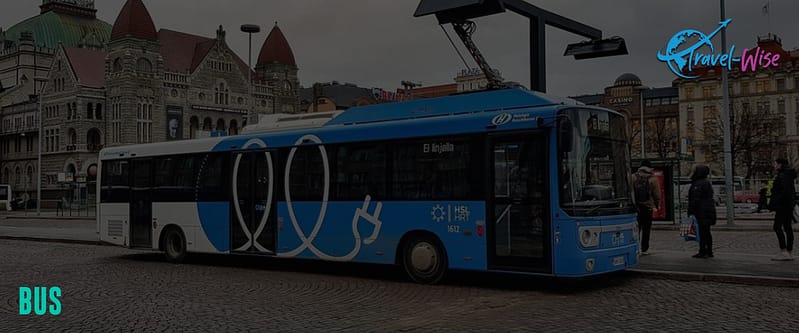 Buses are the cheapest way to get around Germany. Although slower than the train, bus services in Germany are punctual, with comfortable seats, air-conditioning, rest stops, and usually free Wi-Fi. Depending on the city, a one-way city bus ticket ranges between $1.10 and $3.10.
Over 250 long-distance bus lines operate nationwide. Numerous inter-city bus options and coaches also serve every major German city. These include international companies such as Eurolines, FlixBus, BlaBlaBus, and SttudentAgency (RegioJet). The national and regional bus providers and airport transfers are Allgäu-Airport-Express, Find IC Bus, Flibco, and Ostfriesland Express.
Check the Fernbusse portal or download the Fernbusse App for information on connections and convenient online ticket bookings.
Public Transportation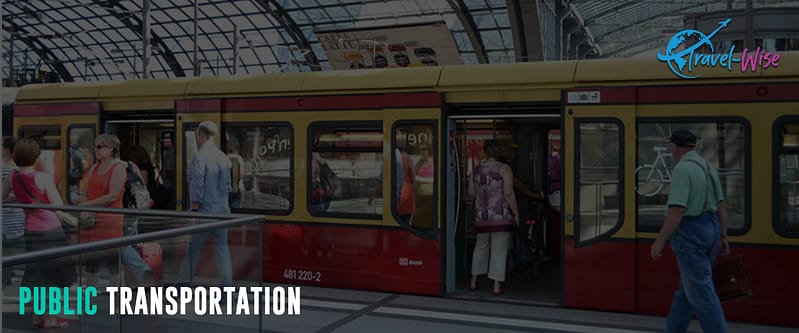 Germany has some of the world's best public transportation that is reliable and efficient. Significant cities like Berlin and Munich have integrated public transport networks, with one ticket giving travelers access to buses, trams, U-Bahn (subway), and S-Bahn (above-ground train).
Like buses, fares are determined by zone. But generally, a one-way fare starts from $3.10, a one-day unlimited pass at around $8-10, while a three-day pass costs $18-22.
A short trip ticket in Berlin costs $2.20 (€2) and is valid for three stops on the S-Bahn or subway or six stops on buses and trams. A change of train is permitted, but a change of vehicle is not allowed.
Taxi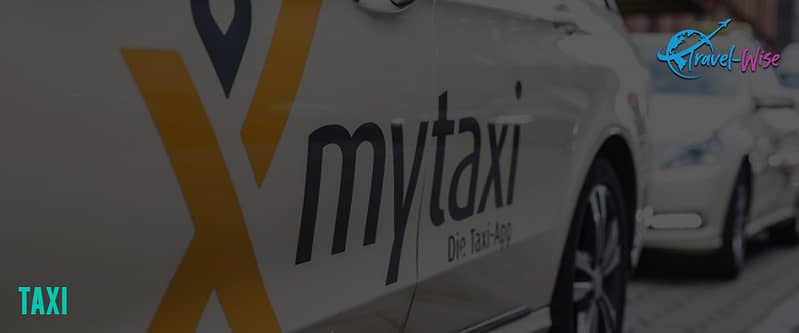 Taxis are an excellent alternative to driving in Germany. Cabs are easily recognizable by cream colors topped with yellow taxi signs. They are everywhere, and one can easily hail them at any time. Travelers can also hire taxis through mobile apps like Mytaxi, Taxi.de, door2door, and other international taxi apps like FreeNow. Meanwhile, Uber operates only in a few cities across Germany, including Berlin, Cologne, Dusseldorf, Frankfurt, Hamburg, Stuttgart, and Munich.
Taxi companies are heavily regulated in Germany. They are metered and expect standardized fares. Depending on the city, the basic fee is around $2-3 and an increment of $1-3 per kilometer. Waiting time is also charged between $0.10 and $0.60 per minute. Moreover, surcharges may apply at night and for larger vehicles or bulky luggage.
Car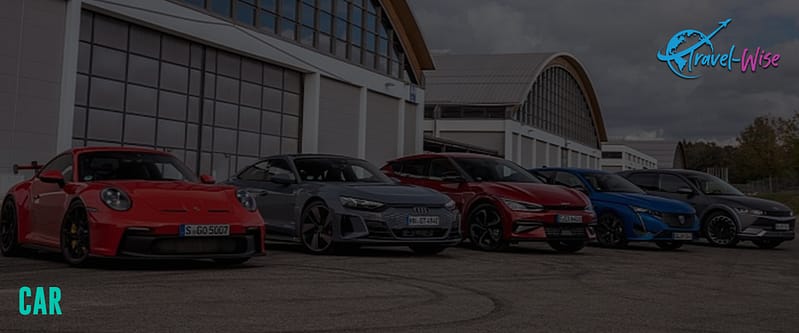 Germany has an ultra-modern road network and is a great country to explore by car. Depending on car type and model, vehicle rentals start at $33 daily from numerous local and international rental companies.
Though German motorways have no speed limit (Autobahn), a generally recommended speed of 130 km/h is in place unless speed limit signs dictate. The speed limit slows to 50 km/h in built-up areas with ongoing road repairs and 100 km/h outside such sites. No motorway tolls exist, and emergency or breakdown services can be requested using SOS telephones found along the motorways.
Aside from cars, travelers can rent a bicycle to explore Munich and Berlin. Rental costs vary according to location. For example, renting a bike for $12 for 24 hours in Berlin is possible, while it costs $22 per 8-hour in Munich.
Start Trip Planning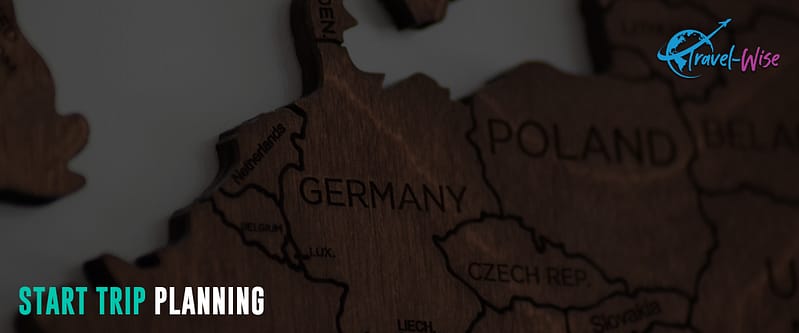 Travel-Wise is made from the ground up to help people travel more, break down the barriers that make it tough to get going, and start your journey as painlessly as possible. Bookmark our other Country Guides to help kick-start your research for future travels. We also offer templated itineraries from our staff and community that help serve as a building block for your trip plans. Alternatively, we also utilize AI to offer a way to generate itinerary ideas. This saves much time just getting you up and running with a template. From there, you can use the trip planner to create your customized itinerary, invite friends and family for collaboration, find others from Travel-Wise to join the trip, book and track important information, journal, and share your experiences at the end or along the way!