This travel wiki page of Indonesia will help guide travelers with quick and relevant information to consider when planning and visiting the country. It is difficult to find all the relevant information you need on culture, safety, travel restrictions, and things to do, so we summarize it all here. If anything is stale or outdated, please reach out and let us know! Let's dive in and explore more high-level information as an Indonesian trip planner.
Last updated November 22nd of 2022.
National Information & Culture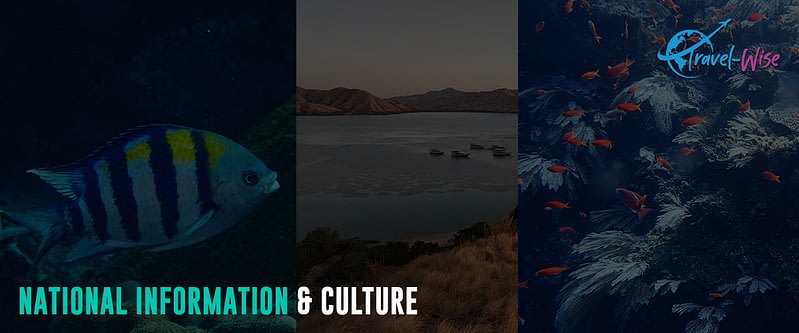 Indonesia, officially the Republic of Indonesia is a country in Southeast Asia and Oceania and shares land borders with Papua New Guinea, East Timor, and Malaysia. It is the world's largest archipelagic state, with over 275 million people living on its more than 17,000 islands. Jakarta is the country's capital city, and the official currency is the Indonesian Rupiah (Rp or IDR).
The country's population consists of thousands of ethnic and hundreds of linguistic groups. The majority belong to the Javanese group (about 70 million), followed by Sundanese (about 30 million). Muslims comprise most of the population, while the Hindu religion is predominant in Bali. Although areas in the Minahasa in North Sulawesi, the Toraja highlands in South Sulawesi, East Nusatenggara islands, and large parts of Papua, in the Batak highlands as well as on Nias island in North Sumatra, the majority are either Catholics or Protestants.
Despite having diverse ethnic groups and religions, Indonesian societies remain tolerant of each other's beliefs, customs, and traditions while faithfully adhering to their own. They adhere to the country's motto, Unity in Diversity.
Being a predominantly Muslim country, visitors must show respect by avoiding wearing revealing clothes. When visiting places of worship, proper dress etiquette must be observed, and permanently remove shoes when entering a mosque. Wear only bathing suits and swimwear in and around beaches and swimming pools.
Indonesia is the hottest spot on the Pacific Ring of Fire. With roughly 400 volcanoes, 130 are active, approximately four small earthquakes occur daily, and sitting between the most active seismic area on Earth.
Interesting Facts
Despite only making up 1% of the Earth's land area, Indonesia's rainforests are home to 10% of the world's known plant species, 12% of all mammal species, and 17% of all known bird species. In addition, the country is home to over 100 endangered animals, including the Sumatran Tiger, Sumatran Rhinoceros, Komodo Dragon, Orang-utans, anoa (most miniature buffalo in the world), Merak or Peafowl, sea turtles, and the Tarsius Tarsier (a small, adorable, big-eyed primate not unlike Dobby the house elf in Harry Potter).
Visit the Official Tourism Website of Indonesia to learn more information, hints, and tips when planning your trip.
Special Travel Considerations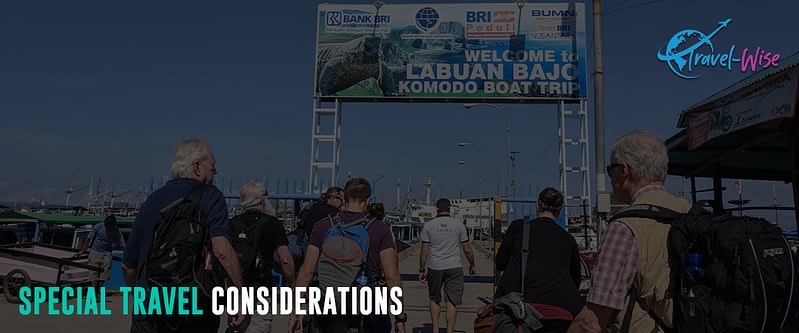 Covid-19 Protocol
As of October 25, 2022, the Indonesian government has released new protocols for international passenger arrivals. The provisions are as follows:
Primary Guidelines
International travelers entering Indonesia must download and use the PeduliLindungi app before departure;
Present a full vaccination card/certificate (physical or digital) of receiving the second dose of the COVID-19 vaccine at least 14 (fourteen) days before departure.
Exemptions from showing vaccination certificates as entry requirements to Indonesia are given to:
Foreign nationals under 18 years old
International travelers with particular health conditions or comorbidity diseases that hinder them from receiving vaccines must present a doctor's certificate from the State Departure Hospital stating that the concerned person has not been or cannot receive a COVID-19 vaccination.
International travelers who have not received a full dose of vaccination, have finished carrying out COVID-19 isolation or treatment, and have been declared inactive in transmitting COVID-19 must attach a COVID-19 recovery certificate or a doctor's certificate from the Government Hospitals or institution stating that the person concerned is no longer actively transmitting the virus.
In addition to the above primary requirements, visitors also need to observe the below general guidelines when traveling to Indonesia:
General Guidelines
Wear a three-ply fabric mask or medical grade mask, covering the nose, mouth, and chin in indoor settings or large crowds;
Replace the mask regularly within every 4 hours, and dispose of the waste in the proper place;
Wash hands regularly with water and soap or hand sanitizers;
Maintain social distance for a minimum of 1.5 meters and avoid crowds; and
Conversing or taking phone calls while traveling through public transportation (land, rail, sea, river, lake, ferry, and air) is highly discouraged.
Kindly note that the Covid-19 protocols of Indonesia may vary over time. Hence, checking the latest Covid-19 policy when planning and commencing your trip to Indonesia is best.
Visa Information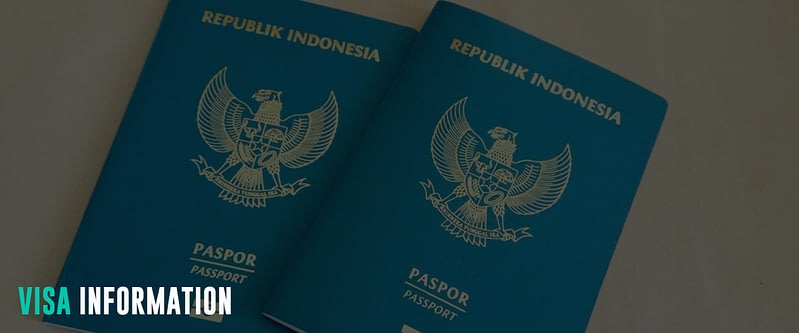 All ASEAN Nationals are visa-exempt when traveling to Indonesia for 30 days. Indonesia also grants visas on arrival to citizens of 77 countries for a 30-day stay, subject to a fee of $32 (Rp500,000). Once they are in Indonesia, visitors can also request for visa-extension for another 30 days with the payment of another $32 (Rp500,000). However, nationals who do not have visa-exemption or visa-on-arrival privilege must obtain a visa in advance from one of the Indonesian diplomatic missions before entering the country. Following the step-by-step process, applicants can apply for an Indonesian E-Visa.
In addition to visas, all visitors entering Indonesia must have a passport valid for six months and a valid return ticket. Passports with more than three months' validity can be accepted in exceptional cases for business travel. Moreover, the immigration officer at the port of entry may ask the passenger for additional documents, such as hotel reservations and proof of sufficient funds.
Popular Attractions
Indonesia is a stunning island country full of natural and cultural attractions. The country boasts beautiful beaches, crystal-clear water, and many rainforests to explore. It is also home to over a hundred endangered animal species, and its rainforests have 10% of the world's known plant species, 12% of all mammal species, and 17% of all known bird species. In addition, nine UNESCO World Heritage Sites spread all over the country await visitors for them to explore.
Bali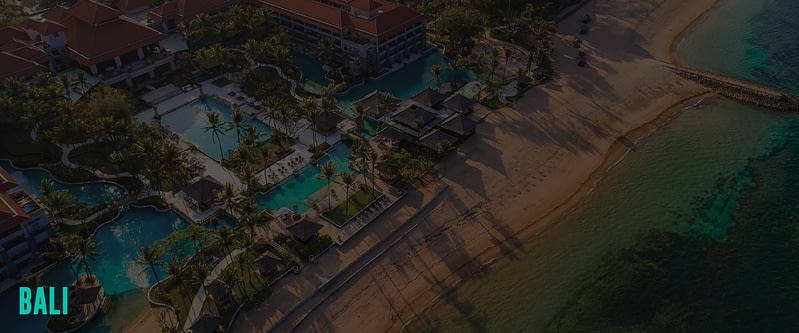 Bali has long been Indonesia's favorite tourist destination for a long time. Its enchanting tropical vibe will immediately welcome visitors when they step on the island. Pristine beaches, glorious mountains, sacred temples, lively nightclubs, fresh seafood, and many other hidden gems await on the island offering limitless excitements to be explored.
Kuta Beach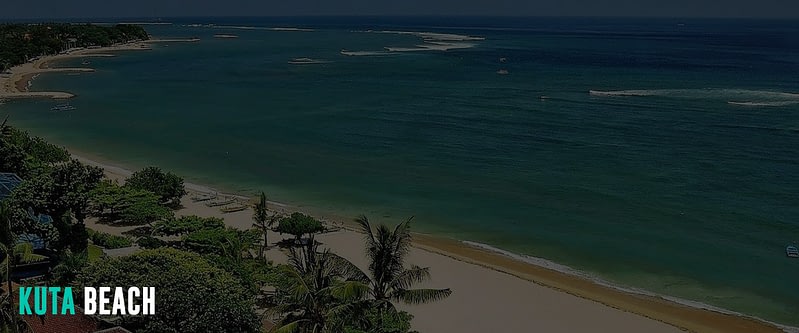 The famous stretch of white sand beaches along Kuta Beach is a favorite haven of visitors for its warm sand and crystal clear waters. But, of course, not to mention the fantastic days and nights of partying, Kuta Beach is one of the best places for young travelers looking for a livelier vibe. It is also an excellent place to learn to surf or soak up. Visitors can book surf lessons and rent surf or boogie boards, sun loungers, or umbrellas, with plenty of cafés and restaurant options bordering the beach.
Nusa Dua Beach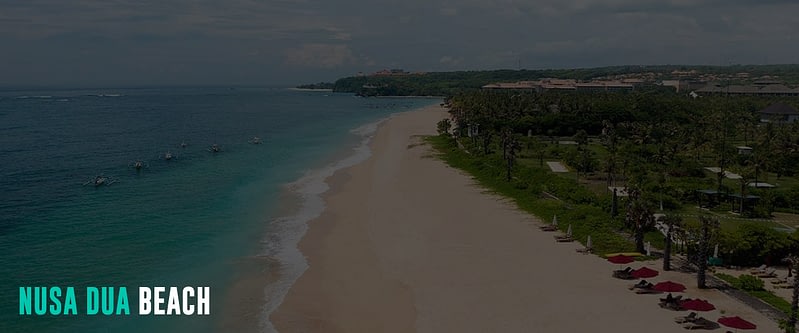 Nusa Dua Beach is one of the top places to visit in Bali for a honeymoon. It is where visitors find some of Bali's best luxury beach resorts along stretches of clean and clear shore. Popular activities at Nusa Dua include strolling along the coast, swimming, surfing, parasailing, and sunbathing.
Nusa Islands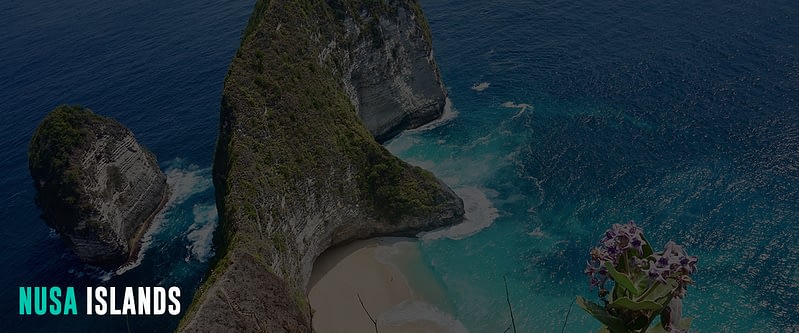 The Nusa Islands is an excellent place in Bali for couples who crave more serenity than the mainland. Nusa Lembongan is the most popular among the three in Nusa Islands. It is accessible by speedboat and is best for surfing, snorkeling, diving, kayaking, and stand-up paddleboarding. The top attractions here are the beautiful Dream Beach, Mushroom Bay, and Devil's Tear's Rock, with views of crashing waves over the rocks. Lying over a bridge from Nusa Lembongan is the neighboring island of Nusa Ceningan, famous for its beautiful blue lagoon. Nusa Penida, the largest of the island trio. It is famous for its rock formations, caves, and bird sanctuary, and one of the best diving sites in Bali to see manta rays, sunfish, and turtles. A must-visit is Kelinking Beach or popular to locals as T-Rex Bay.
Tanah Lot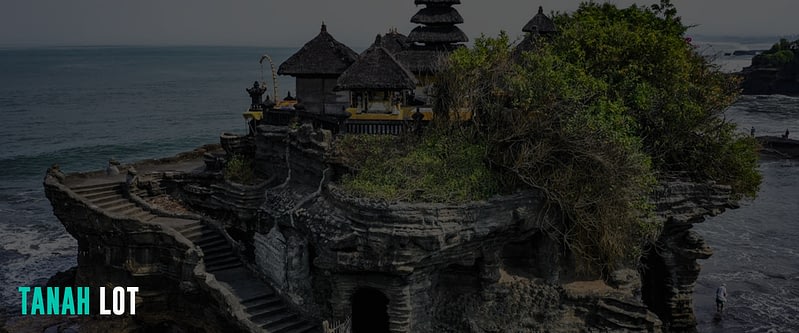 Tanah Lot is perfect for a more scenic place to take pictures. It means "land on the sea" Tanah Lot has one of Bali's most iconic temples. The spectacular seaside setting of Pura Tanah Lot, a Balinese temple, on a rocky islet facing the ocean of crashing waves. Tanah Lot also has a magnificent view of the sunset behind the temple.
Pura Tanah Lot dates back to the early 16th century. For the people of Bali, it is one of the most sacred sea temples on the island.
Uluwatu Temple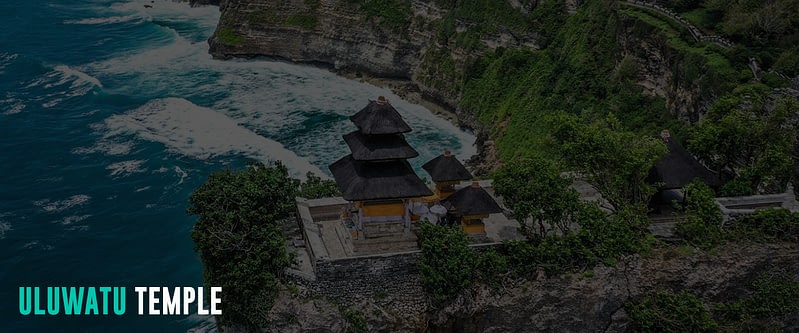 One of the most popular neighborhoods in Bali, Uluwatu is packed with unmissable attractions, from surfer's paradise beaches to sacred sea temples up the hill. Besides being naturally and architecturally beautiful, the Uluwatu Temple hosts traditional dance and drama performances held during sunset hours.
Uluwatu Temple, or Pura Luhur Uluwatu, is a sea temple in a magnificent clifftop setting. It stands over a stiff cliff above one of Bali's best surf spots. The best time to visit is during sunset. Although it is off-limits to visitors and only Hindu worshipers can enter the temple, the regular sunset Kecak dance performances are more than worthy of the visit.
Archaeological findings suggest the temple is of megalithic origin, dating from around the 10th century. The temple is believed to protect Bali from evil sea spirits, while the monkeys in the forest near its entrance are thought to guard the temple against bad influences. (keep your belongings securely stashed away from their elegant grasp).
Ubud Monkey Forest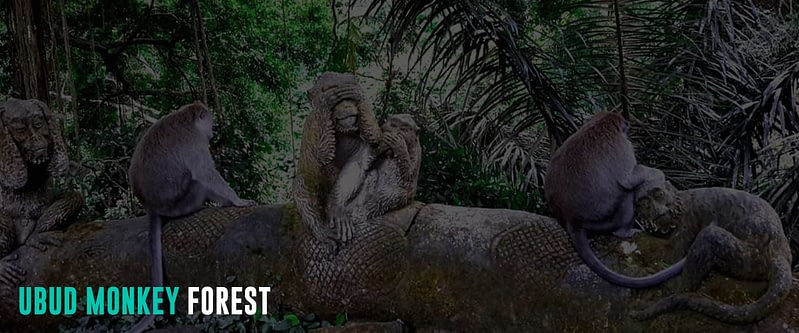 Ubud is the cultural heart of Bali and the location of the Sacred Monkey Forest Sanctuary, a serene space where you can feel the ancient majesty of the island. Visitors will see plenty of long-tailed macaques, a monkey species common throughout Southeast Asia. Secure your belongings, avoid direct eye contact with the monkeys, or even smile, which can be interpreted as a sign of aggression. A little warning, the monkeys may try to steal whatever you are carrying.
The sanctuary also has three Balinese Hindu temples dating back to 1350. The main temple is the 14th-century Pura Dalem Agung Padangtegal on the southwest side of the forest. On the northwest lies the ancient bathing temple of Pura Beji, next to a cool stream. Finally, the Pura Prajapati is on the northeast and adjacent to a cemetery.
Tirta Empul Temple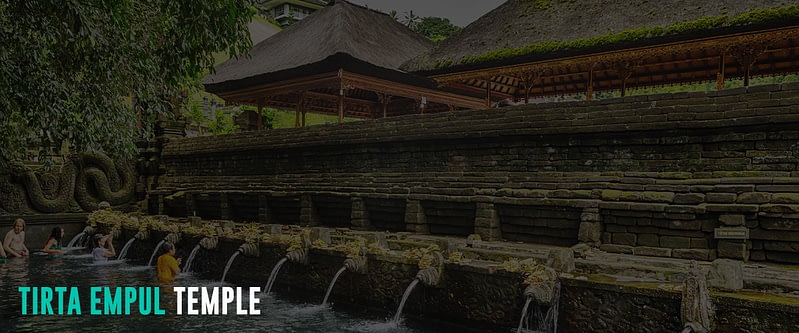 Tirta Empul Temple is a Balinese Hindu water temple from around 960 CE. The temple compound consists of a bathing structure known by the locals as petirtaan (Tirta means holy water). Balinese Hindus frequently visit this place for purification rituals. Visitors can also try to bathe in the area if they obey the local norms and regulations.
Pura Ulun Danu Bratan temple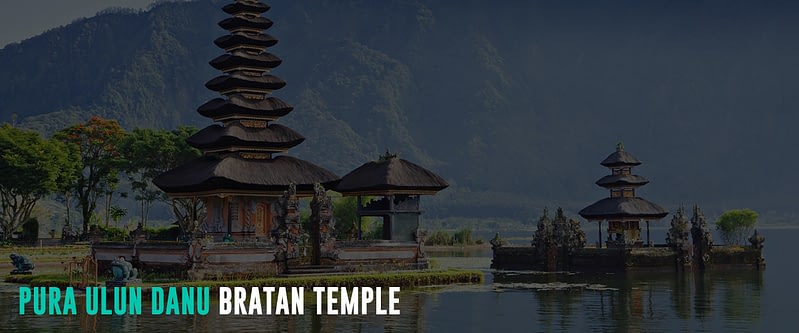 The 17th-century Pura Ulun Danu Bratan is one of Bali's most scenic temple complexes. It sits on a small island along Lake Bratan in the highlands of central Bali and dedication to Dewi Danu, goddess of the sea and lakes. Lake Bratan is one of Bali's primary irrigation and drinking water sources. A unique feature is a Buddhist stupa on the left of the entrance to the first courtyard, with Buddha figures meditating in the lotus position in niches on the square base. The best time to visit is early in the day. Visitors can hire a canoe and paddle out on the lake to explore the Meru (thatched shrines) at close range.
Lempuyang Temple Complex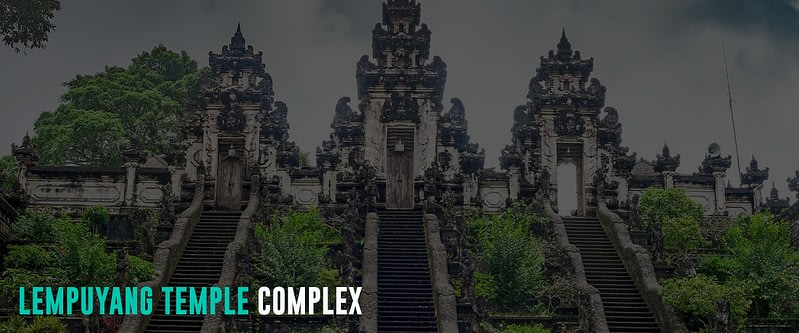 Lempuyang Temple, or Pura Penataran Agung Lempuyang, is the site of the famous and Instagrammable photos at the Gates of Heaven. This prominent structure is one of the temples scattering the highlands of Mount Lempuyang. Tourists come here for the scenic photo standing between the towering dragon staircases framing the misty peak of Mount Agung. Don't forget to bring a sarong to enter the premises.
Pura Luhur Lempuyang is another worth-a-visit temple in the Lempuyang Temple Complex. It lies 1,200 meters above sea level and is accessible after a 1.5 to 2 hours hike through the jungle. But keep an eye out for the long-tailed gray macaques romping around the forest along the way. Reaching the temple rewards visitors with the mystical beauty and spectacular views of an ancient relic.
Yogyakarta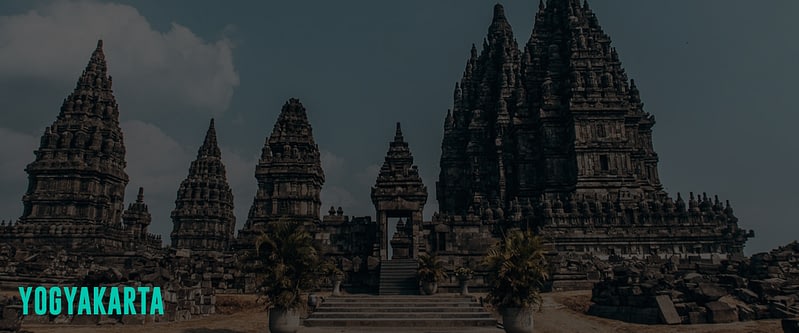 Yogyakarta is one of the cradles of civilization in Java and is now one of the foremost cultural centers of Indonesia. It is home to the famous, magnificent temples of Borobudur and Prambanan that date back to the 8th and 9th centuries. Its religious, cultural, and historical values make this city special.
Borobudur Temple Compounds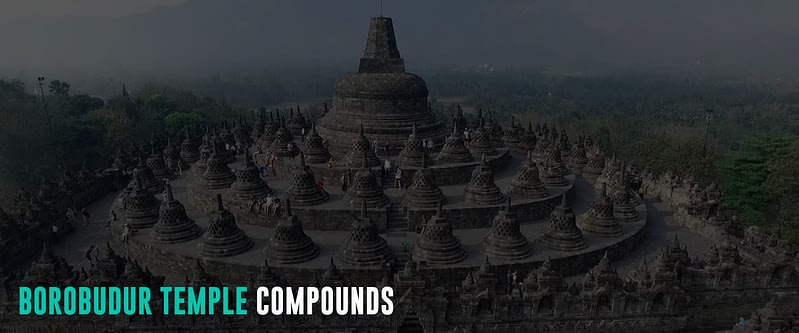 Borobudur Temples are a UNESCO World Heritage Site in Central Java that dates back to the 8th and 9th centuries. This ancient temple is one of Indonesia's most famous and culturally significant landmarks and the world's giant Buddhist monument.
The shrine was constructed in the shape of a traditional Buddhist mandala and made out of around 2 million blocks of stone. It has 504 Buddha statues around the structure, in honor of Lord Buddha, and is a place for Buddhist pilgrimage. Starting at the base, the pilgrims follow a footpath around the temple and climb through levels representing Buddhist cosmology: the world of desire, the world of forms, and the world of formlessness.
The temple compound was abandoned in the 14th century and lay hidden in the jungle under layers of volcanic ash. Today, it is one of the most popular tourist attractions in Indonesia because of its religious, cultural, historical, and aesthetic charms.
Prambanan Temples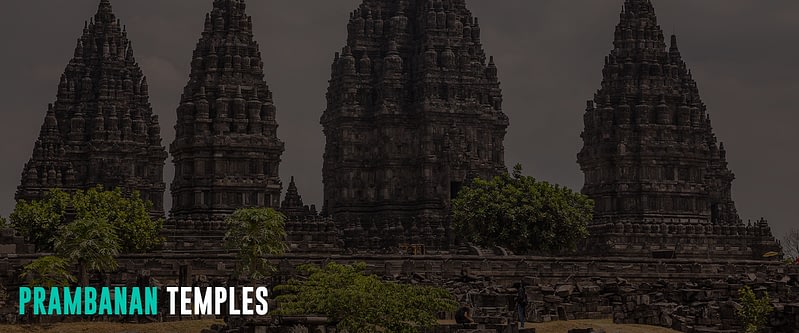 Prambanan Temples, a UNESCO World Heritage Site, is the largest Hindu site in Indonesia and dates back to the 9th century, 50 years later than Borobudur. The temples are known locally as Roro Jonggrang, coming from the legend of the 'slender virgin.' Its proximity to the Buddhist Borobudur temple tells us that on Java, Buddhism and Hinduism lived peacefully next to one another. Prambanan is a magnificent spectacle and an icon of Indonesia's cultural heritage.
The most prominent temple, Candi Shiva Mahadeva, is 47 meters high and is in dedication to Shiva – the destroyer. On its right is Candi Brahma, a 33 meters high temple dedicated to Brahma, the creator. On the left side of Shiva is Brahma's twin temple, Candi Wisnhu – the sustainer and is in honor of Wisnhu. The peak of Candi Shiva Mahadeva is visible from far away and rises high above the ruins of the other temples.
After hundreds of years of abandonment, the Prambanan temple was rediscovered in 1733 by CA Lons, a Dutchman. Since then, the temple has been revitalized, and several restorations have been done. Today, Prambanan is regarded as Indonesia's most beautiful and graceful Hindu temple. Prambanan's grandeur, complexity, and architectural concept make this a unique structure.
Komodo National Park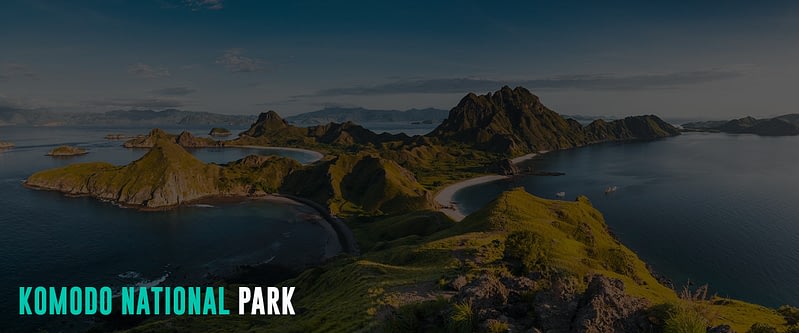 Komodo National Park, a UNESCO World Heritage Site, is within the Lesser Sunda Islands. The park is one of the New7Wonders of Nature. The park encompasses three larger islands of Komodo, Padar, and Rincah, 26 smaller ones, and the surrounding marine areas. It is also a part of the Coral Triangle, which contains some of the richest marine biodiversity on Earth. The Pink Beach on Komodo Island is one of the only seven pink beaches on the planet.
The park is home to the Komodo dragons, hence its name. Although Komodo dragons primarily eat carcasses of dead animals, they are dreadful predators that also hunt prey, including birds and mammals. The Komodo dragons are the highlights of any visit to the park. But visitors can also hike, snorkel, go canoeing, swimming on the pink beach, or visit small villages on the islands.
Tanjung Puting National Park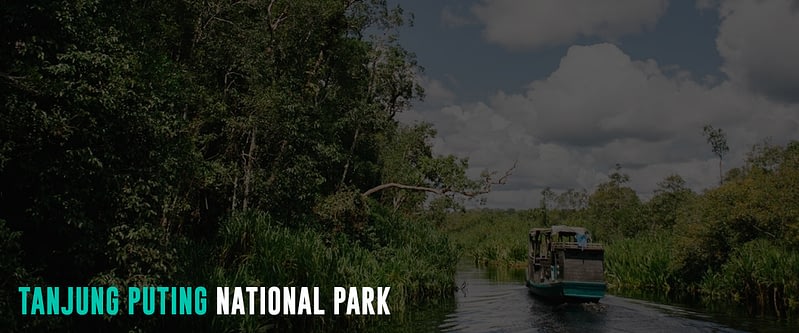 The Tanjung Puting National Park on the island of Borneo in the Indonesian province of Central Kalimantan is a popular ecotourism destination. It is a UNESCO Man and Biosphere Reserve. The park has research centers with beautiful and endangered wildlife, including gibbons, macaques, clouded leopards, sun bears, pythons, crocodiles, and the largest orangutan populations worldwide. Unfortunately, the park is heavily threatened by illegal logging and deforestation for agricultural uses.
Raja Ampat, West Papua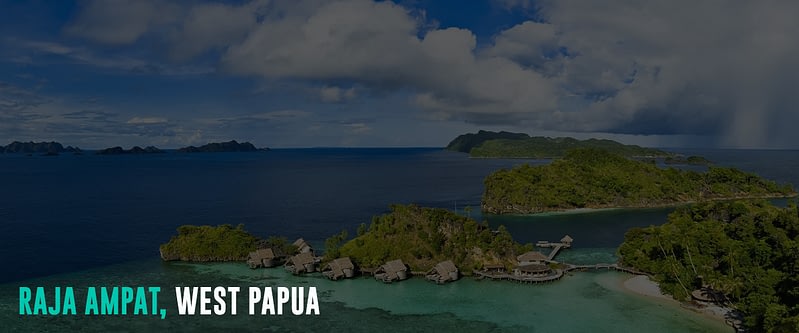 Raja Ampat, which means 'The Four Kings,' is a group of islands in West Papua comprising over 1,500 small islands. The four main islands of Waigeo, Batanta, Salawati, and Misool are surrounded by cays and shoals.
A pristine paradise in West Papua, Raja Ampat offers some of the best marine experiences in the world. The area covers 9.8 million hectares of land and sea and is home to 540 types of corals, over 1,000 reef fish species, and 700 mollusks. This makes it the most diverse aquatic habitat for the world's coral reefs and marine life. Aside from exploring the surfaces of the water, visitors can also deep dive and immerse into the otherworldly underwater realms.
Bunaken Marine National Park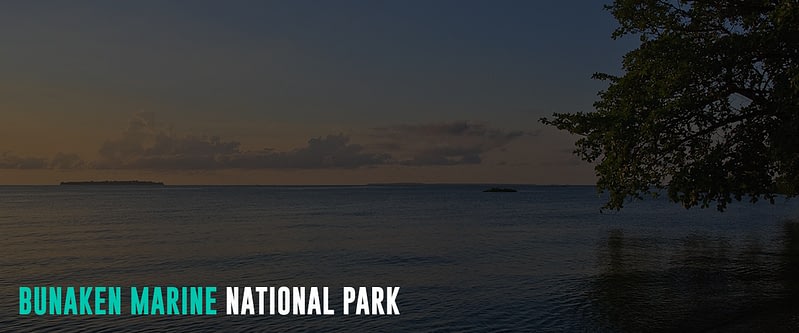 Bunaken Marine National Park in Manado, North Sulawesi, is one of the archipelago's richest and most famous diving and snorkeling sites. At the heart of the Coral Triangle, divers can see more than 70% of all fish in the western Pacific Ocean. The best time for diving in Bunaken is between April and November.
Gili Islands, Lombok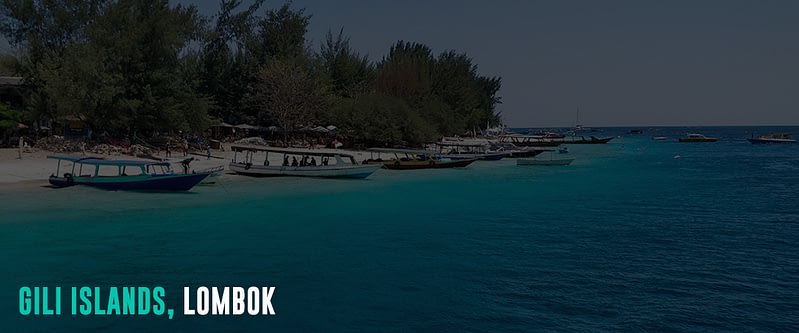 Gili Islands are Lombok's most popular tourist destination. The Gili Islands are an archipelago of three small islands: Gili Trawangan, Gili Meno, and Gili Air. These scenic islands offer beaches that match Bali's beauty and opportunities for diving and even snorkeling at a turtle sanctuary. In addition, travelers can check out a turtle hatchery where hundreds of these creatures are born yearly. Popular activities include kayaking and those seeking health relaxation and meditation can join yoga classes.
Mount Bromo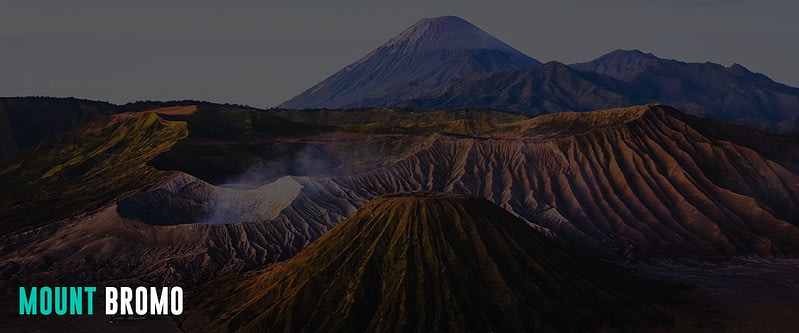 Mount Bromo is an active volcano and part of the Bromo Tengger Semeru National Park in East Java. It is popular mainly because of its incredible views, particularly when standing over the caldera at sunrise. Unfortunately, the volcano's peak has been blown off in an eruption, and its crater still constantly belches white smoke.
Lake Toba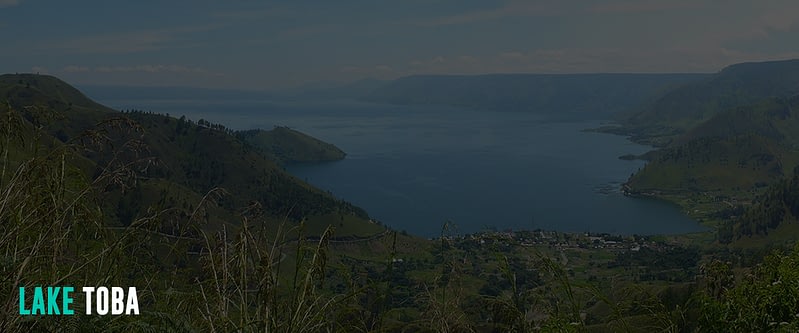 Lake Toba on the island of Sumatra is one of Indonesia's natural wonders. It has an immense volcanic lake of about 1,145 square kilometers and 450 meters deep due to a gigantic volcanic eruption between 69,000 and 77,000 years ago. Today, Lake Toba is the largest resurgent caldera on Earth. Visitors here can swim in the volcanically warm waters, water-skiing, canoe, fish, or stick to wandering the surroundings on foot or bicycle.
Primary Spoken Language(s)
Bahasa Indonesia is the national and official language of the people of Indonesia. It is also the official language of communication, broadcasting, and the medium of education at schools. Most Indonesians also have their ethnic language and dialect. The majority of it is the Javanese and Sundanese. There are also ethnic Chinese communities who continue to speak various Chinese dialects, such as Hokkien in Medan and Teochew in Pontianak.
Most Indonesians do not speak English. However, they understand an acceptable level of English in several major cities and tourist destinations, including Bali, Batam, Jakarta, Bandung, Surabaya, and Yogyakarta. Furthermore, most hotel and airline staff can communicate in English on a basic to moderate level.
Safety Concerns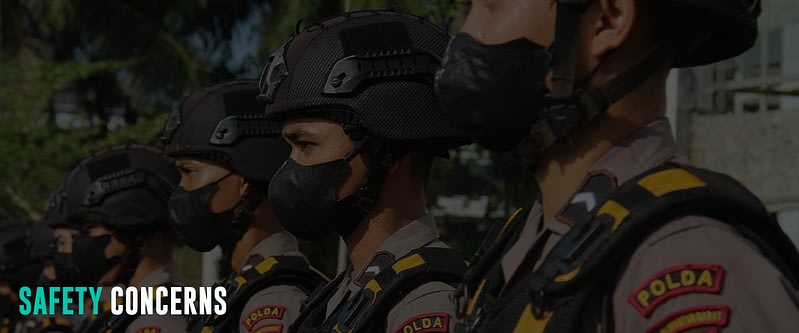 Indonesia has a history of terrorism and threats of civil unrest. But it has improved over the years, and the country has been safe for travelers. As a result, millions of travelers visit Bali annually, making it one of the most popular tourist destinations worldwide.
Violent crime is rare and does not involve tourists. However, petty theft like bag snatching and credit card scams do occur. But these can be avoidable if travelers practice common sense and safety measures. Stay alert and secure your belongings at all times, especially in public transit or crowded places. Pay as much as possible with cash, and enter a reputable bank to withdraw from ATMs.
Natural disasters like earthquakes are common in Indonesia, as the country lies along the Pacific Ring of Fire. Hence, it is best to know basic earthquake safety guidelines. Moreover, make sure to see the emergency exits of your accommodation.
It is also safe to download an offline map. A language translation app can also help you, as English is not widely used in Indonesia. But if the inevitable emergency happens, visitors can dial 110 or 112 for police assistance, 118 or 119 for ambulance and medical emergencies, 113 for fire, 115 for search and rescue, and 129 for natural disaster assistance.
Safety and security is always our main concern when traveling to a foreign country or a new place. Hence, checking with their government travel advisory for the latest information before departure is best. Visitors may also consider the US Department Travel Advisory to Indonesia when planning or before commencing their trip.
Local Laws
The government of Indonesia has strict laws that travelers must follow to avoid being penalized. Also, Indonesia still enforces the death penalty – firing squad as capital punishment. Hence, visitors should always adhere to laws and authorities.
Indonesia implements capital punishments for drug possession and trafficking, and murder. Smoking is strictly prohibited in public places and transport and must be done in designated smoking areas only. Drinking alcohol in public places is also prohibited. Gambling is prohibited and illegal in Indonesia. Not following local laws and authorities may find severe punishments, penalties, and even jail.
Budget Considerations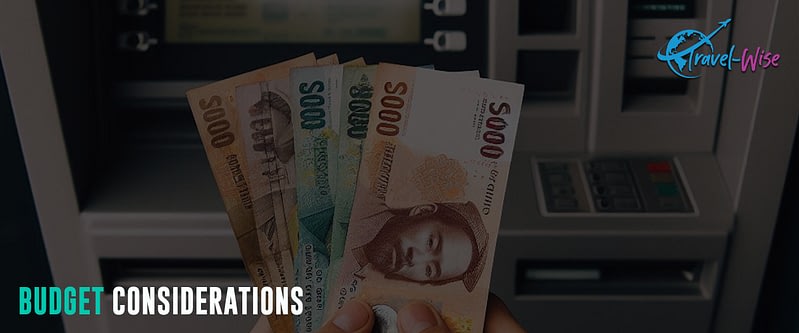 The cost of accommodations, food, transportation, and activities is relatively affordable in Indonesia. Hence, your money can go a long way when traveling around the country.
Visitors can get a dorm bed in a hostel for as low as $4, and a private room starts at $12. There are also several Airbnb accommodations in the country, especially in large cities. Travelers can find an entire apartment at around $26 per night. An average three-star hotel, including breakfast, also starts at $26. Luxury accommodations and private villas are also available in the country. Book ahead to get the best deals for your trip.
Foods in Indonesia are incredibly cheap. Expect to pay around $2 for a regular meal in a local restaurant or $4 for a combo meal in fast food. Western meals are about $7, while a three-course meal in a mid-range restaurant averages $8. Chinese, Malay, and Indian heavily influence Indonesian cuisine. Rice or noodles are the staple food, and be mindful that Indonesian foods can be a little spicy.
Traveling using public transportation in Indonesia is affordable. A one-way local bus ticket costs $0.32 (IDR5,000). The tariff of a regular taxi starts at $0.45 (IDR7,000), with a $0.32 (IDR5,000) increment for every kilometer. It is also possible to rent an e-bike or scooter for $5 daily when exploring the attractions in Indonesia. But of course, visitors should also consider the fuel price.
The cost of attractions in Indonesia varies. For example, entry to the Bunaken National Marine Park in Manado Bay costs $10 (IDR150,000), while diving starts at $40, subject to add-ons. On the other hand, admission to the Borobudur Temple is $25 (IDR350,000). There are also free activities and attractions to explore awaiting travelers to Indonesia.
Two-week Travel Cost
Considering the cost of accommodation, food, transportation, and activities, a budget traveler can spend around $30 daily and $420 for two weeks. So it is by staying in hostels or budget hotels, dining at local restaurants and trying out street foods, renting a scooter, and mainly doing free activities.
A $70 daily budget can make travelers stay in a three-star hotel, dine at western and mid-range restaurants, rent a scooter, and do paid activities and attractions. Hence, $980 for two weeks is necessary for mid-range travelers in Indonesia.
Daily spending can be variable, as travelers can spend less today or pay more on some days. Also, note that the limits do not stop there. Luxury vacationers to choose among the private villas, rent a car to visit the attractions, hire a private guide, and go on fine dining.
Customs And Import Restrictions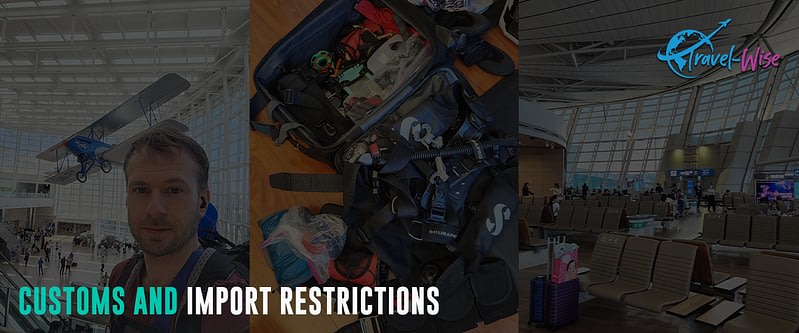 For hassle-free entry to Indonesia, visitors must observe the customs and import restrictions during their trip. Indonesia bans the entry of narcotics and drugs; pornographic materials; firearms, explosives, and ammunition. In addition, there are restrictions on specific wild flora, fauna, and live plants and animals. Those who are carrying prescription medicines must bring with them a copy of the doctor's prescription. The maximum cash allowed for a traveler should not exceed Rp100,000,000 or its equivalent.
On the other hand, each arriving passenger over the age of 18 years old may import the maximum amounts as follows:
200 cigarettes / 25 cigars or 100 grams of tobacco
1 liter of liquor or alcohol
Personal goods up to a value of $250 per passenger or $1,000 per family
Visit the Ministry of Finance Directorate General of Customs and Excise for the complete list of Indonesia's customs and import regulations.
Climate Considerations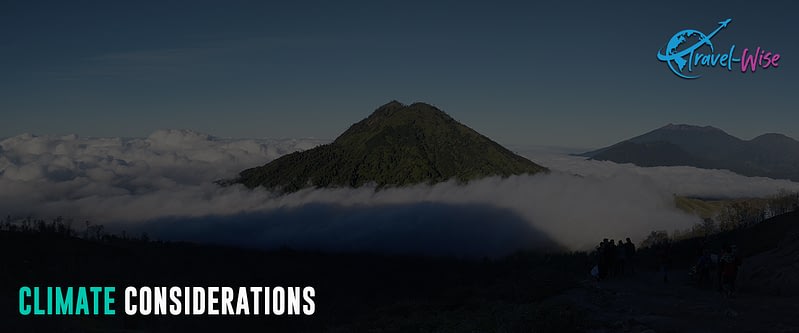 Indonesia is almost entirely a tropical country. And like any other tropical country, Indonesia has both rainy and dry seasons, which are relative. The dry season is from April to October, while the wet season is from November to March. However, global warming makes the seasons less predictable, including regional variation and topography. The primary variable of Indonesia's climate is rainfall.
Cooler temperatures prevail at higher elevations, with some high-altitude interior mountain regions experiencing night frosts. Generally, the coastal plains' temperature averages 28 °C, the inland and mountain areas average 26 °C, and the higher mountain regions 23 °C.
Primary Transportation Options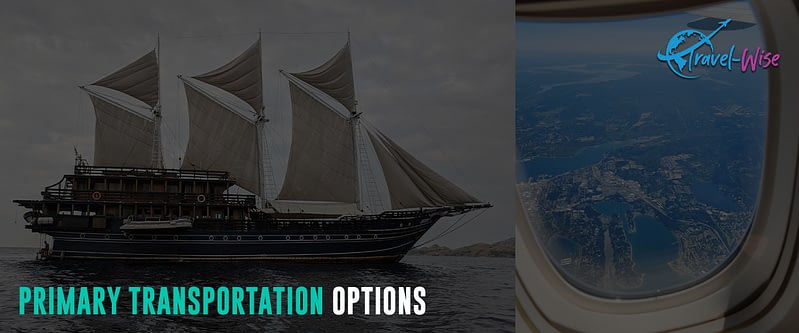 There are various ways to enter and explore the largest archipelagic country in the world, Indonesia. It includes air, water, rail, and land transport.
Air
The principal gateways for international passenger entry to Indonesia are Soekarno-Hatta International Airport in Tangerang (just on the outskirt of Jakarta) and Bali's Ngurah Rai International Airport. In addition, four other busy international airports in Surabaya, Makassar, Medan, and Majalengka (Bandung) cater to numerous international flights. As a whole, Indonesia has over 230 airports that serve air passenger traffic, both domestic and international.
Garuda Indonesia is the flag carrier of the country. It has more than 600 daily flights, including direct flights to major cities in Asia, Australia, Saudi Arabia, Amsterdam, and London. Several locally-based airlines also serve the country, and the stiff competition leads to affordable airfare.
Water
Ferries
Regular ferry schedules connect Indonesia with the neighboring countries of Singapore, Malaysia, and the Philippines. Batam and Bintan Islands (Riau Island Province) proximity to Singapore and Malaysia makes these busy ports the third and fourth main entrance of passenger arrivals in Indonesia.
A ferry service between Sabah in Malaysia and East Kalimantan, with onward boat connections to Jakarta and other Indonesian islands. Daily and frequent ferries depart from various ports of Malaysia, including Johor Bahru and Port Klang (Selangor), to Batam, Bintan, Tanjung Balai, Dumai and Pekanbaru in Riau Province, and Tanjung Balai Asahan in North Sumatra. In addition, frequent ferries connect Singapore to various ports in Batam, Tanjung Pinang, and Bandar Bintan Telani Lagoi (Bintan Resorts) in Bintan. In contrast, daily ferries link Singapore with Tanjung Balai on Karimun Island. Meanwhile, Roll On Roll Off (RoRo) ships connect Davao and General Santos in the Philippines with Bitung in North Sulawesi province.
Being an island country, some places are best reached by boat or ferry. For traveling between Indonesian islands, ferry tickets from East Java to West Bali start at around $1 (IDR15,000). The rates go up from there for other routes. Speedboats are also available for a one-way fee of $12 (IDR175,000) from Bali to the Gili Islands.
Cruise Ships and Yachts
Indonesia has five ports of call catering to 24 schedules of regular cruise ships from Singapore to Java and Bali and several irregular cruise ships visiting Bali and Nusa Tenggara. Travelers joining cruises to Indonesia can disembark and explore the country for a limited period.
Yachts are also welcome to enter Indonesian waters. The Indonesian government has implemented several policies that simplify procedures. They have eased customs, immigration, quarantine, port authorities procedures, and sailing permit application to one day (from one month). Furthermore, the Clearance and Approval for Indonesian Territory (CAIT) policy has been abolished, which means that yacht operators can now register online via http://yachters-indonesia.id.
Train
The railways in Indonesia are primarily in Java. It is mainly used for passenger and cargo transport, such as local commuter rail services in Jakarta, Medan, Yogyakarta, Bandung, Surabaya, and Solo. The commuter rail services schedule also complements the inter-city rail network in several cities.
An economy class ticket from Jakarta to Surabaya takes 10.5 hours and costs about $13 (IDR190,000), while an 8-hour executive class trip can cost $40 (IDR620,000). Surabaya to Probolinggo (for Mount Bromo) takes 2-3 hours at around $2 (IDR27,000) for economy or $16 (IDR240,000) for executive class. Surabaya to Banyuwangi (for Bali) on economy starts at $4 (IDR56,000), while $16 (IDR235,000) for executive class, which will take 6-7 hours.
Land
Indonesia shares land borders with Timor Leste in Timor Island, Malaysia in Borneo, and Papua New Guinea in Papua. Hence, visitors can enter the country through its land border posts.
Bus
Regular buses operate between Kuching (Sarawak, eastern Malaysia) and Pontianak (West Kalimantan) and pass through the border post at Entikong. Thus, making land travel easier between the cities.
Buses are the primary way for tourists and locals to get around Indonesia. It is best to book long-distance journey tickets in advance, especially if travelers want an air-conditioned ride. Tickets are available from a travel agent or visit the bus terminal. Accommodations can also arrange transportation services for their visitors.
A one-way local bus ticket starts at $0.32 (IDR5,000). The rates go higher relative to distance, service provider, and service comfort.
Taxi
Taxis are an affordable and convenient way to get around Indonesia, except during rush hour in big cities like Jakarta and Bali. They are many taxis in significant towns, and visitors will have no trouble finding one. Try to grab a metered taxi and ensure the meter is on. Otherwise, agree on a price before you leave.
Bluebird Taxis services are the most dependable. Their fleets have meters, and drivers can usually communicate in English. In addition, the company has a mobile application for convenient taxi booking. The tariff of a regular taxi starts at $0.45 (IDR7,000), with a $0.32 (IDR5,000) increment for every kilometer.
Grab Car, the Southeast Asian version of Uber also operates in Indonesia. But Gojek, an Indonesian on-demand multi-service platform, and digital payment technology application are more popular.
Vehicle Rental
For more flexibility, visitors can rent a car or motorcycle in Indonesia. Rental agencies are widely available, including international companies as well as locals.
Scooter or e-bike rentals on a short-term basis are typical on islands like Bali. If visitors plan to rent longer, negotiate the best price. The longer the rental period, the lower the rate. But ensure it includes a helmet and that the compartment under the seat securely locks. Daily rates start at $5.
Otherwise, travelers can rent a car and driver for a day or longer. Renting a car and a driver in Indonesia does not cost more than renting a car alone. For example, a car rental without a driver starts at $14 daily, while $15 if one with a driver.
Other Local Transport
Bemo, (angkot, taksi, opelet, mikrolet, angkude, or pete-pete to other regions) is a van or mini-bus where benches replace seats. Most bemos operate along regular routes but can pick up and drop off travelers anytime.
Bajaj, a motorized rickshaw or tuk-tuk, is a popular means of transportation in Jakarta capable of carrying up to five passengers, subject to the size and amount of luggage. But today, their number has drastically decreased, and they now run on natural gas or electric power.
Ojeks are motorcycle cabs that transport passengers and are more prevalent in Bali. They are primarily around terminals, major attractions, and intersections. Because of its size, ojeks can easily pass through Jakarta traffic.
Traveling by becak, a three-wheeled bicycle with a passenger seat in front, is ideal for traveling on narrow streets. Becak is another symbol of Indonesia. Nowadays, there are motorized becaks, with styles varying from city to city.
Start Trip Planning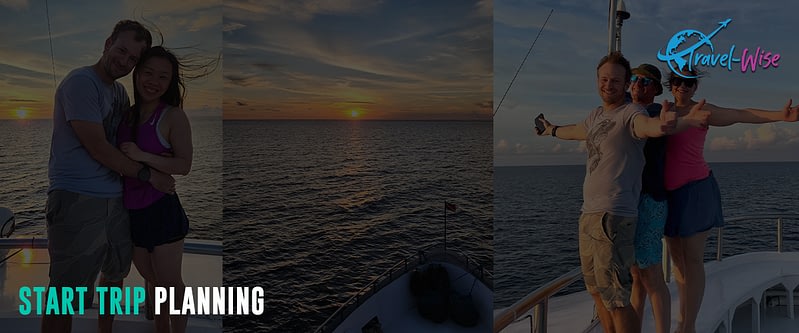 Travel-Wise is made from the ground up to help people travel more, break down the barriers that make it tough to get going, and start your journey as painlessly as possible. Bookmark our other Country Guides to help kick-start your research for future travels. We also offer templated itineraries from our staff and community that help serve as a building block for your trip plans. Alternatively, we also utilize AI to offer a way to generate itinerary ideas. This saves much time just getting you up and running with a template. From there, you can use the trip planner to create your customized itinerary, invite friends and family for collaboration, find others from Travel-Wise to join the trip, book and track important information, journal, and share your experiences at the end or along the way!