This travel wiki page of Ireland will help guide travelers with quick and relevant information to consider when planning and visiting the country. It is difficult to find all the relevant information on Irish culture, safety, travel restrictions, and things to do, so we summarize it all here. If anything is stale or outdated, please let us know! Let's dive in and explore more high-level information as an Ireland trip planner.
Last updated September 12th of 2023.
National Information & Culture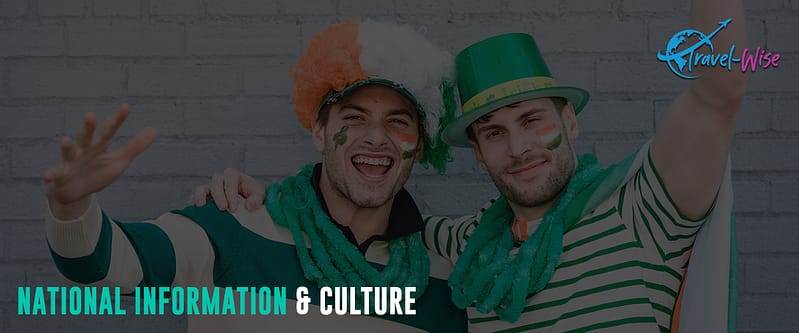 Ireland, also known as the Republic of Ireland (Poblacht na hÉireann), is a sovereign state in north-western Europe comprising 26 of the 32 counties of the island of Ireland. The Atlantic Ocean surrounds the country and shares its only land border with Northern Ireland, part of the United Kingdom. Dublin is the capital and largest city, while the official currency is Euro (€).
Ireland is a developed country with an advanced economy, having one of Europe's major financial hubs centered around Dublin. Moreover, Ireland ranks among the world's top 10 wealthiest countries in terms of GDP and GNI per capita. It is a member of the European Union (EU) and a founding member of the Organization for Economic Co-operation and Development (OECD).
Labeled as the Emerald Isle, Ireland is surrounded by lush landscapes and dotted with historical and archaeological sites, including ancient castles, monastic ruins, and megalithic tombs like Newgrange.
Many Irish people are laid back and have a relaxed attitude towards time. Don't be surprised if appointments start a bit late or if people are not in a rush.
Pubs and socialization are an integral part of Irish culture. Buying rounds of drinks for your group is customary, and there's often live music and storytelling. If someone invites you for some "craic," they ask you to have a good time.
Also, part of the Irish culture is a deep sense of identity. Hence, be sensitive to the local political context. Do not call Ireland part of the British Isles, as it may offend locals and be upset about the previous colonization.
Visit the Official Tourism Website of Ireland for more information and tips when planning your trip.
Special Travel Considerations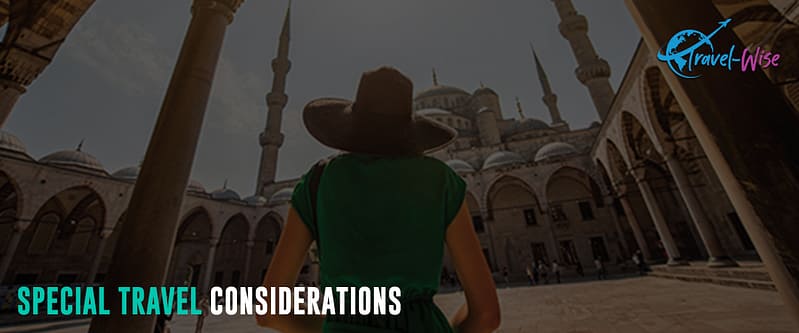 Each country and destination has rules and regulations that every traveler must consider. Hence, check the following considerations for hassle-free travel to Ireland.
Covid-19 Policy
Starting March 6, 2022, travelers to Ireland are not required to show proof of vaccination, evidence of recovery, or a negative PCR test result upon arrival. Additionally, there are no post-arrival testing or quarantine requirements for travelers to Ireland.
However, the Covid-19 protocol of Ireland may vary over time with the evolution of the pandemic. Therefore, check Ireland's latest Covid-19 entry requirements when planning your trip.
Travel Insurance
Travel and health insurance are not mandatory to obtain an Irish visa but are highly recommended for visitors to Ireland. Preferably, it must cover emergency medical treatment, including Covid-19, repatriation, and evacuation. Travel insurance can protect you against the inconvenience of injury, medical emergencies, theft, and flight cancellations. In addition, it is a comprehensive protection in case anything goes wrong with your trip.
Visa Information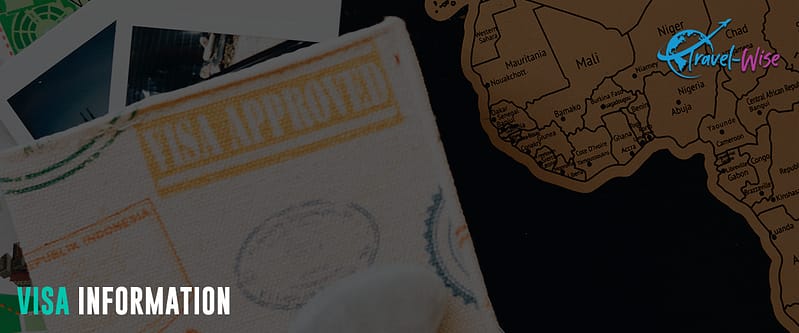 Your nationality depends on whether you need a visa and passport to enter Ireland. For example, UK citizens only need valid identification to enter the Republic of Ireland. EU nationals are also visa-free to enter Ireland and can use a national identity card when arriving and exiting through an airport or a ferry port. Check the list of countries whose citizens do NOT need a visa to visit Ireland.
Passport holders from countries not on the list must contact the nearest Irish Embassy/Consulate for the visa application process and requirements. Travelers can also check the complete list of visa application forms and requirements from the Irish Immigration Service website.
In addition, a valid passport for the whole trip duration is necessary for visa-required countries to enter the Republic of Ireland. But as a standard rule, having at least a 6-month valid passport is best when traveling to a foreign country.
Popular Attractions
Ireland is home to the world's greenest and most breathtaking landscapes. The country is also dotted with castles, monastic ruins, and archeological sites. Hence, Ireland is dubbed the Emerald Isles.
Dublin
Dublin, Ireland's capital city, is a charming blend of history and vibrancy, with attractions like Trinity College, Dublin Castle, and lively districts such as Temple Bar and Grafton Street. It is often voted Europe's friendliest city with its warm and welcoming atmosphere.
Wandering through Dublin's streets, travelers will sense a rich history spanning over a millennium, where the Viking era harmonizes with modern boutiques, lively cobblestone lanes, and 18th-century parks that host festivals, film screenings, and food markets. Additionally, the streets are alive with art, historic buildings, trendy cafes, and classic Irish pubs.
Dublin isn't just a cultural hub; it's also a city by the sea. Travelers can venture beyond its borders and discover the UNESCO Biosphere of Dublin Bay, including the Poolbeg Lighthouse. Visitors can also hike in the Dublin mountains, try rock climbing at Dalkey Quarry, stroll the cliff path in Howth, or join the adventurous locals who brave sea swimming year-round.
A UNESCO City of Literature, a visit to the Museum of Literature Ireland, and the vaulted Long Room of Trinity College complete the Dublin adventure.
Dublin Castle
With its rich historical legacy, Dublin Castle stands prominently at the highest point in central Dublin. Initially constructed in the 13th century on the site of a Viking settlement, it served as the center of English and British administration in Ireland for centuries. It housed the Viceroy of Ireland and functioned as an administrative and ceremonial hub. The castle's medieval origins, commissioned by King John of England, saw it as a formidable fortress with corner towers and curtain walls surrounding a central enclosure.
Though a significant fire in 1684 caused substantial damage, parts of the medieval and Viking structures still exist. Following Ireland's independence in 1922, it became a government complex and is now a prominent tourist attraction. Dublin Castle offers a glimpse into Ireland's complex history and serves as a testament to its journey from colonial rule to independence.
Trinity College and the Long Room
Situated on a 40-acre site at the heart of Dublin, Trinity College is an excellent starting point for a city tour. It is Ireland's oldest university, containing a treasure trove of history and culture, founded in 1592 by Queen Elizabeth I.
Trinity College retains its ancient charm with cobbled squares, gardens, and parks. It's globally renowned for its collection of invaluable artifacts, notably the 9th-century illuminated manuscript, the Book of Kells, alongside the Books of Durrow and Armagh and an ancient Irish harp.
These priceless items are showcased in the Treasury and the breathtaking 18th-century vaulted Long Room, which houses over 200,000 of Trinity's oldest books and regularly hosts literary exhibitions.
National Museum of Ireland
The National Museum of Ireland is an expansive institution comprising multiple museums in different parts of the country, each with its unique focus and highlights. Visitors can delve into Irish Antiquities, folklife, Celtic art, and more, depending on their interests and location.
First, the National Museum of Ireland: Archaeology is located near the National Library on Kildare St. in Dublin. It boasts exceptional permanent exhibitions like "Ireland's Gold," "Prehistoric Ireland," and a remarkable Viking Collection. The museum's Treasury collection is home to the magnificent Ardagh Chalice. In particular, it houses over two million historic artifacts, including metalwork from the Celtic Iron Age. It's a must-visit in Dublin, often considered one of the top free attractions. Guided tours and educational events are also available.
Secondly, the National Museum of Ireland – Decorative Arts and History, originally an army barracks, opened in 1997. Visitors can explore collections of silver, ceramics, jewelry, furniture, and Irish haute fashion and delve into Irish military history. Permanent exhibitions cover various topics, including modernist designer Eileen Gray, Irish Silver spanning centuries, Asian Art, Irish Country Furniture, and a display of historic military artifacts and uniforms.
Thirdly, the Natural History Museum, established in 1856, remains much as it was, earning the nickname "museum of a museum" or the "Dead Zoo." This unique museum houses extensive collections of specimens from various species, fossils, and dioramas, all open for exploration free of charge.
Lastly, the National Museum of Ireland—Country Life in Turlough Park, Castlebar, seamlessly blends Victorian and contemporary architecture. Visitors discover diverse exhibits covering Irish hearth and home, community life, and various occupations on land and water.
These museums are not only a treasure trove of knowledge but also offer a fascinating and cost-free way to spend time in Dublin, making them excellent tourist attractions.
Guinness Storehouse
The iconic Guinness Storehouse in the heart of Dublin is a modern visitor attraction showcasing Guinness beer's rich history. The brewery has been producing Guinness since 1769, and it's famous for Arthur Guinness's 9,000-year lease.
Visitors to the Guinness Brewery, often called the Guinness Storehouse, can explore the brewing process, learn about the beer's history, and indulge in tasting sessions. A highlight is enjoying a complimentary pint of Guinness at the Gravity Bar, which offers panoramic views of Dublin.
As the most famous brewery in Dublin and all of Ireland, the Guinness Brewery is a top tourist attraction and part of Irish cultural heritage. It is a must-visit for beer lovers, brewing, and Irish history and culture.
The Cliffs of Moher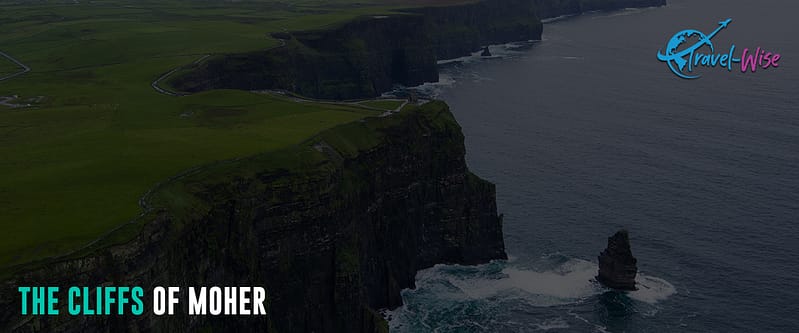 Located in County Clare, about an hour and a half from Galway, the Cliffs of Moher are a must-visit destination in Ireland. Stretching for eight kilometers along the Atlantic and rising 214 meters high, they offer a majestic experience of nature's power. A renowned Irish attraction, these cliffs extend southward towards Cork and Kerry, while keen observers might spot the Aran Islands to the north from O'Brien's Tower.
To fully embrace the enchantment of these cliffs, nothing beats a brisk trek along the clifftop, where the edges mimic the rolling waves below. The Doolin Cliff Walk leads to the informative Visitor Center, nestled like a hobbit house into the hillside.
The cliffs also boast remarkable wildlife, making them a paradise for bird watchers. Puffins, razorbills, kittiwakes, and even peregrine falcons grace the skies. The coastal landscape surrounding the cliffs is a natural wonder adorned with sea campion, sea pinks, and wildflowers. Watch for basking sharks and friendly dolphins in the water on calm days.
A popular day trip from Dublin, the cliffs draw nearly a million visitors annually.
Killarney National Park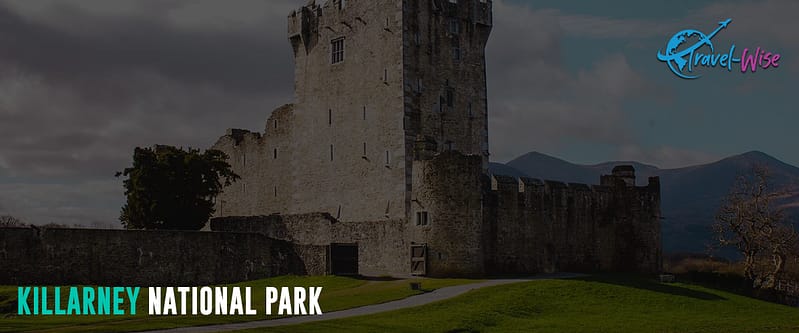 Killarney National Park, Ireland's oldest national park, is a must-visit destination filled with natural wonders and historical sites. Home to the country's only red deer population and rare species, it's a biosphere reserve and an ideal spot for a family visit to Ireland.
Muckross Estate is the park's focal point, encompassing 25,500 acres of lakes, mountains, oakwoods, and yew woods. The park also includes Ireland's highest mountain range, MacGillycuddy's Reeks. A haven of scenic beauty, the park has various routes through lakes and mountains. Don't miss the 11-kilometer drive through the scenic Gap of Dunloe in the western part of the park, a narrow mountain pass sculpted by glaciers.
Three majestic lakes are attracting visitors inside the park: Lough Leane, Muckross Lake, and Upper Lake. Moreover, Muckross House, Gardens, and Traditional Farms within the park offer a glimpse into 19th-century grandeur and rural life, a treat to explore. Jaunting Cars are available for stylish tours, and the old farmsteads provide insight into traditional living. Ross Castle adds historical charm to the park with winding lanes and cycling paths that offer visitors delightful ways to explore.
Killarney National Parks & Lakes are near Kenmare on the Wild Atlantic Way.
The Ring of Kerry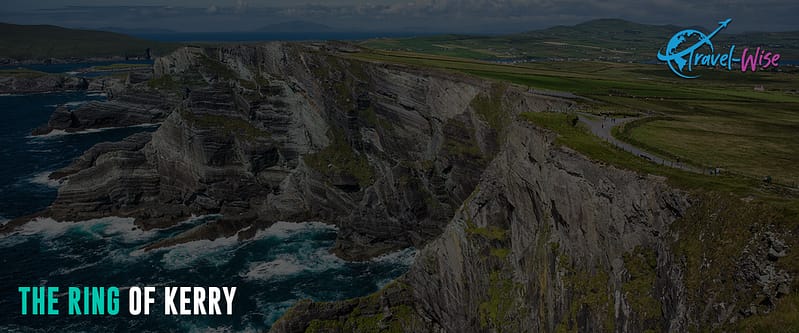 The Ring of Kerry is Ireland's longest circular route, offering breathtaking scenery and a must-visit for first-time travelers. Starting from Kenmare or Killarney, the Ring of Kerry's 111-mile route promises a spectacular journey featuring Atlantic Ocean vistas, offshore islands, beaches, lakes, mountains, and castle ruins to explore. Outdoor enthusiasts can indulge in golf, water sports, cycling, hiking, horse-riding, freshwater fishing, and deep-sea angling amidst this natural wonderland. History buffs will appreciate Ogham Stones, Iron Age forts, and ancient monasteries set against stunning landscapes.
While a car or bus can traverse the route in a day, there are ample places to stay overnight, making it suitable for a two or more-day trip. However, if you're new to driving on Irish country roads, the Ring of Kerry can be challenging due to narrow streets and frequent tour buses.
For a less crowded alternative, explore the Skellig Ring, an extension of the Ring of Kerry, offering similar charm minus the tour buses. You can also venture into the heartland with winding roads cutting through the hills.
Glendalough Monastic Site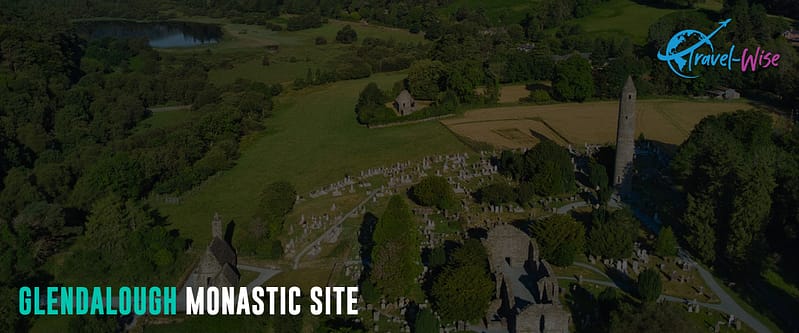 Glendalough is a site of immense historical significance in the Wicklow Mountains National Park. Founded by St. Kevin in the 6th century, it evolved into what is now called the "Monastic City." While most surviving structures date from the 10th to 12th centuries, Glendalough endured Viking attacks but remained a prominent ecclesiastical and educational institution until its destruction by the Normans in 1214 AD. This marked the union of the dioceses of Glendalough and Dublin.
Aside from its historical importance, the site's ancient woodlands, lakes, and abundant wildlife also draw people. Additionally, the place is ideal for leisure strolls and picnics with its marked nature trails.
Visitors to Glendalough will find an interactive center near the monastic city, complete with audiovisual displays and a site model. Knowledgeable staff are on hand to answer questions, enhancing the experience.
Blarney Castle and Blarney Stone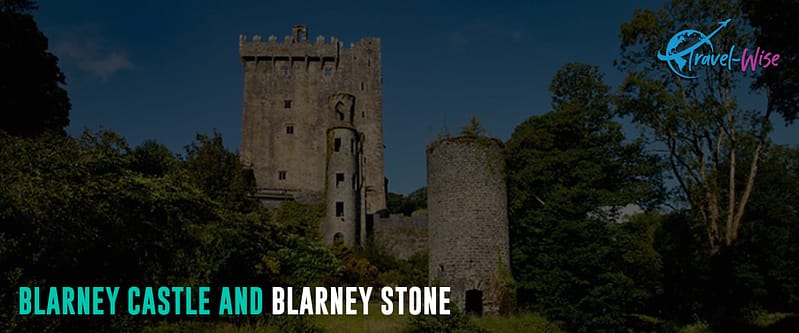 Blarney Castle, located near Cork, is one of Ireland's most renowned attractions, attracting visitors worldwide. While the famous Blarney Stone, perched high on the castle's tower, is said to bestow the "gift of the gab" to those who kiss it, the castle offers much more to explore.
Constructed over 600 years ago by Irish chieftain Cormac McCarthy, Blarney Castle is a historical treasure. It features a warren of stone passageways, dungeons, and sprawling gardens to explore. The castle has a blend of tradition, history, and natural beauty.
The nearby Blarney Woollen Mills is famous for its knitwear, including sweaters, and offers a selection of Irish gifts, including crystal and porcelain.
Rock of Cashel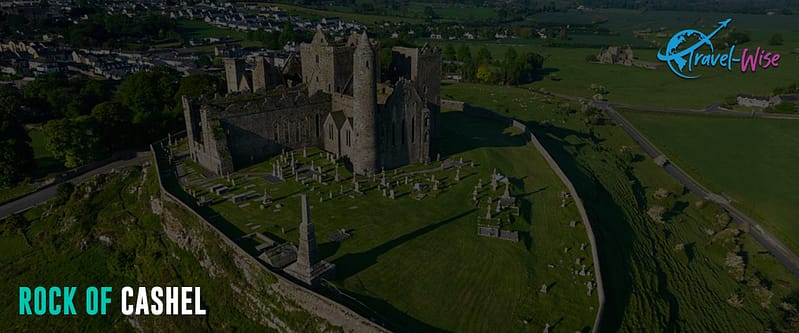 The Rock of Cashel, Ireland's most visited heritage site, is a stunning medieval complex perched on a limestone rock formation in the Golden Vale. It was associated with early Irish Christianity and the Throne of the Kings of Munster. The Eóghanachta clan ruled it until the 10th century when it was given to the Church. Over time, humble beginnings led to the creation of this complex of medieval marvels.
Prominent features are the 13th-century Gothic cathedral, the 15th-century castle, and the Hall of the Vicars Choral. Other highlights are the High Cross, the Romanesque Chapel, and the round tower that dates back to 1100.
Once the seat of the High Kings of Munster, it's now a top tourist attraction with an audio-visual show and exhibitions. Tourist activities in the area include exploring the historic town of Cashel, visiting St. John's Cathedral, and discovering the Cashel Folk Village. Visitors can also enjoy cycling through scenic country roads or fishing along the serene banks of the River Suir.
The Burren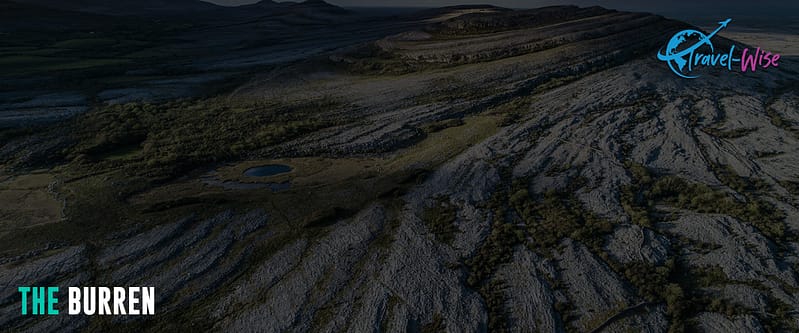 The Burren in County Clare is a unique landscape known for its vast, moon-like terrain. It features grey rock formations that stretch to the wild Atlantic Ocean, creating a rocky pavement with caves, fossils, and a diverse array of flowers, including native and peculiar species.
The Burren's limestone landscape, formed millions of years ago under ancient seas, has shaped a resilient form of farming known as 'Winterage,' which dates back over 6,000 years. This tradition of allowing cattle to graze the hills in winter has nurtured the land and allowed diverse plant life to thrive in the spring.
Despite its rocky appearance, the Burren possesses a poetic beauty that has inspired artists, writers, and poets for generations. The butter-colored Fanore Beach, terraces of cascading rock, and the ancient Poulnabrone Dolmen are just some of the enchanting sights.
Moreover, the Burren is home to Ireland's smallest national park, celebrated for its karst landscape and abundant history. Archaeologists have discovered megalithic tombs and medieval structures, making it a unique destination for history enthusiasts.
Newgrange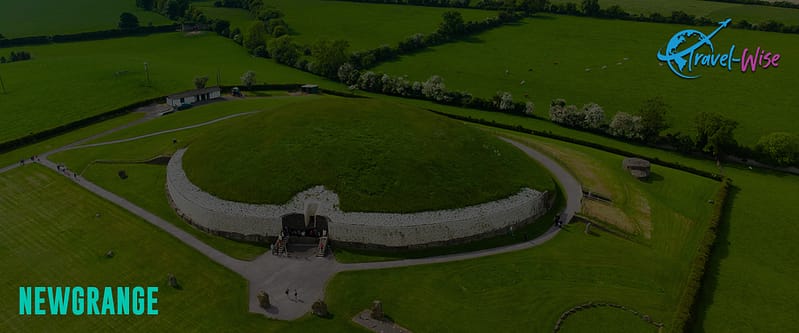 Newgrange, an ancient monument in County Meath, Ireland, is a stunning Stone Age passage tomb. Built around 5200 BC, it predates Stonehenge and the Egyptian pyramids. This remarkable structure covers over one acre and features interior stones adorned with Neolithic rock art, including spirals and curves.
A particularly captivating feature of Newgrange is its alignment with the Winter Solstice. The sunrise beautifully illuminated the passageway and inner chamber during this event, thanks to a roof box at the entrance. This spectacle has been celebrated for over 5,000 years.
Visitors can experience this extraordinary site by gathering on the hill during the Winter Solstice, but a limited number are selected through a lottery to enter the inner chamber.
Newgrange is part of the Brú na Bóinne complex, which includes the neighboring Knowth and Dowth mounds, collectively designated as a UNESCO World Heritage Site. It is an iconic jewel in Ireland's Ancient East.
Primary Spoken Language(s)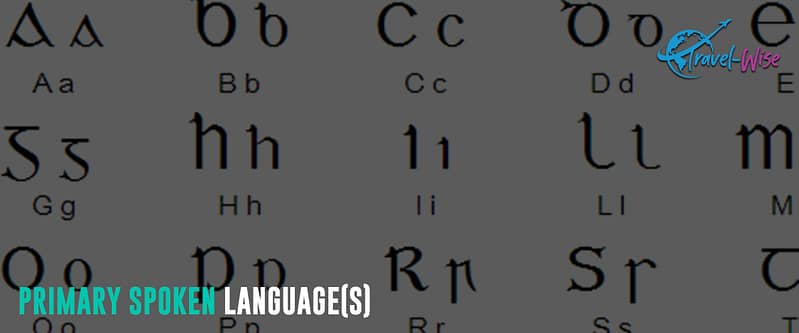 Irish is Ireland's national and first official language per the Irish Constitution. Likewise, English is the country's second official language and is predominantly used and spoken in Ireland.
Safety Concerns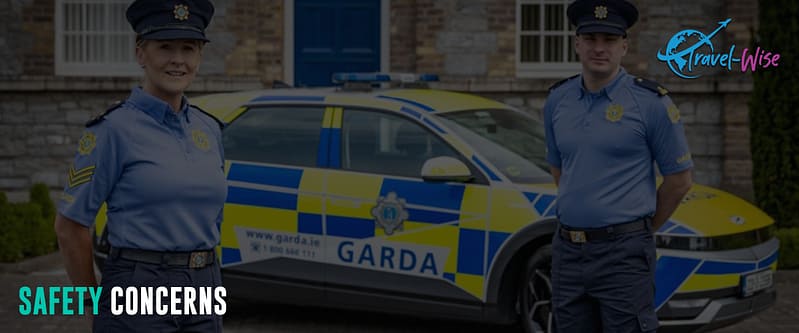 Ireland ranks the 3rd safest country on the 2022 Global Peace Index. Also, Ireland has a Level 1 Travel Advisory from the US Department of State. Hence, travelers in Ireland can take standard precautions when exploring the country.
The country has low crime rates and is generally safe for tourists. But like other crowded areas in big cities like Dublin, petty thefts and street crimes like pickpocketing, bag snatching, and car break-ins can happen. Hence, keep an eye on your belongings. Do not leave valuables in your rented cars.
For emergencies, dial the 112 hotline number. Alternatively, visitors can dial 999 for the police, which may refer victims to the Irish Tourist Assistance Service (ITAS).
Budget Considerations
While travelers may find Ireland more expensive than other European countries, there are still ways to explore its beauty without breaking the bank.
Accommodation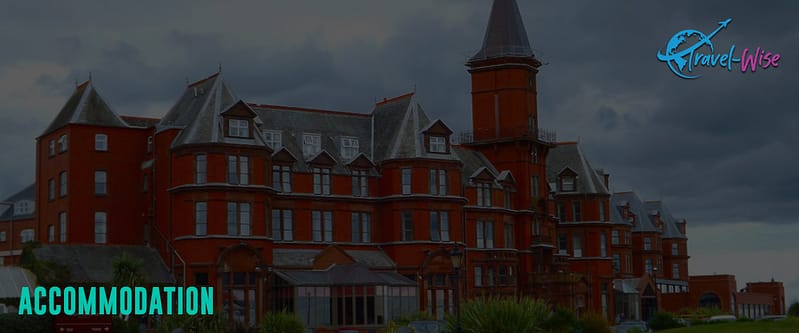 The accommodation cost in Ireland varies mainly according to location. For example, travelers can find a hostel dorm in Cork for as low as $28, while the cheapest in Dublin is $40. For privacy, travelers can get a private hostel room at $70. Free wifi is standard, and most have cooking facilities. Another option for budget travelers in Ireland is staying in an Airbnb private room for $50 and budget hotels between $100 and $130. Depending on location and amenities, visitors can enjoy the comfort of a three-star hotel for $150 or splash out on five-star hotels for $280.
Food
A typical Irish meal is meat, potatoes, and seafood (cod, salmon, and oyster). Other staple dishes are shepherd's pie, black pudding, bacon and cabbage, fish and chips, and meat stews.
A traditional Irish meal in Ireland costs around $15, while three-course meals are at least $30. Travelers can also have fast food meals for $10. Moreover, visitors can have fish and chips for $7, pizza at $9, and Asian meals between $9 and $12.
Expect to spend an average of $60 weekly on groceries for travelers who want to cook their food. The budget can include basic staples like potatoes or pasta, some meat, and fresh produce.
Attractions and Transportation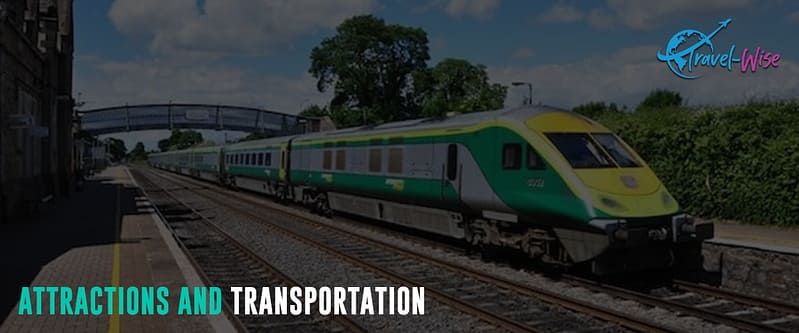 Most national parks and attractions in Ireland are free and open to the public, while admission to the famous Cliffs of Moher is around $11 (€10). For significant savings, travelers who plan to visit and explore more castles and heritage sites can get the Heritage Card for $44 (€40). The card allows entry to over a hundred heritage sites in Ireland.
Depending on the location, a 90-minute bus ride is $1.5 (€1.35) in Cork, Galway, Limerick, and Waterford when using the Transport for Ireland (TFI) Leap Card. Meanwhile, the same ride in Dublin costs $2.20 (€2) using the TFI Leap Card.
Average Two-Week Cost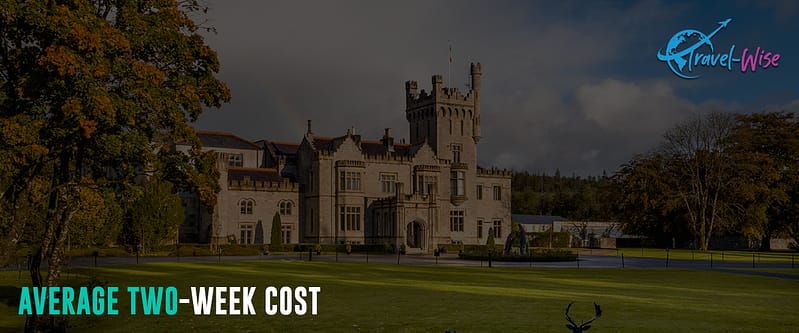 Travelers on a budget in Ireland can live with a $70 daily or $1400 for two weeks. It includes staying in hostel dorms, cooking food and occasionally dining in casual restaurants, taking public transportation, visiting free attractions, and doing primarily free activities.
On the other hand, mid-range travelers spend at least $170 daily or $2380 for two weeks. The budget covers staying in three-star hotels, taking subways and occasional taxis, dining in casual restaurants, and doing a few paid activities.
Lastly, travelers can enjoy luxury in Ireland from $400 daily or $5600 for two weeks. It includes staying in a four or five-star hotel, splashing out on meals, and renting a car for transfers. On this budget, visitors can also avail themselves of all the paid tours and activities they want. So, for them, the sky is the limit for travel.
Customs and Import Restrictions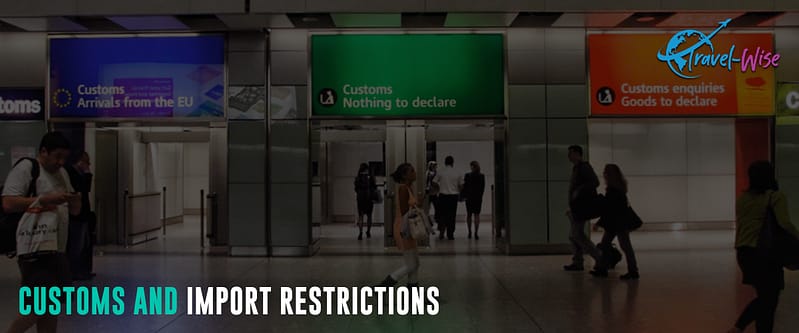 Irish Customs operates blue, green, and red channels at most ports and airports. Travelers from the UK and EU without goods to declare can use the blue lane. Meanwhile, visitors outside the UK and EU with nothing to report can pass through the green lane. All guests with something to declare must go through the red point.
Duty-Free Limits
EU citizens carrying goods for personal use purchased within the EU are tax-free. On the other hand, non-EU visitors to Ireland are entitled to a tax-free allowance worth €430 (around $468) for those over 15 years old and €215 ($234) for those below 15. It can include clothing, souvenirs, gifts, and perfumes. In addition, travelers have also duty-free allowances for alcohol and tobacco products not exceeding the following:
200 cigarettes, 100 cigarillos, 50 cigars, or 250g smoking tobacco.
One liter of spirits (whiskey, gin, vodka, and so on) or 2 liters of other alcoholic drinks with no more than 22% alcohol (port, sherry, sparkling wine, and some liqueurs).
4 liters of wine (still)
16 liters of beer.
Restrictions and Prohibitions
Import and export of some goods are prohibited or restricted in Ireland. The following are the main categories of affected goods:
Domestic cats or dogs
illegal or dangerous drugs
indecent or obscene goods
certain foodstuffs, mainly meat, milk, fish, or products thereof
products of endangered species
protected items of international heritage
medicines
firearms, weapons, fireworks, or explosives
live or dead animals, fish, birds, or plants.
Travelers carrying €10,000 and over or its equivalent to other currency must declare it to Irish Customs upon arrival. Otherwise, penalties will be imposed for misdeclarations.
Check the complete list of Irish Customs prohibitions and restrictions when planning a trip to Ireland. The list also contains details of licenses, permits, and authorizations necessary to import or export these goods. Moreover, the Customs prohibitions and restrictions provide guidelines on importing and exporting such products.
Climate Considerations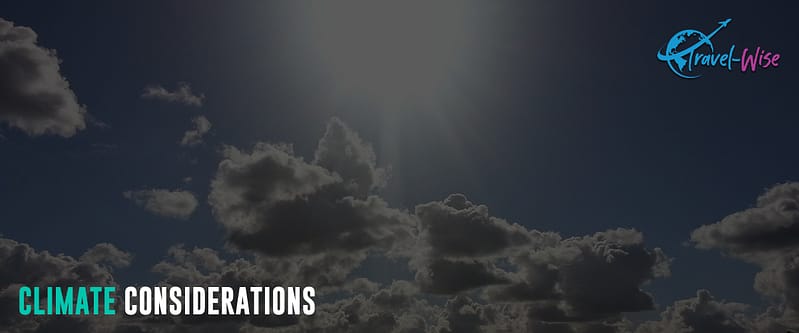 Generally, Ireland has a mild, temperate climate with cool summers and mild winters. This is mainly because of the dominant influence of the Atlantic Ocean and the warming of the Gulf Stream. The maritime influence makes winters cool and windy, while summers are mostly mild and less windy. The wind in Ireland is frequent, although it is generally more substantial between late autumn and early spring.
Ireland has four seasons: spring, summer, autumn, and winter.
Spring from March to May brings less rain and temperatures between 6 °C and 11 °C. While April is generally the driest month, the southern parts of Ireland have the driest months in June.
Summer temperatures vary from 17 °C to 20 °C from June to August. These months usually have the least rainfall of the year.
From September to November, Ireland has cloudy and rainy days in autumn. The average temperatures during these months are between 7 °C and 13 °C.
Winter from December to February has temperatures between 4 °C and 7 °C. During this season, rainfall is frequent, with December and January as the wettest months.
Visit the Irish Meteorological Service website for the weather forecast, alerts, and warnings when planning a trip to Ireland.
Primary Transportation Options
Ireland has many ways to travel, either by air or public transport. To piece together all options, the country's National Journey Planner offers information and comparison for traveling by bus, rail, tram, ferry, and taxi. It also includes information on some journeys where travelers may need to walk.
Air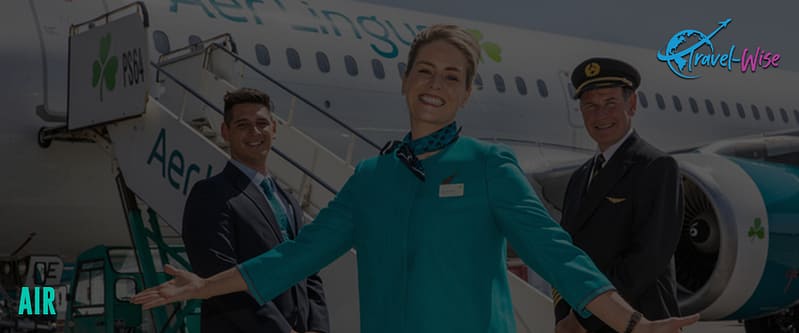 Ireland has five international airports, with Dublin Airport as the primary aviation hub. It connects the country to over a hundred destinations worldwide. In addition, Ireland is connected by air with its numerous domestic airports and airfields strategically situated nationwide.
Aer Lingus, the country's flag carrier, and many other international airlines link the country to over a hundred worldwide destinations. Other local airlines operating domestic flights are Ryanair, CityJet, Emerald Airlines, Stobart Air, and Aer Arann Islands.
Ferry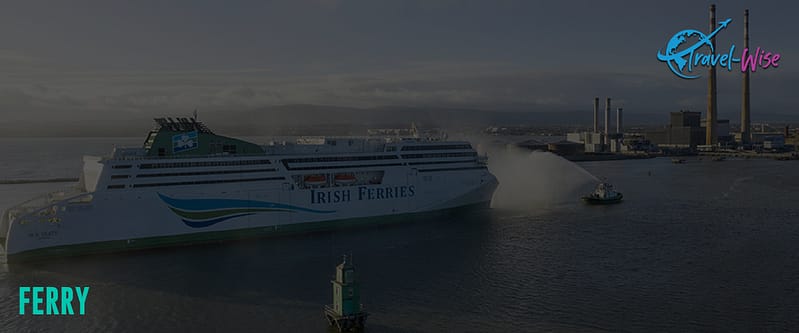 Ireland's islands are well-connected by various ferry companies, although weather conditions can impact crossings. Staying updated with local weather reports from Met Éireann (Republic of Ireland) and the Met Office (Northern Ireland) is advisable. Some ferry routes may operate seasonally, primarily during the peak season from June to August. Travel times from the mainland to the islands are usually under an hour, often much less, but checking sailing schedules in advance is crucial.
Most ferries offer disabled access, but some piers or harbors may present challenges for individuals with limited mobility or wheelchairs. For specific cases like the Blasket Island ferry, transferring from the leading boat to a dinghy may be necessary for island access. In such situations, contacting the ferry company is advisable. Some carriers also offer pleasure tours around the islands, allowing passengers to observe dolphins and seals up close.
Popular Ireland ferry journeys are Tarbert-Killimer, Greenore-Greencastle, Greencastle-Magilligan Point, Doolin-Aran Islands, Portaferry-Strangford, Trory Jetty-Devenish Island, Reenard Point-Knightstown, and Ballycastle-Rathlin Island.
Train
Ireland boasts two distinct rail networks: Irish Rail in the Republic of Ireland and Translink in Northern Ireland, with Dublin and Belfast serving as the central rail hubs for the island. The efficient Enterprise train connecting Dublin (Connolly) and Belfast (Lanyon Place) is the swiftest option for traveling between these cities.
Dublin's DART (Dublin Area Rapid Transit) train conveniently links locations from Howth and Malahide in the north to Greystones in County Wicklow, passing coastal towns en route. Within Dublin, the Luas tram system also offers a quick way to explore the city and its suburbs, like Ranelagh and Phibsborough.
Online guides are available for both Irish Rail and Translink. Remember that rail services may operate less frequently on Sundays and public holidays, so consulting timetables before your journey is advisable.
Moreover, Ireland offers breathtaking rail journeys, including a scenic route from Dublin to Rosslare Europort along the southeast coast, traversing Ireland's Ancient East. Additionally, the 45-minute trip between Derry~Londonderry and Coleraine, part of the Causeway Coastal Route, has been lauded by renowned travel documentarian Michael Palin as "one of the most beautiful in the world."
Bus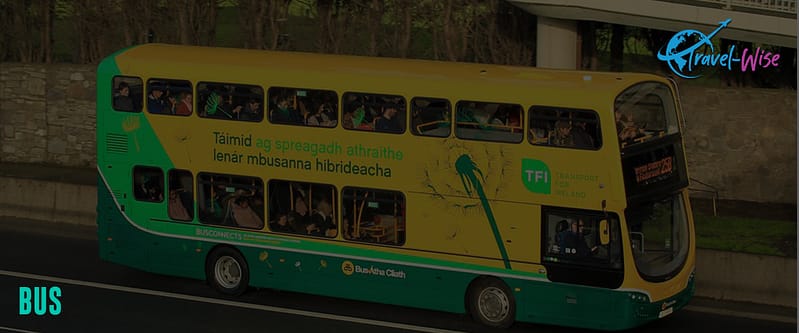 Bus services are readily available in the Republic of Ireland (Bus Éireann) and Northern Ireland (Translink). Numerous private coach tour operators offer various services, including scheduled tours, airport transfers, city-to-city trips, extended tours, themed excursions, corporate travel, social outings, golf trips, and private holidays.
Depending on the route and destinations, adult bus fares range between $1.20 and $2.15 for TFI Leap Single. For visitors to Dublin, the Leap Visitor Card provides a prepaid pass for convenient travel. It grants access to Dublin Bus, Airlink 747 buses, Luas, and DART services for 72 hours from the first use. The Leap Visitor Card can be purchased online and delivered to your home before your trip or acquired from various agents in Dublin upon arrival.
Taxi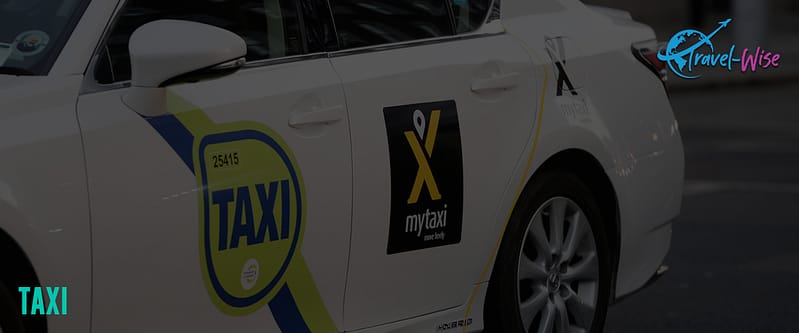 Traveling by taxi in Ireland offers comfort and convenience. Taxi fares vary according to the time of the day, travel time, and whether it falls on a regular day or a holiday. For example, the standard rate (8 am to 8 pm from Mondays to Saturdays, except public holidays) initially charges €4.20 (around $4.55) up to 500 meters distance. It increases to €4.80 (around $5.20) premium rate from 8 pm to 8 am from Monday to Saturday, all day on Sundays, and most public holidays. Passengers can use a convenient fare estimator website to estimate the cost of a taxi journey to various destinations in the Republic of Ireland,
Car Rental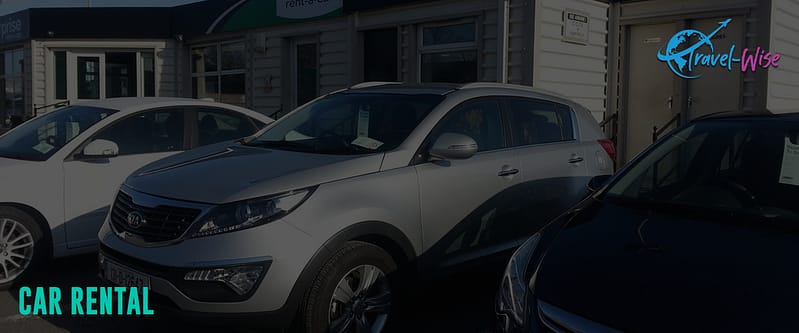 Car rental is the most flexible and best way to explore Ireland's destinations. It is also affordable, starting at around $30 per day for a multi-day rental. There are numerous car rental companies, and renters must be at least 21. Remember that Ireland drives on the left side of the road.
Start Trip Planning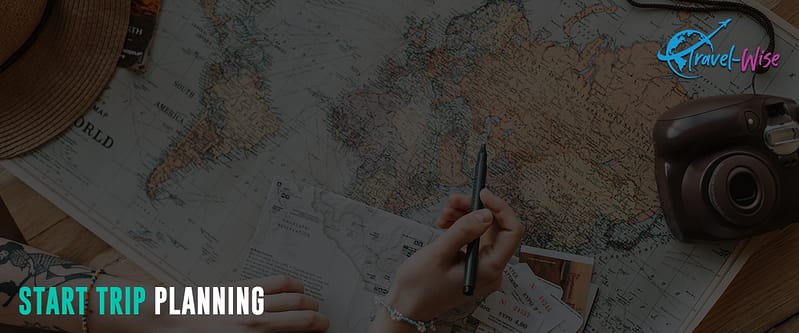 Travel-Wise is made from the ground up to help people travel more, break down the barriers that make it tough to get going, and start your journey as painlessly as possible. Bookmark our other Country Guides to help kick-start your research for future travels. We also offer templated itineraries from our staff and community that help serve as a building block for your trip plans. Alternatively, we also utilize AI to offer a way to generate itinerary ideas. This saves much time just getting you up and running with a template. From there, you can use the trip planner to create your customized itinerary, invite friends and family for collaboration, find others from Travel-Wise to join the trip, book and track important information, journal, and share your experiences at the end or along the way!