This travel wiki page of Laos will help guide travelers with quick and relevant information to consider when planning and visiting the country. It is difficult to find all the relevant information on Lao culture, safety, travel restrictions, and things to do, so we summarize it all here. If anything is stale or outdated, please let us know! Let's dive in and explore more high-level information as a Laos trip planner for all your Laos travel inquiries.
Last updated February 7th of 2023.
National Information & Culture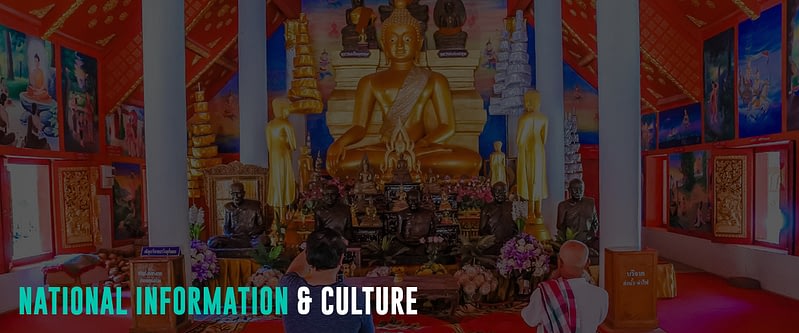 Laos, officially the Lao People's Democratic Republic, is a socialist nation in Southeast Asia landlocked by Vietnam, Cambodia, Thailand, Myanmar, and China. Crisscrossed by many rivers and streams, the Mekong River is Lao's main geographical feature, flowing almost 1,900 kilometers from north to south. The country's capital and largest city are Vientiane, and the official currency is Kip (₭ or ₭N).
The population in Laos is very conservative and religious, with Buddhism as the main religion. When visiting temples, visitors must not touch the statues and images of the Buddha. In addition, make sure to dress appropriately, covering the shoulders and knees. Also, women should not touch monks or novices. Take off your shoes when entering a Lao house. Taking pictures of government buildings or installations and military or police personnel should be avoided. Lastly, do not take photos of people, temples, and villages without asking for prior permission.
Visit the Official Tourism Website of Laos for more information and tips when planning your trip.
Special Travel Considerations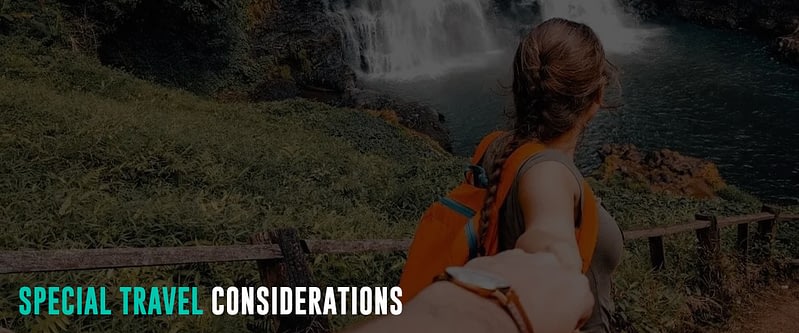 Covid-19 Policy
As of January 2023, travelers to Laos do not need to show evidence of a COVID-19 vaccination or negative COVID-19 test to enter the country. But the Covid-19 protocol in Laos may vary over time. Hence, please visit the Ministry of Foreign Affairs of Lao PDR website and review the latest Covid-19 policy in Laos when planning your trip.
Visa Information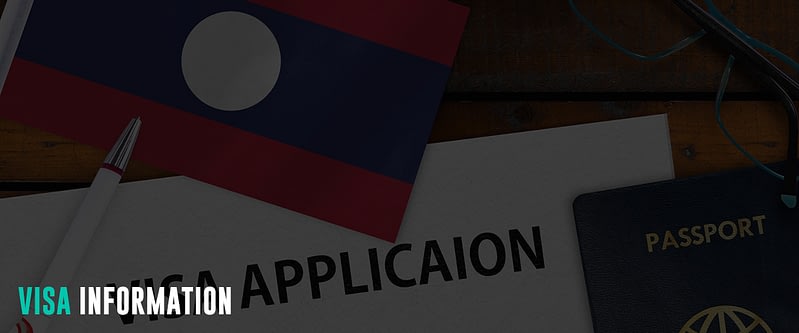 All travelers to Laos must have a passport valid for six months to enter the country. Additionally, visitors must obtain a visa from one of the Laotian Diplomatic Missions or online unless they come from one of the 15 visa-exempt countries or qualify for a visa on arrival. On the other hand, visitors from countries without visa exemption can apply for a Lao eVisa subject to a non-refundable visa fee of $50. Processing time takes three working days after completion of the application and payment.
Popular Attractions
Laos travel is famous for its fantastic scenery, ethnic villages, and unexplored lands. The main tourist highlights in Laos are the natural, cultural, and historical attractions and several UNESCO World Heritage sites.
Luang Prabang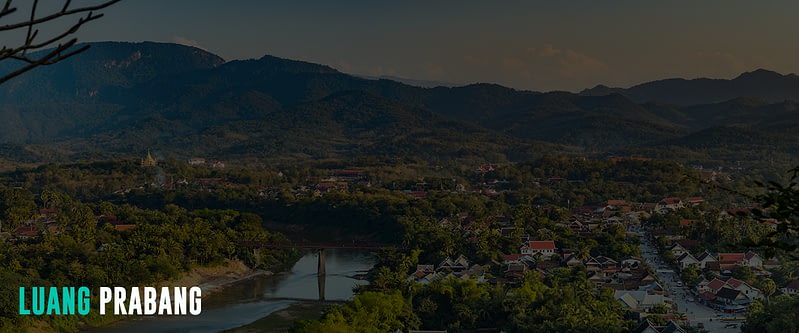 Luang Prabang, the ancient capital of Laos, is a UNESCO World Heritage Site. The town is teeming with cultural activities and is notable for its 33 temples and Buddhist monasteries. Exploring this ancient town provides a deeper understanding of Laotian culture.
Wat Xieng Thong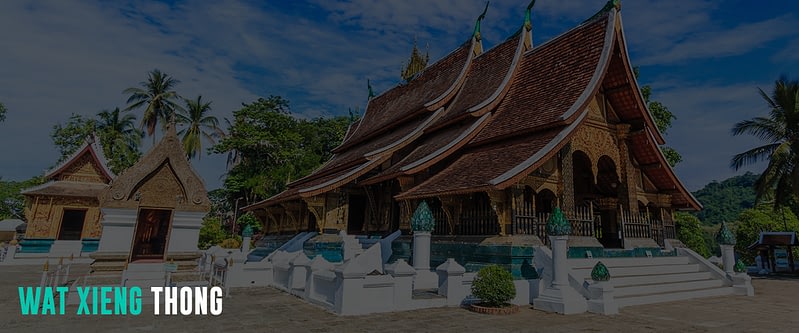 Wat Xieng Thong (Temple of the Golden City) dates back to 1560 during King Setthathirath and is considered the most beautiful and one of the most important temples in Luang Prabang. The pagoda features the architectural lines of Laos with a sharply curved roof pointing straight up to the sky. It houses many delicate reliefs and carvings recounting many sacred Buddha relics.
Wat Wisunarat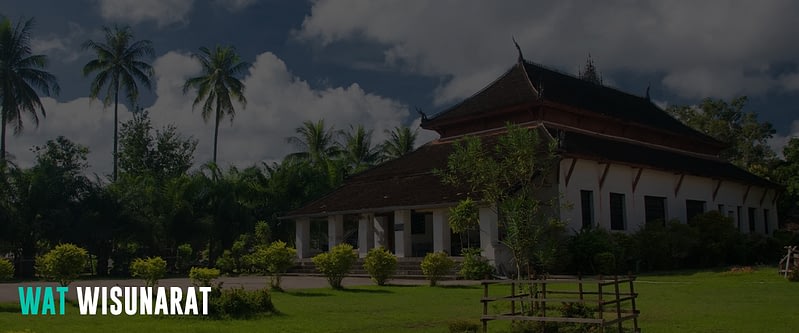 Built in 1513, Wat Wisunarat is the oldest temple in Luang Prabang. It features a large, watermelon-domed stupa and a collection of old gilded 'Calling for Rain' Buddhas with long sinuous arms held to each side. Though the present structure is an 1898 reconstruction, Wat Wisunarat retains its majesty and sacredness.
Mount Phou Si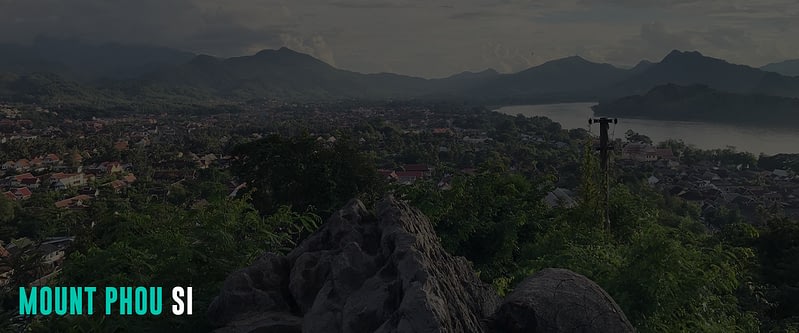 Mount Phou Si is the highest point in Luang Prabang that offers a panoramic view of the peaceful town and the Mekong River. It is a perfect place to watch sunrise or sunset over the Mekong and Nam Khan Rivers. Visitors must climb 329 steps made of red brick to reach the peak. Also visible from the top are the old Royal Palace, now the Palace Museum, the Mekong, and the Nam Khan River. The temple features a gold-spired stupa visible from most parts of the city.
Royal Palace Museum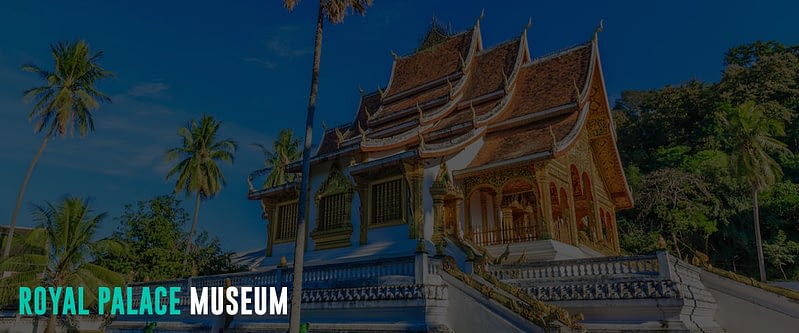 Royal Palace Museum is a former Royal Palace of the Kingdom of Laos. It features elegant French architecture and Lao sculptures. In addition, the museum houses a collection of historical artifacts from former rulers of the Kingdom of Lane Xang. Take note that photography is prohibited in the museum.
Pak Ou Caves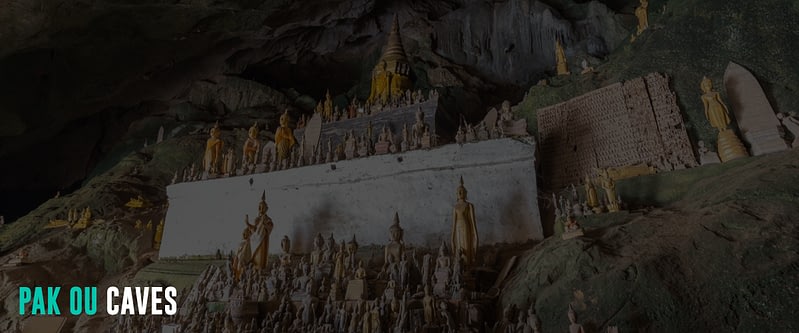 Overlooking the Mekong River are the Pak Ou Caves consisting of the Tham Ting and the Tham Theung. Pak Ou Caves houses over 4000 Buddha statues and sculptures of various sizes and positions. In addition, visitors will admire the Lao artisans shown on the meditating, teaching, and nirvana Buddhas in the Pak Ou Caves.
Kuang Si Caves & Waterfalls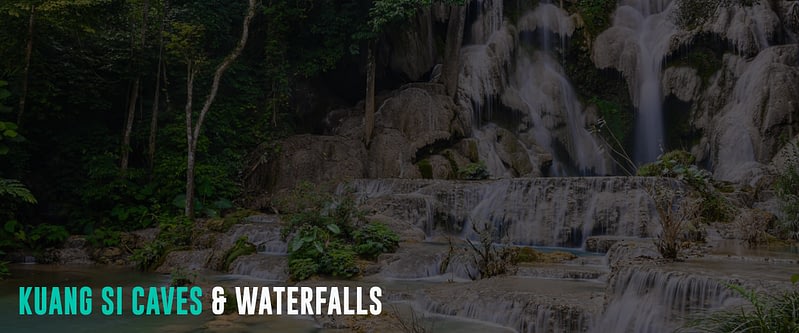 Kuang Si Waterfalls is one of Laos's most stunning waterfalls, with a 60-meter drop cascading from three tiers. A series of pools beneath the falls is open for swimming, offering the best view by looking up at the grand falls. An admission fee is collected from visitors to maintain the walkways, bridges, and wooden huts on-site.
Elephant Village Sanctuary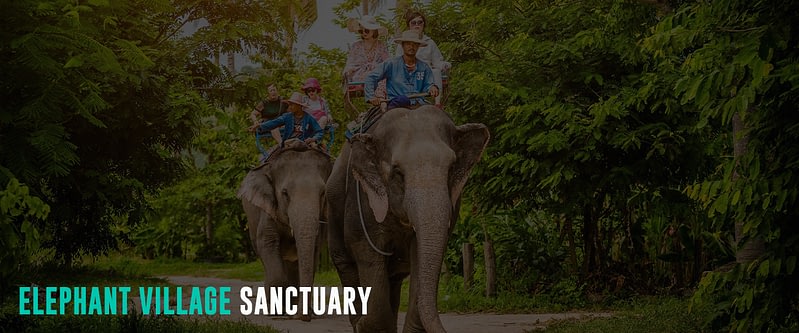 The Elephant Village Sanctuary is an educational facility for rehabilitating and protecting Asian elephants in Laos. It is where visitors can experience one of the most comprehensive chances to get up close to elephants. Three (3) tour packages are available for visitors: half-day, whole-day, or two-day elephant experience. During the tour, visitors' close encounters with elephants include bathing and feeding them, exploring their hospital or museum, jungle trekking, and visiting the stunning Tad Sae Waterfall.
Vientiane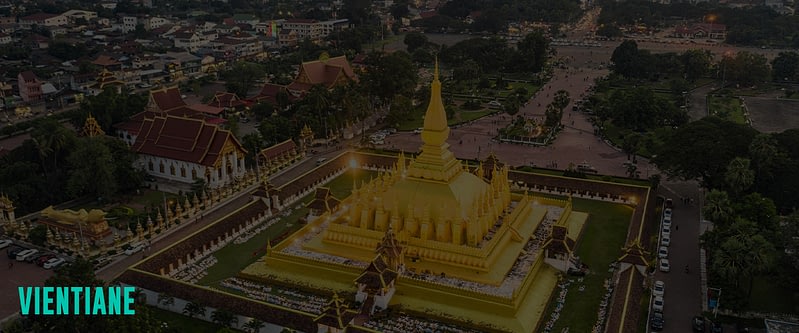 Vientiane, the capital city of Laos, mixes French-colonial architecture with Buddhist temples. It is a must-explore for travelers to understand the country's history and culture better. Aside from the city's icons and temples, the COPE Visitor Center on Boulevard Khou Vieng is a must-stop in Vientiane. It serves as a museum with displays & films on the history of bombings & related disabilities in Laos. The center also educates visitors about the importance of providing disability services and prosthetic limbs for people impacted by unexploded military devices.
Patuxay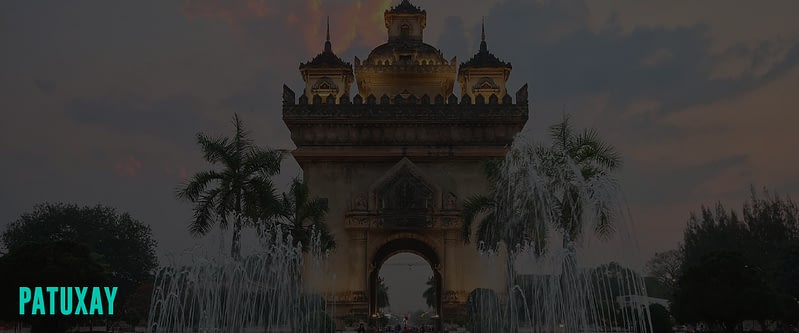 Patuxay, literally the Gate of Triumph, is a war monument commemorating the soldiers who fought for independence from France. It lies at the end of Lane Xang Avenue in the heart of Vientiane, surrounded by Patuxay Park. Considered one of the most beautiful symbols of Vientiane, Patuxay features five towers with a pyramid-shaped architecture on the top part. Moreover, Patuxay has viewing galleries for visitors, and on the top floor is where you can see a panoramic view of the bustling city.
Pha That Luang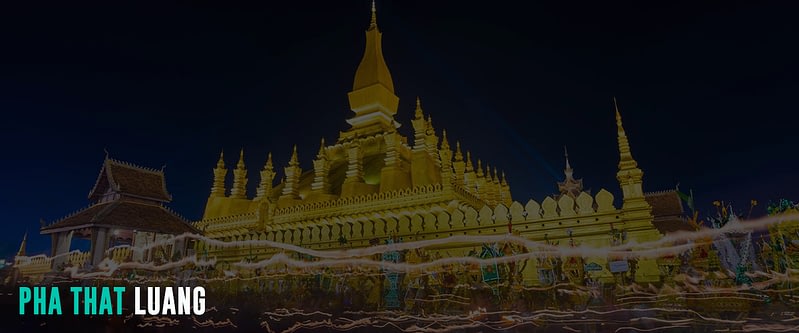 Pha That Luang is considered a world cultural heritage and a sacred symbol of the Theravada Buddhists of Laos. Dating back to the 3rd century AD, the temple features a large gold-covered Buddhist stupa in the city center of Vientiane. Regarded as the most important national monument and symbol, the image of Pha That Luang is printed on Kip paper bills and the national seal.
Wat Phra Keo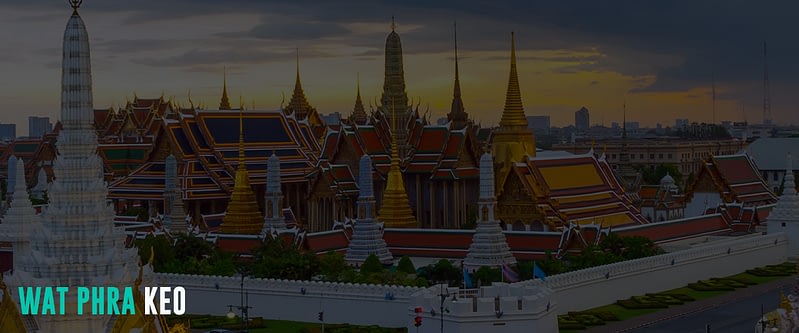 The sacred and noble Wat Phra Keo Pagoda in Vientiane is also a museum holding works of art representing the religious beauty of Laotians. In addition, it houses many precious sculptures and pictures inlaid with gold, covered with silver, and studded with jade and many other precious stones. Walking in the middle of Wat Phra Keo makes visitors feel lost in a peaceful fairyland with many jewels and souvenirs.
Wat Si Saket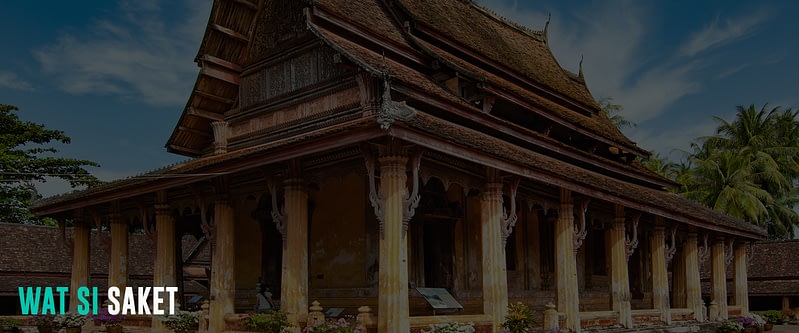 According to Siamese Buddhist architecture, Wat Si Saket in Vientiane is still preserved since its construction in 1818. It has nearly 7,000 Buddha statues in total, and throughout the corridor, visitors will see 2,000 Buddha statues cast in bronze, ceramic, precious wood, and gilded, plated with iridescent silver.
Wat Ong Teu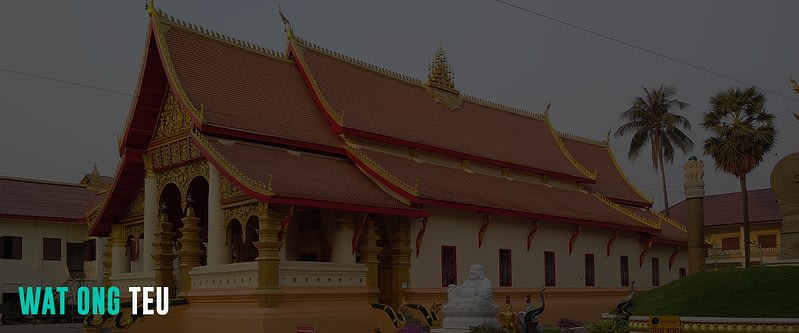 Wat Ong Teu is a temple in Vientiane famous for the giant bronze Phra Ong Teu Buddha statue in Vientiane. The temple is initially constructed during the 16th century and has undergone many reconstructions with its present structure. It also has a Sangha Buddhist school, where monks from all over the country gather to study and listen to the teachings of the beginning of Buddhism.
Buddha Park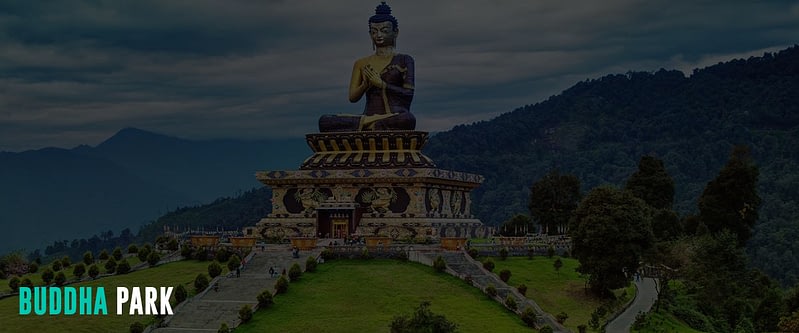 Buddha Park in Vientiane is a vast garden with over 200 Buddhist statues and Hindu deities crafted as unique works of art. The most prominent of the park is a giant reclining Buddha statue measuring 40 meters long with trees as background, creating an ancient and peaceful space. In addition, the park also recreates images of gods, demons, people, animals, and the three layers of hell, earth, and heaven.
The Plain of Jars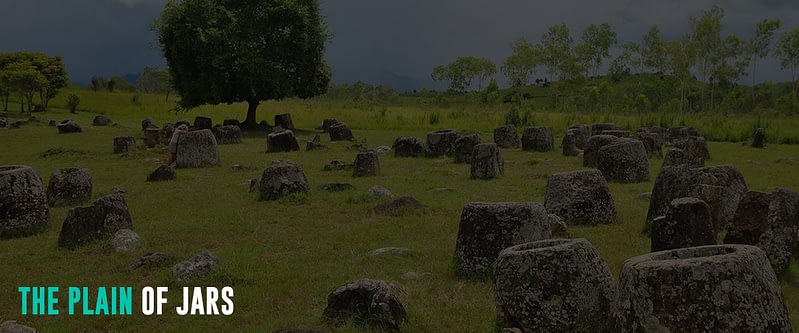 One of Southeast Asia's most important prehistoric sites is the Plain of Jars, a megalithic architectural landscape in Laos. It consists of thousands of stone jars around the upland valleys and lower foothills in the Xiangkhoang Plateau. The jars vary from one to three meters in diameter and weigh up to 14 tons. Several studies believed that the jars used to be the burial pits and the plains as burial sites from the Iron Age to 200 AD. On the other hand, Lao legends said the jars were used to store rice, beer, or wine during ancient times.
From 1964 to 1969, the Plain of Jars is a battlefield of the war between the US and Indochina countries. Millions of cluster bombs are scattered in the area, although several bomb clearance activities were already conducted. Hence, sightseeing on the Plain of Jars can only be done safely on cleared and marked pathways.
In 2019, the Plain of Jars was listed as a UNESCO World Heritage Site.
Ancient Wat Phu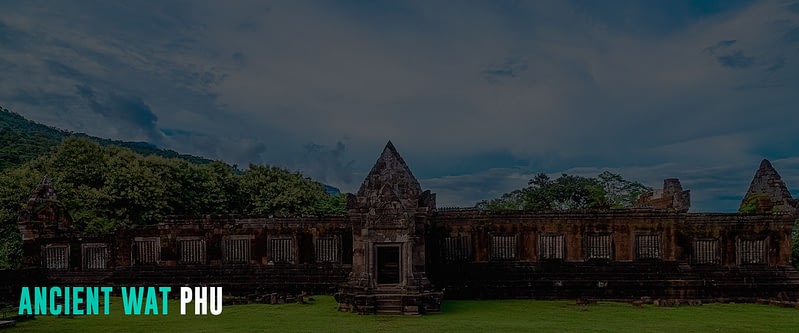 Wat Phu, also known as Vat Phu, is an impressive Khmer temple complex ruins at the base of Phu Kao mountain in Champasak Province, Laos. The surviving structures date back to the 11th and 13th centuries and feature Buddha images, stone carvings, and a library room. Originally a temple dedicated to Shiva, Wat Phu was converted into a Theravada Buddhist monastery in the 13th century. Today, many Lao people come here on pilgrimages and pray yearly. Visitors can also explore the area and marvel at the grand architectural remains through the marked pathways.
Wat Phu and the ancient settlements within the Champasak Cultural Landscape have been a UNESCO World Heritage Site since 2001.
Vieng Xai Cave City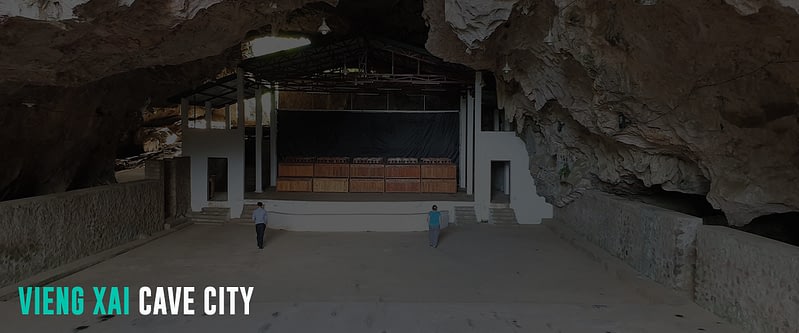 Vieng Xai Caves in Hua Phan Province, Laos, is an extensive network of caves in limestone karst mountains. It is where over 20,000 Pathet Lao soldiers and civilians find shelter from heavy bombardment during the Second Indochina War. For over nine years, the people lived, worked, and developed an entire community inside the caves: a hospital, school, offices, shops, and even a theater. The most memorable among the caves is the Kaysone Phomvihane Cave. Joining an audio-guided tour of the Vieng Xai Caves is a worthwhile journey to understand more about Laos' tumultuous history.
Si Phan Don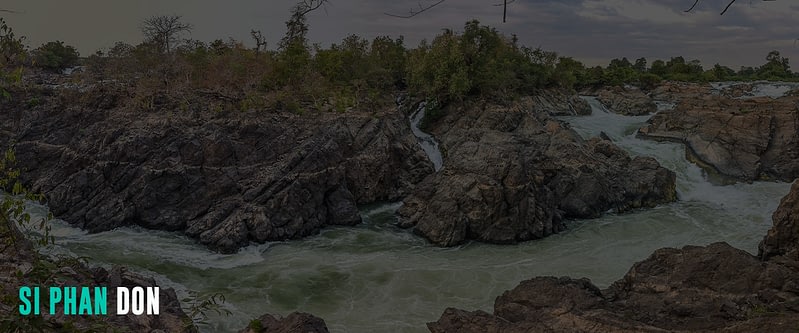 Si Phan Don, or the 4000 islands, is a riverside archipelago in the Mekong River in Champasak Province, Laos. The main islands in Si Phan Don are Don Khong (most significant), Don Som, Don Det, and Don Khon, while half of the countless islands are submerged when the Mekong River floods.
The archipelago features Khone Phapheng Waterfall, the largest waterfall in Southeast Asia with a length of 12 km, and is famous as the Niagara of Southeast Asia. Around Don Khon island, visitors will see some endangered species of freshwater Irrawaddy dolphins. Moreover, visitors will also find the remains of the first railway in Laos, the Don Det–Don Khon, a narrow gauge railway during the French colonial administration in 1893.
The best way to explore and spend time in the 4000 Islands region is to take a ferry or boat to any islands, stay in local guesthouses, and immerse in Laotian culture.
Mekong River
The Mekong River is Southeast Asia's greatest river from the Tibetan Plateau to China, Myanmar, Laos, Thailand, Cambodia, and Vietnam. Laos has the most significant share of the Mekong River and is one of the country's primary transportation options and trade routes with the neighboring countries. Several cruises are available for tourists, with the Upper Mekong in Laos as one of the most stunning journeys of the river.
Primary Spoken Language(s)
The national language is Lao, spoken by over half of the population. The remaining population of Laos speaks ethnic minority languages.
Many Lao nationals use French in government and commerce, which is a required subject in many schools. Additionally, some people speak English, particularly in major tourist centers. Chinese, Vietnamese, and Thai are also widely understood.
Safety Concerns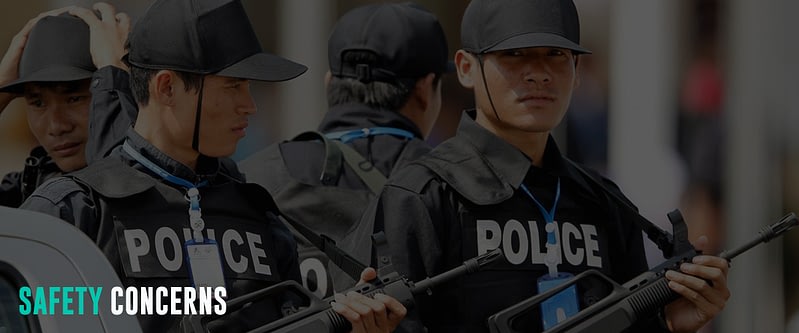 Laos is a relatively safe country to visit. It ranks 51st out of 163 countries on the 2022 Global Peace Index and has a Level 2 Travel Advisory from the US Department of State.
Violent crimes against tourists are rare, but theft and pickpocketing can be the biggest concern. It is prevalent in busy market areas (especially Vang Vieng), public transportation, and buses. Therefore, always keep your bags and belongings at all times and never bring valuables, jewelry, and a large sum of money in purses or pockets.
Natural disasters such as flooding and landslides in Laos happen due to storms and typhoons. It commonly occurs during the wet season from May to October. However, during August and September, Laos usually experiences tropical storms and cyclones, causing flooding in lower areas along the Mekong River and its tributaries in the central and southern provinces.
Another hazard when exploring Laos is unexploded bombs (UXOs). Around 80 million unexploded cluster submunition from the remnants of the second Indochina war between 1964 and 1973 were scattered around the country. The provinces of Salavan, Savannakhet, and Xieng Khuang are the most affected areas. In addition are Champasak, Hua Phan, Khammuan, Luang Prabang, Attapeu, and Sekong. Hence, always stay on the marked trails when hiking, and pay attention to signs and markers.
Health
There are many mosquitos in Laos. Hence, dengue fever is prevalent around the country, especially during the rainy season from May to October. Furthermore, malaria also exists in some remote regions in Laos. Therefore, travelers must reduce their exposure to catching the disease by regularly using insect repellant and wearing long-sleeve clothing, especially around sunrise, sunset, and dusk when mosquitos are most active. In addition, of course, anti-malarial medication must be considered when traveling in remote areas. Lastly, ensure you have updated typhoid, cholera, Hepatitis A and B, and rabies vaccinations.
Local Laws
Laws in Lao PDR impose severe penalties for drug offenses and sexual relationships with a Lao citizen outside marriage. Additionally, a relationship between a Lao national and foreigner must be registered. Besides that, Laos is very conservative in many ways, and public nudity is illegal. Travelers must also know that Laos does not allow camping in public spaces, along riverbanks, or near forests. Lastly, do not publish material or speak against Laos.
Budget Considerations
Laos travel, fortunately, can be experienced very cheaply from nature and attractions.
Accommodation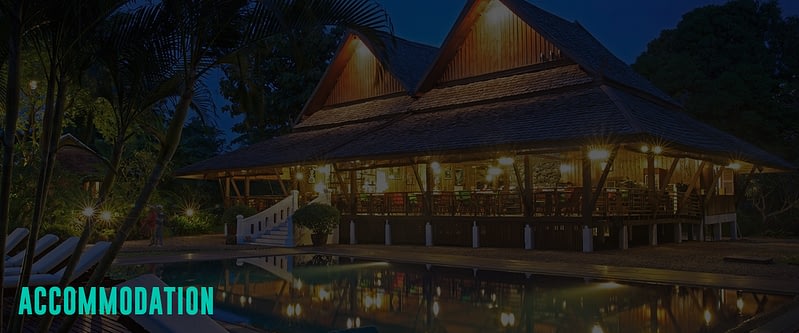 Accommodations in Laos are very affordable. For example, travelers can get a bed in a hostel dorm for as low as $5 per night, including complimentary breakfast. Moreover, a private room in a hostel or budget hotel in the capital city of Vientiane starts from $18 and is as low as $9 in some cottages away from the city center. Also, mid-range and luxury travelers can stay in a three-star hotel for $25 and a five-star hotel for $76 per night.
Another accommodation option in Laos is Airbnb. Its private room costs as low as $12 per night and $29 for an entire apartment or home.
Food
Just like accommodation, the foods in Laos are cheap. Local cuisine meals in night markets and affordable diners cost less than $2, while travelers who want to dine in fancy restaurants usually pay around $9 for a three-course meal. On the other hand, those who want to cook their meals can spend a week's grocery worth $20. It can include basic staples like rice, pasta, farm produce, and meat.
Attractions and Transportation
Public transportation in Laos starts at $0.30. After that, it gradually increases according to travel distance. In particular, travelers who want to explore the Pak Ou Caves from Luang Prabang can charter a taxi boat for $4. Furthermore, limited-time travelers can take domestic flights within Laos and rent a car during their trip. Also, they can get a one-way flight ticket from Vientiane to Luang Prabang at around $29 and hire a car at $45 per day for multi-day trips. Scooter rentals are also available at $5 per day.
On the other hand, natural attractions in Laos are primarily free, while entrance to heritage sites and temples costs $0.60.
Average Two Week Cost
Backpackers in Laos for travel can live with a $20 daily budget or $280 for two weeks. It covers the costs of hostel dorms, cooking their food with occasional dining in night markets, taking public transportation, and visiting natural attractions.
On the other hand, mid-range travelers spend $50 daily or $700 for two weeks. The budget includes three-star hotel accommodations, occasional fine dining, taking a taxi, or availing paid tours and activities.
Lastly, travelers can enjoy luxury in Laos from $140 per day or $1960 for two weeks. It includes staying in a five-star hotel, fine dining, renting a car and taking domestic flights, and availing all the paid tours and activities they want. So for them, the sky is the limit for travel.
Customs And Import Restrictions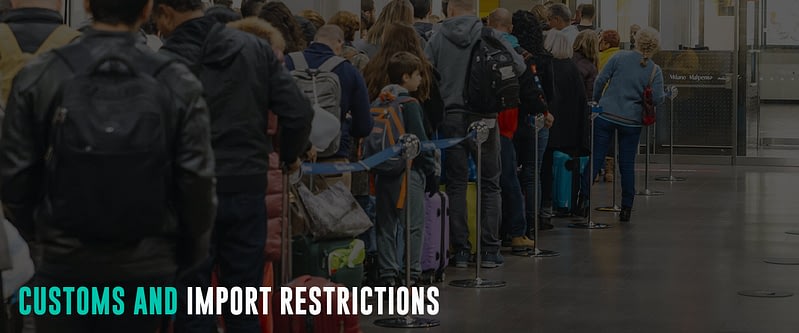 In addition to personal goods, travelers to Laos can bring free imports not exceeding the limits specified by Lao PDR Customs and Trade. It includes:
2 liters alcohol, 5 liters beer, 3 liters wine
200 cigarettes, 50 cigars, 250 grams of tobacco leaves
Personal goods
Certain restrictions and prohibitions are imposed on the entry of the following items:
Cash, precious metals, and BNI's worth over 100 million Kip (around 5884 USD) must be declared.
Bringing agricultural products and livestock must secure prior approval from the Ministry of Agriculture and Forestry.
Secure permits from the Ministry of Health to bring drugs and food.
Narcotics, firearms, and ammunition are prohibited.
Visit the Lao PDR Trade Portal for complete information on customs and import rules for travelers to Laos.
Climate Considerations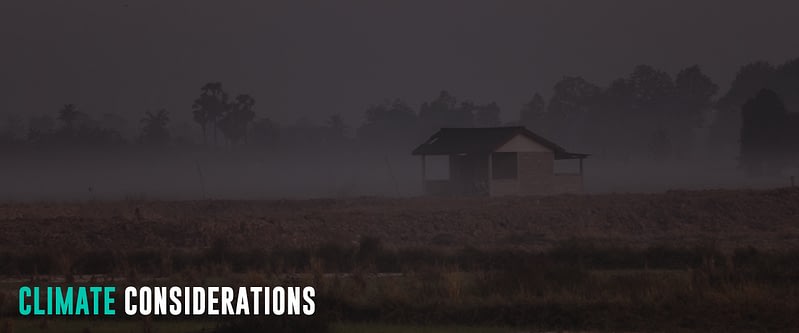 Laos generally enjoys a mild tropical climate but can get quite chilly in the cool season. The country has two seasons: rainy from May to October and dry from November to April. During the dry season, temperatures range between 28 °C and 38 °C maximum during April and May. The Mekong River Valley area is also hot and humid, with temperatures ranging from 10 °C to 40 °C.
Primary Transportation Options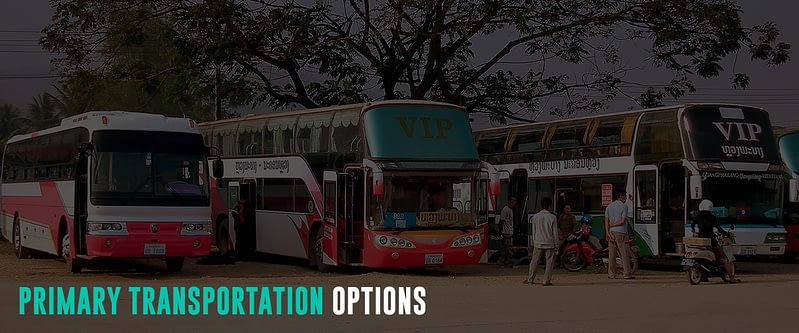 Although travelers can explore Laos by airplane, boat, public transport (buses and minibusses), car, motorbike, and bicycle, the transport system in the country is relatively "slow."
Air
There are around fifteen airports in Laos, with Wattay International Airport as the main entry point for travelers. Additionally, two other international airports in Laos cater to scheduled flights with major cities and countries.
Two airlines operate in Laos: Lao Airlines flies domestic and international flights, while Lao Skyway connects the country with its domestic routes. In addition to Lao-based airlines, several budgeted and foreign airlines fly to Laos.
Boat
Boat transport plays a significant role in going to destinations bounded by rivers in Laos, especially in the Mekong. It makes travel shorter than some of the horrible road conditions in rural areas. For example, the best way to reach Luang Prabang from Huay Xai is by boat. There are also speedboats or river taxis that transport visitors along the rivers. In particular, the best way to explore Pak Ou Caves from Luang Prabang is by taxi boat.
Bus and Minibus
The road transport system in Laos is not extensive, especially outside the major cities. Hence, traveling by bus or minibus is slow and takes longer due to poor road conditions.
Nonetheless, buses are still the main public transportation option for long-distance trips in Laos. Although most of their buses are old and don't have air conditioning, they still get to transport passengers to their destinations. In many cases, each city or town has more than one bus station, with different stations serving different destinations.
Car
Rental companies and travel agencies offering private car hire are available in Vientiane and Luang Prabang. Generally, private car hire offers more flexibility for travelers with limited time to explore Laos. But car rental in Laos is only ideal for visitors traveling with family or a group, as it is not a cheap way to explore the country. Individual travelers also have the option to rent a motorbike from some travel agents. Prices are reasonable, but carefully check the bike and lock it up using your padlock.
Tuktuk
Tuk-tuk, a three-wheeled motorized vehicle used as a taxi, is a typical means of transportation in Laos. Because fares are relative to the distance of your destination, travelers need to negotiate the price before the ride.
Start Trip Planning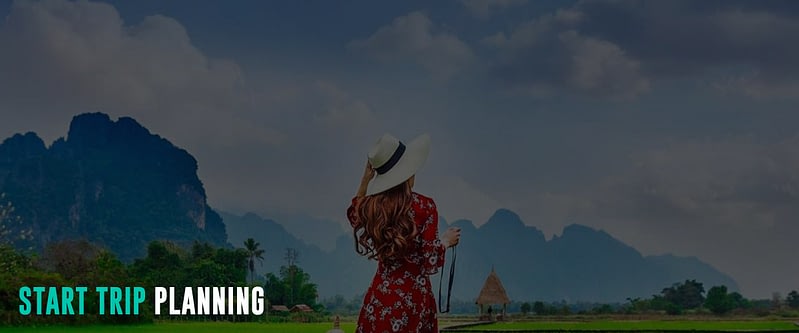 Travel-Wise is made from the ground up to help people travel more, break down the barriers that make it tough to get going, and start your journey as painlessly as possible. Bookmark our other Country Guides to help kick-start your research for future travels. We also offer templated itineraries from our staff and community that help serve as a building block for your trip plans. Alternatively, we also utilize AI to offer a way to generate itinerary ideas. This saves much time just getting you up and running with a template. From there, you can use the trip planner to create your customized itinerary, invite friends and family for collaboration, find others from Travel-Wise to join the trip, book and track important information, journal, and share your experiences at the end or along the way!