This travel wiki page of Mexico will help guide travelers with quick and relevant information to consider when planning and visiting the country. It is difficult to find all the relevant information on Mexican culture, safety, travel restrictions, and things to do, so we summarize it all here. If anything is stale or outdated, please let us know! Let's dive in and explore more high-level information as a Mexico trip planner.
Last updated November 11th of 2023.
National Information & Culture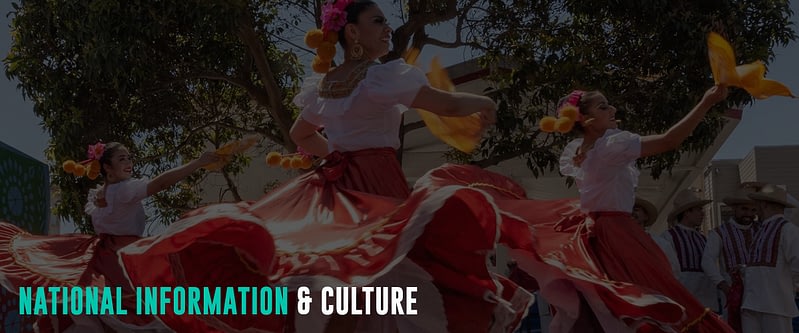 Mexico, officially the United Mexican States, is a North American country. It shares land borders with the United States to the north and Guatemala and Belize to the southeast. Mexico has 31 states, with Mexico City as its capital, while the official currency is the Mexican Peso.
A newly industrialized and developing country, Mexico is one of the world's megadiverse countries, ranking 5th in natural biodiversity. Its rich cultural heritage, varied climate, and geography make it a major tourist destination. In 2019, Mexico ranked 7 among the world's most-visited countries, with around 45 million tourist arrivals.
Mexican culture blends Spanish and indigenous people in Mexico and Latin America. These are visible in Mexican cuisines, languages, names, architecture, music, and dance. The country is famous for its dazzling beaches, ancient Mayan ruins, and incredible cuisine.
Visit Mexico's Official Tourism Website for more tips and information when planning your trip.
Mexican Culture and Traditions
While Mexico is an enticing destination, some cultural nuances may surprise visitors. Generally, faith and folklore shaped the daily lives in Mexico.
Strong family ties, traditionally close relationships, and sharing a roof with extended families are common in Mexican households. Also, they have great respect for the elders, and it is expected to address older individuals with "señor" (Mr.) or "señora" (Mrs.).
Traditional Mexican families gather for lunch at 2 or 3 p.m., followed by a siesta. But this tradition has become less common in cities owing to company-mandated lunch breaks.
The majority of Mexicans are Catholics and observe various religious rituals. Highlights are the Lenten week activities, Easter, Fiesta, Day of the Dead, and Christmas.
It's also important to be mindful of local customs and etiquette. Dress modestly when visiting religious sites. Some towns and villages in rural Mexico are conservative. Though Mexico passed laws allowing same-sex marriage, it is still best to be mindful of the traditional culture of some people.
Special Travel Considerations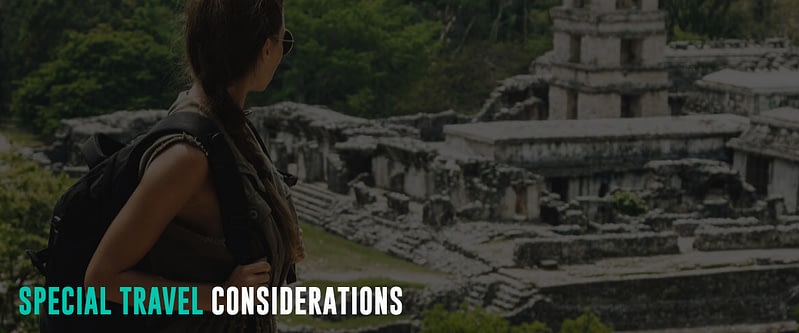 Each country and destination has rules and regulations that every traveler must consider. Hence, check the following considerations for hassle-free travel to Mexico.
Covid-19 Policy
Mexico currently has no COVID-19 restrictions and welcomes foreign nationals to visit. However, the Covid-19 policy of Mexico may vary over time with the evolution of the pandemic. Hence, it is best to check the current pandemic status in Mexico and follow the sanitary rules to prevent contagion.
Travel Insurance
While travel insurance is not mandatory to enter Mexico, it is advisable to have one that covers emergency medical treatment, including Covid-19, repatriation, and evacuation. Travel insurance can protect you against the inconvenience of injury, medical emergencies, theft, and flight cancellations. In addition, it is comprehensive protection in case anything goes wrong with your trip.
Visa Information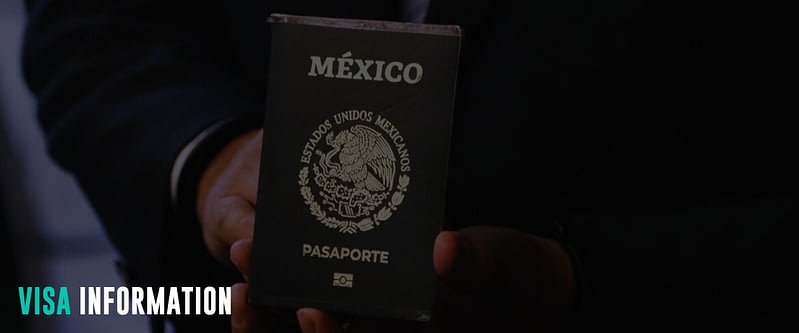 Visa requirements for Mexico vary depending on the traveler's nationality. While 64 countries enjoy a visa-exempt status to Mexico, most must apply for the pertinent visa to enter the country. Travelers can check here whether they require a visa to enter Mexico.
Russian, Turkish, and Ukrainian citizens can apply for an Electronic Authorization (electronic visa) to travel to Mexico. Meanwhile, other nationals must submit their visa applications through the nearest Mexican Embassies and Consulates.
Additionally, all travelers to Mexico must have at least a 6-month valid passport and a return or onward ticket.
Mexico Tourist Card
Foreign citizens traveling to Mexico need a Tourist Card, also known as an Official Entry Immigration Form (FMM), which records their visit. It is advisable to fill out the online Multiple Immigration Form/Tourist Card, which replaces the paper form handed out by most airlines. The application process is simple and only requires a passport, travel details, and active email to receive the confirmation.
The online Tourist Card is free and applicable to all individuals, including children and diplomatic personnel. It has two (2) parts: the Entry Form will be kept by the immigration officer upon arrival, while the Exit Form is necessary during departure. Also, it is essential to note that the Mexico Tourist Card does not replace a visa if needed.
Popular Attractions
Mexico is a prime tourist destination globally, renowned for its rich cultural heritage, impressive biodiversity, and numerous UNESCO World Heritage Sites. Ranking seventh globally and first in the Americas for UNESCO sites, it's also one of the world's 17 megadiverse countries. In 2019, Mexico had around 45 million tourist arrivals and ranked 7th most visited country worldwide. The country's appeal lies in its diverse landscapes, stunning beaches, and ancient ruins, including those from the Aztec and Maya civilizations, making it a visual and intellectual delight.
Chichen Itza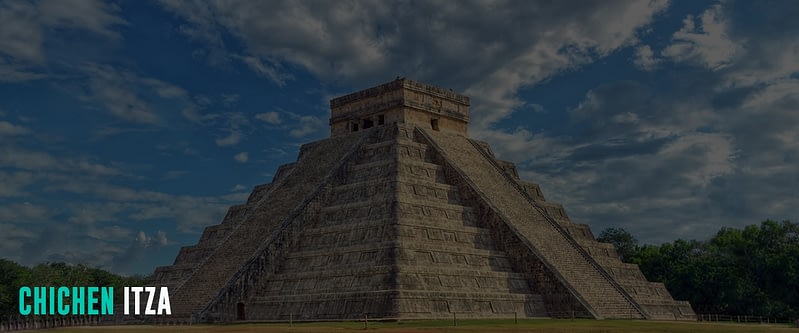 Chichen Itza is a significant Mayan city in the Yucatan Peninsula, drawing numerous tourists. Its iconic structure, the temple pyramid of El Castillo or the Pyramid of Kukulkan, stands out with astronomical significance in its design. The pyramid's four faces contain 91 steps each, totaling 365 steps, corresponding to the days in a year. Notable attractions include the Great Ballcourt and El Caracol, an astronomical observatory showcasing Mayans' advanced understanding of astronomy.
The UNESCO World Heritage Site of Chichen Itza is adorned with various statues, including the famous Mayan Chacmools. Today, Chichen Itza is renowned as one of the seven wonders of the modern world and is a popular day trip from Cancun, Playa del Carmen, or Merida.
Teotihuacan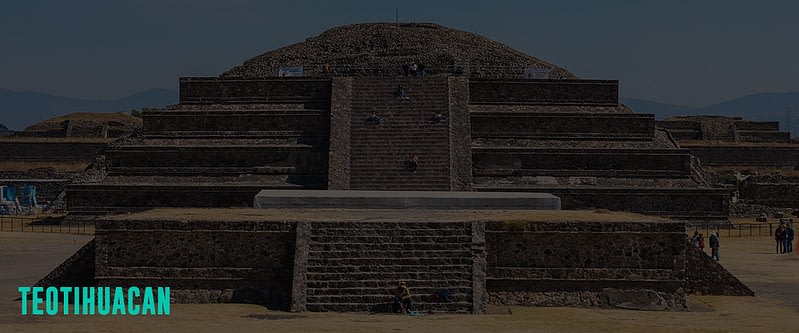 Teotihuacan, an ancient city 31 miles northeast of Mexico City, boasts extraordinary pyramids dating back to the 2nd century BC. It comprises the Pyramid of the Sun and the Moon, linked by the Avenue of the Dead. The Pyramid of the Sun, the largest in Mexico, was constructed around 100 AD, while the Pyramid of the Moon, a century later, was finished in 450 AD. Teotihuacan is a crucial archaeological site and a top tourist attraction. Even centuries after the Teotihuacán civilization's decline, the pyramids remained significant, revered, and used by the Aztecs for pilgrimage.
Another must-see is the Temple of the Feathered Serpent, showcasing intricate carvings and murals depicting the god Quetzalcoatl. In addition, an on-site museum displays artifacts from the Teotihuacan culture, offering insights into ancient daily life.
Today, guided tours are available for historical context.
Palenque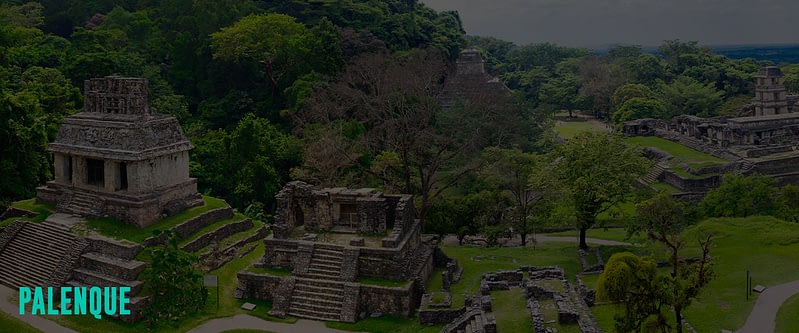 Palenque, a remarkable Mayan archaeological site in Chiapas, Mexico, dates from approximately 226 BC to 799 AD. It showcases genius Mayan architecture and artistry with notable structures like the Temple of the Count, the Temple of the Inscriptions, and the Temple of the Cross. A highlight is the Temple of the Inscriptions, adorned with hieroglyphics aiding the understanding of the Mayan language. Palenque thrived during the 7th century and eventually perished in the 8th century, leaving exceptionally well-preserved architectural and sculptural remains behind.
This ancient city, once engulfed by jungle, now stands as a mystery-filled place of interest for historians, archaeologists, and tourists. Although a significant portion of the town remains unexplored, the revealed structures are breathtaking and offer a glimpse into Mayan history and artistry.
Tulum
Tulum, located on Mexico's Yucatán Peninsula's east coast, is a popular tourist destination with beautiful beaches and a vibrant dining scene. Nestled in lush jungles, this Caribbean coastal town features cenotes, lagoons, and upscale nightlife.
Tulum also boasts well-preserved ancient Mayan port city ruins from 1200 AD. It served as a significant port for the Mayan city of Coba. The ruins, including El Castillo perched on high cliffs, overlook the Caribbean Sea and offer a stunning tropical beach backdrop. The site is the only fortified Mayan settlement on the coast, known for its tall walls, hinting at both military and religious importance. Despite lacking the elegance of some other Mayan sites due to its construction during the civilization's decline, Tulum remains a captivating attraction.
Today, Tulum has a range of accommodations, from simple cabanas to luxurious resorts.
Cancun and the Mayan Riviera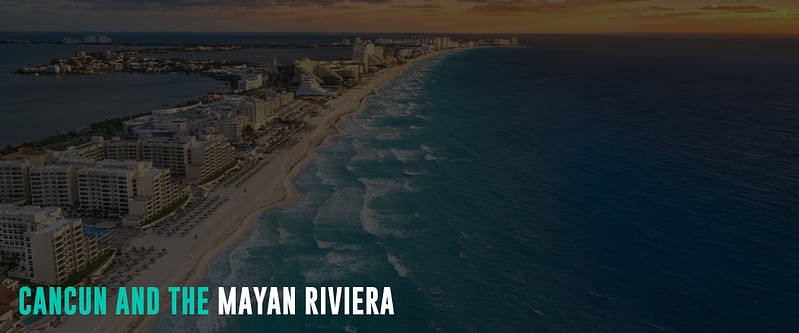 The Riviera Maya, encompassing Cancún, Playa del Carmen, Cozumel, and more, is a stunning stretch of the Gulf of Mexico coastline, attracting millions of visitors annually. The region offers spacious beaches, clear waters, and a multitude of top-notch all-inclusive resorts, ensuring a crowd-free experience. Visitors can enjoy diverse activities such as swimming with dolphins and stingrays, snorkeling in vibrant reefs, and exploring the world's largest underwater museum featuring submerged sculptures.
Cancun is considered the heart of the Mexican Caribbean and is favored by crowds of all ages. Playa del Carmen is a resort city renowned for its palm-lined beaches with a mass of visitors the same as Cancun. Meanwhile, Cozumel is favored for diving because of its rich marine and coral life. Cozumel is also near top dive sites in the Mesoamerican Reef System, including the Palancar Reef.
Copper Canyon (Barrancas del Cobre)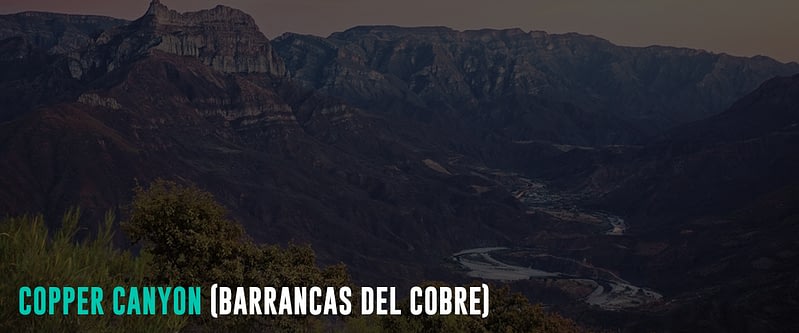 Copper Canyon, situated in northern Mexico's Sierra Madre Occidental mountains in the Chihuahua state, is a vast canyon with distinctive copper-green canyon walls, offering excellent hiking opportunities. It comprises six canyons spanning around 60,000 kilometers and is larger than the Grand Canyon in the United States. Six converging rivers sculpted its steep canyon walls, creating a breathtaking landscape during sunrise and sunset.
This remarkable site also houses Mexico's two tallest waterfalls, Basaseachi and Candameña, within the widest Copper Canyon ravines just a few miles apart. Adding to the Copper Canyon's allure are the ancient legends and mysteries of its indigenous inhabitants, the Raramuri people.
The Copper Canyon is accessible and best explored using the renowned Chepe train (Ferrocarril Barrancas del Cobre). It is a scenic rail trip offering spectacular views reaching 2,400 meters (7,900 feet) above sea level, with stunning views at stops like Divisadero into Urique Canyon. Moreover, it is an ideal destination for adventure and culture, providing various exploration options like bike excursions, horseback, or hiking.
Mexico City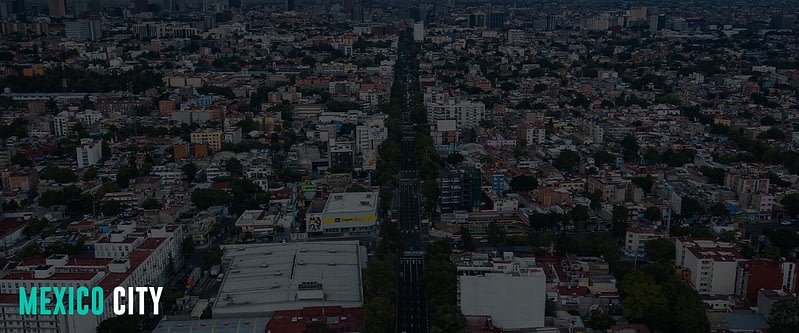 Mexico City, also known as CDMX, is the capital of Mexico and is a top destination for travelers due to its rich history, vibrant culture, and stunning architecture. Its position as the largest city in the Americas adds to its fascination, making it a cultural, business, and political hub influenced by a complex history and its proximity to various nations in Latin America.
The city boasts Aztec ruins like the Templo Mayor in the Historic Center. The Zócalo, the historic public square, showcases the remnants of the Aztec empire, offering a glimpse into the city's roots. Despite its vastness, wandering the vibrant streets and indulging in the lively nightlife is a surefire way to experience the youthful energy that characterizes this cultural capital. From bustling street markets to hipster cafes and mezcal bars, Mexico City has an eclectic and exhilarating ambiance, attracting travelers worldwide.
A must-visit in Mexico City is the National Palace, Chapultepec Castle, Frida Kahlo Museum, and the ancient city of Tenochtitlan.
Chapultepec Park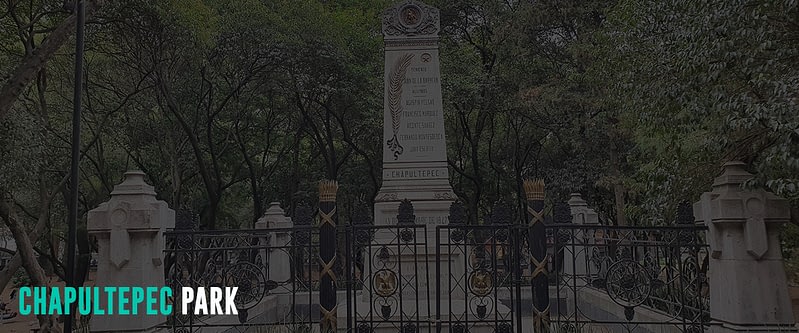 Chapultepec, often called "Bosque de Chapultepec" in Mexico City, is the city's largest urban park centered on Chapultepec Hill. As one of the world's largest city parks, it serves both as an ecological space and a historical landmark. Visitors will find many attractions within the park, including the renowned National Museum of Anthropology, showcasing artifacts from Mexico's pre-Columbian civilizations. The park also features a lake where visitors can rent rowboats or paddle boats to enjoy the serene surroundings. Perched atop a hill within the park is El Castillo, formerly a presidential residence and now houses the National Museum of History.
Whether you're interested in history, nature, or a relaxing outing, Chapultepec Park offers an array of experiences. Entry to the park is free, and additional attractions have varying entry fees.
Frida Kahlo Museum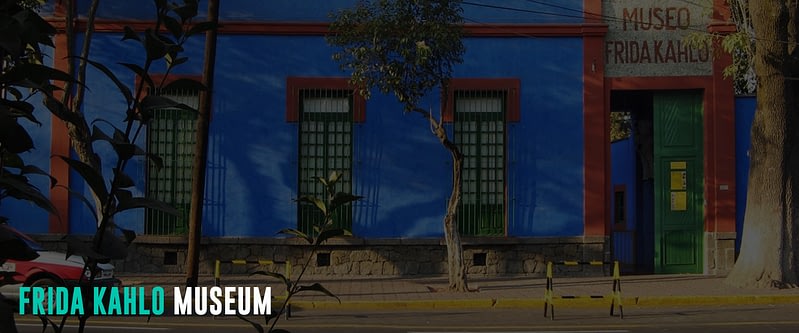 The Frida Kahlo Museum is a must-visit for art, culture, and history enthusiasts in Mexico City. Also known as the Blue House due to its cobalt-blue walls, the museum is a pivotal tourist attraction in Mexico City dedicated to celebrating the life and art of Frida Kahlo, a revered Mexican artist.
Located in Del Carmen, Coyoacán, the museum is housed in the very home where Frida Kahlo was born and spent most of her life. It offers visitors a glimpse into her life, showcasing her personal belongings, living and working spaces, and impactful artwork. Precisely, her paintings like "The Two Fridas" and "The Broken Column" portray her life's challenges and triumphs. Additionally, the museum delves into her time's political and social context, providing a comprehensive understanding of Mexican culture during her era.
Metropolitan Cathedral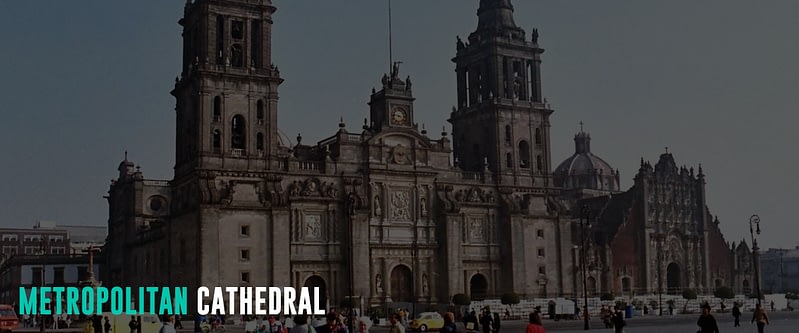 The Metropolitan Cathedral is a prominent tourist attraction in Mexico City at the central Zocalo. It is the spiritual center of ancient Tenochtitlan and the first and largest cathedral in the Americas. Its architecture combines baroque and Mexican churrigueresque styles and houses an extensive art collection and catacombs. Built over centuries on the ruins of an Aztec temple, the cathedral stands as a symbol of Mexico City's rich history and artistry.
Taking three centuries to complete, the cathedral showcases grand and stunning architecture utilizing some materials from destroyed pyramids. The basement holds remnants of the ancient Pyramid of Tonatiuh and an Aztec altar.
Today, visitors can explore the cathedral through guided tours, including trips to the bell towers and various chapels.
Primary Spoken Language(s)
The majority of the population in Mexico speaks and uses Spanish as the de facto national language. Depending on one region to another, the Mexican Spanish language has variations in sound, structure, and vocabulary. In addition, the government also recognizes 63 indigenous languages spoken in their communities. It includes Nahuatl, Mayan, and Mixtec.
Safety Concerns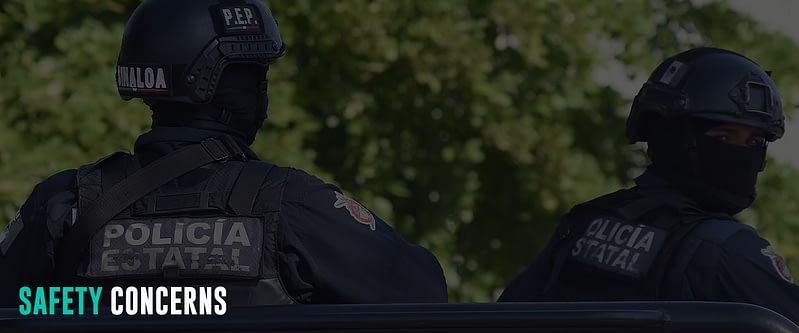 Mexico ranks 135th out of 163 countries on the 2023 Global Peace Index. Also, Mexico is classified as a "high-risk" destination by the US Department of State and the Smartraveller by the Australian government. However, Mexico's safety perception is often exaggerated, emphasizing high crimes.
Indeed, petty crimes are common, while serious conflicts involve authorities and drug cartels. Tourists should avoid involvement in drugs or sex tourism to enhance safety. In addition, researching your destination and knowing safety precautions can help you avoid falling victim.
Pickpocketing is common on Mexico City's metro. Hence, avoid displaying valuables and limit cash and cards. If possible, try to blend in and dress like a local. Stay alert on public transport, secure belongings, and use first-class buses on toll roads for increased safety.
Exercise caution while using ATMs or exchanging money, favoring daytime and secure locations like banks and malls. Avoid drawing large amounts and remain aware of your surroundings when using ATMs.
Do not leave food and drinks unattended in public places to prevent drugging or assault. Exercise vigilance against sexual assault, especially in tourist areas outside Mexico City.
Move away from demonstrations or political activities as it can turn into violence. Large crowds can also draw terrorist attacks.
In case of emergencies, dial 911, the national emergency number.
Road Safety
Practice vigilance on the road, preferring toll roads and avoiding isolated routes. Be cautious of staged traffic accidents for fraudulent claims and seek authorities' help if threatened. Beware of impostors posing as police officers attempting fines; ask for identification and note details.
Take only registered taxis and avoid hailing one on the streets. When needing a cab, go to a regulated taxi stand or ask your hotel to call a taxi. Another safe alternative to taxis is the services of Uber and Cabify.
Drug and Gang Violence
Like any country, Mexico has some safe and unsafe areas for tourists. Yucatan and Oaxaca are notably safe states, while Quintana Roo faces scams and drug-related violence, especially related to tourists seeking drugs. Mexico City is safe with precautions, and other cities like Mérida are similarly secure. Exercise increased caution after dark in downtown Cancun and Playa del Carmen. Stay in well-lit pedestrians, and remain vigilant.
Meanwhile, the US State Department advises against travel to Colima, Guerrero, Michoacan, Sinaloa, Tamaulipas, and Zacatecas due to high crimes and kidnapping. These places are also notable for drug and gang violence.
As always, take caution in high-crime areas, following local advice and using reputable tourism services.
Local laws
Smoking, including vaping, has been banned in all public places effective January 2023. It includes beaches, parks, hotels, and restaurants. Offenders can be arrested or penalized. Also, travelers must know that driving a car without insurance in Mexico is illegal.
Natural Hazard
June to November is a hurricane season in Mexico. So, visitors traveling during these periods should closely monitor weather updates from the US National Hurricane Center and follow local authorities. Tropical storms and hurricanes can bring heavy rain, strong winds, flooding, and landslides. It can also disrupt local services and transport networks, affecting the Pacific and Atlantic coasts. Hence, travelers should be aware of potential delays or disruptions to flights, evacuation plans for their accommodation, and local shelter locations.
Moreover, Mexico is in an active earthquake zone, with occasional tremors, especially in Oaxaca and Guerrero states. In some cases, significant earthquakes can bring tsunamis. Hence, monitoring weather alerts from the National Meteorological and Seismological Services portal is essential. Travelers should also stay informed and prepared for natural disasters and heed local authorities' instructions from the Mexican Civil Protection Authority.
Lastly, Mexico has active volcanoes like Popocatepetl and Colima. Both have danger zones, with Popocatepetl currently on alert levels. Travelers should avoid these areas due to potential exposure to falling ash and toxic fumes.
Budget Considerations
Mexico is a famous worldwide holiday destination offering a range of options for travelers. Depending on various factors, Mexico caters to all types of travelers. Thus, the country is accessible to the budget-conscious and those seeking luxury experiences.
Accommodation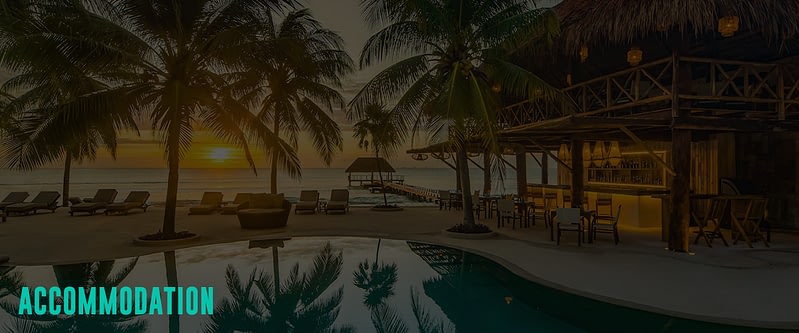 The accommodation cost in Mexico varies depending on the travel season and location. But generally, a bed in a hostel dorm starts at $12 in Mexico City and $10 in the touristy areas of Playa del Carmen in Cancun. Free wifi is standard, and most offer complimentary breakfast. Travelers can also get a private room in hostels and budget hotels for $30 and $40 per night. In addition, travelers will find apartments and holiday homes between $55 and $100. Likewise, visitors looking for more comfort can stay in a three-star hotel for $60 and $120 for a five-star hotel. For those looking to relax and enjoy the beachfront, there are several all-inclusive resorts around Mexico starting from $210.
Food
Mexican cuisine is a mix of Mayan, Aztec, and Spanish traditions. Staple foods are rice, beans, fruits, vegetables, and peppers. Typical Mexican dishes are tacos, salsa, enchiladas, guacamole, pozole, tamales, and mole.
Travelers can enjoy a variety of foods in Mexico without breaking the bank. Street foods such as tacos and quesadillas range between $0.85 and $2.40 and are common in street stalls and markets. Numerous fast food and Asian restaurants also offer meals from $7, while traditional Mexican cuisine costs around $8.40 from local restaurants. Travelers who want to splash out on meals can have a multi-course meal at a mid-range restaurant for $17. Expect to pay more for high-end restaurants and touristy areas.
Meanwhile, visitors who want to cook can expect to spend $40 weekly on groceries. It includes basic staples like rice, beans, and chicken.
Attractions and Transportations
Mexico's most sought-after white powdery sand beaches are generally free and open to the public. However, expect to pay for watersport equipment rentals and activities. A two-tank dive can cost $150, while a kayak rental costs $30 per hour. Meanwhile, admission to the famous Mayan site of Chichen Itza is $35, while a ticket to the Teotihuacan Pyramids is $4.75. Visitors can join some full-day island tours for $170 to Isla Holbox or a Yucatan cenote tour for $75.
For budget travelers, public transportation in Mexico is relatively affordable. A bus ticket costs $0.50, and travelers can expect to pay around $2.50 for a 5-kilometer taxi trip. As most taxis do not have meters, always check with the driver and negotiate the price before getting in. Lastly, travelers who want more flexibility and comfort to explore many destinations can rent a car for $100 a week.
Average Two-Week Cost
Budget travelers in Mexico can live with a $40 daily budget or $560 for two weeks. The budget covers the costs of sleeping in hostel dorm beds, dining at local markets or shopping and cooking your food, taking public transport, and mainly doing free activities at the beach.
On the other hand, mid-range travelers spend at least $100 daily or $1400 for two weeks. It includes staying in a three-star hotel, taking occasional taxis, dining in local restaurants, doing a few paid activities, and visiting several attractions.
Lastly, travelers can enjoy luxury and privacy in Mexico from $210 daily to $2940 for two weeks. It includes staying in five-star hotels or all-inclusive resorts, splashing out on meals, taking domestic flights, and renting a car for transport. They can also avail of all the paid tours and activities they want. So, for them, the sky is the limit for travel.
Customs And Import Restrictions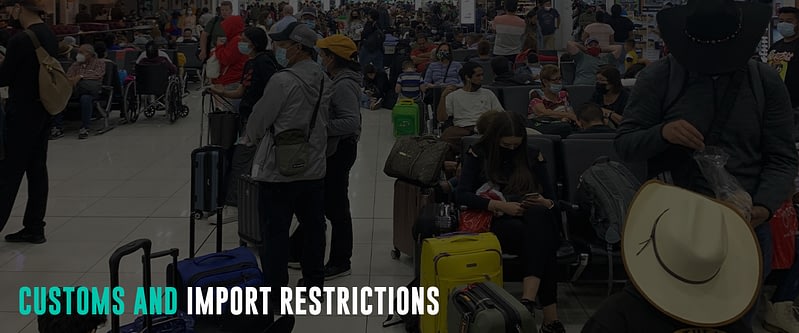 Travelers to Mexico can bring tax-free goods from abroad up to $500 by air or sea and $300 by land. The luggage exemption can include personal items, clothing, medicines with prescriptions, and other necessary items during their stay. In addition to the exemption amount, travelers 18 years and over can also bring alcohol and tobacco products up to a maximum of:
10 packs of cigarettes, 25 cigars, or 200 grams of tobacco.
3 liters of alcoholic beverage
6 liters of wine
When planning your trip, visit the Mexican Customs portal for complete information on customs and import policies.
Restricted Imports
Travelers can import free of taxes up to three (3) pets or companion animals, provided they show a SADER-issued health certificate. The list includes cats, dogs, canaries, hamsters, guinea pigs, parrots, turtles, and small wild birds (except birds of prey). Travelers can also bring their pets' grooming and transportation accessories. For wildlife animals, travelers must also show the Verification Registry issued by PROFEPA to ensure regulation compliance or non-tariff restriction. Check the Import Guide when bringing goods regulated by the Agriculture Ministry.
Additionally, special permits are necessary for imports of restricted goods to Mexico. At the same time, endangered species of flora and fauna must have a CITES certificate or authorization by the General Wildlife Agency (DGVS) from SEMARNAT.
To avoid port inconvenience, travelers must take note of the frequently detained products by SAGARPA – SENASICA, restricted items in carry-on luggage, and goods controlled by the Ministry of National Defense.
Prohibited Imports
Travelers must not bring prohibited goods to Mexico to avoid port inconvenience. Under the "Law of General Import and Export Taxes," travelers must not bring the following:
Narcotics
Living predatory fish species of any size.
Images of any kind depicting children in a degrading or ridiculed fashion, inciting violence or destruction.
Worn clothing or footwear other than your luggage.
Firearms, weapons and ammunition.
Meat products
Plant and unprocessed plant products.
Electronic cigarettes (vaping devices)
Climate Considerations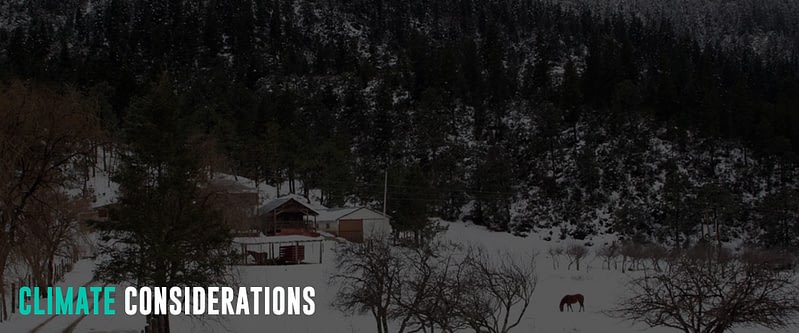 Mexico has diverse climates due to its vast size and varied topography, ranging from coastal plains to high mountains. The country experiences a mix of tropical, arid, temperate, and alpine climates.
In Mexico, the climate varies based on location, latitude, and elevation. For example, the southern regions with heights up to 1,000 meters experience a consistent yearly median temperature of 20 °C to 28 °C, with hot and humid summers. Between 1,000 and 2,000 meters above sea level (asl), annual temperatures range from 16 to 20 °C. Above 2,000 meters, temperatures drop to an average yearly range of 8 to 12 °C. Mexico City, at 2,300 meters, has a median annual temperature of 15 °C with enjoyable summers and mild winters.
The country's coastal areas and lowlands have a tropical climate, with hot and humid weather year-round. During summer, the average temperature ranges between 25°C and 35°C. The desert region of northern Mexico features hot and dry weather, although temperatures can drop to freezing overnight during winter. Meanwhile, the central inland to southern Mexico experiences hot and dry during the daytime, but the temperature can be more relaxed at night. The climate gets distinctly hot and more humid further south and southeast, as well as the Yucatan Peninsula. These are most especially in the lowlands and the coastal areas.
Mexico has distinct wet and dry seasons, with the rainy season from June to mid-October. February is the driest month, while July is the wettest.
When planning your trip and daily itinerary in Mexico, visit the Servicio Meteorológico Nacional (SMN) portal.
Hurricane Season
Mexico lies within the hurricane belt, and all coastal regions are susceptible to storms from May through November. But most storms develop between July and October. Several hurricanes and tropical storms strike the Caribbean and Gulf of Mexico annually, bringing dangerous winds, heavy rains, and flash floods. Sometimes, it causes extensive damage and can be life-threatening. Hence, monitoring weather updates from the US National Hurricane Center and alerts from the National Meteorological and Seismological Services portal is essential.
Primary Transportation Options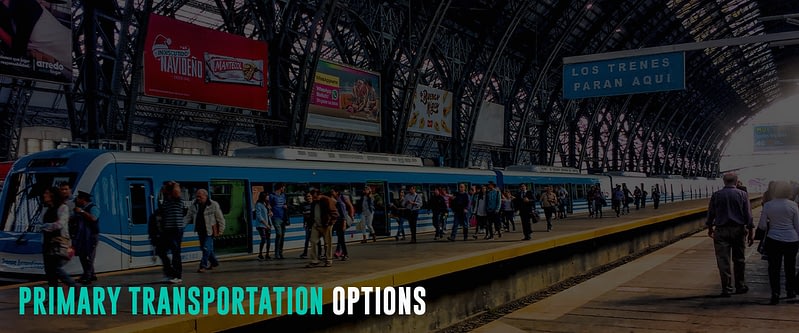 Mexico is huge, being the world's 13th biggest country. However, traveling around Mexico is not an issue with the presence of various transportation options. From taking flights, ferries, trains, long-distance buses, taxis, and Metro systems, travelers only need more patience for the travel time.
Air
Mexico has a well-developed aviation network, with over 60 cities having airports offering scheduled passenger services. Mexico City International Airport is the primary hub, but about a hundred nationwide airports exist. Significant cities like Mexico City, Cancún, Guadalajara, Tijuana, Monterrey, Los Cabos, and Puerto Vallarta have airports with extensive connectivity.
Flying is preferable and a cost-effective option for lengthy travels with limited time. For example, airfare costs $30 for a 2-hour flight from Cancun to Mexico City. It is cheaper than the 27-hour bus journey at around $100. Similarly, travelers can get a one-way airfare to or from Cancun to Puerto Vallarta for only $100 within four hours.
Aeroméxico (the country's flag carrier) and its subsidiary Aeroméxico Connect boast the most extensive network. Other airlines offering competitive fares, such as Interjet, Aeromar, TAR Aerolineas, Volaris, and VivaAerobus, also serve many cities. Additionally, regional airlines such as Aéreo Servicios Guerrero, Calafia Airlines, Magnicharters, and MAYAir operate within the country.
Ferries
Mexico offers an island experience for tourists, with ferry travel a great way to explore. Baja Ferries serve to connect the Baja Peninsula with the mainland on two routes: Topolobampo-La Paz-Topolobampo and Mazatlán-La Paz-Mazatlán. They provide both passenger and vehicle transportation options on regularly scheduled trips.
Traveling by ferry to the Baja Peninsula is advantageous, significantly saving time by bypassing the Gulf of California. Additionally, some ferries operate overnight, reducing the need for an extra night's stay.
Rail
El Chepe, the only remaining passenger train in Mexico, traverses on a scenic train route across the Copper Canyon in the Sierra Madre Occidental mountains. This captivating journey presents breathtaking landscapes, bridges, and tunnels, offering a picturesque ride from Chihuahua to Los Mochis. It is a must-try experience for Mexico travelers.
To secure seats, booking train tickets in Mexico is advised in advance through various channels, including online platforms, train stations, and travel agencies.
Buses
Bus travel is a safe and extensively used option in Mexico for long trips. In addition, Mexico's well-connected road network and reasonably priced bus services make it a popular choice for traveling within the country.
Most, if not all, cities have central bus terminal stations for long-distance journeys. Different bus classes cater to various destinations and comfort levels.
Executive and Deluxe Class buses provide modern and comfortable options. Onboard amenities include air-conditioning, reclining and legroom seats, a toilet, movies on individual screens, and few or no stops. Some offer wifi, drinks, and refreshments.
Bigger towns and cities have several First-Class buses. The standard of comfort includes air-conditioning, toilets, and stops only on designated terminals.
On the other hand, Second-Class or Economy buses provide cheaper yet slower travel as they stop anywhere to pick up passengers. These buses serve small towns, villages, and some intercity routes. More often, the economy is the only bus available in remote areas.
Among Mexico's biggest and most reliable bus companies are ETN Turistar, ADO, Primera Plus, Estrella de Oro, and Omnibuses de Mexico. Booking bus rides in advance, especially during peak seasons, is advisable, though on-the-spot ticket purchases are possible during other times. Travelers can purchase tickets at the terminal, central offices, or online, with seat selection often available. In some 2nd-class services, fares are paid directly to conductors due to the absence of a ticket office.
Taxis
Taxis are a suitable choice for short-distance travel in Mexico. Except in Tulum, taxi rates in Mexico are generally affordable based on distance or specific zones. Depending on the city, the basic fee is around $0.50, an increment of $0.25 for every kilometer and $0.12 for every minute of travel. When using a taxi, verifying whether the meter works is essential. Otherwise, agree on the fare beforehand if the meter isn't functional. Some areas and most airports also have fixed tariffs for taxi travel. Likewise, authorized ticket taxis are available at airports and major bus terminals, streamlining the payment process. It is to avoid potential rip-offs from overcharging taxi drivers.
Popular ride-sharing services like Uber and Cabify are also available in Mexico, providing convenient alternatives to traditional taxis.
Car Rental
Vehicle rentals are ideal for travelers who want more flexibility and freedom in exploring Mexico. The road infrastructure is generally good, with toll highways offering fast travel. Mexico drives on the right side of the road, and adapting to local road conditions and traffic rules is essential.
Car rentals are accessible and surprisingly cheap! Depending on the car type and model, travelers can hire a compact car for as low as $100 a week. These are available from major online platforms such as Rentalcars. Additionally, international rental companies have offices nationwide, and renters typically need a valid international driver's license, passport, and major credit card.
Remember not to leave valuables inside the car, as break-ins can occur. Also, driving at night is not advisable on "off the beaten" tracks and areas without public transport.
Aside from cars, motorbike rentals are also available in select tourist areas, but insurance may not always be provided.
Metro System
Mexico has efficient metro systems in cities like Mexico City and Monterrey, providing adequate public transport options. The central rail-based system in Mexico City is called "El Metro," consisting of twelve lines connecting significant areas in the capital. Additionally, there is the "Tren Ligero," an extension of the Metro system connecting southern terminals. Meanwhile, the smaller rail with two lines of Metrorrey serves Monterrey, the third largest city in Mexico.
In 2006, Mexico City introduced Metrobus, a dedicated bus lane service on Avenida Insurgentes, offering an efficient means of traveling in the city. Another particular Metro Bus line, Line 4, connects the downtown area with the airport. Travelers can check the line routes and timetables to familiarize themselves with their ways and planned destinations. Payments are available in cash or using a metro card.
Aside from the Metro, microbuses or Micros are also common in Mexico, especially in Mexico City. It offers varying prices based on distance and time. Similar to local buses, Micros requires passengers to pay when boarding.
It's important to note that the metro systems get extremely busy during peak hours, with a special mention of women and children being segregated into separate rail cars. Pickpockets are common, and travelers are advised to secure their belongings. The metro is a preferred means of transportation for getting into the center of Mexico City due to traffic congestion.
For more information about metro systems in Mexico, visitors can access the official Metro website for details on services and maps.
Aside from Mexico City, Monterrey, Mexico's third largest city, has rail and bus Metro systems. Metrorrey's rail system is small compared to Mexico City's, with just two lines connecting the city's significant areas. Monterrey's metro system includes the Metrobus, Metro Enlace, and Transmetro.
Start Trip Planning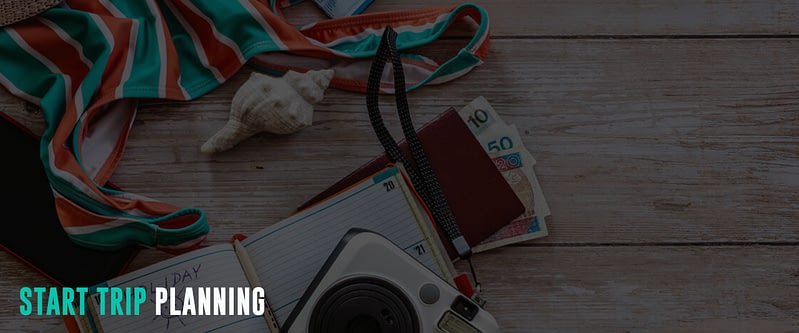 Travel-Wise is made from the ground up to help people travel more, break down the barriers that make it tough to get going, and start your journey as painlessly as possible. Bookmark our other Country Guides to help kick-start your research for future travels. We also offer templated itineraries from our staff and community that help serve as a building block for your trip plans. Alternatively, we also utilize AI to offer a way to generate itinerary ideas. This saves much time just getting you up and running with a template. From there, you can use the trip planner to create your customized itinerary, invite friends and family for collaboration, find others from Travel-Wise to join the trip, book and track important information, journal, and share your experiences at the end or along the way!