This travel wiki page of Nepal will help guide travelers with quick and relevant information to consider when planning and visiting the country. It is difficult to find all the relevant information on Nepali culture, safety, travel restrictions, and things to do, so we summarize it all here. If anything is stale or outdated, please let us know! Let's dive in and explore more high-level information as a Nepal trip planner.
Last updated February 16th of 2023.
National Information & Culture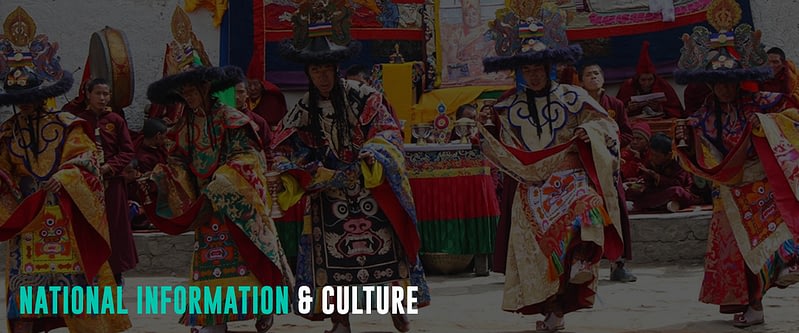 Nepal, formally the Federal Democratic Republic of Nepal, is landlocked in South Asia. It lies mainly in the Himalayas. Nepal shares borders with China to the north and India to the east, west, and south. Kathmandu is the nation's capital and the largest city, while the official currency is the Nepalese Rupee with the symbol रु and NPR as code.
Nepal's diverse geography includes fertile plains, subalpine forested hills, and eight of the world's ten tallest mountains, including Mount Everest, the highest point on Earth. Also, Nepal is multi-ethnic, multilingual, multi-religious, and multicultural. For them, religion is a prominent factor in Nepali daily life, with most of the Nepali population being either Hindus or Buddhists.
Visit the Official Tourism Website of Nepal for additional tips and information when planning your trip.
Customs and Traditions
The diverse ethnic culture in Nepal has various sets of customs, which mostly come with religion. Among them are the rules for traditional marriages, where parents arrange deals after their children come to marrying age.
Cows are sacred in Hinduism. Hence, the slaughter of cows in Nepal is illegal. Also, taking off shoes before entering a house or temple is essential. Furthermore, some temples do not allow entry of non-Hindus. Lastly, public displays of affection and revealing and immodest clothing (including shorts) are unacceptable in Nepal.
Special Travel Considerations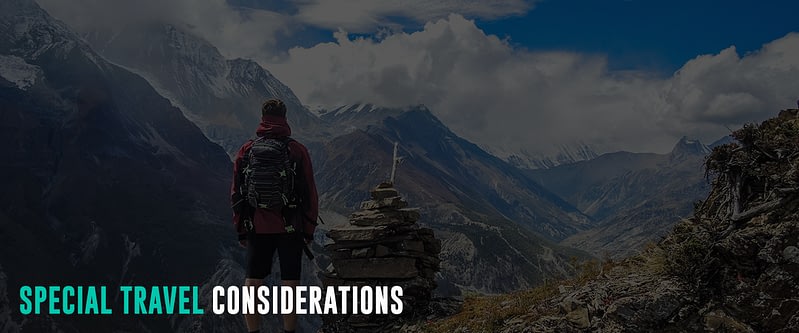 Each country and destination has rules and regulations that every traveler must consider. Hence, check the following considerations for hassle-free travel to Nepal.
Covid-19 Policy
As of January 9, 2023, visitors five years old and above must either present a total dose of a Covid-19 vaccination certificate or a negative PCR test result taken no later than 72 hours before boarding. Meanwhile, there are exemptions for children below five years of age.
All arriving visitors to Nepal should fill out the electronic Passenger Locator and Health Declaration form regardless of age. After completing the process and submitting the form, keep a copy of the system-generated bar code.
Travelers must also follow the protocols and best practices when exploring the country. It includes wearing a face mask when in public, social distancing, frequent handwashing, and respecting local guidelines imposed by local authorities.
The Covid-19 protocol of Nepal may vary over time with the evolution of the pandemic. Hence, it is best to check the latest update on the Covid-19 policy of Nepal before your trip. In addition, the Covid-19 Crisis Management Coordination Center (CCMC) portal also provides the latest protocols.
Travel Insurance
All visitors to Nepal must have mandatory travel insurance to enter the country and acquire a trekking permit and a TIMS Card. The insurance should cover emergency medical treatment, including COVID-19, repatriation, and evacuation from altitude. Moreover, travel insurance can protect you against injury, theft, and flight cancellations. It is a comprehensive protection in case anything goes wrong with your trip.
Trekking Permit
Travelers to Nepal can trek as FIT (Free Individual Trekker) or in a group of various sizes. However, the Government of Nepal highly regulates and restricts certain regions. Hence, FITs are strictly forbidden.
Trekkers to trails and routes in 'Restricted Areas' must secure a trekking permit, pay the fees, and abide by the rules and regulations. Note that individual trekkers cannot apply for the permit and must contact authorized agencies and be accompanied by licensed trekking guides.
TIMS Card
All trekkers in Nepal must acquire the Trekkers' Information Management Systems (TIMS) Card before trekking. TIMS Card is compulsory to ensure the safety and security of mountaineers in the general trekking areas. Also, travel insurance and payment are necessary to acquire permission to trek in Nepal and to obtain the TIMS Card.
Visa Information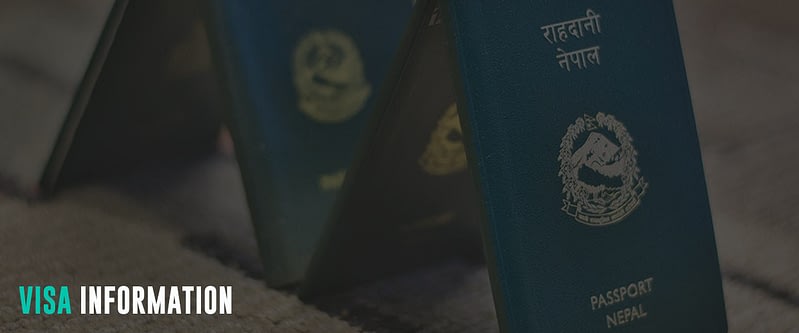 Nepal allows Tourist Visas on Arrival for almost all nationals, except citizens of 12 countries who must apply for a visa from the nearest Nepal Embassy, consulate, or diplomatic missions. Visitors who opt for a tourist visa on arrival at the airport and land borders must follow the below steps:
First, fill in the Arrival Card.
Fill in the Online Tourist Visa form from the Department of Immigration portal or the airport kiosk machines.
Pay the necessary arrival visa fees, depending on the length of stay.
Proceed to the Immigration Desk and hand over the electronic form, payment receipts, and your passport for them to issue the Tourist Visa on Arrival.
Children traveling with parents and family must also have visas to enter Nepal. However, minors below ten years get a Gratis visa.
Popular Attractions
Nepal is home to the highest mountain in the world and a popular hiking and mountaineering destination. Not only that, but Nepal has one of the world's highest concentrations of UNESCO World Heritage Sites.
Mount Everest and the Base Camp Trek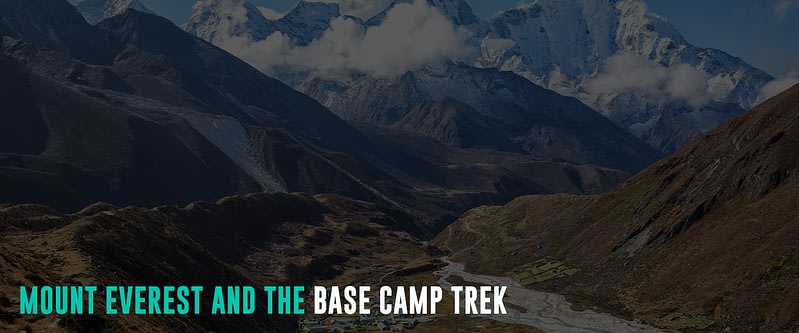 Mount Everest, the highest mountain on Earth, reaches 8,848 meters (29,028 feet) high. Though the Everest Region is not the most scenic trekking region in Nepal, its allure makes it a popular goal destination for climbers and mountaineers.
The Everest Base Camp trek, along with helicopter trips, has become increasingly popular for visiting the base of Mount Everest. It is where the ascent and descent point to the summit of Mount Everest. A trek to the Everest Base Camp at an elevation of 5,364 meters takes at least 12 days. The experience gives every trekker a glimpse of the difficulty every mountaineer experiences when climbing Mount Everest.
The main hiking seasons to Everest are from March to May and September to December, with Sherpas performing religious ceremonies (pujas) before the trek.
Annapurna Sanctuary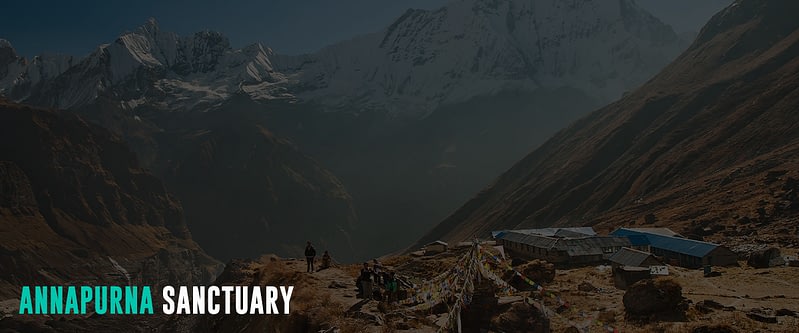 The Annapurna Region is one of the popular trekking destinations in Nepal, varying from a few days to a few weeks. A trek to the Annapurna Sanctuary, an oval-shaped plateau of over 4000 meters only 40 kilometers north of Pokhara, takes five days to reach. It is surrounded by the Annapurna mountain ranges, mostly above 7000 meters, with the only entrance a narrow valley between the peaks of Hiunchuli and Machapuchare. The entire sanctuary is sacred to the locals in Annapurna. Hence, visitors should respect their beliefs and behave accordingly.
Treks into the Annapurna Sanctuary don't require a guide, as the trails are well-marked and dotted with villages and plenty of food and accommodation options. Part of the journey is for trekkers to stay at homestays and dine with local families along the route. In addition, the trek offers excellent views of the Himalayan mountain range, the ecosystem, and local culture immersion.
Annapurna Sanctuary is part of the Annapurna Conservation Area Project, restricting the number of outside travelers, gathering firewood, and domestic animal grazing.
Kathmandu Durbar Square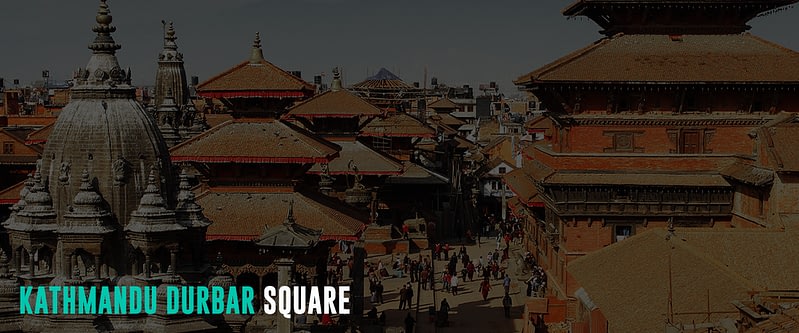 Kathmandu Durbar Square is just in front of the old royal palace of the former Kathmandu Kingdom. It is one of three Durbar (royal palace) Squares in the Kathmandu Valley in Nepal, all of which are UNESCO World Heritage Sites. The Kathmandu Durbar Square has the palaces of the Malla and Shah kings, who ruled over the city from the 15th century until 1896. Aside from the court, many temples, towers, a former elephant stable, and shrines surround Durbar Square.
The square features spectacular architecture that showcases the skills of Newar artists and artisans over the centuries. In these Durbar Squares, the kings were crowned, and royal proclamations were made. Unfortunately, many of the structures and half a dozen temples were severely damaged in the 2015 earthquake. Although restoration is underway, restoring them to their former glory will take years.
Bhaktapur Durbar Square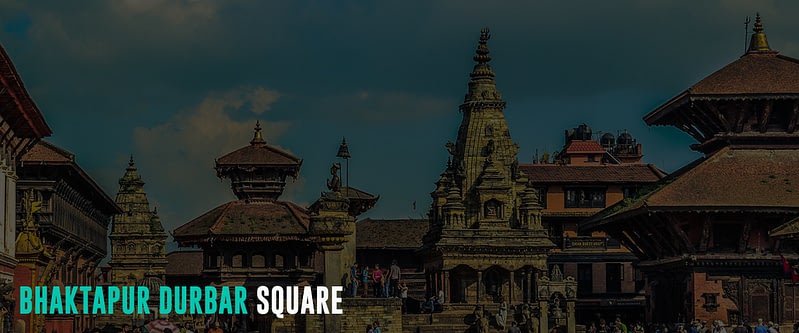 Bhaktapur Durbar Square is a former royal palace complex in Bhaktapur and is the biggest and grandest among the three durbar squares in Nepal. The square housed the Malla kings of Nepal from the 14th to 15th century and the kings of the Kingdom of Bhaktapur from the 15th to late 18th century. During its height, the square has 99 courtyards. But unfortunately, hardly 15 of them remain after the earthquakes in 1833, 1934, and 2015.
Today, Bhaktapur Durbar Square is a UNESCO World Heritage Site jointly managed by the Archeological Department of Nepal and Bhaktapur Municipality.
Boudhanath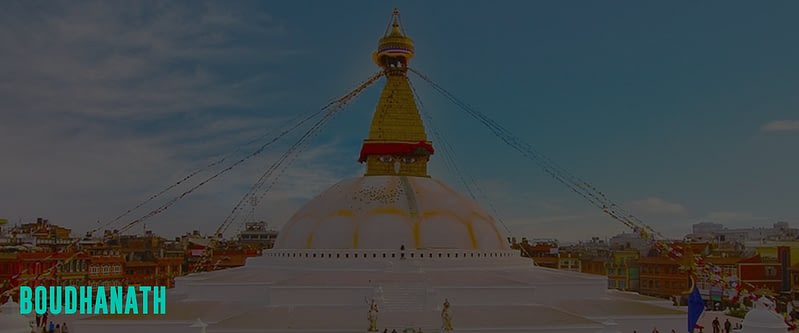 Boudhanath dates back between the 5th and 6th century and is one of the largest spherical Buddhist stupas in Kathmandu and the world. The stupa features four eyes representing Buddha's all-seeing and all-knowing nature. Travelers will also see hundreds of colorful prayer flags flutter in the wind around the monument.
Numerous Tibetan Buddhists and refugees reside around the stupa, constructing over 50 gompas and monasteries. Boudha Stupa is a UNESCO World Heritage Site, and along with Swayambhu, it is one of the most popular tourist sites in the Kathmandu area. The stupa had minor damage during the 2015 earthquake and is now fully repaired.
Chitwan National Park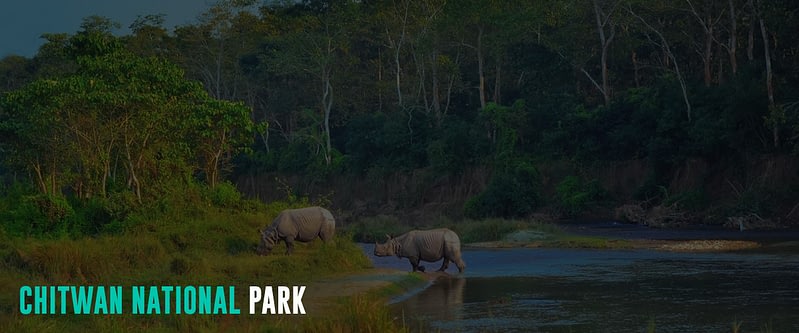 Chitwan National Park, the first national park in Nepal, is a UNESCO World Heritage Site. The park has a diverse wildlife and safari-type atmosphere. It is famously home to some of the world's remaining populations of one-horned rhinos, with frequent sightings of the Bengal tiger. Travelers will also find Gharial crocodiles, sloth bears, leopards, gaur (buffalo), and deer. Moreover, over 500 species of birds make Chitwan a paradise for ornithologists and enthusiasts.
The park has vast grasslands, dense jungles, and mountain ranges ideal for a wildlife safari. Tours from the lodges take visitors into the park on foot or, more often, on elephants for close-up wildlife encounters. The best time to visit Chitwan is from October to February.
Pashupatinath Temple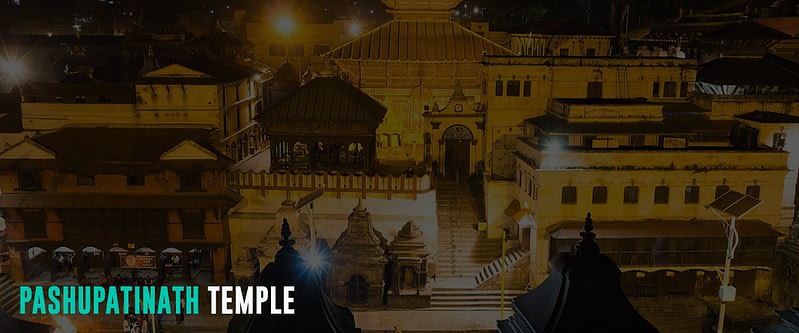 Pashupatinath Temple, a Hindu Temple dedicated to Lord Pashupati, is the oldest temple in Kathmandu and is considered one of Nepal's most sacred. Although Pashupatinath Temple's existence is recorded as early as 400 CE, the current structure was only constructed in 1692.
The temple is famous for its pagoda-style architecture, with copper and gold covering. The extensive Pashupatinath Temple compound along the Bagmati River is a collection of centuries of temples, ashrams, images, and inscriptions. Only practicing Hindus of South Asian descent can enter the compound, but a good viewpoint of the complex for non-Hindus is located across the river.
A UNESCO World Heritage Site, Pashupatinath Temple is one of seven monument groups in UNESCO's designation of Kathmandu Valley.
Swayambhunath (Monkey Temple)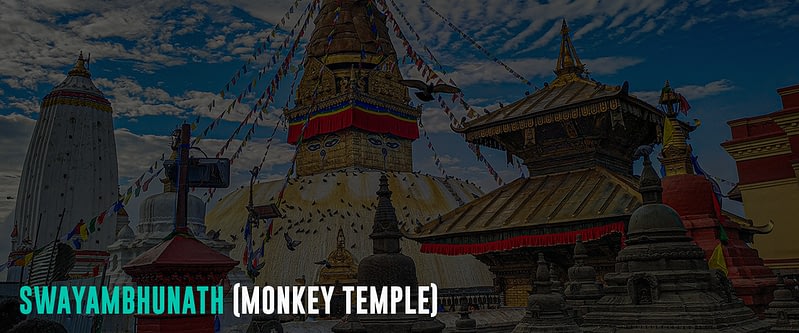 Dating back to the 5th century, Swayambhunath is an ancient religious complex atop a hill in Kathmandu Valley and the second most crucial shrine after Boudhanath. The complex consists of a stupa, various shrines, and temples, with the recent addition of a Tibetan monastery, museum, and library. The complex centerpiece is the Swayambhu Stupa, painted with Buddha's eyes, eyebrows, and nose. Sadly, the 2015 earthquake in Nepal caused some damage to the temple complex. However, restoration and repairs are complete, and Swayambhunath is back in its original condition.
Due to the monkeys that inhabit parts of the temple, Swayambhunath is often called the Monkey Temple.
Phewa Lake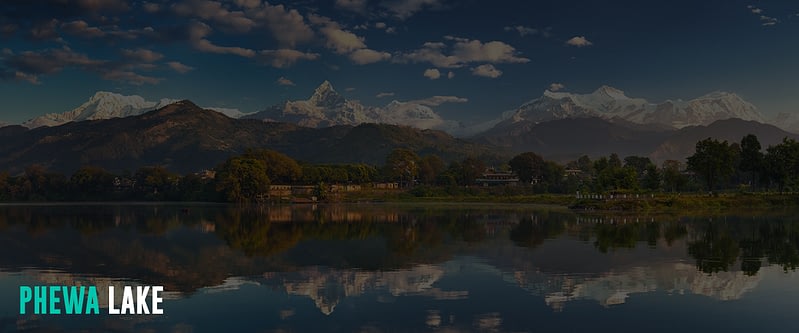 Phewa Lake is the most popular and most visited freshwater lake in Nepal. It lies at the Lakeside of the Pokhara Valley and city. Formed circa 13000 BC, Phewa Lake is a famous royal resort in Nepal. The lake is also famous for the reflection of Mount Machhapuchhre and the mountain peaks of Annapurna and Dhaulagiri ranges on its surface.
Popular activities for travelers include renting a small sailboat and enjoying the mountain reflection on the lake's surface. Also, Phewa Lake has become a favorite subject for photographers during sunset.
Langtang Region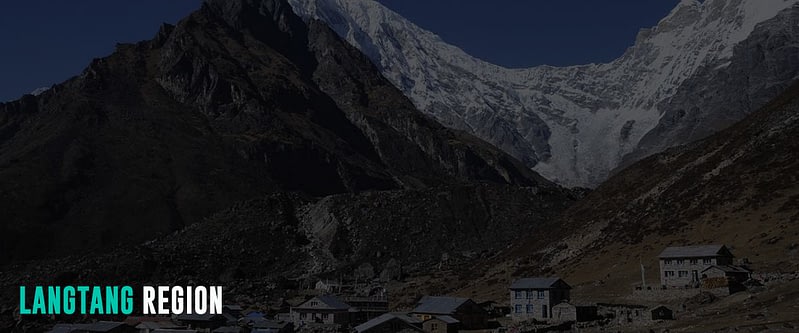 The Langtang Region, home to Langtang National Park, is an excellent area for hiking and one of Nepal's most promising trekking trails. It has high passes, extensive views, old monasteries, and beautiful mountain scenery. Rhododendron, oak, maple, and pine forests bloom during the spring and autumn hiking season, adding color to the vistas. Wildlife in the region includes the Himalayan black bear, Himalayan tahr, Assam macaque, snow leopard, yak, red panda, and over 250 bird species.
Treks in the Langtang region vary from a few days to weeks, depending on the route. But generally, it ends at the small village of Kanjin Gompa (3,860m) at the head of the Langtang Valley. Spread out along the routes are villages with homestays and food.
Bardiya National Park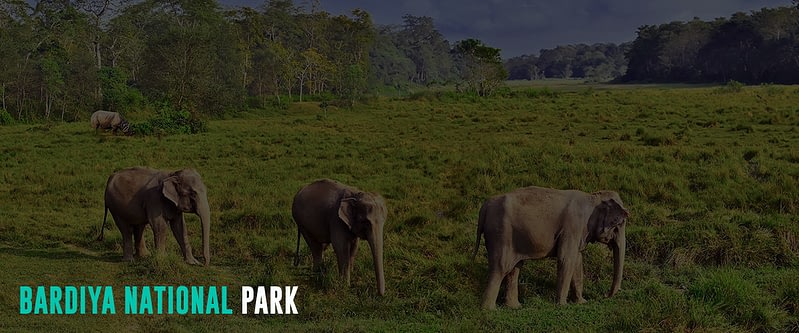 Bardiya National Park, established as Royal Bardia National Park, is a protected area in Nepal. The neighboring Banke National Park has a protected area of grasslands and subtropical moist forests representing the Tiger Conservation Unit (TCU) Bardia-Banke.
The park is one of the best places in Nepal to spot Bengal tigers, rhinos, crocodiles, and elephants in their natural habitat. It is also home to 839 flora, 642 faunas, 125 fish species, 53 mammals, and 23 reptile and amphibian species. In addition to the large animals, the park is also a bird-watching hot spot, with over 407 species, including Bengal florican, white-rumped vulture, peafowl, and bar-headed geese, which are symbolic of the park.
Part of the national park was once the exclusive hunting zone of Nepali royalty.
Primary Spoken Language(s)
Nepal is a multilingual state, with Nepali as the official language. Ethnic groups in Nepal speak over 92 languages, with Maithili, Bhojpuri, Tharu, Tamang, Nepal Bhasa, Bajjika, Magar, Doteli, Urdu, Awadhi, and Sunwar as the major languages.
Many of the population speak and understands English as a subject at school. Also, most schools (especially private ones) use English as the teaching medium.
Safety Concerns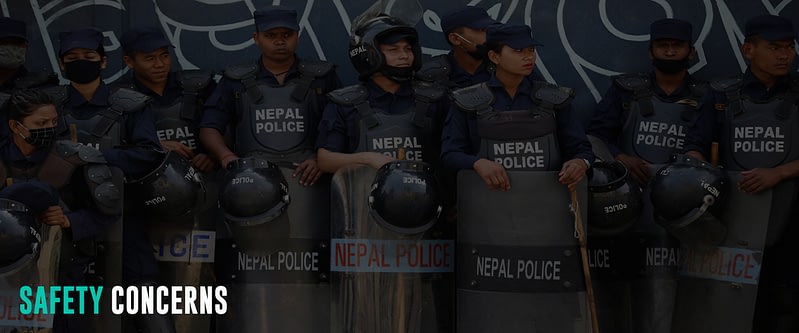 Nepal is a relatively safe country and destination for travelers. It ranks 73rd out of 163 countries on the 2022 Global Peace Index and has a Level 2 Travel Advisory from the US Department of State. The country's crime rates are low, though travelers should still exercise caution.
Small-scale explosions happen in Nepal. It is usually associated with political events and protests. Hence, avoid areas with ongoing rallies and protests.
Pickpockets and bag snatchers operate in crowded places such as bus or train stations and airports. Also, they are rampant in the tourist landmarks such as Thamel, Sanepa, and Kupondol in Kathmandu. Hence, travelers to Nepal should keep their bags and belongings at all times. Leave valuables and jewelry at home or in the hotel safety box.
Travelers must take care at night and be especially vigilant after dark. Avoid trekking alone and always move at least in pairs, as crimes and disappearances happen, especially in the Langtang area. Also, avoid the night bus as most road accidents occur after dark.
Moreover, there are specific laws and regulations that tourists to Nepal must know. For example, drugs and prostitution are illegal in Nepal. Hence, travelers must beware of involving themselves in such nuances.
In emergencies, dial the toll-free hotline 1144 for the tourist police, 100 for the police, 101 for fire, and 103 for traffic police assistance.
Natural Hazard
Though crime rates are low, the most significant dangers in Nepal lie in nature. Traveling to Nepal's hills and mountains by bus or air is generally more dangerous than everyday travel anywhere in the world due to the cliff-top locations of airports and stations.
Lastly, Lukla, the entry point for the Mount Everest trek, is the world's most dangerous airport due to its jaw-dropping cliff-top location. Therefore, exercise extreme caution when considering ways to approach these locations and do trek activities. Also, consider the high risks during the monsoon season from June to September.
Health Safety
Altitude sickness is one of the health concerns for travelers trekking mountains above 2,500 m. It can affect anyone, even physically fit individuals. Make sure your travel insurance covers medical evacuations from high altitudes.
Mosquito-borne diseases such as dengue and Japanese encephalitis are becoming an issue in Nepal, including Kathmandu. Malaria is also a risk in the Terai plains, Hill districts, and Chitwan National Park. Make sure your accommodation is insect-proof, and regularly use mosquito repellant. Consider taking anti-malarial medicine for these areas, and get vaccinated against Japanese encephalitis before you travel.
Also, travelers to Nepal can be vulnerable to waterborne, foodborne, parasitic, and other infectious diseases such as typhoid, cholera, and hepatitis. Hence, drink only boiled or bottled water and avoid raw or undercooked food.
Rabies from dogs, monkeys, and other mammals are common. It can be fatal without immediate treatment, and travelers must get help if bitten or scratched by animals.
Lastly, HIV or AIDS is common. Take measures to reduce the risk of exposure to the virus.
Budget Considerations
Nepal is one of the cheapest countries to travel to in Southeast Asia. Not only that, but it is easy to explore this culturally rich country on a budget.
Accommodation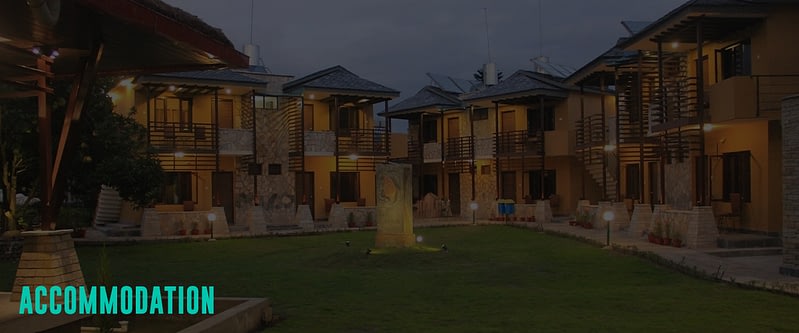 There are plenty of affordable places to stay in Nepal. For example, travelers can get a bed in a hostel dorm for as low as $3 per night. Moreover, a private room in a hostel or budget hotel in the capital city of Kathmandu starts from $8 and is as low as $21 in a three-star hotel. Not only that, but luxury travelers can stay in a five-star hotel for $93 per night. In addition, all accommodations usually come with a complimentary breakfast.
Food
Like accommodations, there are plenty of inexpensive places to eat in Nepal. For as low as $2, travelers can get a decent meal in a local diner serving Nepali cuisine, while combo meals in an international fast-food chain start at $5. Also, a three-course meal in a mid-range restaurant can cost $18.
Travelers who choose to cook meals can allocate $35 for a week of groceries. It can include basic staples such as rice, fresh farm produce, and meat.
Attractions and Transportation
The entrance fees for attractions in Nepal are inexpensive based on international standards and come with free fantastic mountain scenery. For example, foreign access to national parks ranges from $8 to $22; Kathmandu Durbar Square costs $8, while Bhaktapur Durbar Square is $15. But the cost can quickly increase if travelers join an organized trek with a guide and porter.
Also, travelers with advanced accommodation booking can take advantage of the free airport-to-hotel transfers offered by many hotels in Kathmandu. If not, visitors can take a taxi to town at around $5.70 from the fixed rate desk at Tribhuvan International Airport in Kathmandu. Public buses and local public transport are the best options to save money in getting around Nepal, with one-way tickets starting at $0.30.
Average Two Week Cost
Backpackers in Nepal can live with a $20 daily budget or $280 for two weeks. It covers the costs of a hostel dorm bed, cooking their food with occasional dining in local diners, taking public transportation, and visiting free attractions.
On the other hand, mid-range travelers spend $60 daily or $840 for two weeks. The budget includes three-star hotel accommodations, occasional fine dining, taking a taxi, or visiting paid attractions and activities.
Lastly, travelers can enjoy luxury in Nepal from $170 per day or $2380 for two weeks. It includes staying in a five-star hotel, fine dining, renting a car and taking domestic flights, and availing all the paid tours and activities they want. So for them, the sky is the limit for travel.
Customs And Import Restrictions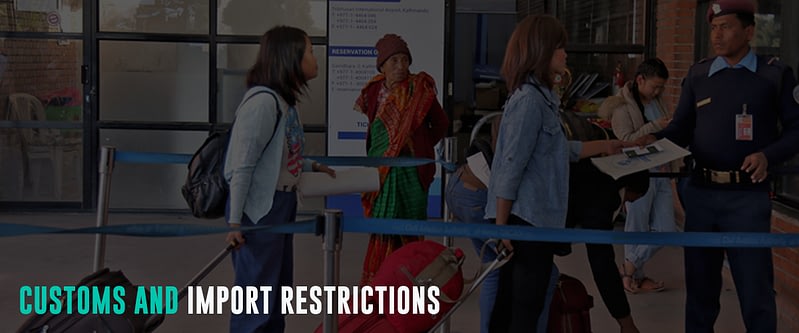 All travelers entering Nepal can bring customs duty-free goods as follows:
Personal goods such as clothes, wedding dresses, and old household items.
Medicines brought by patients who have returned from medical treatment.
Goods that are used as support by physically disabled passengers.
Gold ornaments up to 50 grams, silver ornaments up to 500 grams, and jeweled ornaments up to one lakh rupees for Nepali and non-Nepali residents. On the other hand, foreign travelers to Nepal can bring up to 50 grams of gold ornaments and silver ornaments up to 100 grams.
Child-carrying perambulator, one each.
One piece of luggage used by professional travelers.
Up to seven kilograms of food dishes.
One bottle of liquor, up to 1 liter, or 12 cans of beer.
Cigarettes up to 200 khilli, cigars up to 50 khilli, towak up to 250 grams
Prohibited Imports
Some certain goods and items are completely prohibited from entering Nepal, such as:
Harmful drugs and intoxicants like marijuana, hashish, opium, and morphine.
Beef
The Government of Nepal specifies harmful azo dyes by occasionally publishing notices in the Nepal Gazette.
Plastic bags and sheets of thickness less than 20 microns.
Incandescent light bulbs throw more carbon.
Prohibited items according to other prevailing laws.
Combine harvester without straw collector or weller.
Restricted Imports
Restrictions and prior approval are necessary to allow entry of the following goods:
They applied psychotropic drugs and their auxiliary chemicals on the Ministry of Home Affairs recommendation.
On the Ministry of Home Affairs recommendation, small arms, explosives, explosives materials, guns and bullets, paper caps, and other explosives and weapons.
As per the Ministry of Information and Communications, radio equipment such as wireless, walkie-talkie, broadcast receiver, link radio equipment, and other similar transmitters, communicators, visual carriers, data carriers, and radio devices.
Visit the Customs Department portal of Nepal for the complete list of customs and import regulations when entering the country.
Climate Considerations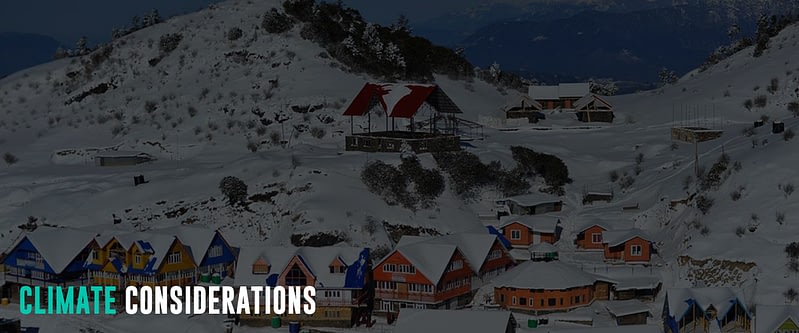 The climate in Nepal varies considerably according to season and altitude. Northern Nepal has cool summers and severe winters, while the south has sweltering summers and mild to cold winters.
Nepal has five seasons: spring (March to May), summer (mid-May to August), monsoon (mid-June to early September), autumn (September to November), and winter (December to February).
Terai Region (southern Nepal) has a hot and humid climate. The summer temperatures exceed 40° C and above 45° C in some areas, while winter temperatures range from 7 °C to 23 °C.
The midland mountain region has a pleasant climate almost year-round. Summers are temperate, while winter temperatures can drop to sub-zero at night.
Kathmandu Valley has a pleasant climate. It has average summer temperatures of 20 °C – 35 °C and 2 °C – 12 °C during winter.
The northern mountain regions, with altitudes above 3,353 meters, have an alpine climate with a considerably lower temperature in winter.
It is important to note that the average temperatures in Nepal drop 6 °C for every 1,000 meters increase in altitude.
Primary Transportation Options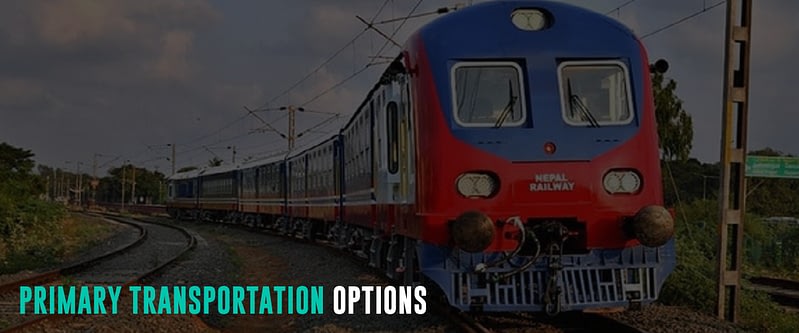 Transportation in Nepal is difficult due to the mountainous terrain. Nevertheless, it does not seem to affect the traffic of travelers, especially mountaineers, to explore the country.
Air
34 out of 53 airports in Nepal are in operation as of 2020. Tribhuvan International Airport in Kathmandu and Gautam Buddha International Airport in Lumbini are the international airports in Nepal and serve as the primary aviation hubs.
Nepal Airlines, the country's flag carrier, has an extensive network of air services to major parts of the country. Besides Nepal Airlines, other domestic airlines provide regular and chartered flight services to popular destinations. Some of them even offer aerial tours over high mountains. However, travelers are better off flying with international airlines, as local airlines have issues with crashes to mountain ranges.
Public Transportation
Local transportation in Nepal includes public buses, minibusses, micro-buses, and battery-run three-wheelers. Travelers can also try riding on local rickshaws where they're available. The rickshaw is the best for quick sightseeing, especially in old Kathmandu.
Buses
Buses are the primary mode of transport in Nepal. Though buses are cheap and accessible, reaching the destination usually takes time. Several long-distance bus services, either day or night, are available from New Bus Park at Gongabu in Kathmandu to all cities of Nepal. Options include big air-conditioned buses, minibusses, micro-buses, and 12-seater vans.
Sajha Bus, the government-run green bus, is comfortable and runs along the valley's north-south and east-west main roads. However, they only stop at designated bust stops. So, travelers must know the nearest bus stop to their destinations.
But as a general reminder, bus drivers in Nepal are known to be rash in their driving manner. Therefore, be ready for a rollercoaster and wild bus ride in Nepal. Also, while night buses are tempting to save on accommodation costs, it is best avoided as accidents are common after dark.
Taxis
Taxis in Nepal are easily recognized by their top sign and black license plate. The base fare of metered taxis starts at around $1.90, with an additional $0.75 per kilometer. Private taxis charge higher rates but offer more comfortable services. It is also possible to arrange night taxi service from major hotels.
Tempos
Tempos are three-wheeled vehicles that provide a right and clean way of traveling around the city. Visitors won't have the comfort of an air-conditioned car, but they get every traveler to their destination safely and cheaply. Travelers only need to negotiate the fares before getting in.
Motorbikes
Motorbike rentals are available in Nepal. Travelers must have an international driving license to ride motorbikes in the country. However, be aware that road safety is not excellent and rash driving is prevalent in Nepal.
Bicycle
Mountain bikes and ordinary bicycles are available for hire at Thamel, Rani Pokhari, and Jhochhen, all in Kathmandu and around Pokhara. They are cheap and the best form of transportation for economy tourists.
Car Rental
Travelers who want more flexibility can hire a car in Nepal. They can rent through a travel agent or a car rental company, whether local or international.
Start Trip Planning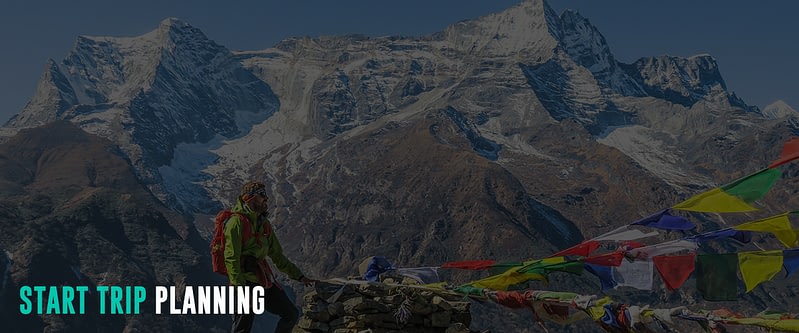 Travel-Wise is made from the ground up to help people travel more, break down the barriers that make it tough to get going, and start your journey as painlessly as possible. Bookmark our other Country Guides to help kick-start your research for future travels. We also offer templated itineraries from our staff and community that help serve as a building block for your trip plans. Alternatively, we also utilize AI to offer a way to generate itinerary ideas. This saves much time just getting you up and running with a template. From there, you can use the trip planner to create your customized itinerary, invite friends and family for collaboration, find others from Travel-Wise to join the trip, book and track important information, journal, and share your experiences at the end or along the way!