This travel wiki page of New Zealand will help travelers with quick and relevant information to consider when planning and visiting the country. It is difficult to find all the relevant information you need on culture, safety, travel restrictions, and things to do, so we summarize it all here. If anything is stale or outdated, please reach out and let us know! Let us dive in and explore more high-level information as a New Zealand trip planner.
Last updated October 24th of 2022.
National Information & Culture
New Zealand is an island country on the southwest side of the Pacific Ocean. The North and South Islands are its two mainlands, with over 700 smaller islands. Wellington is the capital city, while the most populous city is Auckland. The official currency is the New Zealand Dollar (NZD).
The country is home to many active volcanoes, and the past volcanic eruptions and tectonic movements are the primary reasons for topography variation and sharp mountain peaks. About thirty percent of the country's total land area is a national reserve.
The first inhabitants of New Zealand between 1280-1350 were Polynesians, who later developed into the distinctive Maori culture. Today, most of New Zealand's population is of European descent, followed by the indigenous Maori, Asians, and Pacific Islanders.
A young yet developed country, New Zealand pioneered the minimum wage in the workplace and was the first country to give women the right to vote. Not only that, but the country ranks high in national performance, quality of life, public health services, education, government transparency, and economic freedom. New Zealand's significant sources of revenue are from the service and industrial sectors, agriculture, and international tourism.
Famous worldwide for its dairy products, the country's sheep population is five times higher than the number of humans living in New Zealand. Aside from dairy, the kiwi, hobbit, and the country's prominent rugby culture make New Zealand famous worldwide.
Maori Culture
Kia ora! It is the Maori language of greeting, an all-encompassing way to wish someone well. Distinctive to the Maori people is Hongi. It is a traditional greeting by pressing the nose and forehead against someone else's.
Haka, a Maori traditional war dance, became popular on the world stage because of the New Zealand All Blacks rugby team. The traditional dance displays strength and pride, including powerful stomps of the feet, wide eyes, and well-known tongue poking.
Ta Moko forms a big part of the Maori culture. Traditionally, Ta Moko is an essential cultural representation of heritage, personal rank, and wisdom. For Maori, the sacred part of the body is the face and head. Hence, it is where they usually have their Ta Moko on.
Special Travel Considerations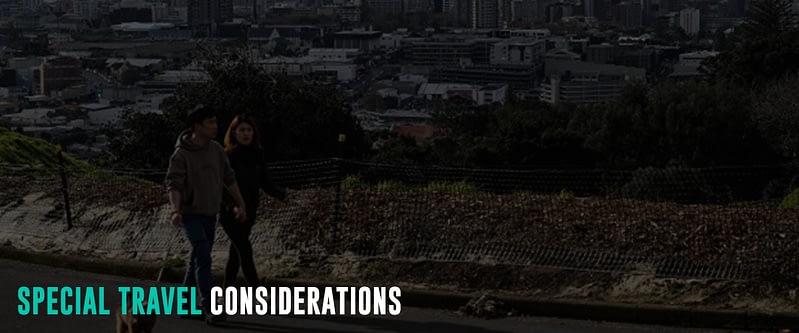 Covid-19 Policy
All travelers, including aircrew, arriving in New Zealand do not need to present COVID-19 vaccination and testing requirements to enter the country. However, the government encourages everyone to remain up to date with their vaccinations before traveling to New Zealand. So make sure to check the latest Covid-19 policies of New Zealand when planning for your trip. Travelers can also check New Zealand's Ministry of Health web page for more information.
Travel Insurance
Some visa categories may require mandatory travel insurance when traveling to the country. Hence, all visitors are highly encouraged to get travel insurance coverage for Covid-19 infection and emergency repatriation.
Visa Information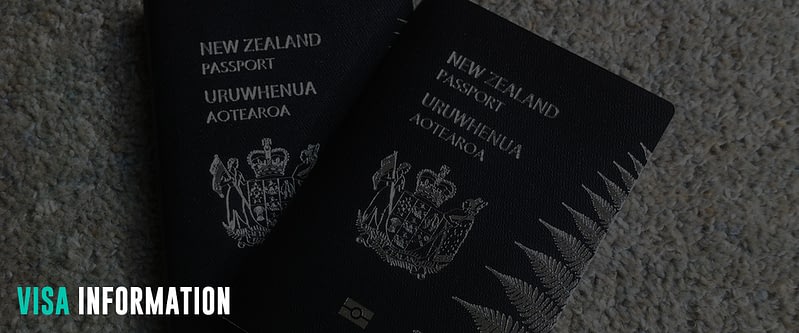 Citizens and permanent residents of Australia can enter and reside in New Zealand visa-free. In addition, nationals from 61 visa-waiver countries do not need to apply for a visa. But, they must secure New Zealand Electronic Travel Authority (NZeTA) before they travel to the country. Travelers not belonging to the listed visa-exempt countries must apply for the necessary visa to enter New Zealand.
Aside from visa and NZeTA, visitors must have at least three months of valid passports beyond their departure date, proof of sufficient funds amounting to at least $570 (NZ1000) / month of stay, and an onward ticket. Generally, having at least six months of passport validity every time you travel worldwide is highly recommended.
NZeTA
Processing NZeTA can be done online and takes at least 10 minutes up to 72 hours to secure approval. To process, visitors must pay $10 (NZD 17) if the application is made through the free app. The NZeTA fee will be $14 (NZD 23) if processed online. In addition, travelers must also pay an International Visitor Conservation and Tourism Levy (IVL) for NZD 35 at the same time as your NZeTA.
Australian passport holders and those with valid New Zealand visas must not apply and pay NZeTA.
Popular Attractions
A visit to New Zealand will always be full of adventure, with both the North and South Islands equally beautiful yet unique. Every trip is epic, from hiking on one of the 'Great Walks' routes to wandering the beaches, islands, geothermal and national parks!
South Island
Fiordland National Park and Milford Sound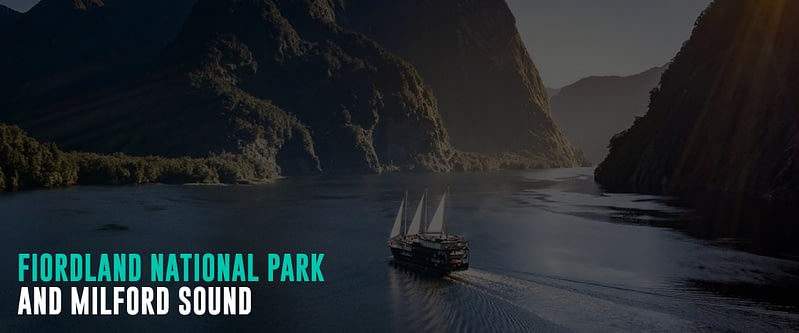 Fiordland National Park in the South Island of New Zealand is a World Heritage Site, protecting some of the most spectacular scenery in the country. It is home to the famous fjords of Milford, Dusky, and Doubtful Sounds. With its mountain peaks and dark blue coastal waters, visitors will enjoy exploring numerous waterfalls cascading down the cliffs, vast lakes, virgin rain forests, and offshore islands.
Unsurprisingly, Fiordland National Park is a haven for hikers with some of the country's best hiking routes, including the famous Milford Track. In addition, visitors can also explore the fjords by sea kayaking or enjoy a scenic flight over the park for a bird's-eye view of its staggering beauty.
Fox and Franz Josef Glaciers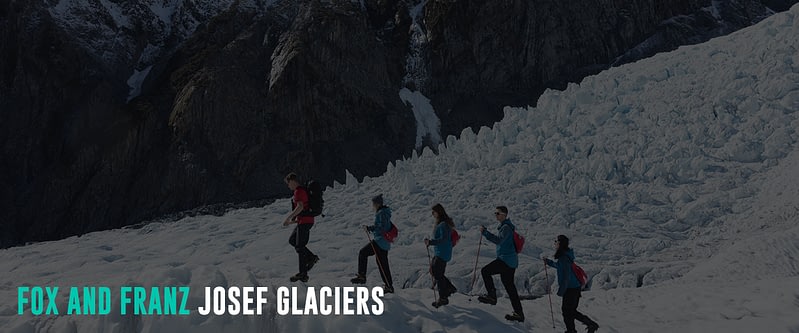 Franz Josef and Fox glaciers are among the most accessible glaciers in the world. They are the main tourist attractions in Westland Tai Poutini National Park on the South Island. These glaciers flow from some of the highest peaks in the Southern Alps to near sea level. Visitors can walk right up to the foot of the massive glacier through a guided hike, including some fascinating hot pools. They can also take a helicopter ride over the vast ice glaciers for an aerial view.
Abel Tasman National Park & the Abel Tasman Coast Track
The Abel Tasman Coast Track in Abel Tasman National Park is one of New Zealand's Great Walks in the South Island. This scenic 51-kilometer route is a hiker's dream. Along the way, visitors can snorkel or kayak in the secluded coves; enjoy tours that offer the chance to spot fur seals, dolphins, penguins, and a diverse range of birds; hike through the rainforests, and enjoy panoramic views from the rugged coastal cliffs.
Photographers will also enjoy the various weathered rock formations, including the Split Apple Rock, a giant granite boulder sliced in two. The hike takes around three days, with accommodations ranging from campgrounds to rustic huts and plush private lodges.
Aoraki/Mount Cook National Park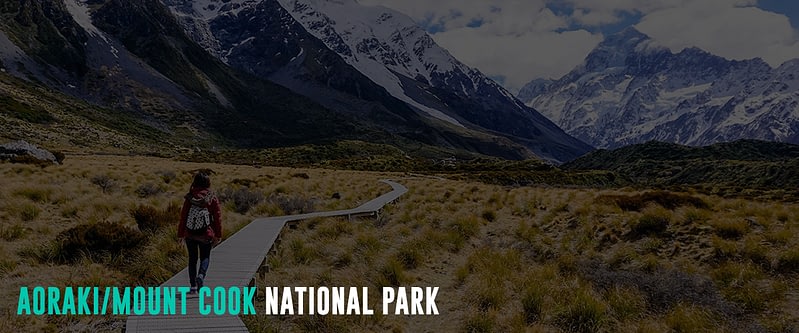 Aoraki, or Mount Cook, is New Zealand's highest peak. It lies in the heart of the Southern Alps, rising above the alpine landscapes of Aoraki National Park, also called Mount Cook National Park. It is a top destination for mountaineering, with over 40 percent of the park covered in glaciers, and the longest glacier (Tasman Glacier), lies within its borders. The park has diverse flora and fauna and is home to more than 300 species of alpine plants and 40 species of birds, making it a haven for nature lovers. Activities include scenic flights, ski touring, heli-skiing, hunting, hiking, and stargazing trips. Mount Cook Village is an excellent base for exploring the park and organizing visitors' activities.
Kaikoura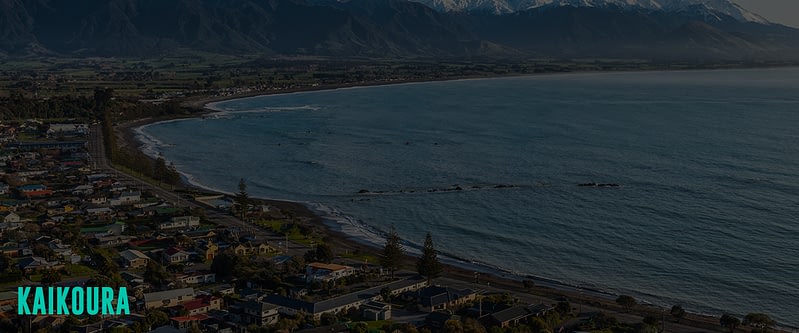 Kaikoura is a small South Island coastal town and a haven for seafood lovers, birders, and wildlife enthusiasts. It is an ideal place for visitors to spot fur seals, dolphins, sperm whales, humpback whales, and albatrosses off the shore. Visitors can also indulge in fresh crayfish, mussels, blue cod, and more. Land lovers can take a wilderness walk through the natural Kaikoura forest.
Queenstown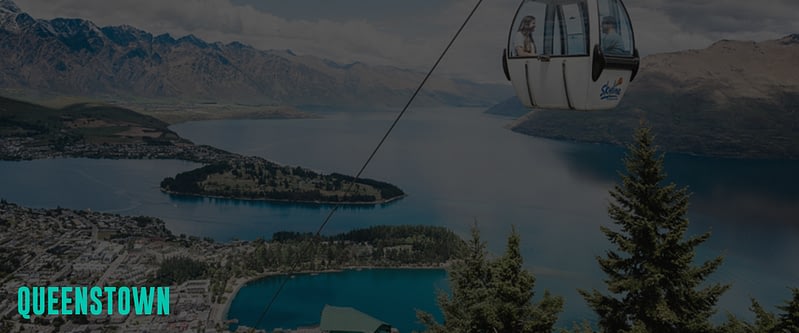 Queenstown is between the shores of shimmering Lake Wakatipu and the snowy peaks of the Remarkables in the South Island. It is the adventure capital of New Zealand and one of the country's top destinations for international visitors. Bungee jumping, jet boating, white water rafting, paragliding, rock climbing, mountain biking, and downhill skiing are some adrenaline-fueled things in Queenstown. Visitors can also explore the stunning alpine scenery on the excellent network of hiking trails.
In addition to outdoor and adventure sports, Queenstown offers all the comforts, with first-class hotels, spas, restaurants, galleries, and shops. It is also an excellent base for sightseeing trips to the Central Otago region, where visitors can jump off to explore the gold-mining towns and the Middle Earth scenery from the famous Lord of the Rings movies.
North Island
Bay of Islands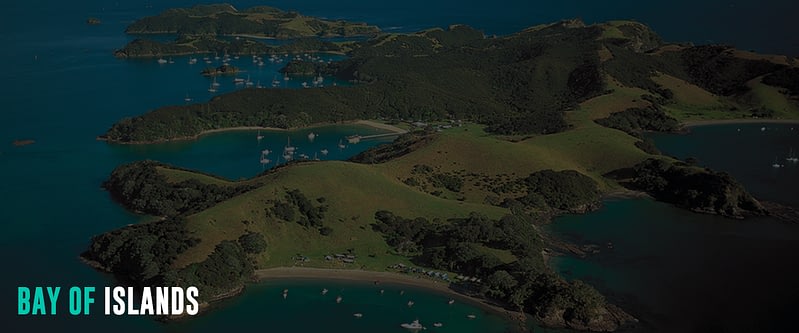 The beautiful Bay of Islands is only a three-hour drive north of Auckland and one of the most popular vacation destinations in the country. Over 144 islands line the glittering bay, making it a haven for sailing and yachting. Also, the region is a popular sport fishing spot with penguins, dolphins, whales, and marlin living in its waters.
Activities here include sea kayaking along the coast, hiking in various island trails, enjoying the coves, touring Cape Brett and the famous Hole in the Rock rock formation, and exploring subtropical forests where Kauri trees grow. The quaint towns of Russell, Opua, Paihia, and Kerikeri are great places for visitors to explore this scenic bay.
Lake Taupo and Tongariro National Park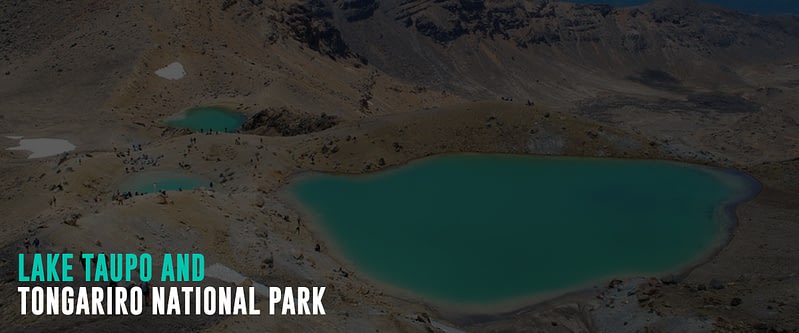 Tongariro National Park is in the center of the North Island and just a few kilometers away from Lake Taupo, New Zealand's largest lake. The site is a dual World Heritage Site due to its spectacular volcanic features and importance to the Maori culture. The volcanic peaks of Tongariro, Ngauruhoe, and part of Ruapehu were gifted by Maori chief Te Heuheu Tukino IV in 1887 to the people of New Zealand to preserve this 'sacred land.'
One of the oldest national parks in the world, Tongariro has a unique beauty, with towering volcanoes, turquoise lakes, arid plateaus, alpine meadows, and hot springs. One highlight of the park is the Tongariro Alpine Crossing, one of the most popular day walks in the country. This day-long hike covers Mount Tongariro and passes along the base of Mount Ngauruhoe, with blue and emerald lakes as significant scenic attractions.
Fun things here include camping, enjoying the park's many walks and hiking trails, and spending time in its visitor center.
Rotorua
Rotorua is one of the most active geothermal regions in the world. Part of its topography is boiling mud pools, erupting geysers, volcanic craters, and steaming thermal springs.
Visitors can take a walking tour of these geothermal wonders and soak in mineral hot springs while visiting and learning about various attractions of the region's rich Maori history and culture. Skydiving, luging, mountain biking, and trout fishing are some of the activities in Rotorua.
Outside of Rotorua, on the North Island, is the beautiful destination of Wai-o-tapu. Here, visitors can hike through volcanic landscapes filled with geothermal activity. One of the highlights is the Lady Knox Geyser, which erupts daily with a show-stopping display straight into the air. Also, the nearby geothermal spas give travelers the perfect place to unwind after hiking along Wai-o-tapu's volcanic trekking paths.
Napier Art Deco
Napier is a small city in Hawke's Bay on the North Island's east coast and is famous for its eye-catching art deco architecture. Unfortunately, a powerful earthquake in 1931 badly damaged most of Napier, and the rebuilding period coincided with the short-lived Art Deco era. As a result, Napier's architecture is mainly of Art Deco design and is strikingly different from any other city in the world.
Thousands of tourists visit Napier during February for the Art Deco Weekend, an event dedicated to style, vintage cars, picnics, and the soapbox derby. Today, fun things and activities for visitors include taking a self-guided tour to view these buildings, some embellished with Maori motifs, or spending time at Napier Beach. Nearby attractions include hiking trails and the gannet (seabird) colony at Cape Kidnappers.
Sky Tower in Auckland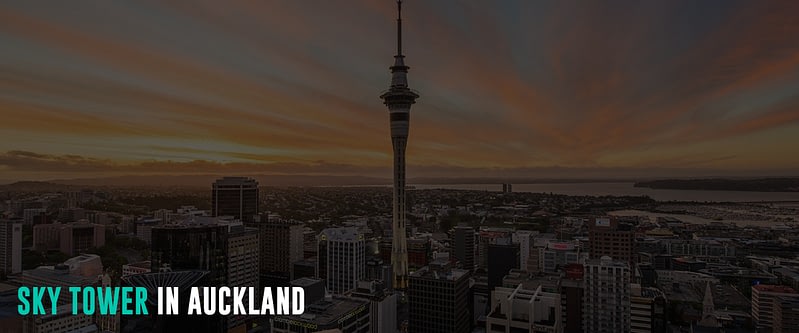 The Sky Tower is an observation and telecommunications tower in Auckland, the largest city in New Zealand. Standing at 328 meters (1,076 ft), it has become an iconic structure in Auckland's skyline and the tallest in the Southern Hemisphere. The tower offers spectacular views across the city and hinterland up to 80 km away. Also, the top floor has fine dining in its Orbit revolving restaurant.
Being blessed with two sparkling harbors, Auckland is famous as the "City of Sails." Beaches, rainforest hiking trails, coves, islands, and volcanoes surround the city, making it a perfect base for day trips and wilderness adventures. Other fun activities in Auckland include top-notch dining, checking its vibrant arts scene, and exploring the revamped waterfront district packed with boutiques and restaurants.
Coromandel Peninsula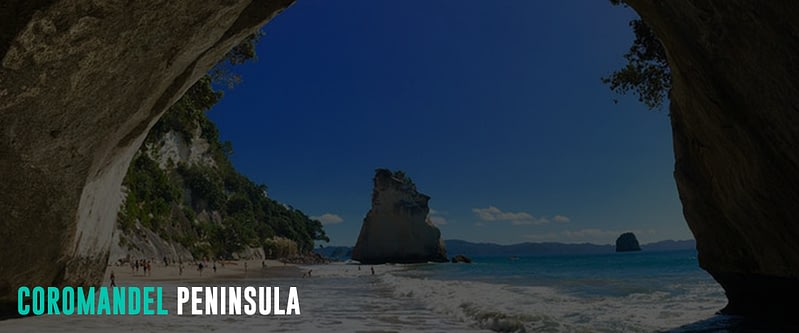 The Coromandel Peninsula is famous for its white and golden sand beaches, rainforests, and other natural wonders ideal for hiking and birding. Other fun things for tourists include relaxing on the beaches, sea kayaking around the islands, skydiving, and visiting the many galleries and art studios.
A great base to explore the peninsula is the Thames, a small but picturesque city with a rich history of gold mining. The best way to end the sightseeing day in Coromandel is to visit Hot Water Beach, where visitors can dig their hot pool from the springs under the sand.
Primary Spoken Language(s)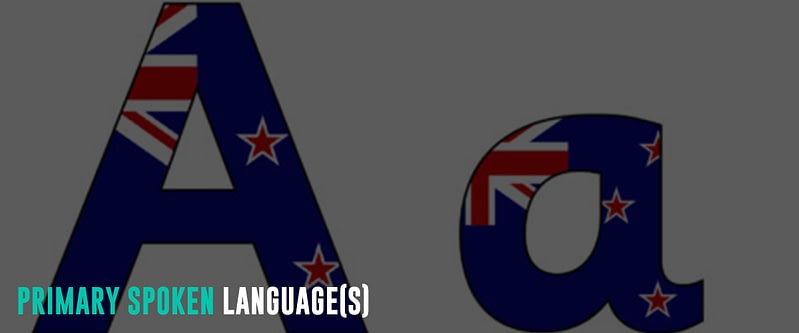 New Zealand has three official languages: English, Maori, and New Zealand Sign Language. English is the predominant and official language of New Zealand, wherein more than 95% of the population speaks. New Zealand English has similarities to Australian English in terms of accents. The Maori language of the indigenous Maori people follows. Lastly, New Zealand Sign Language is the official language of the deaf community in the country.
Safety Concerns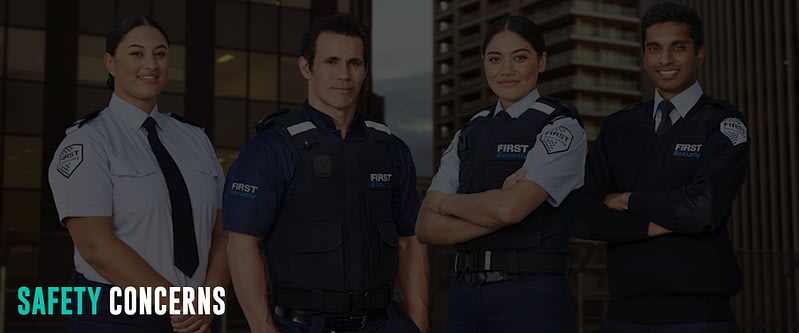 New Zealand is generally safe, with Level 1 Travel Advisory from the US Department of State. But as always, it pays to prepare and take a few precautions to have a comfortable and trouble-free trip. Below are a few tips to stay safe while in New Zealand.
Do not bring a large amount of cash or expensive jewelry.
Keep your valuables safe or at home; never leave essential items in vehicles.
Never leave your belongings unattended in public places, especially airports, ferry terminals, or bus/railway stations.
Stay in a well-lit place if you are out at night.
Don't take shortcuts through parks or alleyways.
Do not hitchhike or accept lifts from strangers.
Never swim or surf alone, especially when cold or tired.
Only swim between the flags and listen to advice from lifeguards.
Look for signage warnings and learn to recognize ocean rip currents.
The country has a Visitor Safety text messaging service wherein travelers can update their location and planned travel movements to 7233 [SAFE]. Messaging is accessible to mobile phones using Vodafone, Spark, or 2degrees network services. The national emergency hotline number for police, fire, and ambulance is 111. Calls are free, and anyone who feels unsafe is encouraged to call.
Volcanic Activity
New Zealand is home to active and dormant volcanoes. Hence, keeping updated with the latest warnings is essential if travelers plan to visit a region with volcanic activity. Check out the GeoNet page for the latest Volcanic Alert Bulletins and the Department of Conservation site for updates on Volcanic Risk Information.
In addition to volcanoes, New Zealand has many popular geothermal destinations. However, thermal pools can boil (over 100⁰C or 210⁰F) and might have toxic gases or fumes at the surface. Also, thermal pools can be hidden under vegetation and form a thin crust on top that looks like a solid surface but will break if a person stands on it.
Please stick to the walkways, stay behind the barriers, and obey the safety signs for safety. In addition, hold the hands of young children when walking through the park. Lastly, wear appropriate and sturdy footwear, especially when facing uneven terrain.
Drone Regulations
New Zealand laws restrict the flying of drones in the country. All drone operators must follow the Civil Aviation Authority (CAA) rules and the local government authority they wish to fly. For example, if visitors want to fly a drone in Auckland, they need to follow the policy of the Auckland District Council. Visit the Civil Aviation Authority (CAA) website for the complete guidelines for flying drones,
Budget Considerations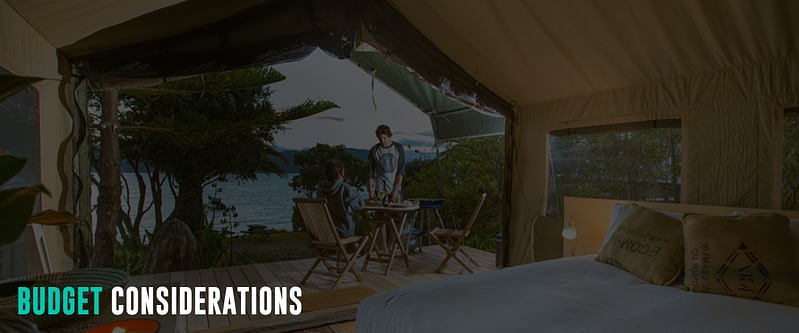 The cost of traveling to New Zealand mainly depends on the season when you travel, accommodation type, mode of transport, number of people traveling together, meals you eat, and the type of activities and destinations chosen. But with thorough planning of your itinerary, it is possible to explore the top attractions in New Zealand on a budget.
Accommodation
A bed in a dorm is around $25, while a private room in a hostel averages $47. Similarly, a three-star hotel room starts at $65 per night. Visitors can also choose to stay in a bed and breakfast, an apartment, or a holiday home. However, the options do not stop there. New Zealand also has luxury accommodations for the guests, whether in a lodge, hotel, resort, or private villa.
Transport
City bus fare starts at $2 per zone using a prepaid card. On the other hand, the fare going to the next city begins at $5. Another option is to hire an e-scooter, bike, or car, especially if you are traveling in a group. A camper van or motor home rental starts at around $30 daily. Although renters need to buy fuel, they can save a lot by not paying for accommodation.
Food
Trying out local foods is always part of our travel. For example, in New Zealand, a fast food meal starts at $5, and the main meal in a restaurant is $15. But cooking and preparing your meal is the best way to save on food.
Attractions and Activities
Being a country famous for outdoor adventure, your visit to New Zealand is not complete without trying out these activities. A visit to a geothermal park starts at $15, horse trekking at $25, whale watching or swimming with the dolphins at $60, white water rafting at $50, Glowworm Cave entrance at $29, and skydiving at $160. Of course, visitors should not miss a visit to the famous Hobbiton Village at $45.
A budget traveler's trip to New Zealand will cost around $100 daily. Hence, at least $1400 is necessary for two weeks of travel, excluding airfare to and from your home country.
Customs And Import Restrictions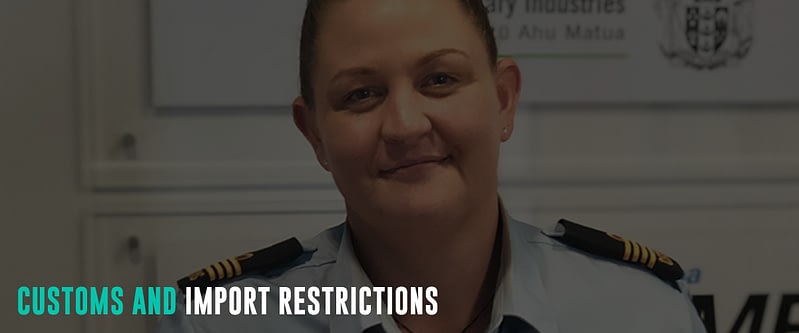 New Zealand Customs Service is very strict with biosecurity. They prohibit the entry of certain items such as weapons and firearms, drugs and drug paraphernalia, and objectionable/indecent materials in print, film, and records. Passengers cannot bring medicines containing pseudoephedrine. But prescription medicines are allowed with a valid doctor's prescription. Permits are necessary to bring ivory, turtle products, meats and goods from marine mammals, and live plants and animals. Passengers must dispose of or declare fresh, preserved, or dried food to avoid inconvenience. Also, used sporting and recreational equipment must be recorded upon arrival.
Check the New Zealand Customs Service web page for the complete list of import restrictions and prohibitions. Visitors may also check the Ministry for Primary Industries about how to declare items upon arrival.
New Zealand Traveler Declaration
Starting October 20, 2022, arriving passengers do not need to complete the New Zealand Traveler Declaration Form and submit a Traveler Pass upon arrival. However, changes might evolve in the coming months. Check the New Zealand Traveler Declaration website for updates on replacing the paper arrival card by next year.
Climate Considerations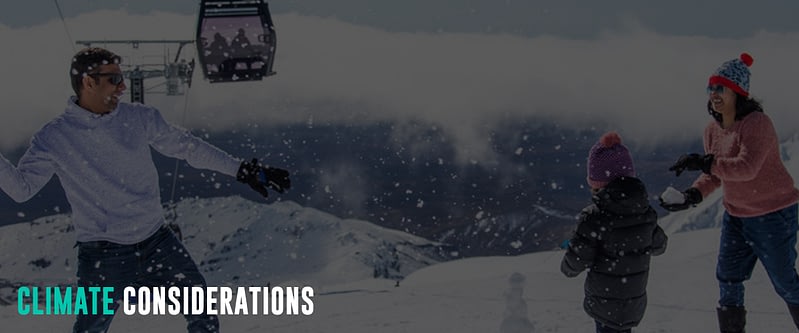 New Zealand has a temperate and maritime climate with high sunshine hours and moderate rainfall. Most of the country lies near the coast, bringing mild temperatures. The average temperature decreases as you travel south. January and February are the warmest months, with July being the year's coldest.
The country has four seasons, each with a unique charm enticing every traveler. Summer from December to February brings average weather of 21 – 32˚C (70 – 90˚F). Fall is from March to May, with an average daytime temperature of 7 – 21˚C (45 – 70˚F). June to August are the winter months, ranging from 1.5 – 15.5˚C (35 – 60˚F). Finally, spring brings an average daytime temperature of 4.5- 18˚C (40 – 65˚F) from September to November.
Primary Transportation Options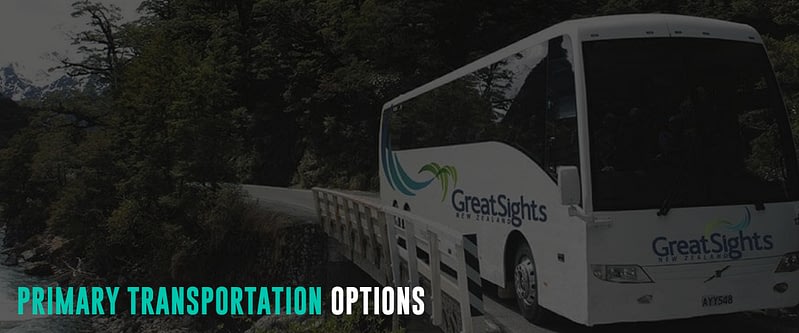 There are many choices when it comes to getting around New Zealand. The country has an efficient public transportation system by air, land, and water.
Air
The main entry point for foreign visitors in the country is Auckland International Airport, Christchurch International Airport, and Wellington International Airport. But New Zealand has many other domestic airports, from the far north of Kaitaia down to the south of Stewart Island. Hence, traveling by air is the most convenient way to explore the country in a limited time. And with competition among various significant and regional airline companies, flight tickets have become affordable to the public.
Vehicle Rental
Visitors who want more flexibility during the trip can hire a car or a motorhome in New Zealand. Several major international rental companies have shops at the main airports and cities. Many local rental options exist, including e-scooters and bikes for hire accessible through a smartphone app.
When driving in New Zealand, note that they drive on the left-hand side of the road. Also, their streets are narrower and primarily two-way, with one lane in each direction.
Taxis
Hiring a taxi in New Zealand is another convenient and flexible trip option. It is safe to hail one, call via mobile, or book through an app, as they are well-regulated. Most taxis have various payment options, such as cash, credit, or in-app.
Coach or Bus
Local buses are the primary option for traveling in major cities and towns in New Zealand. It is a cost-effective alternative to air travel, with many companies operating daily scheduled services nationwide. There are also bus and coach companies serving the main tourist routes. In addition, hop-on-hop-off buses that offer an unlimited pass for a fixed amount are running in Auckland. With this pass, visitors can explore various attractions on a budget. Aside from the public bus, travelers can join coach tours (either backpacker style or luxury) or day trips offered by several companies.
Rails
Overland rail travel in New Zealand is slow and ideal for enjoying spectacular scenery not viewable from the main roads. In addition, scenic rail journeys provide a seamless connection between the North and South islands.
The Northern Explorer provides a 12-hour train trip between Wellington and Auckland on the North Island. The journey takes passengers through the volcanic heart of the North Island, passing through the landscapes of Tongariro National Park and the famous Raurimu Spiral.
The Coastal Pacific brings scenic train trips between Picton and Christchurch in the South Island. Along the way, watch out for seals and penguins on the coastal rocks of the Pacific Ocean. In addition, the route is ideal for stopovers in Kaikōura, which is famous for whale-watching safaris. Also, the Coastal Pacific journey carries travelers through 22 tunnels and across 175 bridges.
Another scenic South Island train route is aboard the TranzAlpine. It crosses the Southern Alps, linking the city of Christchurch to historic Greymouth. Highlights of the TranzAlpine journey include the 73-meter-high staircase viaduct, Arthur's Pass National Park, and the Otira tunnel. The route covers 223.8 kilometers in four and a half hours, passing through 19 tunnels and four viaducts.
Ferries
Visitors can travel between the North and South Islands on a ferry that can take passengers and vehicles. Interislander and Bluebridge ferries run several daily schedules across the Cook Strait between Wellington and Picton. A daily passenger ferry also serves the bottom of the South Islands between Bluff and Stewart Island, passing across Foveaux Strait.
Start Trip Planning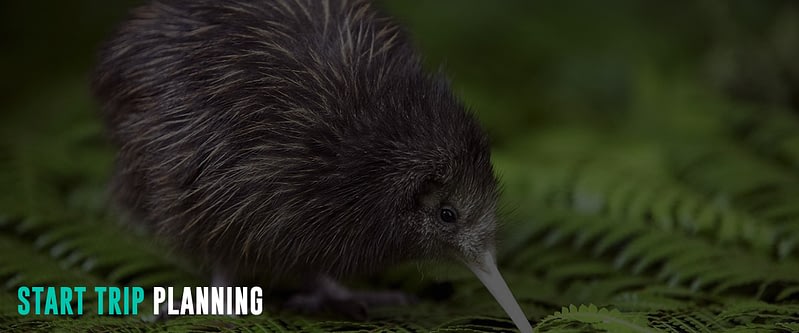 Travel-Wise is made from the ground up to help people travel more, break down the barriers that make it tough to get going, and start your journey as painlessly as possible. Bookmark our other Country Guides to help kick-start your research for future travels. We also offer templated itineraries from our staff and community that help serve as a building block for your trip plans. Alternatively, we also utilize AI to offer a way to generate itinerary ideas. This saves much time just getting you up and running with a template. From there, you can use the trip planner to create your customized itinerary, invite friends and family for collaboration, find others from Travel-Wise to join the trip, book and track important information, journal, and share your experiences at the end or along the way!