This travel wiki page of Norway will help guide travelers with quick and relevant information to consider when planning and visiting the country. It is difficult to find all the relevant information you need on culture, safety, travel restrictions, and things to do, so we summarize it all here. If anything is stale or outdated, please let us know! Let's dive in and explore more high-level information as a Norway trip planner.
Last updated January 10th of 2023.
National Information & Culture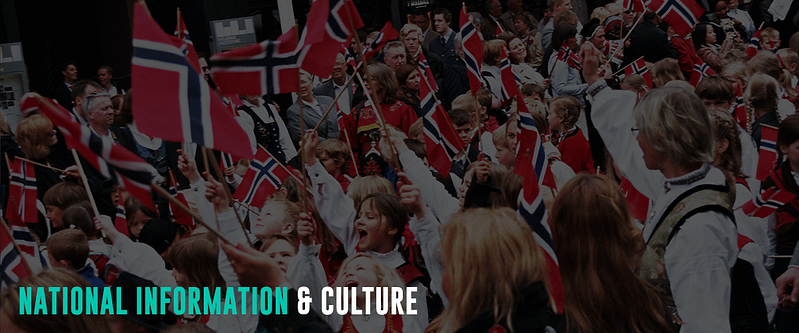 Norway, officially the Kingdom of Norway, is a Nordic country in Northern Europe. Its mainland territory comprises the western and northernmost portion of the Scandinavian Peninsula, to the remote Arctic island of Jan Mayen and Svalbard. In addition, Bouvet Island in the Subantarctic is a dependency of Norway, with claims to the Antarctic territories of Peter I Island and Queen Maud Land. The capital and largest city in Norway is Oslo, and the national currency is the 'kroner,' abbreviated NOK.
The Norwegian state significantly owns positions in key industrial sectors such as petroleum, minerals, natural gas, and seafood. Its petroleum industry accounts for around a quarter of Norway's gross domestic product (GDP). Norway is the world's largest oil and natural gas producer outside the Middle East per capita.
Not only that, but Norway is also a social and economic leader. The country has the world's largest sovereign wealth fund, with a value of $1 trillion, and the fourth-highest per-capita income worldwide on the World Bank and IMF lists. In addition, it topped the Human Development Index ranking in the world in 2019 and on the World Happiness Report for 2017.
Norway is part of the Schengen Area and a member of the European Economic Area. Norway is also a founding member of the European Free Trade Association, the Council of Europe, the Antarctic Treaty, and the Nordic Council.
Visit the Official Tourism Website of Norway for more information when planning your trip.
Interesting Facts
Despite being the world's largest oil producer outside the Middle East, Norway is a world leader in promoting the use of electric vehicles. It is aiming to end sales of gasoline and diesel vehicles by 2025. Its renewable sources, primarily hydroelectric power, supply 98% of Norway's electricity demand.
Allemannsretten, which translates to 'every man's right' or 'freedom to roam,' is the law of the land in Norway. The common law in Norway allows anyone to camp anywhere for three days. Travelers may even camp on private property if they are not near buildings or agricultural fields.
Special Travel Considerations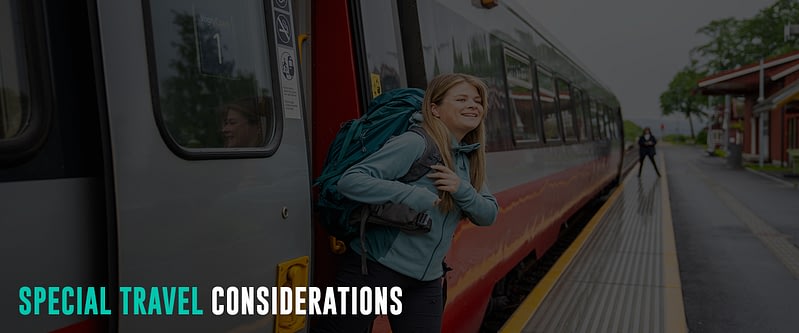 Covid-19 Protocol
The Kingdom of Norway welcomes visitors to explore the country. However, as of October 17, 2022, there are no longer special requirements for entry into Norway due to the Covid-19 virus. No testing, quarantining, or registration necessary!
But the Covid-19 protocols of Norway may vary over time. Hence, checking the Norwegian Directorate of Health's official website when planning your trip is best.
Visa Information
Norway is a part of the Schengen area. Hence, the Schengen visa policy applies to Norway. Aside from EU nationals, citizens of 62 other countries are visa-free when visiting Norway and the Schengen area for 90 days within six months. However, citizens of some countries outside the European Union and European Economic Area have to apply for a visitor's visa. Check whether a visa is required and what rules apply to your country here.
Visitors from the Schengen countries do not need to show a passport or visa when entering Norway. However, EU travelers may still be asked to identify themselves at some point during their trip, so it is highly recommended to carry a valid passport or national ID when traveling. Also, note that several countries, including Norway, have introduced temporary border controls at the internal borders in Schengen.
Uniquely, the Norwegian archipelago of Svalbard is an entirely visa-free zone. However, as Svalbard is outside the Schengen area, identity control is performed for all guests, including Norwegians. Check here for more information about entry to Svalbard.
ETIAS
Starting November 2023, the European Travel Information and Authorisation (ETIAS) will be introduced to boost security across the Schengen zone. It will be a mandatory requirement for visitors from visa-exempt countries to enter Norway. ETIAS is a travel permit or a visa waiver program in which all visitors, regardless of age, traveling to the Schengen counties must apply individually at least 96 hours before departure. It will be a multiple-entry permit valid for three years or until the passport expires (whichever comes first) and can be used to visit all ETIAS member countries.
As of this writing, the European Travel Information and Authorisation System (ETIAS) is currently not operating and does not accept applications for travel authorizations. However, applicants can apply via an official website or app for mobile devices before ETIAS is operated. The date travelers can apply for ETIAS will be published on this web page, Europa Home Affairs. Travelers can also find more information on the website of the European Commission.
Popular Attractions
Norway is one of the most beautiful countries with natural beauty, rivaling iconic destinations like New Zealand and Iceland. Furthermore, Norway is a Scandinavian country encompassing mountains, glaciers, and deep coastal fjords.
Geirangerfjord and the Northwest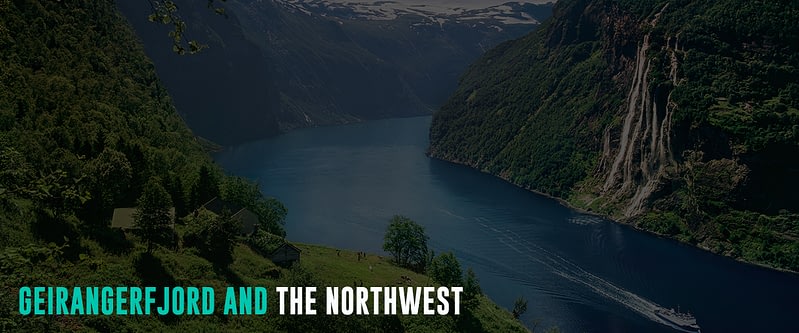 The Geirangerfjord region is part of the spectacular Fjord Norway network and tops the UNESCO World Heritage Sites list. It boasts some of Norway's most spectacular views, attracting many outdoor buffs worldwide.
Geirangerfjord is ideally accessible by boat or bus from the town of Ålesund, with views of the Seven Sisters and numerous other waterfalls that run down steep mountainsides. Another ideal starting point for the Geirangerfjord is the mountaineering capital of Åndalsnes. It is surrounded by staggering peaks, where travelers can hike to the top with a gondola, within a short distance from world-famous attractions like the Trollstigen mountain road and The Atlantic Road. In addition, Åndalsnes is the endpoint of the Rauma Railway and is voted one of the world's most beautiful train journeys.
Sognefjord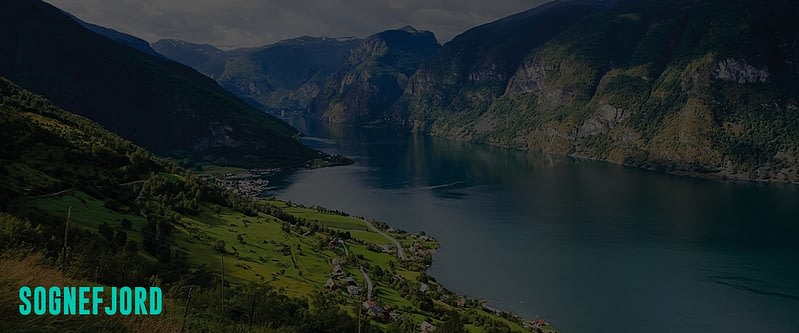 Sognefjord, the King of the Fjords, is Norway's most extensive and deepest fjord. It reaches 205 kilometers inland to the coastal village of Skjolden and branches off into countless smaller inlets and fjords along the way. Sognefjord is almost five kilometers across, with its cliff walls as high as 1,308 meters, making it a breathtaking sight.
Travelers will also enjoy exploring narrower branches like Naeroyfjord. Its 17-kilometer stretch features cliff walls only 250 meters apart and towers over 1,700 meters above the water.
Another famous destination in the Sognefjord area is the Fjærland region. It is home to Jostedalsbreen, Europe's biggest glacier, and the Norwegian Glacier Museum (Norsk Bremuseum). The museum has excellent exhibits relating to the Jostedalsbreen glacier and focuses on climate change's impact on the region.
Sognefjord is best accessible by boat, with several cruises and sightseeing tours available.
Pulpit Rock (Preikestolen)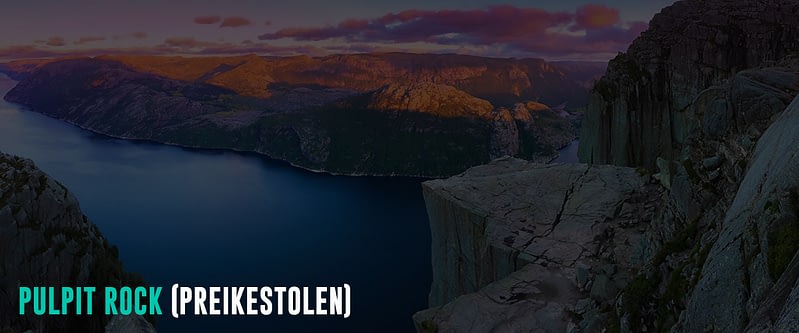 Preikestolen or Prekestolen, aka 'The Pulpit Rock,' is one of Norway's most popular and photographed tourist attractions. The Pulpit Rock is a cliff that rises 604 meters (1,982 ft) above Lysefjorden and lies in the municipality of Strand in Rogaland, Norway. It is accessible by ferry or bus, followed by a two-hour uphill hike. A popular activity while on the almost perfectly flat-topped cliff is base jumping.
Bryggen Hanseatic Wharf, Bergen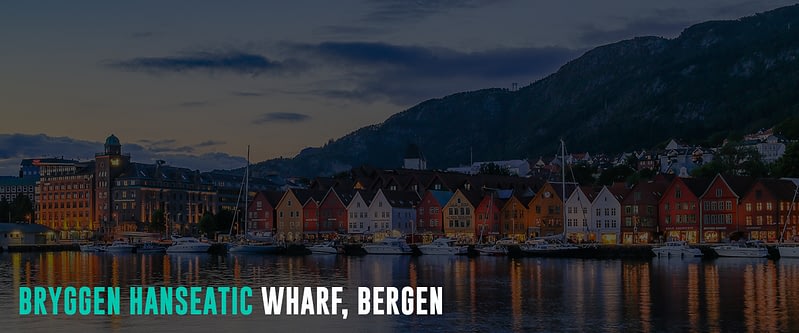 Bryggen Hanseatic Wharf is one of the most famous sightseeing attractions in Bergen. The vibrantly painted area was once the trading center dominated by Hanseatic merchants during the Middle Ages (1300-1700) and the first Norwegian site listed by UNESCO. Today, travelers can find several historic buildings, boutiques, restaurants, and the Bryggen Museum showing a glimpse of life during the Middle Ages.
Dating back to 1872, the Hanseatic Museum covering displays of the Hanseatic League period is also worth a visit. This fascinating museum is housed in Finnegård, a 1704 home owned by one of the merchants.
Tromso and the Northern Lights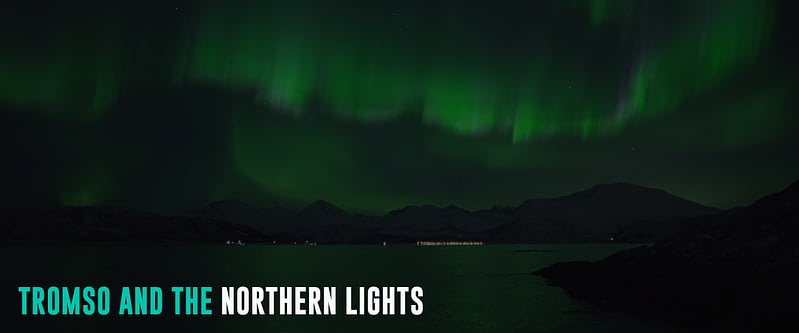 Tromso is the capital of the Arctic and is located in the middle of Northern Norway. The region is most famous for the northern lights between late September and March and the midnight sun during summer. The northern lights, or aurora borealis, are a natural phenomenon that shows up at night when the sky is dark.
Another natural attraction in Tromsø is Polar Park. It is the place for epic adventures and close interaction with the polar bear and wolves without compromising your safety. Other animals in the park are musk ox and lynx.
Visitors to Tromso can also go on a whale-watching safari. The most common species travelers will see is the sperm whale.
Tromsø is also a cultural melting pot, with various music and film festivals occurring yearly. It includes the Northern Lights Music Festival, Tromsø Jazz Festival, and The Tromsø International Film Festival. In addition, the SMAK food festival allows visitors to sample local delicacies and other Norwegian dishes. Another highlight of cultural events in Tromso is the reindeer racing during Sami Week.
Oslo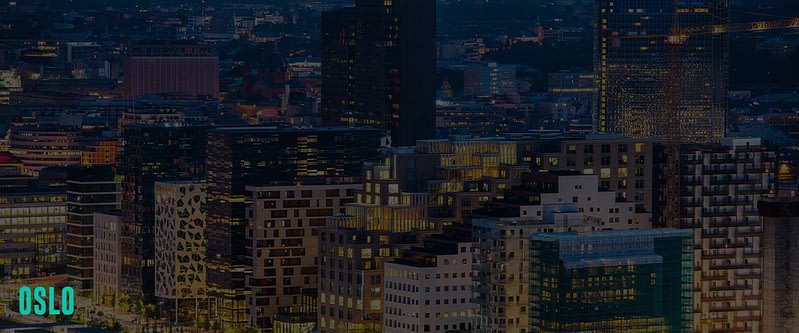 Oslo is Norway's capital city and the primary gateway for tourists. Although a primary hub, only 20% of Oslo's extensive land has been developed, while the rest of the city hosts parks, open spaces, hills, and forests. Hence, the city was named European Green Capital 2019.
Aside from the parks and green spaces, travelers in Oslo can also visit museums to learn about the country's fascinating history. In addition, visitors can explore unique architectural marvels, including the medieval castle of Akershus and the Oslo Cathedral. Another exciting place in Oslo is the Snøhetta ZEB Pilot House, one of the world's few documented zero-energy buildings (ZEB).
For adventure seekers, spend time skiing in the nearby mountains, or explore the regions and towns of Østfold, Vestfold, Fredrikstad, and Tønsberg. An hour's drive from Oslo lies Norway's new art destination Hadeland, where tourists can visit the wonderful outdoor art park at Kistefos-Museet with the spectacular exhibition building The Twist.
Viking Ship Museum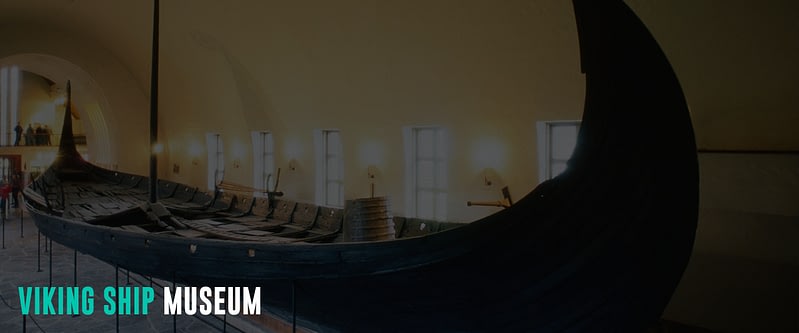 The Viking Ship Museum on the Bygdøy peninsula in Oslo is part of the Museum of Cultural History of the University of Oslo. It houses the three Viking-era burial ships found as part of archaeological finds from Tune, Gokstad (Sandefjord), Oseberg (Tønsberg), and the Borre mound cemetery. The Viking Ship Museum also displays textiles, tools, household items, and items found in Viking tombs.
A trip to the museum includes a film that sheds light on the Vikings' life and shipbuilding process. During the museum tour, English-speaking guides explain the day-to-day life of these warriors.
The museum is temporarily closed for renovation from September 2021 until 2025-2026.
Frogner Park
Frogner Park is one of Oslo's most famous public parks and major tourist attractions in Norway. The park is part of the Frogner Manor converted into the Oslo Museum, which houses various cultural and historical artifacts.
One of the key attractions within Frogner Park is the Vigeland Sculpture Park, with 650 stunning sculptures crafted from 1924 to 1943 by Gustav Vigeland. The most famous sculptures are in the fountain group, depicting the cycle of human life, culminating in a 16-meter monolith of 121 intertwined human bodies.
Frogner Park also houses the Vigeland Museum and the Oslo City Museum. Visitors will also find fountains, bridges, and numerous recreational facilities, including a stadium and an expansive rose garden in the park.
Akershus Fortress, Oslo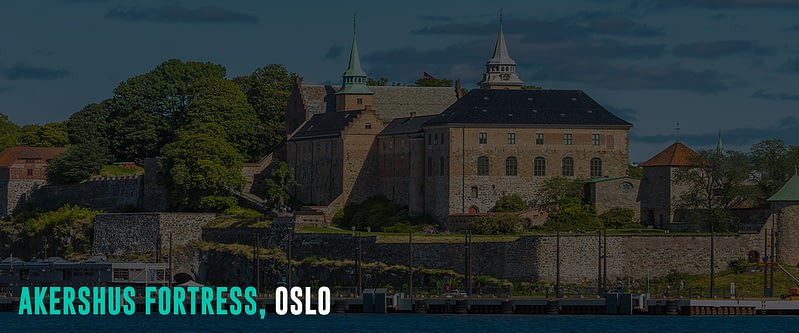 A must-visit tourist attraction in Oslo is the Akershus Fortress or Akershus Festning. It is a medieval castle commissioned by King Håkon V in 1299 and was turned into a royal residence by King Christian IV in the early 17th century. The castle has also been used as a military base and a prison. Currently, it is the temporary office of the Prime Minister of Norway.
The fortress sits on a promontory overlooking the Oslofjord, providing a lovely backdrop for public ceremonies, concerts, and shows. Visitors will also find the Museum of the Norwegian Resistance (Norges Hjemmefrontmuseum) on the castle grounds. Those who love history may also want to check out the Norwegian Armed Forces Museum (Forsvarsmuseet), with its excellent displays of weapons and Norway's military history.
Guided tours for the Akershus Fortress are available during the summer.
Svalbard Islands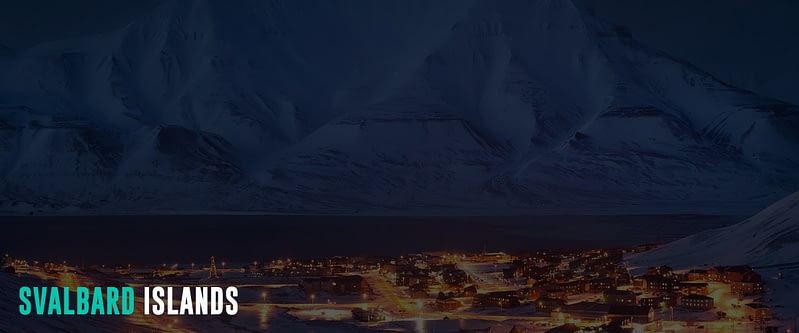 The Svalbard Islands lie in the Arctic Ocean, halfway between mainland Norway and the North Pole. Svalbard is the northernmost town in the world and is home to more polar bears than its 3,000 inhabitants. The central city of Longyearbyen is a colorful mini metropole that offers a wide range of cultural activities and high-quality places to eat and drink that you can find only in big cities.
Travelers to Svalbard can participate in unique nature-based activities all year round, such as dog sledding, ice caving, and snowmobile safari. In addition, visitors can also see the Northern Lights in Svalbard when the skies are clear. But be aware, darkness in Svalbard reigns for four months and daylight another four.
65% of the Svalbard Islands are protected national parks, with several arctic animal species like arctic foxes and reindeer. The island is also home to majestic whales and seals. While some animals like polar bears and walruses are protected, quotas for some wildlife determine which animals the locals can hunt.
Norwegian Museum of Cultural History
Established in 1894, the Norwegian Museum of Cultural History is one of the best places to experience Norway's rich past. Highlights of the museum are King Oscar II's collection, the 160 buildings on its grounds, with the model of an old town as the centerpiece. The exhibits in the museum vary but mainly focus on Norwegian life from the 1500s to the present.
One of the most iconic structures in the museum is the reconstruction of the Gol Stave Church, which belongs to medieval times (1157-1216). The intricate design of the church and the displays within it are of great historical interest.
Primary Spoken Language(s)
Norwegian (in two forms: Bokmål and Nynorsk) is Norway's national and official language. Sámi and Kven in Northern Norway are recognized as minority languages on the national level.
Most Norwegian population speaks English, especially the younger crowd. However, many Norwegians also speak German, French, or Spanish at school. Hence, the language barrier is uncommon in Norway.
Safety Concerns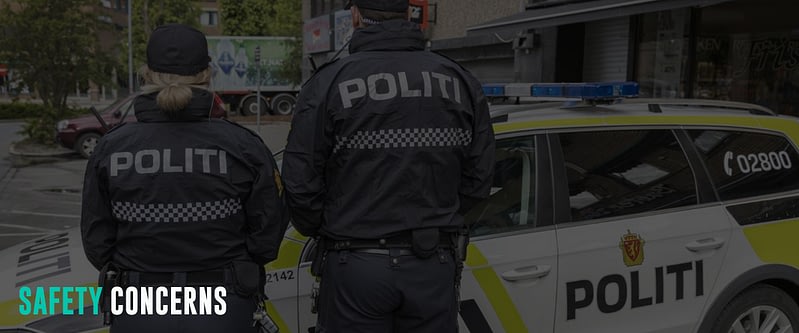 Norway has one of the world's lowest crime rates, ranking 17th on the 2022 Global Peace Index. It is also supported by the US Department of State Level 1 Travel Advisory to Norway as of October 4, 2022. Hence, travelers to Norway can exercise standard precautions when exploring the destinations in the country.
Natural Hazard
Norway is a safe country to travel to. However, knowing the potential dangers when exploring the snowy mountains and the countryside is essential.
Travelers to Norway can be wary of landslides, avalanches, rockfalls, and snowdrifts. Some may also encounter altitude sickness and generally injure themselves doing outdoor activities. Those heading for ski adventures and hitting the Norwegian mountain trails must take extra caution and preparation before and during the trip. Sudden weather changes can happen, especially in the mountains. Hence, travelers must have appropriate clothing and gear.
It is also best to check for avalanche warnings and weather forecasts in the area before heading out for an adventure. Then, when an emergency happens, dial 110 for fire, 112 for police, 113 for an ambulance, and 120 for an emergency at sea.
Flying Drones
There are regulations when flying drones in Norway. Generally, Norway allows tourists to fly drones in the open category if they are registered operators. However, it does not apply to Russian travelers, as there is a ban on all Russian flights.
For EU citizens, travelers must be registered drone operators in their home country to operate a drone in Norway. Nationals outside the EU must be registered as drone operators in an EU country, or they can register at flydrone.no for Norway. In addition, drone operators must have a valid EASA certificate for the relevant subcategory.
Check with your destination for local regulations and military or other restricted areas where flying drones is forbidden. For more information about the use of drones in Norway, visit the Civil Aviation Authority website.
Smoking Policy
Indoor smoking in most public places, such as hotels, bars, and restaurants, is prohibited in Norway. Also, selling tobacco is only possible to those over 18 years.
Budget Considerations
Norway is not a budget-friendly destination to travel to. However, exploring this naturally beautiful country is possible without breaking the bank.
Accommodation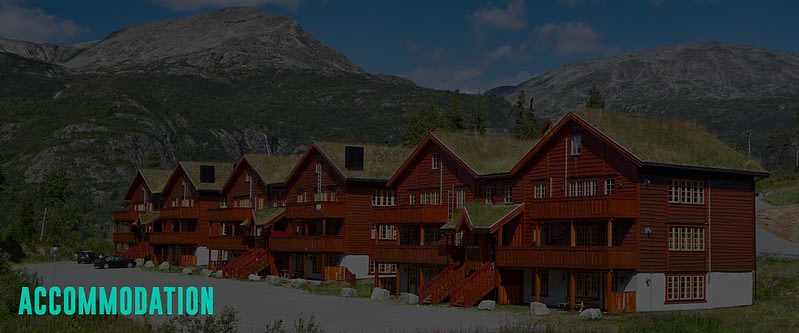 Accommodation in Norway is not cheap. A dorm bed costs $35, while a private room in a hostel or budget hotel costs $75. Most hostels have lockers and cooking facilities, and free WiFi is standard. Hostels and budget hotels in Norway are rare, while more common are 3-star hotels, with rates around $90 per night. Another option for accommodation is Airbnb, with private rooms for around $50, while a whole apartment starts at $80.
Food
Foods in Norway focus heavily on seafood, with smoked salmon as a local favorite and everyday staple. Cod, prawns, and crabs are also famous, while lamb meat is common. Generally, foods in Norway are expensive. A regular pizza or fast food combo meal costs $12, while Chinese food costs $15. Expect to pay double for multi-course meals. To save on food, budget travelers can go grocery shopping on a budget of $80 per week. It can include basic staples like rice, pasta, vegetables, eggs, meat, and seafood.
Activities and Attractions
Although Norway is expensive, plenty of free activities and attractions exist. Travelers can take advantage of free admission to the national parks and go hiking outdoors. Tourists can also check out the festivals and free concerts in Bergen's church areas that attract international musicians. In Oslo, visiting famous attractions such as Ekebergparken Park and Intercultural Museum is possible without breaking the bank.
Transportation
Getting around Norway by public transportation on a single ticket is $4, valid for an hour. For example, in Oslo, travelers can buy a 24-hour pass for $12 and $33 for a 7-day pass. Generally, purchasing advance bus and train tickets is best to save on transportation costs.
Average Two Week Budget
On a backpacker's budget of $70 daily, it is possible to enjoy Norway's many activities and attractions. The $980 budget for two weeks includes staying in a hostel dorm bed, taking public transportation, cooking food, and doing primarily free activities and attractions.
Average travelers can allocate $170 daily or $2380 for two weeks. It means sleeping in private rooms or 3-star hotels, dining out on most meals, taking an occasional taxi, and doing paid activities or attractions.
With 5-star hotels and accommodations, Norway can be an excellent option for luxury travelers. They can get around the country by hiring a car with a driver and guide, taking domestic flights, going to fine dining, and visiting all the attractions they want. For them, the sky is the limit!
Customs And Import Restrictions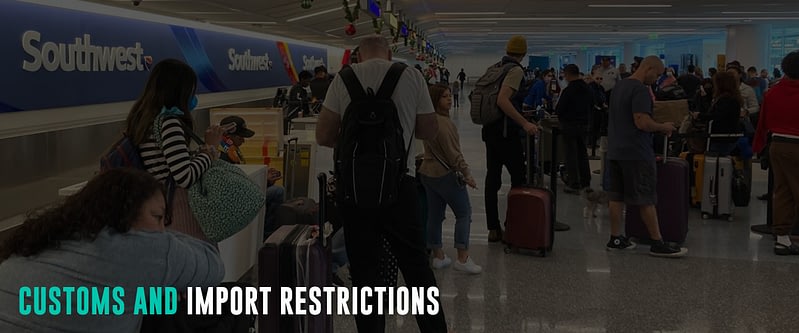 Travelers to Norway can buy and bring tax-free items within their duty-free limit of NOK 6,000 (around $606). It includes:
A limited amount of alcohol and tobacco
Meat, meat products, cheese, and foodstuffs, except for the dog and cat food, totaling 10 kilos from EU/EEA countries. Travelers from countries outside the EU/EEA can't bring meat, meat products, milk, and milk products in their luggage.
Norwegian and foreign banknotes and coins at a total value of NOK 25,000
Norwegian Customs prohibits the importation of the following goods without special permission:
Drugs, medicines, and poisons (minor quantities of medication for personal use are permitted)
Alcohol over 60% alcohol by volume
Fireworks
Potatoes
Mammals, birds, and endangered animals
Plants or parts thereof for cultivation
Check the Norwegian Customs website for further information about customs regulations when entering Norway.
Climate Considerations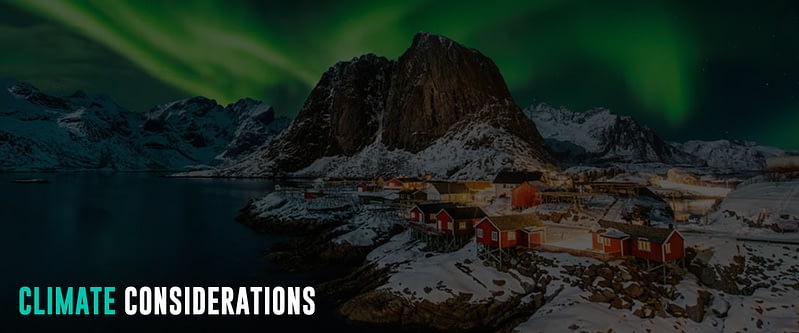 Norway's climate dramatically varies between the north, south, inland, and coast.
The coastal areas have relatively mild and wet winters with snow in the mountains. In contrast, the inland regions have cold winters with plenty of snow, and hot and relatively dry summers, especially on the eastern side.
Eastern and Southern Norway have the warmest and most stable weather, especially on the south coast between Mandal and Oslo. However, its temperatures can reach as high as 25 °C or more inland. Fjord Norway has a coastal climate, with lots of rain and wind close to the coast, while the inner fjords often have much drier and sunnier weather.
Lastly, Northern Norway often experiences four seasons in one day! Travelers can also enjoy the midnight sun from the middle of May to the end of July. During winter, visitors can also experience the northern lights.
Visitors can check and monitor the local weather forecast at the Norwegian Meteorological Institute and NRK website. Its free weather app is also available for download for iOS or Android.
Four Seasons
Norway enjoys four seasons throughout the country. In winter (December – February), Norway's average temperature is -6.8 °C, but the local conditions may vary considerably. Around Oslo, snowfall is expected, with below-zero average winter temperatures. Along the coast, temperatures usually stay around zero, while inland temperatures are mostly lower and might sink from -10 to -20 °C. Some places can even experience a bone-chilling -40 °C!
Spring in Norway is from mid-March to May, though spring may arrive earlier in some parts of the country, especially in southern Norway.
During the summer months of June to August, the days in Norway are long, and the nights are short, even non-existent north of the Arctic Circle, because of the midnight sun. The average summer temperatures range between 25 – 30 °C, especially in the south and inland valleys.
Autumn from September to November brings shorter days, with an average temperature between 4 – 9 °C.
Climate Change
Norway's average temperature has increased by 1.1 °C since 1900. Warming has been most robust in the spring and affected the northern parts of the country, especially the Svalbard Islands. Climate change in Norway is particularly impacting its Arctic region, with warmer temperatures causing permafrost and melting glaciers.
The Norwegian government has introduced several social and economic policies toward climate change mitigation and carbon capture and storage. The country wants to achieve carbon neutrality by 2030, partly by investing in projects with emissions reduction abroad and zero emissions by 2050. Oddly, Norway issued 56 new licenses for oil exploration near the Lofoten islands in 2016.
Primary Transportation Options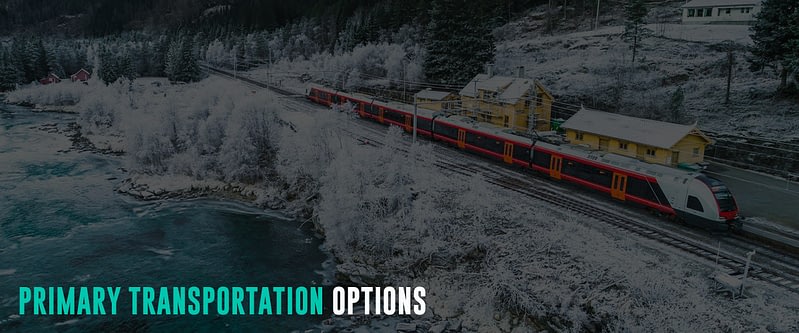 There are numerous direct flights to Norway from many cities around the world. Travelers can also travel to Norway by ship, train, bus, or car, with excellent connections to Scandinavia, Europe, and the rest of the world.
The Entur travel planner can help travelers find transport routes and timetables in Norway and beyond. For example, visitors can check when the next bus leaves for their destination or plan a trip from Vestfold to Vesterålen. It is also possible to buy tickets for most journeys with Entur. It is quickly done by downloading the Entur app.
By Plane
Oslo Airport is the central transportation hub of Norway, with several scheduled flights to and from more than 100 international destinations. In addition, there are direct flights to Norway from the US east coast and many European destinations. However, those traveling from Australia or New Zealand must transit through Asia, the Middle East, or Europe.
Oslo is also the central domestic hub, connecting to over 50 other airports in all major cities and towns of Norway. In addition, the Norwegian carrier Widerøe, the largest regional airline in Scandinavia, has connections to 41 airports in Norway. All of these contribute to making even remote places such as the Lofoten Islands, the North Cape, and the Svalbard Islands easily accessible by plane.
Travelers can use the flight map to find direct flights to Norway.
By Train
Norway's extensive rail network links to the rest of Scandinavia and Europe. Regular train connections are from Oslo to Copenhagen, Stockholm, and Gothenburg.
Trains are the best way to get around in Norway. They are often faster than buses, affordable, and comfortable. For example, the 7-hour travel from Oslo to Trondheim starts at $36, compared to the 9-hours bus trip.
Several train operators in Norway include VY, Flytoget, Go Ahead Nordic, and SJ NORD. The VY railway network includes local trains such as the Dovre and Bergen lines in the Oslo area and the region. The Dovre Railway between Oslo and Trondheim, along with its branch line Rauma Railway between Dombås and Åndalsnes (mountaineering capital in Fjord, Norway), are other award-winning lines that take travelers through some pretty fantastic scenery.
Flytoget Airport Express runs between the Oslo International Airport and Oslo city center within 20 minutes.
Go Ahead Nordic has lines from the east of Oslo to Stavanger in the west. It includes the Sørland line, the Arendal line, and the Jæren line.
Lastly, SJ NORD operates seven lines in Norway, including local trains in the Nordland and Trøndelag regions. Its regional lines include the Nordland line, the Dovre line, the Rauma line, and the Røros line.
Check Entur for the train timetables and the best transport route to your next destination.
By Bus
Norway is easily accessible by bus from Sweden, Denmark, Finland, and Russia. Numerous operators offer affordable bus services in major cities of Norway, Denmark, and Sweden. For example, there are bus services from Gothenburg in Sweden and Copenhagen in Denmark, leaving almost hourly daily. The bus service from Stockholm in Sweden is also far more frequent than the train.
Buses are a cheap way to get around the country, with every city and town having a local bus service. In addition, there is an extensive network of express and long-distance coaches and public buses throughout the country. Coach travel is usually cheaper than a plane or train, with most operators offering discounts to students, children, older people, and families.
Travelers will find bus stations and public transport information centers in the big cities of Norway. Bus tickets are available on board by telling the driver your destination. However, it is cheaper to buy bus tickets before getting on the bus in some cities, like Oslo and Trondheim.
To save, visitors can watch out for online booking discounts, especially doing it in advance. Some towns and cities also offer one-day and weekly travel cards, which are available from drivers, kiosks, and bus stations.
Don't forget to map your trip through Norway with the travel planner Entur.
By Car
Norway has numerous border crossings by road to Sweden, Finland, and Russia. Customs checks are in place at all major crossings, though Russian citizens have specific visa requirements.
The main entrance from Sweden is through the E6 motorway. It runs through Malmö, Helsingborg, and Gothenburg in Sweden before crossing the border at Svinesund in the southeast of Norway.
For Finland, the main entrance is the E8 motorway. It runs through Turku, Vaasa, and Oulu in Finland before crossing the border at Kilpisjärvi.
Visitors can hire a car in most cities, towns, and airports in Norway, from international car rental agencies to local travel agents and car rental operators. Travelers can check excellent car rental deals, reasonable prices, and availability at ​Auto Europe and Rent-A-Wreck. Another option is to rent a camper van from Arctic Campers and spend the night on the road.
In Norway, the steering wheel is on the left side and Norwegian drives on the right side of the road.
By Ship
Norway has regular ferry routes from Denmark, Germany, Sweden, and the Netherlands. In Denmark, the ferries go from Copenhagen, Frederikshavn, and Hirtshals. There are also ferry routes to Norway from Kiel in Germany, Strömstad in Sweden, and Eemshaven in the Netherlands.
Most ferry companies offer package deals for cars with passengers and discounts for older people, students, and children. Payments for most ferry journeys (road and ferry tolls) in Norway are through AutoPASS. However, there may be long queues during summer for famous ferries. It includes Geiranger–Hellesylt and Lauvvik–Lysebotn connections in Fjord, Norway, and Bognes-Lødingen and Bodø-Moskenes in Northern Norway. Hence, prior booking is a must.
Check the Norwegian Public Roads Administration (Statens Vegvesen) website for ferry routes, departure times, and traffic reports.
For those who want to sail their boat to Norway, guest marinas have facilities all along the coast.
Many cruise lines call at Norwegian ports, mainly by the fjords and coastal cities such as Bergen, Stavanger, Ålesund, Trondheim, and Oslo. There are also cruises to the Svalbard Islands, Honningsvåg, Tromsø, Hammerfest, and Bodø in Northern Norway.
One of Norway's most popular cruise lines is the historical coastal express Hurtigruten, often named 'The World's most beautiful voyage.' Also sails the same route is the new coastal express, Havila. They have new ships designed to be the Norwegian coast's most environmentally friendly vessels.
Start Trip Planning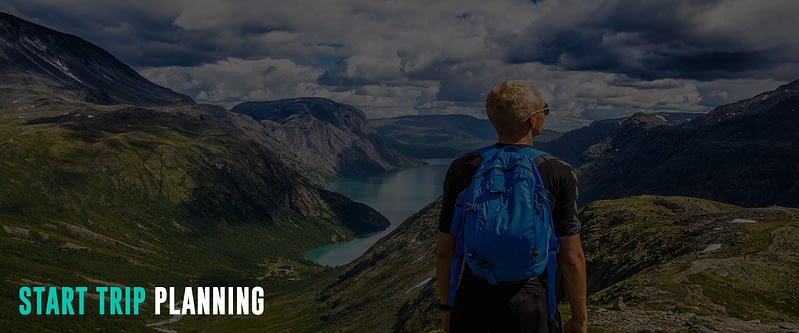 Travel-Wise is made from the ground up to help people travel more, break down the barriers that make it tough to get going, and start your journey as painlessly as possible. Bookmark our other Country Guides to help kick-start your research for future travels. We also offer templated itineraries from our staff and community that help serve as a building block for your trip plans. Alternatively, we also utilize AI to offer a way to generate itinerary ideas. This saves much time just getting you up and running with a template. From there, you can use the trip planner to create your customized itinerary, invite friends and family for collaboration, find others from Travel-Wise to join the trip, book and track important information, journal, and share your experiences at the end or along the way!