This travel wiki page of South Korea will help guide travelers with quick and relevant information to consider when planning and visiting the country. It is difficult to find all the relevant information on South Korea's culture, safety, travel restrictions, and things to do, so we summarize it all here. If anything is stale or outdated, please let us know! Let's dive in and explore more high-level information as a South Korea trip planner.
Last updated August 17th of 2023.
National Information & Culture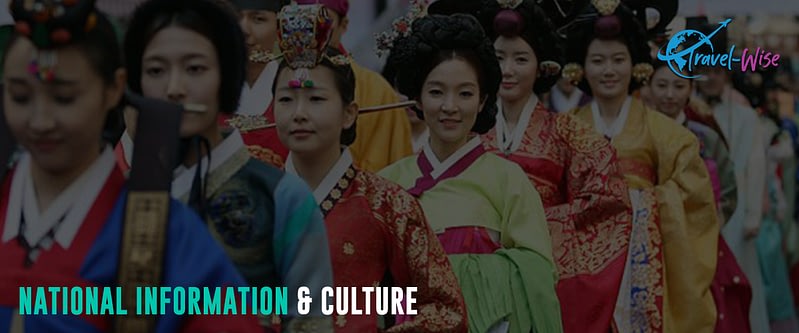 South Korea, officially the Republic of Korea, is a country in the southern part of the Korean peninsula in East Asia. It borders North Korea along the Korean Demilitarized Zone in the north, the Yellow Sea on the west, and the Sea of Japan on the east. Seoul is the capital and largest city, where around half the country's over 51 million population lives, while the official currency is the Korean Republic Won (₩) (KRW).
A regional power and a developed country, South Korea has a high economy and is among the world's largest by GDP (both nominal and PPP). South Korea's citizens enjoy one of the world's fastest internet connection speeds and the densest high-speed railway network. Additionally, South Korean armed forces ranked among the world's strongest militaries and second-largest standing army and paramilitary personnel. However, South Korea has recently faced an aging population and low fertility rate.
South Korean culture combines ancient traditions, vibrant customs, and modern influences. It is characterized by its deep respect for hierarchy, strong emphasis on family values, and a collective spirit that fosters unity and harmony. Although there is no strict dress etiquette, visitors in South Korea often need to take off their shoes when invited to a home or entering temples.
In the 21st century, South Korea is famed for its worldwide significant pop culture. South Korea has created a phenomenon known as the Korean Wave, particularly in music (K-pop), TV dramas (K-dramas), and film.
Visit South Korea's Official Tourism Website for more information and tips when planning your trip.
Special Travel Considerations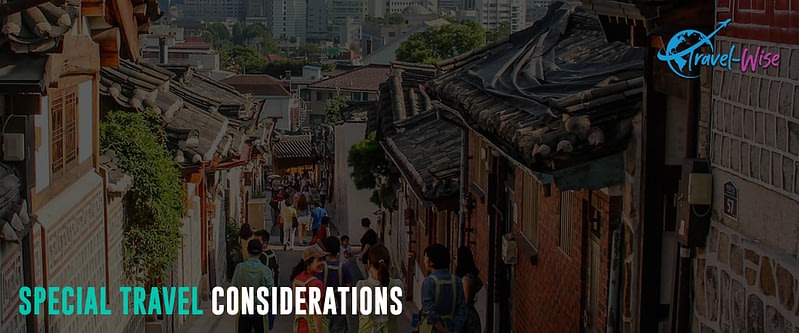 Each country and destination has rules and regulations that every traveler must consider. Hence, check the following considerations for hassle-free travel to South Korea.
Covid-19 Policy
All travelers to South Korea can enter the country without Covid-19 restrictions. However, the Covid-19 protocol of South Korea may vary over time with the evolution of the pandemic. Therefore, check South Korea's latest Covid-19 entry requirements when planning your trip.
Travel Insurance
Travel and health insurance are not mandatory but highly recommended for visitors to South Korea. Preferably, it must cover emergency medical treatment, including Covid-19, repatriation, and evacuation. Travel insurance can protect you against the inconvenience of injury, medical emergencies, theft, and flight cancellations. In addition, it is a comprehensive protection in case anything goes wrong with your trip.
Visa Information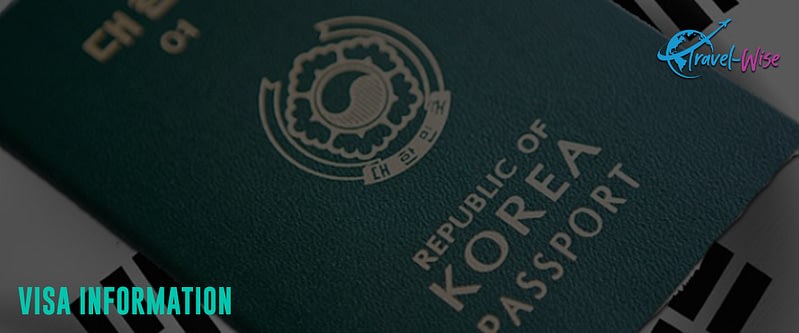 South Korea maintains a visa waiver agreement with most countries in the world. Depending on their nationalities, the visa-waiver program provides visa-free entry and can stay from 30 days to 6 months in South Korea. Check here for visa requirements and the application process based on the nationality of your passport.
Note that passport holders from countries without visa waivers and group tour agreements with South Korea must apply for the pertinent visa before entering the country. On the other hand, travelers with a visa waiver must apply for Korea Electronic Travel Authorization (K-ETA) and secure approval 72 hours before departure.
Popular Attractions
South Korea is a captivating destination for its unique blend of ancient traditions and modern innovations. This dynamic country offers many popular attractions catering to diverse interests and tastes. South Korea has something to enchant every visitor, from bustling metropolises like Seoul with towering skyscrapers and vibrant street markets to serene temples and historical palaces with rich cultural heritage. Nature enthusiasts will be amazed by the dramatic landscapes of Jeju Island, while history buffs can explore ancient royal fortresses and UNESCO World Heritage sites.
Gyeongbokgung Palace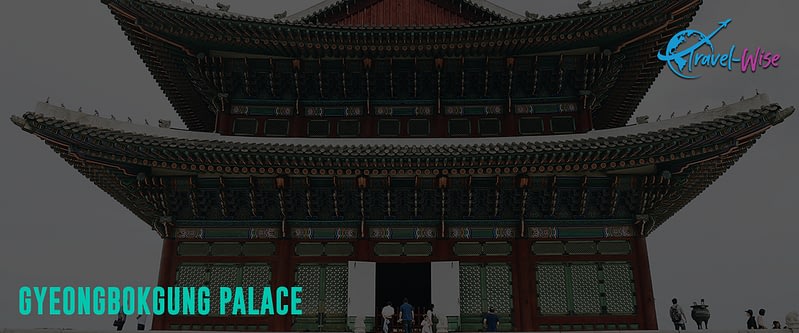 Gyeongbokgung Palace is one of South Korea's most iconic buildings in the heart of Seoul and was the royal family's primary residence during the Joseon dynasty. Dating back to 1395, the palace is unique for its vast layout and preservation of all four major gates. It also boasts many restored buildings, each serving a particular purpose.
The palace complex houses the Museum of Korea and the National Palace Museum of Korea. Both of which offer valuable insights into Korean history and culture.
Visitors can explore the compound on a guided walking tour and admire original structures from the Joseon period, such as the Gyeonghoeru Pavilion and Hyangwonjeong Pond. In addition, tourists can witness the fascinating Royal Guard Changing Ceremony at Gwanghwamun Gate.
Changdeokgung Palace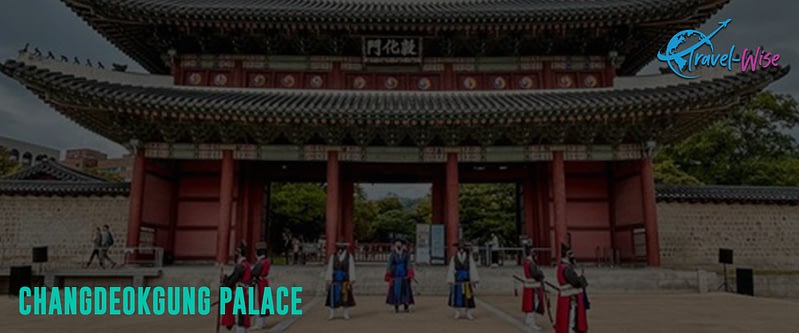 Changdeokgung Palace, built during the early Joseon period, stands out among the five grand palaces in Seoul as the most preferred royal residence. Its majestic harmony with nature, careful consideration of geographical features, and UNESCO World Heritage status make it a captivating attraction.
The palace complex is not just a single building but a sprawling area with different structures, such as accommodations, libraries, dining rooms, and meeting rooms. The 78-acre Huwon, or palace garden, located behind the palace, offers a serene retreat with pathways, green spaces, pagodas, streams, and lakes. The palace's garden is stunning during fall when the foliage changes color, and visitors can witness several plants, including a 300-year-old tree.
One of the highlights of the Changdeoukgung Palace is the annual Moonlight Tour, allowing visitors to experience the palace's enchanting beauty at night.
Nami Island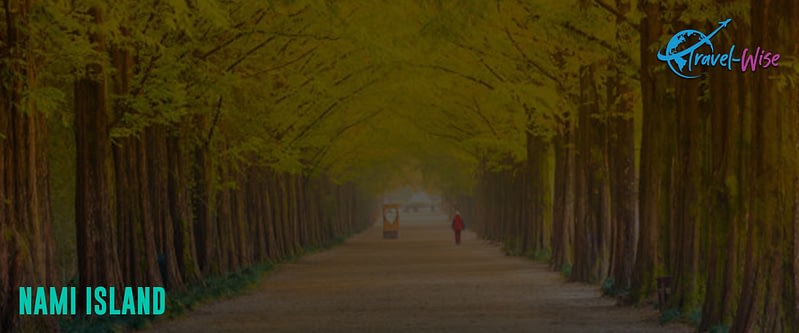 Nami Island (Namiseom Island) is a captivating half-moon-shaped river island in Chuncheon, Gangwon Province, South Korea. Formed when the land around it was submerged by the rising waters of the North Han River due to the construction of Cheongpyeong Dam in 1944, the island is now blanketed in a beautiful natural landscape, attracting visitors with its distinct seasons and lush forests.
Nami Island has become a popular tourist destination for its delightful cultural events, concerts, exhibitions, and more. With the concept of "Fairy Tale Village and Song Village," Nami Island provides various activities, including the Song Museum, Picture Book Playground, and MICE Center, catering to children's dreams, couples' love, and artists' creativity.
Tourists can enjoy many engaging activities, such as the Charity Train, Story Tour Bus, and biking, adding to the island's charm.
N Seoul Tower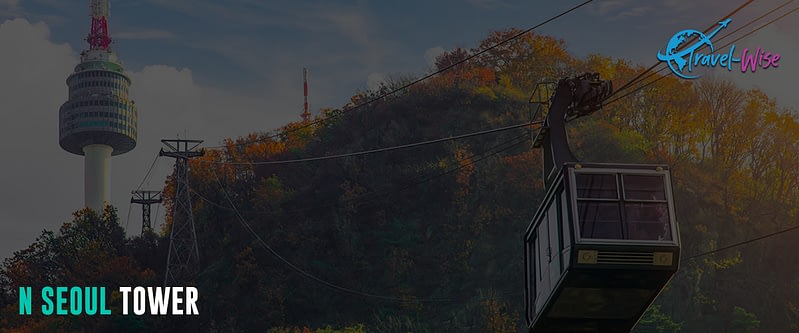 The N Seoul Tower, officially YTN Seoul Tower and commonly known as Namsan Seoul Tower or Seoul Tower, is a broadcast and observation tower located on Namsan Mountain in Seoul. Opened to the public in 1980, the building is an iconic landmark at 236.7 meters, making it 479.7 meters above sea level when combined with the mountain's height. The observation deck at the top offers a 360-degree view of Seoul and dining services, making it a must-visit attraction for tourists in the city. At the tower's base is a popular spot for couples to attach love locks.
To reach the tower, tourists can use the cable car from the city to the tower's base area near Myeongdong. From there, they can hike up to the building.
Another nearby attraction is the surrounding Namsan Park, which offers miles of hiking trails just a few minutes from downtown Seoul. The park provides a tranquil escape and picturesque views of the city. In addition, visitors can explore the nearby Namsan Hanok Village to glimpse ancient Korean neighborhoods.
Bukchon Hanok Village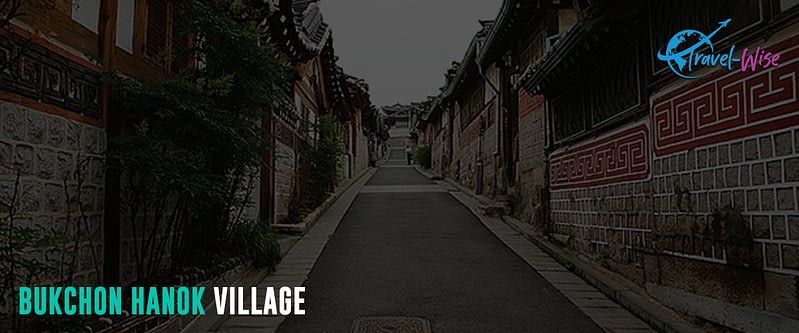 Hanok villages across South Korea serve as living museums, offering a glimpse of traditional Korean life 600 years ago. Located in central Seoul between Gyeongbokgung Palace and Changdeokgung Palace, Bukchon Hanok Village showcases the charm of Korea's traditional buildings. Elegant hanok buildings cluster down the neighborhood once inhabited by high government officials and royal family relatives during the Joseon period.
To fully enjoy the visit, tourists are encouraged to discover the "Eight Scenic Spots of Bukchon," offering breathtaking views of unique locations. Visitors can also delve into Korean culture through museum exhibitions and cultural demonstrations in the village. A must-visit spot is the Baek Inje House, where visitors can explore a 100-year-old hanok and capture a souvenir photo in a historical setting.
Seoraksan National Park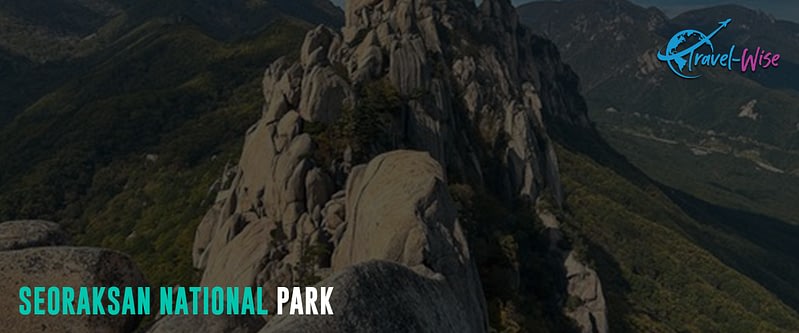 Seoraksan National Park, one of Korea's most famous tourist destinations, encompasses Sokcho, Goseong, Inje, and Yangyang in Gangwon-do. It was South Korea's fifth national park and its first UNESCO Biosphere Reserve in 1982.
The park features mountains, lakes, waterfalls, streams, and extensive hiking trails that showcase its natural diversity with over 1,500 animal species and over 1,000 plant varieties. Particularly, Mt. Seorak has 30 grand peaks, including Socheongbong, Hwachaebong, and Jungcheongbong, as well as attractions like Biryongpokpo Falls, Ulsan Peak, Heundeulbawi Rock, and Geumganggul Cave. Daecheongbong Peak, the mountain's prominent peak, offers magnificent views of the natural landscape and the East Sea, renowned for its stunning sunrise and sunset vistas. Two Buddhist temples are adding cultural significance to the park: Sinheungsa (with a massive Buddha statue) and the Baekdamsa (Temple of a Hundred Pools).
While well-marked hiking trails of varying difficulty levels are popular among tourists, a cable car near Seoraksan Small Park allows people with disabilities and older people to reach the summit and enjoy panoramic views. Visitors can also enjoy the serene chants of monks from afar and find food and drink options within the park's boundaries.
DMZ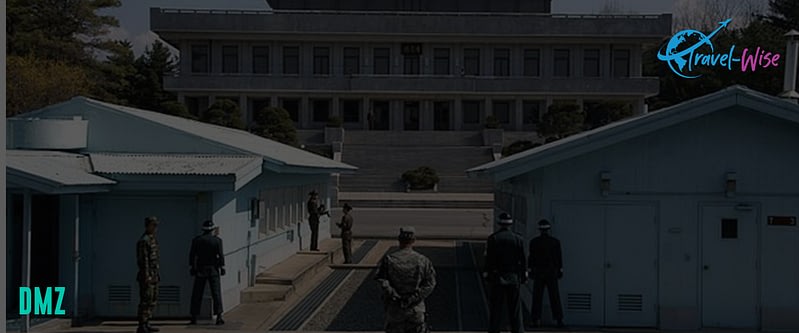 The Demilitarized Zone (DMZ), the heavily guarded no man's land between North and South Korea, is one of the tensest borders in recent history. Only accessible through official guided tours, the DMZ offers a unique opportunity to learn about the ongoing conflict between the two countries, which began in 1950.
Standing in the Joint Security Area (JSA) during the tour, visitors can physically step into North Korea, gaining a firsthand experience of the tensions and significance of this historic border. Additionally, tourists can explore the Third Tunnel of Aggression, a North Korean tunnel dug to infiltrate the South, and catch glimpses of North Korea from the Unification Observatory.
The DMZ remains a crucial site for understanding the lasting impact of the Korean War and the delicate state of affairs between North and South Korea.
Busan Gamcheon Culture Village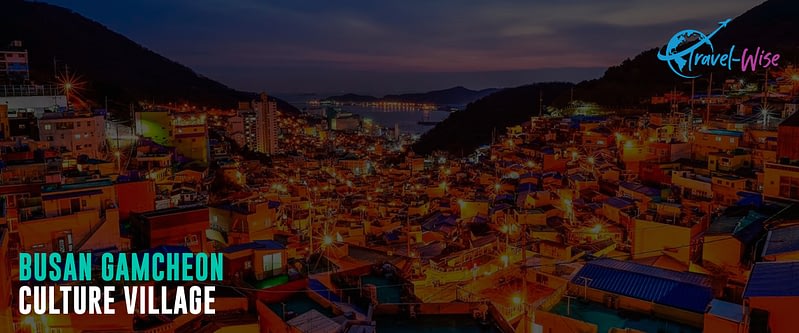 Gamcheon Culture Village, often called the "Santorini of Korea," is a colorful and vibrant village built in a stair-step fashion on a hillside in Busan. The town is adorned with bright murals, creating a kaleidoscope of colors, making it a perfect spot for photography enthusiasts. One of the most popular photo spots is the statue of The Little Prince, overlooking the village below. Tourists can also participate in a stamp-collecting activity by obtaining a stamp map from the information center and collecting stamps at designated attractions.
Previously a slum, Gamcheon Cultural Village underwent a remarkable transformation thanks to government-funded initiatives and artistic contributions. For a magical experience, arriving at Gamcheon Culture Village before sunset is recommended to witness the charming scenery when the neighborhood lights up after dark.
Bulguksa Temple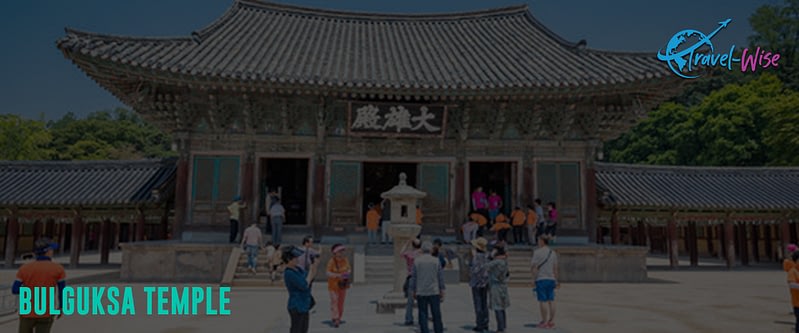 Bulguksa Temple in Gyeongju, located just outside of Busan, is a historically significant Buddhist temple originally built in 528. Over the years, it has undergone multiple renovations and extensions, becoming essential to various dynasties.
Bulguksa holds immense cultural and religious importance and is considered one of Korea's must-see temples, earning the title Historic and Scenic Site Number One. The temple houses some of South Korea's most vital national treasures, including the Sinheungsa and Dabotap pagodas. Its temple complex comprises numerous intricately designed buildings and offers visitors a glimpse into Korean spirituality and artistic heritage.
The garden's beauty is captivating year-round, especially during cherry blossom season. Guided tours are recommended to fully appreciate the site's historical significance, as knowledgeable guides bring the scenery to life with captivating tales of the past.
Hwaseong Fortress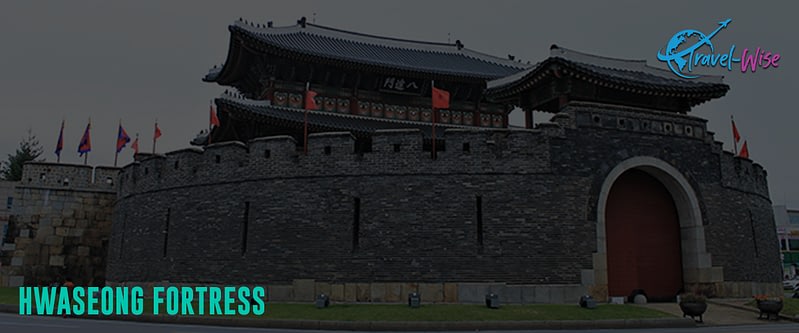 Built between 1794 and 1796, the Suwon Hwaseong Fortress encircles the town of Suwon. Designated as a Historic Site in 1963 and a UNESCO World Heritage Site in 1997, this marvel is a testament to Korea's unique history, military prowess, and architectural brilliance. The fortress also holds historical significance, as King Jeongjo built it to honor his murdered father.
The complex spans almost six kilometers and includes an elaborate palace, fortress walls, and various gate towers. Despite battling scars, Suwon Hwaseong Fortress remains a well-preserved relic of Korea's past.
Tourists can delve into history and culture during the Suwon Hwaseong Cultural Festival held every autumn. The festival features reenactments, cultural events, and exhibits, adding to the immersive experience of this historical site.
Seongsan Ilchulbong Tuff Cone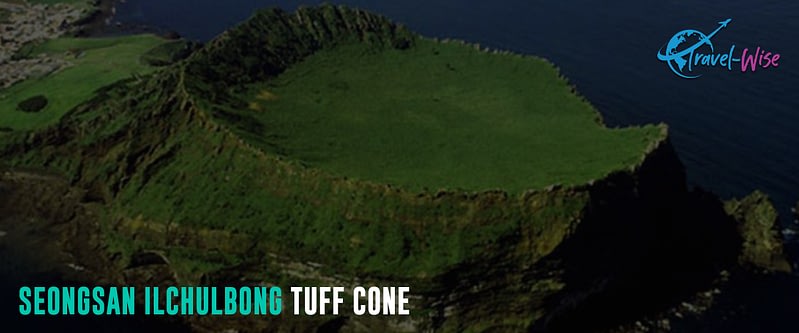 Seongsan Ilchulbong Peak, a 180-meter-high tuff cone, erupted underwater in Jeju Island's ocean approximately 5,000 years ago, making it a rare geological wonder. Today, the crater has transformed into a natural habitat for over 200 types of vegetation and various wild animals. At the summit, visitors can witness the vast crater formed by the interplay of hot lava and cold ocean water, 600 meters in diameter and 90 meters deep. The peak also offers a mesmerizing spot to view the sunrise and the nearby Udo Island.
Recognized for its geological significance, Seongsan Ilchulbong holds several prestigious designations, including being a Natural Monument and a UNESCO World Heritage Site. Additionally, it was named a Global Geopark Network site.
Hallasan National Park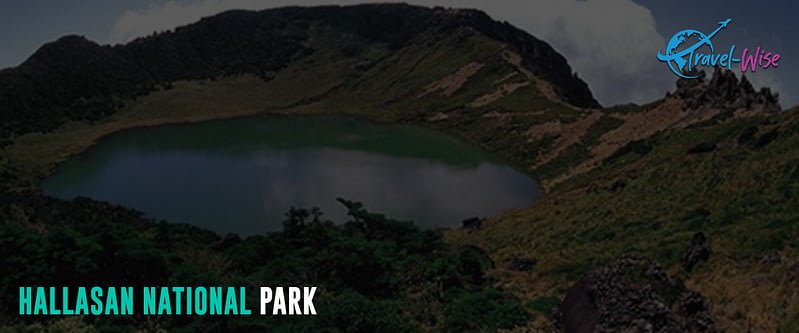 Hallasan National Park, at the southernmost tip of the Korean Peninsula, boasts over 1,800 alpine plant species and embodies the characteristics of the volcanic Jeju Island. Designated as a UNESCO Biosphere Reserve and Global Geopark, the park is home to Mount Hallasan, the highest peak in South Korea.
Hallasan National Park offers seven climbing courses, with two (Seongpanak and Gwaneumsa, reservation required) leading visitors to Baengnokdam Crater Lake. The park's trails cater to all fitness levels, making the hike to the summit of Mount Hallasan relaxing and suitable for intermediate-level hikers.
Manjanggul Lava Tube
Manjanggul Lava Tube, part of the Geomunoreum Lava Tube system, is a UNESCO World Heritage Site on Jeju Island. Estimated to have formed naturally 8,000-10,000 years ago, this impressive multi-layered lava tube stretches 7.4 kilometers, 18 meters in width, and 23 meters in height. It has retained its original form and geographical features, which makes it a valuable site for researchers and scientists worldwide. The cave formations include stalactites, stalagmites, flowstones, lava tubes, lava shelves, and lava rafts, adding to the wonder of the exploration.
Tourists can explore up to 1 kilometer from the cave's 2nd Entrance, taking approximately 40 minutes. Inside the lava tube, visitors can marvel at peculiar lava rocks and columns shaped by ancient lava flows, including the world's most significant lava column, standing 7.6 meters tall, located at the end of the civilian access point.
Primary Spoken Language(s)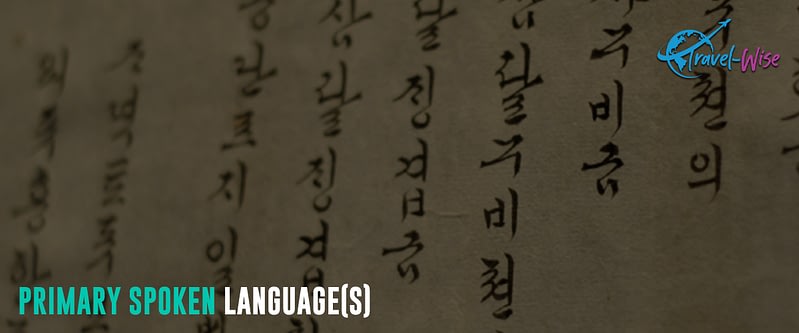 Korean is the official language in South Korea. It is the principal language of education and government and is widely spoken nationwide. In addition, almost all South Korean students also learn, speak, and understand English throughout their education.
Safety Concerns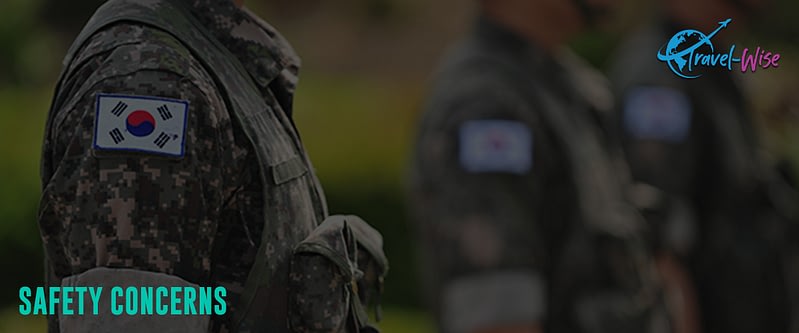 South Korea ranks 43rd out of 163 countries on the 2022 Global Peace Index. Also, South Korea has a Level 1 Travel Advisory from the US Department of State. Hence, travelers in South Korea can take standard precautions when exploring the country.
The country has relatively low crime rates and is generally safe for tourists. But like other high-tourist areas, petty thefts, like pickpocketing, can happen in crowded areas. Hence, keep an eye on your belongings.
Avoid areas with ongoing demonstrations and protests. Also, North Korea conducts missile tests and launches. Thus, monitor local media for the latest news and developments. Lastly, consider downloading the South Korean government Emergency Ready App.
For emergencies, dial 112 for the police, 119 for fire, and 1339 for medical needs. Visitors can dial the 1330 Korea Travel Hotline for transportation inquiries or interpretation services.
Natural Hazard
South Korea experiences natural disasters and severe weather. The monsoon (June-August) and typhoon season (May-November) can bring heavy rains and flooding to some parts of the country. Hence, monitor South Korea's National Disaster and Safety Portal when planning a trip during these periods.
Earthquakes and tsunamis are also a risk on the Korean Peninsula. Check out the Korea Meteorological Administration portal for updates.
Budget Considerations
Travelers to South Korea can explore the country on a modest budget or splash on luxury hotels and beach resorts. But no matter their budget or interests, South Korea has everything for everyone!
Accommodation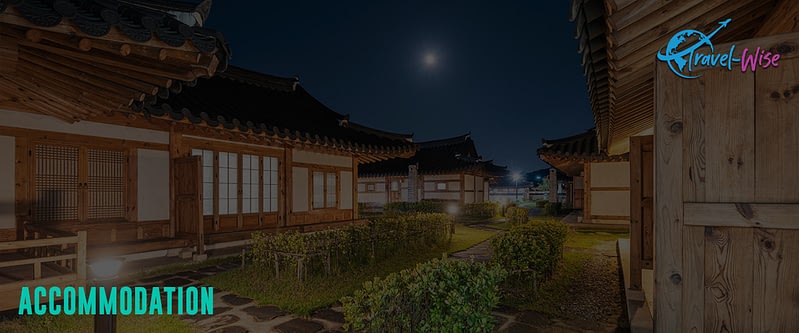 The accommodation cost in South Korea is $14 for a hostel dorm and $35 for a private hostel room. Free wifi is standard; most have cooking facilities, while some offer complimentary breakfast. Travelers can also find budget and two-star hotels for $42 per night. In addition, visitors will find an entire apartment for $50. Depending on location and amenities, visitors can enjoy the comfort of a three-star hotel for $80 or splash out on five-star hotels for $150.
Food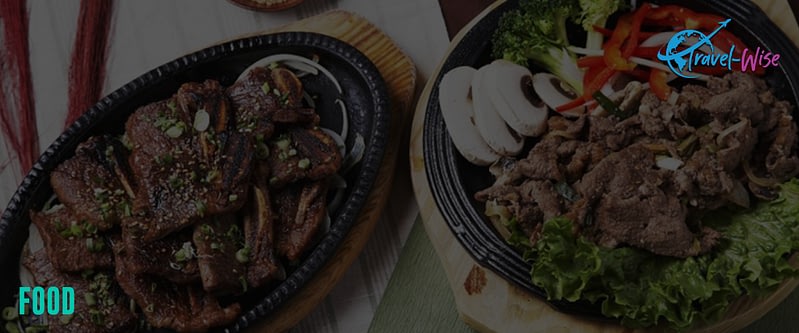 South Korea is a foodie's paradise. The street foods are not only delicious but cheap and clean. Famous dishes are bibimbap, bulgogi, samgye-tang, and japchae. Popular street foods include hotteok, tteokbokki, and bungeo-ppang. Of course, let us not forget kimchi, which completes every traditional Korean meal.
Dining out in South Korea costs between $7 and $12 for a traditional Korean meal. Travelers can also have three-course dinners for $20 but expect it to be higher in larger cities. Moreover, fast-food combo meals start at $5.50, while street foods range between $1.20 and $2.40.
Expect to spend an average of $40 weekly on groceries for travelers who want to cook their food. The budget can include basic staples like rice or pasta, some meat, and fresh produce.
Attractions and Transportation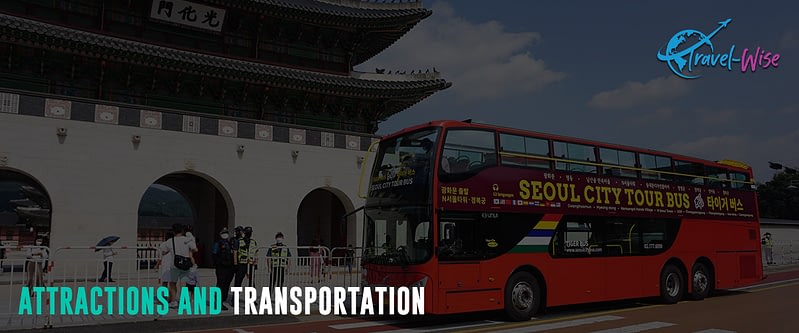 The National Museum of Korea is free and open to the public, while admission to Changdeokgung Palace and Gyeongbokgung Palace is $2.40 each. Adventure travelers can also explore Jirisan National Park at a $1.60 admission fee.
While a one-way fare on public transportation is $1, travelers can get a Korea Tour Card for $3.10, Seoul City Pass for $40, or a Korail Pass for $95, valid for two days.
Average Two-Week Cost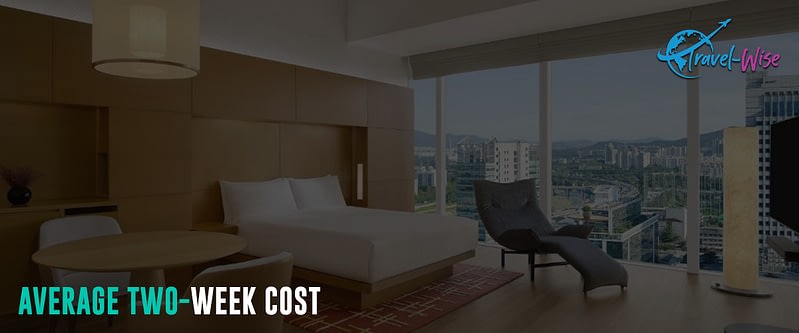 Travelers on a budget in South Korea can live with a $60 daily or $840 for two weeks. It includes staying in hostel dorms, cooking food and occasionally dining in casual restaurants, taking public transportation, and doing primarily free activities.
On the other hand, mid-range travelers spend at least $110 daily or $1540 for two weeks. The budget covers staying in three-star hotels, taking subways and occasional taxis, dining in casual restaurants, and doing a few paid activities.
Lastly, travelers can enjoy luxury in South Korea from $220 daily to $3800 for two weeks. It includes staying in a five-star hotel, splashing out on meals, and renting a car for transfers. On this budget, visitors can also avail themselves of all the paid tours and activities they want. So, for them, the sky is the limit for travel.
Customs And Import Restrictions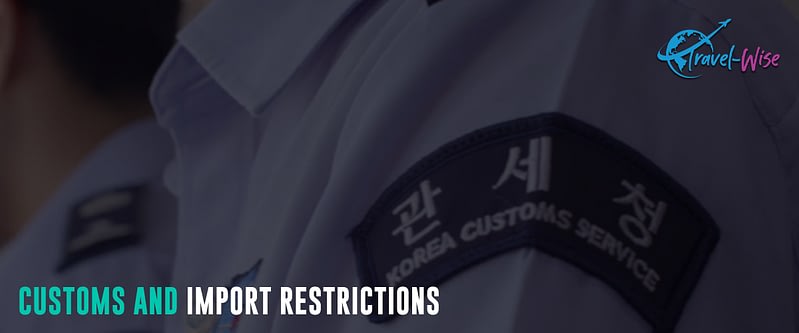 Korea Customs Service office allows each traveler a maximum of $800 tax exemption regulation on their purchases. Apart from this, travelers can also bring the following:
2 bottles or 2 liters of alcohol up to $400 value
200 cigarettes
60 ml perfume
passenger belongings
Meanwhile, travelers ages 19 and below cannot receive tax exemptions for alcohol and cigarettes.
Korea Customs Service is also responsible for restricting the entry of certain goods and will need to fulfill the requirements for customs clearance regardless of the tax exemption threshold. These include firearms, narcotics, endangered animals and plants, and their by-products.
Furthermore, the office prohibits goods such as sexually inappropriate materials and forged/falsified/counterfeit currency, bonds, and other marketable securities.
Lastly, travelers bringing currency over $10,000 must declare it to customs upon arrival. They can do this upon airport arrival or via the mobile app or website if entering through Incheon International Airport Terminal 2 or Gimpo International Airport.
When planning your trip, visit the Korea Customs Service portal for the complete customs and import restrictions list.
Climate Considerations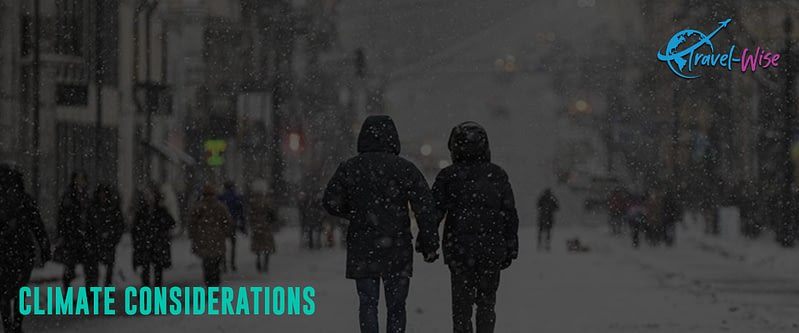 South Korea falls under the "mid-latitude, temperate climate" and boasts four distinct seasons. Spring, from March to May, and fall, from September to November, have clear and mild weather. The average temperature during these seasons ranges between 10°C and 15°C. Summer from June to August is hot and humid, with 24°C and 30°C temperatures. Winter in South Korea shows cold and arid climate characteristics, with temperatures between -6°C and 3°C. Lastly, South Korea's monsoon season (June – August) and typhoon season (May – November) may bring heavy rains and flooding in some parts of the country.
To check the real-time weather in South Korea, visit the Korea Meteorological Administration guide map.
Primary Transportation Options
South Korea has one of the world's most efficient, modern, clean transport network systems. Hence making travel to numerous attractions and destinations easy for travelers.
Air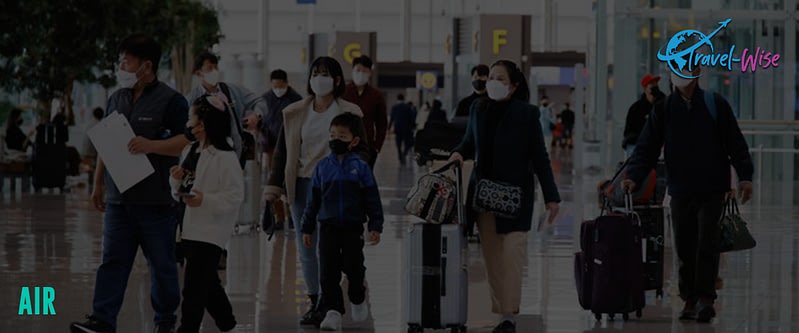 South Korea has eight (8) international airports, with Incheon International Airport as the primary tourist gateway in the country. Nearly all domestic and foreign flights and carriers land at Incheon Airport, while eight domestic airlines connect major cities and destinations in South Korea. The major airlines include Korean Air and Asiana Airlines, while the low-cost carriers are Jeju Air, T'way Air, and Air Busan.
Ferries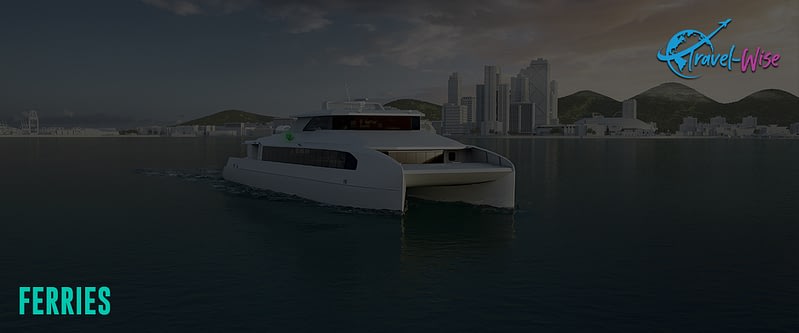 South Korea has four terminals that cater to ferries and international passengers to China, Japan, and Russia. They are located in Incheon, Pyeongtaek, Busan, and Donghae.
Generally, Incheon International Ferry Terminal serves passenger ferries and cargo ships from 10 regions in China. It also caters to international cruise ships. Check out the Incheon Port Authority website for details and schedules.
Busan Port International Passenger Terminal welcomes passenger ships from Osaka, Fukuoka, Shimonoseki, and Tsushima Island. It also caters to ferries for Daegu, Gyeongju, and other nearby regions of Gyeongsang-do. Visit the Busan Port Authority website for more details and boat schedules.
Thirdly, Pyeongtaek Port International Passenger Terminal caters to passenger ferries and cargo ships from five cities in China. The Pyeongtaek-Rongcheng route is served by Dalong Shipping, Pyeongtaek-Lianyun by Lianyungang Ferry, Pyeongtaek-Weihai by Jiaodong Ferry, Pyeongtaek-Rizhao by Rizhao International Ferry, and Pyengtaek-Yantai by Yantai Ferry Co., Ltd.
Lastly, the Donghae Port International Passenger Terminal caters to passenger ships from Vladivostok, Russia, and Maizuru, Japan. Hence, the port mainly operates routes to far-east regions in Japan and Russia. Check out Duwon Shipping Co., Ltd for the available routes in Donghae.
Trains
South Korea has an excellent train network system and the world's densest high-speed railway network. Trains are not only the fastest means of transportation but are also the most comfortable and affordable.
Depending on the destination, travelers can choose from high-speed trains like Korea Train eXpress (KTX) and Super Rapid Train (SRT), tourist trains, and conventional trains like ITX-Cheongchun, ITX-Saemaeul, and Mugunghwa. Trains in South Korea are equipped with comfortable cabins and unique themes for tourist trains.
Visit the Korea Railroad portal for the available routes, timetables, and train ticket reservations. Visitors can also avail themselves of Korail Pass, available for 2-5 days from $48 to $164, relative to age.
Subway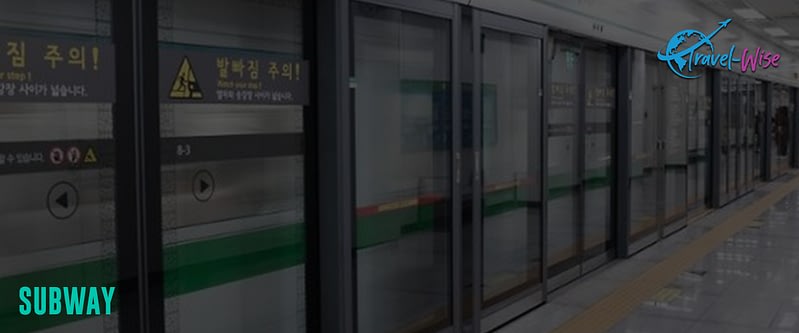 Subways in South Korea are a valuable means of transportation for travelers to avoid traffic in the metropolitan areas of Seoul, Gyeonggi-do, Incheon, Busan, Daegu, Gwangju, and Daejeon.
Aside from the metropolitan areas, Seoul Subway connects regions such as Incheon, Gyeonggi-do, Gangwon-do, and Chungcheongnam-do. Travelers using transportation cards, such as NAMANE, T-Money, etc., can transfer to city buses for free. Hence, travelers should take advantage of it. Visit the Seoul Metro website for route details, timetables, and ticket reservations.
Travelers to Busan can check the Busan Transportation Corporation website for train timetables and reservations. They can also take advantage of the unlimited pass available from one to seven days.
For travelers planning to visit Daegu, visit the Daegu Metropolitan Transit Corporation website for the timetable and subway map. Likewise, check out Daejeon Transportation Corporation for details on the Daejeon Subway and Gwanju Metropolitan Rapid Transit Corporation for the Gwanju Subway.
Moreover, tourists can also get Korea Tour Card for savings and discounts on destinations, attractions, shopping, food, and experience.
Buses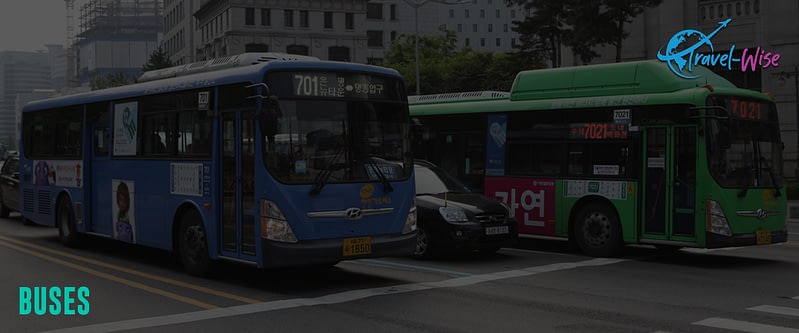 Bus travel is the best way to explore places that trains and subways cannot reach. Like trains and subways, South Korea has a modern bus network system where travelers can check city bus routes at bus stops or through a map app. In addition, there are also digital bus stops where travelers can see real-time location and information of buses. However, buses may operate at longer intervals in small or medium towns and cities. Hence, a map app is recommended to check the bus routes and timetables in advance.
In South Korea, freeway sections with frequent traffic congestion have exclusive lanes for express and intercity buses. The express bus uses freeways and travels non-stop to distant destinations. On the other hand, intercity buses travel along freeways or national routes, making intermediate stops.
Bus fares vary depending on the facility and added services. Extra charges also apply during late-night hours. Payments can be in cash or via a transportation card such as T-Money or NAMANE Card. Again, note that payment by card is cost-effective because of the discounts and free bus transfers.
In Seoul, night buses (marked with "N" to their routes) operate until the wee hours after public transportation finishes.
Check out the Seoul Transport Operation and Information Service portal for more details on public transport and timetables in Seoul. Travelers can also visit the Kobus website for integrated express bus ticket reservations or Txbus-t and Bustago for intercity bus tickets.
Taxis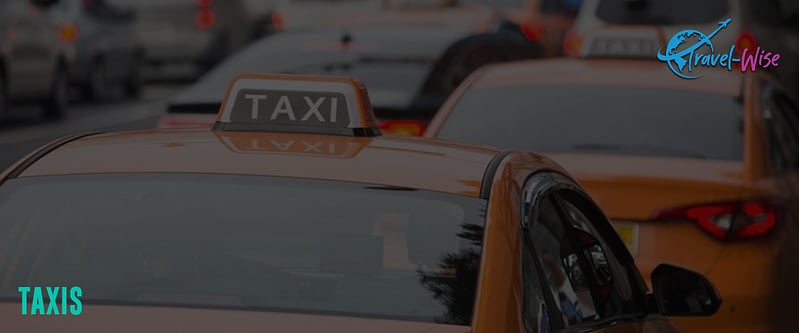 Taxi is a convenient means of transportation for tourists in South Korea. These taxis are widely available in popular tourist cities such as Seoul, Gangneung, and Jeju. Fares vary depending on distance, tour time, and course. Thus, agree on the fare with the driver before you depart.
Aside from the regular taxis, there are also tourist taxis in South Korea, where the drivers serve as guides. They can be utilized for traveling, airport pickups, and business trips. Some of the reliable tourist taxi companies are Seoul Tourist Taxi, Gangwon Tourist Taxi, and Jeju Tourist Taxi.
Car Rental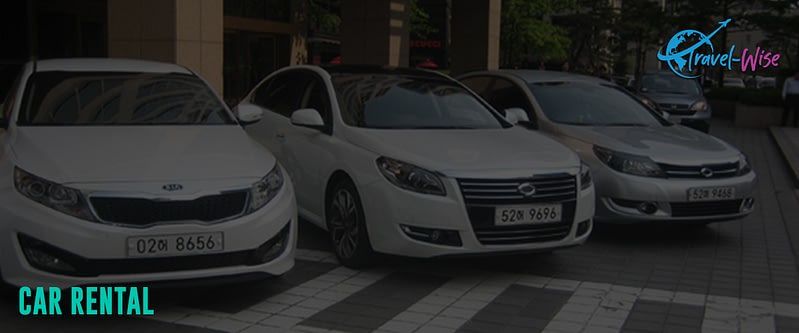 Vehicle rental is not cheap in South Korea. However, it is one of the best ways to explore all the country's destinations inaccessible by public transportation. Expect to pay around $40 daily on a multiday rental, and note that they drive on the right side of the road.
Start Trip Planning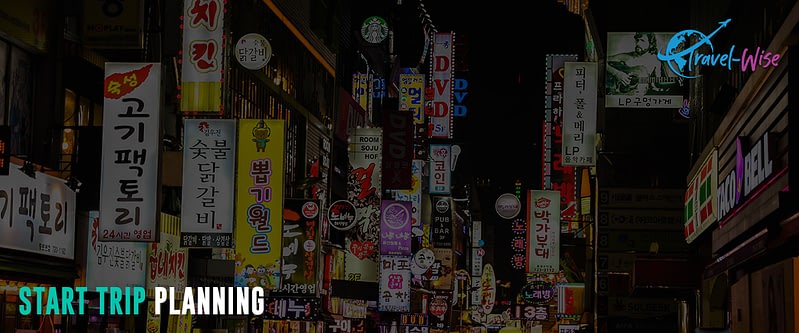 Travel-Wise is made from the ground up to help people travel more, break down the barriers that make it tough to get going, and start your journey as painlessly as possible. Bookmark our other Country Guides to help kick-start your research for future travels. We also offer templated itineraries from our staff and community that help serve as a building block for your trip plans. Alternatively, we also utilize AI to offer a way to generate itinerary ideas. This saves much time just getting you up and running with a template. From there, you can use the trip planner to create your customized itinerary, invite friends and family for collaboration, find others from Travel-Wise to join the trip, book and track important information, journal, and share your experiences at the end or along the way!