Today we'll discuss how to plan a trip, with examples of our trip to Turkey in 2022. It was a month-long trip to Turkey, and utilized Travel-Wise for planning and journaling. In this article, we'll go into detail on how we planned the trip and used the tooling we built specifically to make travel planning faster to make the trip easier. Let's go into our guide to planning a trip to Turkey.
The Travel-Wise trip planner lets you plan hikes, international trips, road trips, and extended stays for digital nomads. Keep things organized with a travel plan and spend less time researching and more time finalizing the plan, journaling, and sharing your adventures.
See our entire trip to Turkey and the various itinerary templates we created off of it: West Turkey, Antalya, Mesopotamia, Ankara, Cappadocia, and Istanbul! Also, check out the full Turkey Trip Planner, which helps fill you in on all the logistics of planning a trip to Turkey for the first time.
How The Trip Planner Helped Us Travel and Work in Turkey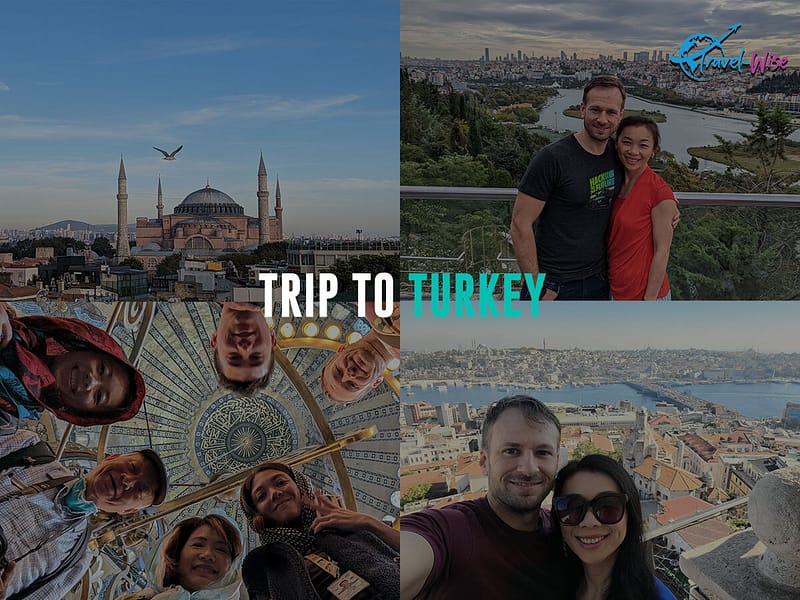 Recently, my wife and I went to Turkey for a month. We worked as digital nomads the whole time because the time difference between home and Turkey allowed us to adventure during the day and work at night. Of course, that meant a rigorous trip and a complex route. We traveled almost everywhere in Turkey, and our schedules were anything but relaxed. We'd work from 7 PM until 3-4 AM. Despite that, we had a blast!
Also, my friend and his family joined us for the first half. We booked private guides and hotels together and coordinated flights. A trip planner keeps track of all those logistics and makes it easy to record them. We all have access to our group's details and plans, making it easier to journal on the go and coordinate.
A trip like this takes a lot of planning. See how to plan a trip with our planning strategies here. We used to do a lot of this tedious planning the old-school way. This trip was planned with Travel-Wise's app, and I journaled our stops with screenshots. After the trip, I created several itinerary templates for others to use so they could make their travel plans to Turkey faster and follow in our footsteps. By sharing my trip plan and itinerary cards during the trip, I can let others follow my trip live. We're a community-driven culture that creates, shares, and lives through travel.
Determine The Best Places To Visit
Next, you want to do a bit of research into the destination and get a good idea of what the "must-visit" spots are. After all, it is impossible to plan anything without some goal in sight. This helps get you some idea of the landscape and where to start looking. These will be key landmarks we planned our entire trip around.
Check out our Turkey Trip Planner for more detail and help with the best places to visit in Turkey. Our other Country Guides for similar up-to-date detail on other countries we've covered. As an authority to help you plan your trip, we will continue writing excellent articles to make your next trip a breeze from Turkey and beyond.
Planning The Best Time To Visit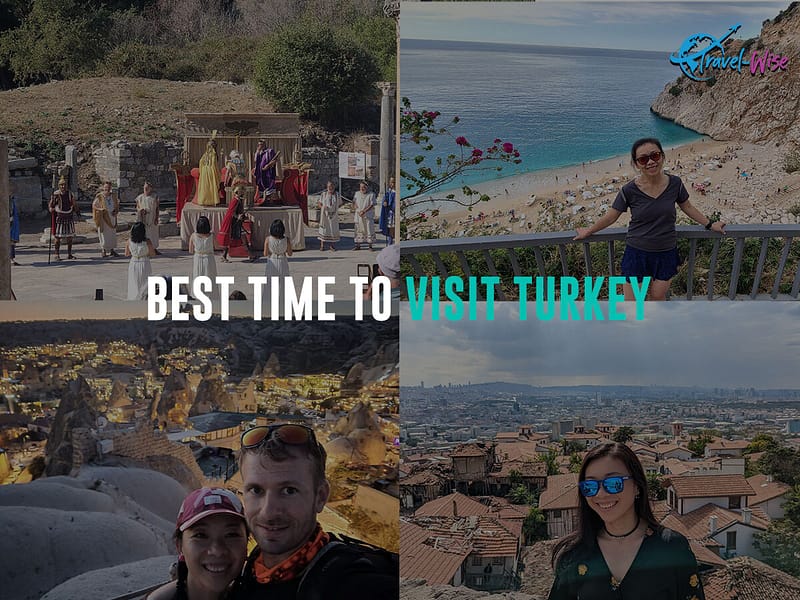 Once you decide on a place to visit, it's good to determine the best time to visit the location. For many places, it's usually not straightforward what the "best" time is. There might be trade-offs to be considered. Below are our considerations for planning a trip to Turkey.
Let's say you like ancient history. If so, you might enjoy the spring (April-May) or autumn (September-October) seasons when the weather is mild and pleasant and the crowds are smaller. You might prefer the summer (June-August) season if you enjoy the sun, the sea, and festivals. When the weather is hot and sunny, the beaches are inviting. You can enjoy an adventure in Turkey during the winter months (November-March) when the weather is cold and snowy. Snow covers some fantastic places, such as the fairy chimneys of Cappadocia or Mount Nemrut's colossal statues, so you can have a peaceful and quiet time.
Determine Your Time and Spending Budgets
Nothing in this world is unlimited. Most will either be limited on time, money, or both. This is why understanding your maximum time and money for the trip is essential. You've already done the exercise to determine the best places you want to visit. Likely these locations will be spread across an entire country, meaning it costs time and money to transport around the country. Once you know these budgets, it will be easier to eliminate certain places from your plan and trim it up to focus on specific areas.
When we travel, we focus on what we call "hubs." Whenever you need to switch hotels or places of stay, it is costly on time and energy. Thus, we minimize transferring around to different places. We focus on building a trip plan that minimizes hub spots and tries to visit as many places around these hub spots as possible. Let's say we choose Istanbul as a hub spot. We will stay there for a week and see as much as possible in and around it through day trips and excursions.
Also, different landmarks, things to do, and activities to perform will speak differently to some. With that in mind, know your travel persona. This will help you at least optimize and cut out or optimize around certain hub spots you want to focus on visiting.
Plan Your Trip Using Templates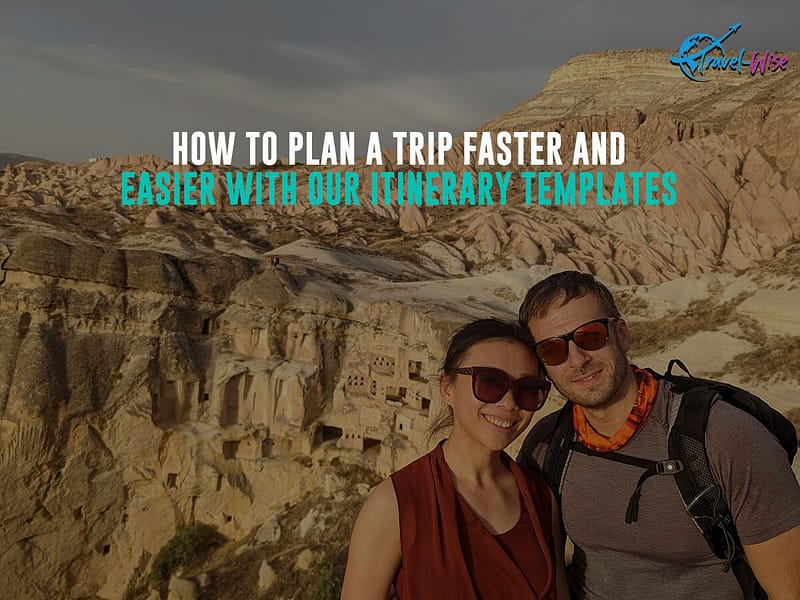 Before, we'd plan our "old school" trips by using travel books or guides to get ideas for templates to plan our trips around. Now, with Travel-Wise, these templates are readily available. We can see numerous examples of Turkey by looking through our itinerary templates around Turkey and seeing if any templates match what you want to do. Even if they're not perfect matches, you can use them for outlines or ideas for your new trip. With the day-to-day planner, you can customize it even more.
From the ground up, this process is designed to make creating your custom travel plans more accessible and save you time. You should still research and find the "must-visit" places, but the itinerary templates are thorough cookie-cutter experiences you can add to your trip as a place to get started. Also, you can add many templates to your trip plan to get the outline. You can then customize from there. The app will automatically reference the itineraries you add.
We manually planned our trip to Turkey without using a template, and that's a significant part of the trip planner. It is flexible. However, I documented the whole trip and journaled it. Now I can create many segmented itineraries for my trip and share them with others. If you want to relive my trip or use it as a baseline for your own, you can mix and match the segments.
Check them out on my profile page and plan your next trip using my travels to make your planning faster. You can create itineraries like I did for others to use if you make changes and enjoy your trip; some may prefer your templates over others.
Customize With A Day-to-Day Planner
Once you've found some boilerplates, you can start customizing your trip. Even if you can't find a template to your liking on Travel-Wise, the app can still make your plan. Create some templates from your plan after the trip! Itineraries segmented by region work best because they let people mix and match.
Get started with the day-to-day planner. You must be the trip owner to edit these fields, which lock once the trip starts. However, you can still open it manually to edit at any time. You can move days around events, add/remove days or events, and customize everything to your liking. This is a bit more granular, but less granularity should be needed if the templates help give you the outline. However, it allows complete customization to get the trip outline of how you want it.
It's up to you how detailed you want to be. You could say you stay in this city for five days and let the wind take you where it pleases you. Maybe you want a packed and efficient itinerary that maximizes your time in every location. The tooling gives you the flexibility to pick what works for you.
A Trip Planner App That is Social and Convenient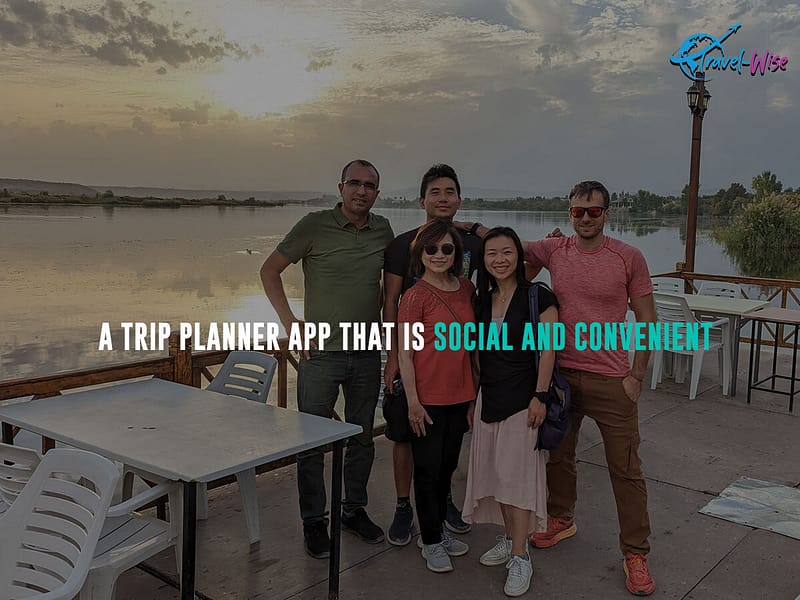 Start inviting your friends and family that will join you on the trip once you've got the outline out! They could even help with planning and outline or at least get all the info. We've got mobile-friendly apps that you can install anywhere. You can access your trip plan even when you're offline. You'll always have your plan, so it'll be a great guide.
Also, everyone can use the trip plan to journal their experience! Last but not least, arrivals and departures can be tricky. Members of the trip might not stay the whole time or show up late. Using the notes, they can keep track of all their arrival and departure information individually, so this information is always available.
A Fun and Easy Way to Journal Your Trip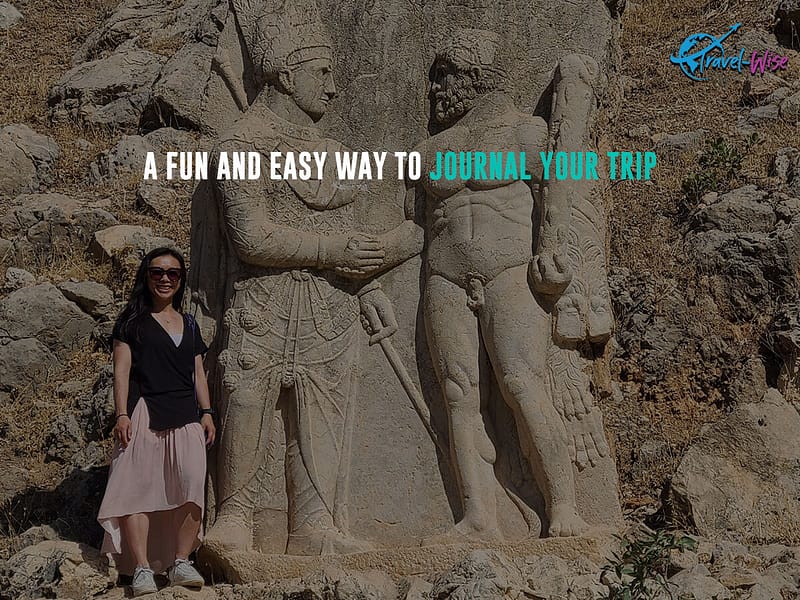 Okay! You've got your trip planned now. Now it's time to have fun. One of the best things about Travel-Wise is you can journal your trip experience. The trip participants can add their entries, including photos.
The neat part is the journal tracks where we journaled from, and even when I had no internet, I could still journal offline and upload those later. I then can use my journal, the map, and all the data to help extract essential trip reminders for years to come.
Travel is about learning new things, experiencing new things, and bringing a little bit back home. I love the benefits journaling gives so I can look back and remember these experiences. So we encourage you and your partners to take the plunge and share your grand adventure!
A Flexible and Supportive App for Sharing Your Trip with Others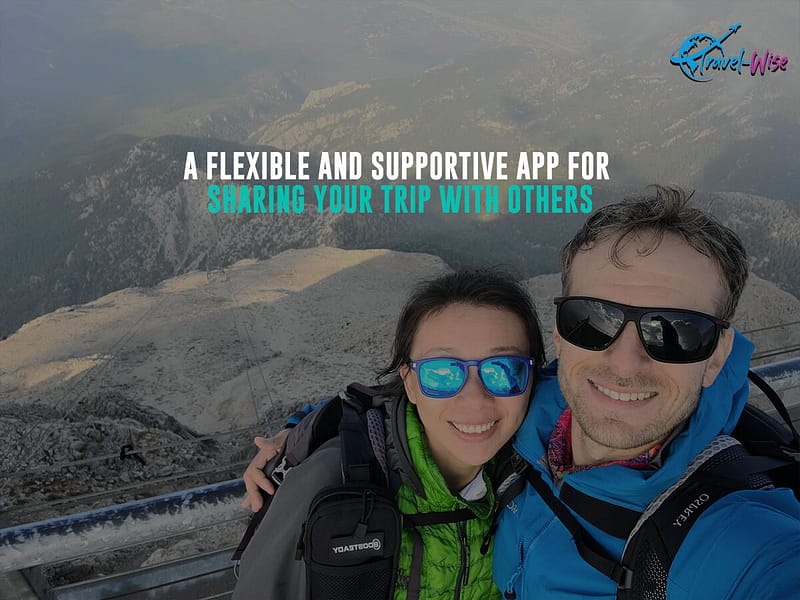 Nowadays, you can share your experiences on social media or a blog. Our goal with Travel-Wise was to ensure we supported as many platforms as possible so you could share your experiences across the places you trust.
It comes with a trip outline and a bunch of journal entries. You can see everywhere you go and how it relates to your journal and photos on a trip map. You can create an immersive experience to make your trip and experience more visual for others.
Sharing is optional; you can keep your Trip Plan secret. You can print your trip plans on the entire card. You can print them on paper or save them as PDFs to your documents. Travel-Wise builds tools to make your next trip faster, easier, and more enjoyable than ever. We know you're looking for options and customization!
Example Of 7 Days We Spent In Turkey
Below is a fun recap of the first 7 days we spent in Turkey and can help prove as a beautiful example of what your trip might look like, especially should you choose to use my itinerary templates to plan your trip.
To see our original journal of Turkey, check out the shareable card of our trip.
A Magical Welcome to Istanbul on Day 1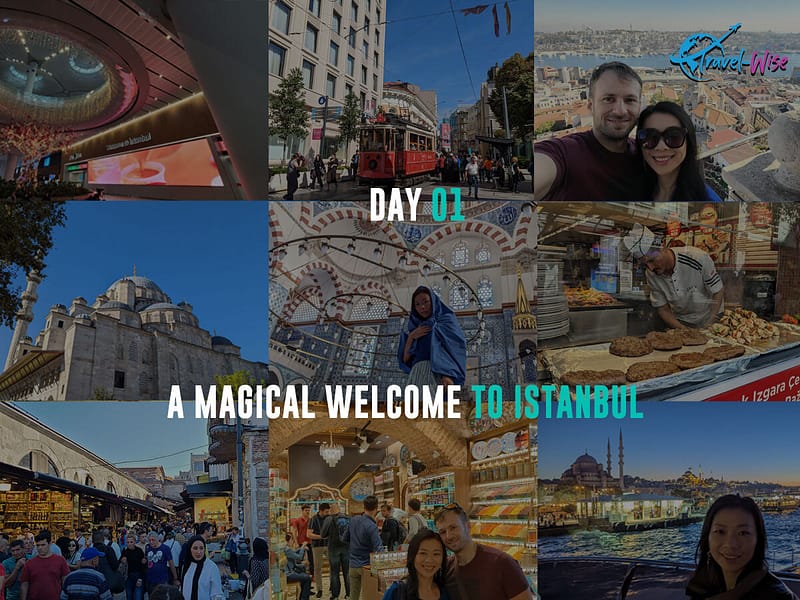 We were captivated by the beauty and diversity of Istanbul, a city where history and culture converge. As soon as we landed, we felt the city's charm. Our trip began with a panoramic view from Galata Tower. After sampling delicious Turkish ice cream and experiencing the lively market, we explored Istiklal Avenue. At Rüstem Mosque, we admired the beautiful Ottoman tiles. The day ended with a sunset cruise on the Bosphorus, where the sky was a stunning display of colors.
Blue Skies and Timeless Stones – Day two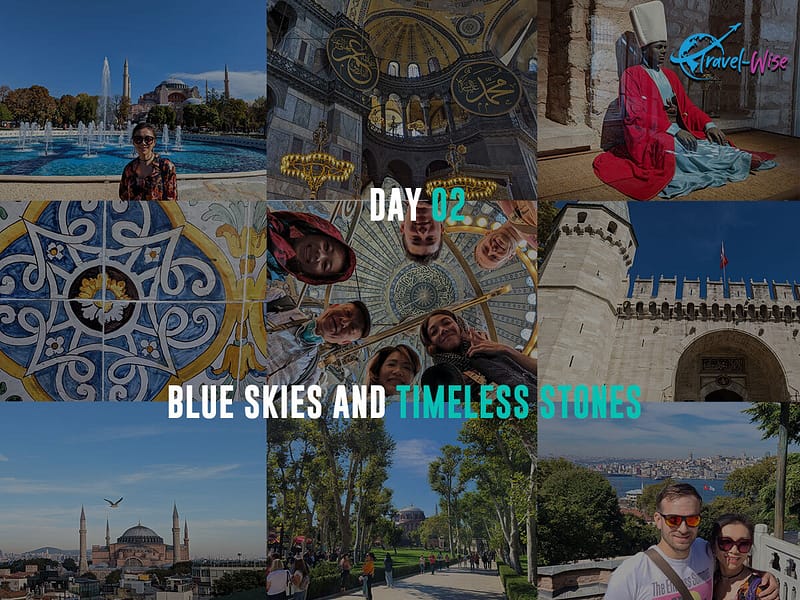 Our next stop was the Blue Mosque and Hagia Sophia, two iconic landmarks in Istanbul. We were impressed by the architecture and history of these monuments, which reflected different empires' influence. Topkapi Palace also allowed us to see the lavish lifestyle of Ottoman sultans. This place, located in Sultanahmed, was splendorous and filled with stories.
The Footprints of Time – Walls and Wonders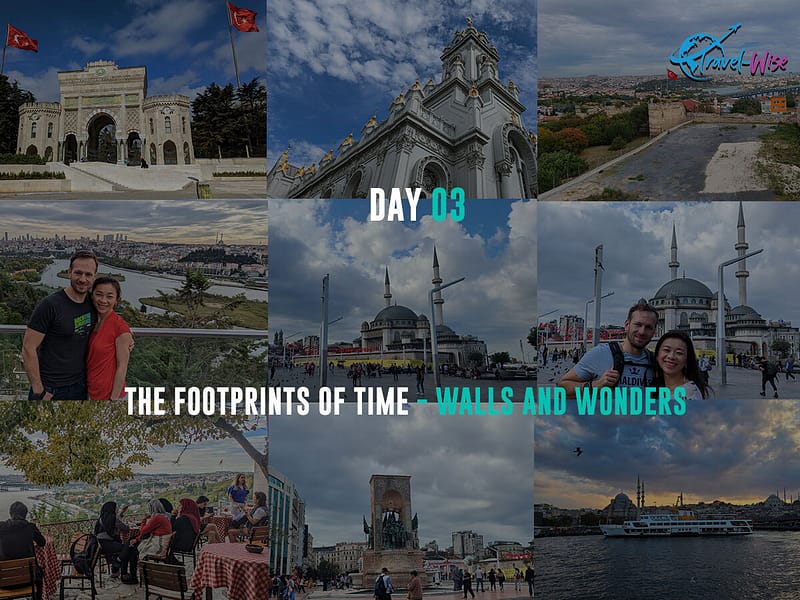 Our third day was spent exploring the ancient Roman walls surrounding the city. Seeing the city from above was a completely different experience. A Roman-era school, a steel mosque, and an old hippodrome were among the hidden gems we stumbled upon. The day ended with a beautiful sunset at Kadikoy, where we watched the sea and the horizon.
Taksim, Bazaars, and Island Escapes on Day 4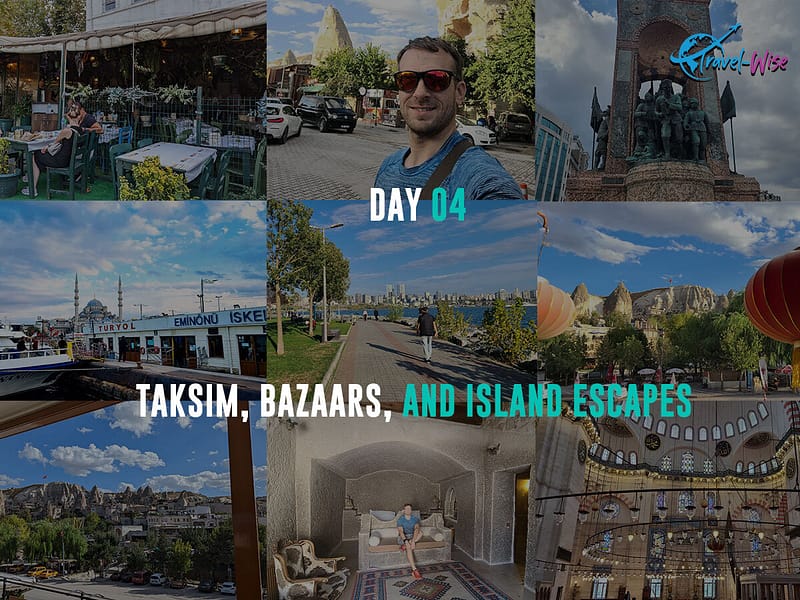 It was an exciting and varied fourth day for us. During our visit to Taksim Square, we felt the pulse of modern Istanbul. As we walked through the campus, Istanbul University's history and achievements were explained to us. The goods and souvenirs in the Grand Bazaar dazzled us. A ferry took us to Kadikoy Island, where we relaxed and enjoyed the tranquility.
Cappadocia's Dreamlike Canvas – Beyond Reality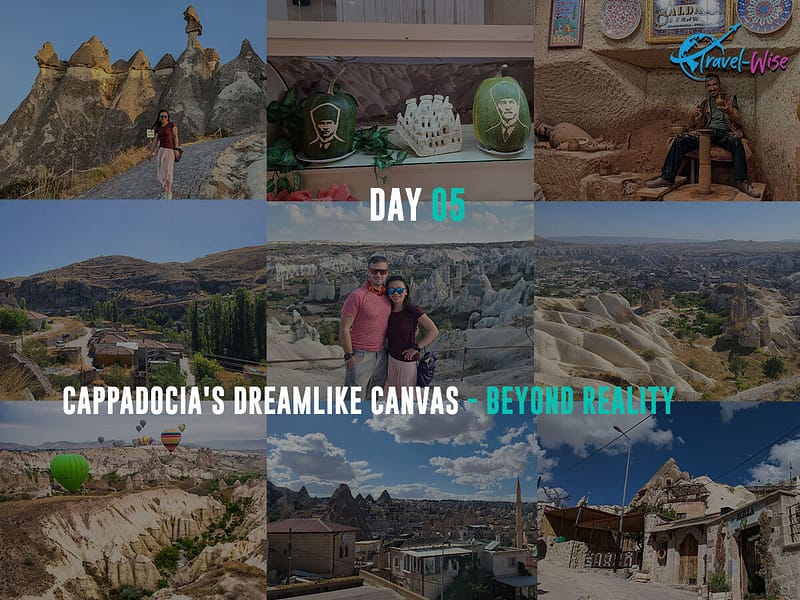 We could see this magical place's surreal landscapes as we flew to Cappadocia on the fifth day of our trip. We saw fairy chimneys, cave hotels, underground cities, and hot air balloons. These were all created by volcanic eruptions and human creativity over millions of years. We explored the rock formations and valleys by car and foot. We also visited Uchisar Castle, Love Valley, and Pigeon Valley, seeing incredible views and natural wonders.
Ascension of the balloon and enigmatic echoes – Day 6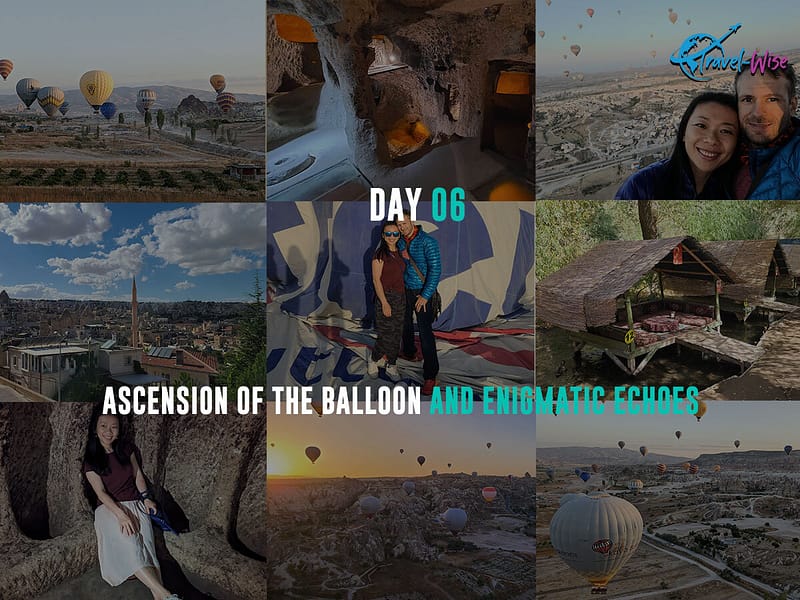 We took a hot air balloon ride at sunrise during our sixth day in Cappadocia. We soared above the fairy chimneys and saw the landscape from an entirely different angle. It was a breathtaking sight that filled us with joy. After landing, we visited Kaymakli underground city, a complex maze that housed thousands of people in ancient times. We also returned to Uchisar Castle for another panoramic view.
Hiking through time on Ihlara's Whispering Path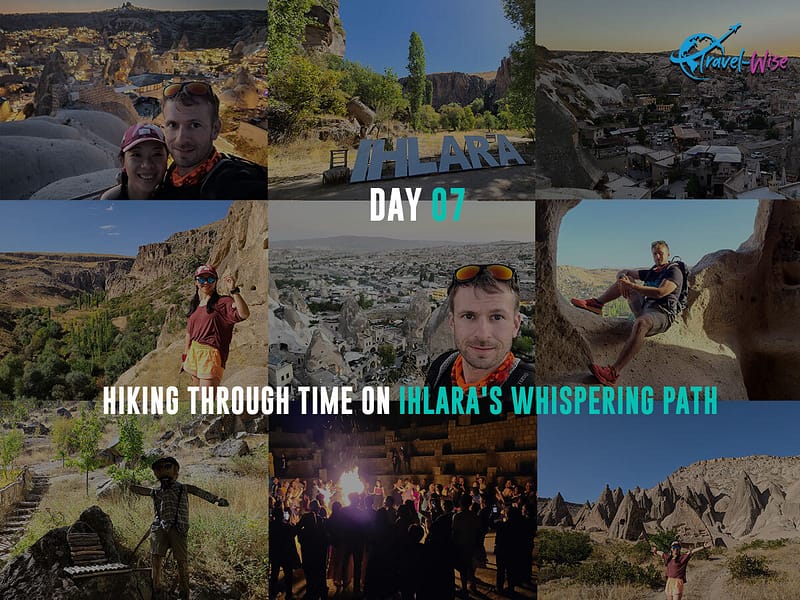 A hike through the Ihlara Valley on our last day in Cappadocia revealed stunning views and hidden churches. The trip to Turkey was a discovery of history and culture at every turn. As we walked through nature and history, we realized our trip was not just about a place. Instead, it was about the stories, wonders, and people that made it special.
In Closing
To wrap it up, we hope this helped outline and give you a better idea of Travel-Wise. Let us know what you think about us and what we can do better, and we'll keep making it the best travel tool around.
For more details on creating trip plans on Travel-Wise and sharing trip plans, click the links to read more.